March 2009 Articles
Cover Story
Tim Roberts
Features
Eddy Metal
Jason Koerner
Columns
Berk Bryant
Mike Stout
Paul Moffett
Keith Clements
Martin Z. Kasdan Jr.
Eddy Metal
CD Reviews
Kevin Gibson
Hunter Embry
Hunter Embry
Tim Roberts
Bob Mitchell
Hunter Embry
Hunter Embry
Steve Morgan
Bob Mitchell
Performance Reviews
Hunter Embry
Jason Koerner
Blogs
Got Shows?
Send Them To Us
Bookmark Louisville Music News.net with these handy
social bookmarking tools:
Available RSS Feeds
- Top Picks
- Today's Music
- Editor's Blog
- Articles
Add Louisville Music News' RSS Feed to Your Yahoo!

Issue: March 2009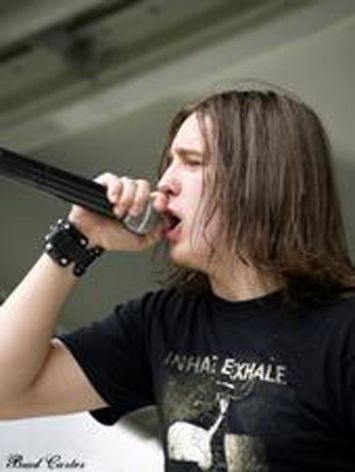 Matt Newton
Name: Matt Newton
Age: 20
Instrument: Vocals
Band/Former Bands: Society's Plague
How long on instrument: I've been trying to sing for about 6 years now.
Equipment: I love my Shure equipment, I use an SM58 as my primary Mic and a wireless SM58 as my secondary.
Influences: I have a lot of influences but my biggest is probably Anders Friden from In Flames. He is so diverse with what he can do and is able to come up with the most amazing clean melodies and song structuring, not to mention the deep lyrics that never cease to amaze me.
My first gig: That's an interesting story. None of us had played a show before, and here we are at a place called "The Center of Town" in Georgetown, Kentucky, standing frozen on stage in front of about 300 kids. I'd like to think we did alright but some of my friends still make fun of us for how stupid we looked .
Hobbies: When I have time, I love to read, as corny as it sounds. I love to read fantasy books. Yeah, I know singers in metal bands aren't supposed to like that kinda stuff but those books are probably the biggest influence behind the song "Forged by Fury" on our EP. Go buy that by the way.
Favorite movies: Lord of the Rings, Epic is always good, plus if you need 17 hours to kill on the road, that's the way to do it.
Favorite food: Ramen Noodles, because I can afford them.
Favorite place: Right now it has to be Estes Park, Colorado; that place is amazing, mountains are bad ass. Hands down.
Bad habits: That's gotta be the cocaine...yeah...definitely the cocaine (nah just kidding) I do tend to chew on my fingernails a lot though. I should probably stop that.
What I'm listening to nowadays: There's a new band on Mediaskare Records called The Demonstration that I'm really loving right now. In Flames is a pretty common one on my iPod, and I love me some Dance Gavin Dance (Don't say anything, musically they are pretty damn good, and the vocals in "Downtown Battle Mountain" are godlike.).
Coolest thing I've done: Me and the guys drove from Lexington, Kentucky all the way to Cincinnati at 4 a.m. just to eat at IHOP, and not just once, but many, many times. We are probably the lamest group of people to ever to grace the music industry .
Most embarrassing moment: I slipped on a patch of ice outside of my high school once, my papers went flying and I had to go chase my homework down, everybody saw it, and everybody laughed. That was a bad day, my friends called me Vanilla Ice all day long.
Who do you love: I love my girlfriend, of course, I also love my parents, and everyone in my band as well. Except Joe. I hate Joe .
When/where did you first get some: I haven't necessarily done this before!