February 1993 Articles
Cover Story
Bob Bahr
Features
Jean Metcalfe
Terry Shannon
Paul Moffett
Paul Moffett
Columns
Berk Bryant
Jim Galipeau
Paul Moffett
Earl Meyers
Keith Clements
Todd Hildreth
CD Reviews
Kory Wilcoxson
Bob Bahr
John Goodin
Allen Howie
Michael Campbell
Bob Bahr
Allen Howie
Steve Estes
Performance Reviews
William Brents
Jean Metcalfe
Pete Strojny
Michael Campbell
Jean-Marie Ebel
Allen Howie
Calendar
Staff
Staff
News Item
Staff
Bill Ede
Preview
Bob Bahr
Staff
Opinion
Staff
Photos
Staff
LASC
Staff
Staff
Staff
Ray Yates
Staff
Jean Metcalfe
Staff
Michael Layman
Paul Moffett
Blogs
Got Shows?
Send Them To Us
Bookmark Louisville Music News.net with these handy
social bookmarking tools:
Available RSS Feeds
- Top Picks
- Today's Music
- Editor's Blog
- Articles
Add Louisville Music News' RSS Feed to Your Yahoo!

Issue`: February 1993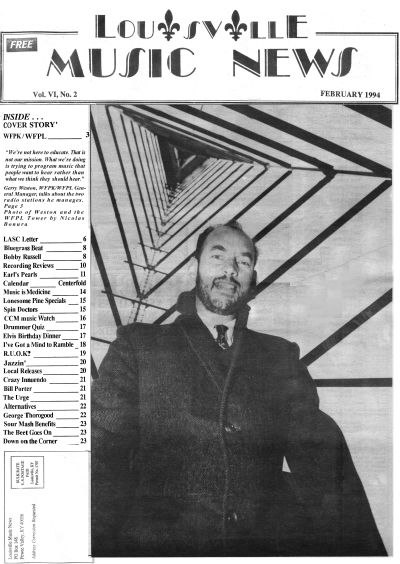 WFPL 89.3 FM & WFPK 91.9 FM
By Bob Bahr
Lately, there seems to be quite a bit of dissatisfaction with Louisville radio. Local stations have settled into a maddeningly safe routine that is slavishly attentive to national charts. But like the weather, everybody gripes but nobody seems to do anything about it.
One Louisville radio station is doing something about it: WFPL, the alternative radio station that's part of the public radio system. On WFPL, 89.3 on the FM dial, a listener can hear John Coltrane, Big Bill Broonzy, the Lemonheads, Silvio Rodriguez and Alison Krauss. On any given weekend, world beat, Celtic, and New Age music are broadcast to 13 Kentucky counties and 11 Southern Indiana counties in the station's listening area. This diversity is at the core of WFPL and is explicitly described in the station's mission statement.
Unlike all other mission statements I've encountered, WFPL's and WFPK's accurately describe what the stations do, rather than blather generalities about an unrealistic ideal situation. WFPL strives to "provide unique programming" that covers both news and music in in-depth fashion. Sister station WFPK is devoted to "the fine arts tradition" of the metropolitan area, delivering classical music, arts information and national news.
And that's exactly what they do. This directness and honesty is characteristic of the two stations that are owned and operated by the Louisville Free Public Library, located at 4th and York. This straightforwardness is present in WFPL's slogan, "First choice in news, best choice for music." It comes through in the on-air talk of the disc jockeys. It was evident in the candid interviews for this story. The stations operate on a no B.S. standard for one simple reason: they can't afford to do otherwise. This is public radio, remember. You can't waste anything — words, time or otherwise.
WFPL is beloved in the jazz community for its relatively intense jazz programming. For two and a half hours each weekday afternoon and for five hours each week night, WFPL plays jazz of all kinds, from the mainstream sort favored by Phil Bailey on his Jazz Today show to Leslie Stewart's more adventuresome Impressions show. The bulk of the rest of WFPL's broadcasting day during the week is news, the immensely popular Morning Edition from 6 a.m. to 10:30 a.m., its companion All Things Considered at drive time, and various other national and international information and news shows filling up the rest of the space. Local news is diligently covered by the WFPL news department, headed by Diane Bryant, a veteran of news broadcasting.
"We do more news than anybody," said WFPL/WFPK General Manager Gerry Weston. "In terms of news, we're it in this city."
Even in news and information, WFPL delivers with diversity. The station has ingratiated itself with information junkies through programs such as Monitoradio, a news program produced by the Christian Science Monitor, and Marketplace, an international business program. The station has seen its audience triple in the last six years, and as much as it pains Music Director Phil Bailey to say it, "our success was more attributable to news than jazz, with all respect to jazz." WFPL's ratings are now about tenth in the Louisville market, according to Weston, with a 6 - 8% share. WFPK's share is a bit smaller, at 3 - 5%.
The stations are unlike any commercial operation because they are constantly dogged by a lack of money. By necessity, library broadcasting is a tightly run ship. While no company would want to function under the conditions that the two public radio stations operate, any company would have to admire the efficiency displayed by the WFPL/WFPK staff. What they do with what they have is remarkable, and the greatest reason for the success is Weston.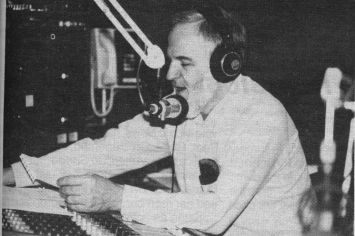 Phil Bailey, music directory of WFPK/WFPL and host of the Jazz Today show. Photo by Nicolas Bonura
During Weston's time at the helm, ratings have gone up, underwriting of the shows has gone from $16,000 a year to almost $200,000, and the WFPL news staff has gone from nearly non-existent to an award-winning team of professionals. A tall, slender man of quiet intensity, Weston has assembled a staff full of confidence and competence, from the development office to the broadcast booth. They don't do it for the money.
In fact, the topic of salaries brought laughter in the control room, where technicians and the news staff bustle about, overachieving like any hard-pressed skeleton crew. Techs Brian Coahran, Lori Boyd and Frank Goldberg moved quickly about the crammed room, monitoring satellite feeds, queuing up tapes and physically meshing the programming together. It's a race against time. Goldberg said the technical staff live and die by the clock, even when they are off duty. "I'm never late for anything. I can always guess the time within five minutes," he said. Seconds are crucial when Goldberg and his co-workers are inserting local news into the four-minute window that National Public Radio (NPR) places into their broadcasting for the subscribing stations.
"We do it for the love of public radio," Bryant finally answered from the other side of the room. Bryant, the demanding and focused news director for WFPL and a self-confessed information junkie, heads a staff of four news anchors and two outside reporters.
WFPL's local news coverage is a combination of in-house reporting, wire service news, and cooperation with other area news agencies and public radio stations. Rather than duplicating what NPR or Associated Press is covering, the WFPL news staff focuses on significant local stories and reports in depth on issues important to local listeners. For their efforts, Associated Press of Kentucky presented the WFPL staff with awards last year for news, sports and feature reporting. Those accomplishments are even more impressive when you consider that as recently as 1987, WFPL was merely a "rip and read" news organization, taking all their news from the AP wire.
Bryant arrived at the station in 1987, bringing 13 years of news experience at WAVE's and WLKY's television news departments. She quickly moved to create a news department that adhered to the same high standards kept by public radio news organizations, and she still frequently mentions "NPR standards" when discussing her department's goals. That perspective is more philosophical than applicable — it's a way of approaching journalism.
"There is no such thing as an 'FPL story," Bryant explained. "I'm a purist. I believe the news is the news."
Meanwhile, the employees are pulling off this remarkable thing called Louisville free public radio under conditions that are truly shocking. The broadcast booth, the room where most of WFPK's shows are hosted and Leslie Stewart airs her nightly Impressions show, is smaller than most closets. Aluminum foil covers the wiring going to the microphone to prevent crossover signals. Talk to anyone at the stations long enough, and they'll complain about the inadequate facilities and funding. With a resigned air.
"I wish we had more money, but given our present limitations, we have accomplished a great deal," said Bryant. "People don't make that much, so you pretty much have to love what you're doing," echoed Stewart. "Nobody is taking home Milton Metz's or Wayne Perkey's salary." One friend of the station summed it up when she said to Weston on a tour of the facilities, "Gee, I had no idea you were operating under these circumstances."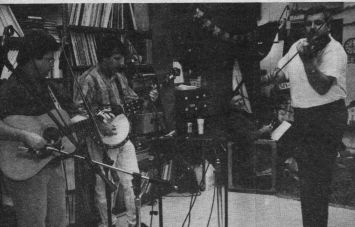 Sunday Bluegrass host Berk Bryant looks on while Kentucky Blue picks some bluegrass in the studio. Photo courtesy of WFPK/WFPK
WFPL and WFPK are currently crunched in the East Wing of the South Building of the Main Branch of the library. The heating and cooling of the structure, which was built in 1906, is erratic. Employee wages are lower than those at comparable public radio stations, and significantly lower than salaries at commercial stations. That makes keeping a good staff intact a difficult task.
"I've said this before: if we could take a photograph of the staff and keep this staff right now — I know that doesn't happen in the real world; radio changes constantly — but the staff we have right now is the best we've ever had," Weston said. "This sounds like I'm blowing smoke, but I really think that if we could keep the staff we have now for two years, this station will move ahead in leaps and bounds. To do this, we're going to have to do something about the salaries."
Weston not only wants to retain his present staff, he wants to add people and facilities. The stations have clearly outgrown their space at the library. The 40-year-old administrator also wants to move further away from national programs, concentrating more on locally produced shows. "We can't really do too many creative things without more resources and improved facilities. Without more staff, it's going to be very hard to do all the great things we want to do," he said.
In the last few years, WFPL has added locally produced shows like the Saturday Night Blues Party, Sunday Bluegrass, the alternative rock show Flipside, Dick Sisto's program Inner Ear, and Laura Shines' WomanWaves. On WFPK, Scott Dowd's New Age/New Acoustic show D'Inner Space was launched with immediate success. Weston said that it's tough to strike the right balance between local shows and popular national shows. "Any time you add a program, you have to cut something," he reiterated.
The appeal of two locally produced shows is apparent. Joe Vincenza's extremely eclectic Audioasis and the taping of the cutting edge Kentucky Center for the Arts' Lonesome Pine Specials perfectly embody the mission of WFPL. The Lonesome Pine Specials, which are picked up by over 80 stations across the country, is considered by Weston to be the prototypical remote recording show for WFPL. Audioasis, in which Joe V. plays anything from offbeat comedy routines to newgrass, is a challenging, extraordinarily interesting program — sort of like Dr. Demento with integrity.
The varying programming that WFPL holds dear conflicts directly with a radio industry axiom: the way to capture listeners and keep them is through consistency. Although WFPL airs more news and information than any other local station, a news junkie has a pretty good chance of turning his radio to 89.3 FM and hearing something else.
"Anytime that you're inconsistent with your format, it's a challenge to keep listeners from one show to the next," Weston said. "We're not naive, we know we must lose people. But that's part of the fun of public radio. We don't just do one thing all day. Even on K [station employees often refer to the two stations by the decisive last call letter] we do arts modules during drive time, we present taped interviews of artists — it's not just classical music."
A prerequisite for Weston's job is a passion for public radio. Weston said he has loved public radio since he was a teenager in Hingham, Mass. And these days, it's the only place he can find the music that he enjoys.
"I love alternative music. I love jazz and classical music," he told me. "I love many different types of music that commercial radio just does not give me."
Weston came to Louisville to do the Jazz Tonight show on WFPL from a commercial radio job in Cape Cod. Weston started the nightly jazz show, which has grown into Impressions, in October of 1980. He passed the torch to Leslie Stewart in June of 1986, and she's hosted the show ever since. The witty, friendly Louisville native encountered some constructive criticism from jazz legend and New Albany resident Jamey Aebersold early on. Aebersold, a straight-ahead jazz fan, would only half kiddingly call the show Are You Going to Play Some Jazz Tonight.
"It was very intimidating to hear from Jamey Aebersold, because, well, this is Jamey Aebersold," Stewart recounted. "I had played along to all his play-along records. But you have to realize that he is not your average listener. Then you're okay."
Stewart plays what she said she believes is the future of jazz: a blend of traditional jazz and world beat music. Her Impressions show may grate on the nerves of jazz purists — just as Phil Bailey's Jazz Today show soothes them. Bailey's show is an oasis for folks who treasure the music of Miles Davis, Charlie Parker, Bill Evans and other be-bop and hard bop greats. Besides having an encyclopedic knowledge of jazz, Bailey has one of the most distinctive voices in radio. It's a blend of Louisville drawl, jazz hipster, and a touch of his native Maine.
Bailey serves as music director for both stations, which, of course, means a little of this and a lot of that, all of it unlike any typical job description. He maintains the record library for WFPK and monitors the shows for quality control. He logs in new releases and oversees some classical programming. And while he now is known for his jazz show, Bailey initially came to WFPL to do the morning classical music show on WFPK.
"The way I know classical music is the way somebody knows French if they learned it down at UofL," Bailey explained. "But I know jazz the way a Frenchman knows French. It's my native language."
Somewhat guarded in his conversation, Bailey is nonetheless direct about his role in the two stations and their roles in the community. He boldly demystifies the antique notion that public radio is a sacred gift to the community.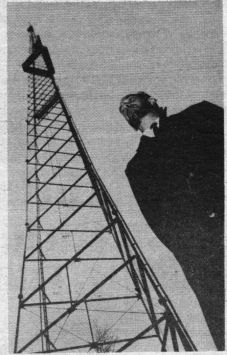 WFPK/WFPL's twin towers. Photo by Nicolas Bonura
"It's kind of heresy, nobody ever talks about it, but rock is the music of America," he said. "Therefore you could argue that 'QMF is providing the biggest community service."
So there you have it. The radio station that seems like a wonderful ideal is really not so big of a deal at all.
Don't believe it. The folks at WFPL are creating the improbable out of the impossible, supplying music and information of unmatched diversity and quality with money literally begged for every year. And for that money, the public gets exactly what it wants: nearly everything. But not quite.
"We can't fall into the trap where we feel we have to appeal to everybody," Weston said. "We can't possibly play every type of music. But we want to program to an audience, not a vacuum. We're not out to appeal to the smallest number of people possible. I think a lot of public stations have had that problem over the years.
"We're not here to educate. That is not our mission. What we're doing is trying to program music that people want to hear rather than what we think they should hear. That's the best way I can explain it. I don't mean selling out. We want to broadcast what people want to hear."
Tags: