This page was generated in 0.04 seconds.
December 1990 Articles
Cover Story
Jean Metcalfe
Columns
Paul Moffett
Earl Meyers
CD Reviews
Eric Metcalfe
Bob Bahr
Bob Bahr
William Brents
Performance Reviews
Scott Furlong
Jean Metcalfe
Wally Stewart
Patricia E. Finger
Ronnie Dee
Theresa Johnson
Patricia E. Finger
Scott Furlong
Interviews
Jim Bond
Henry C. Mayer
Calendar
Staff
News Item
Staff
Preview
Staff
Opinion
Berk Bryant
Errata
Staff
LASC
Diana Black
Diana Black
Ronnie Dee
Jean Metcalfe
Staff
Letters
Staff
Music Business News
Staff
Staff
Bookmark Louisville Music News.net with these handy
social bookmarking tools:
Available RSS Feeds
- Top Picks
- Today's Music
- Editor's Blog
- Articles
Add Louisville Music News' RSS Feed to Your Yahoo!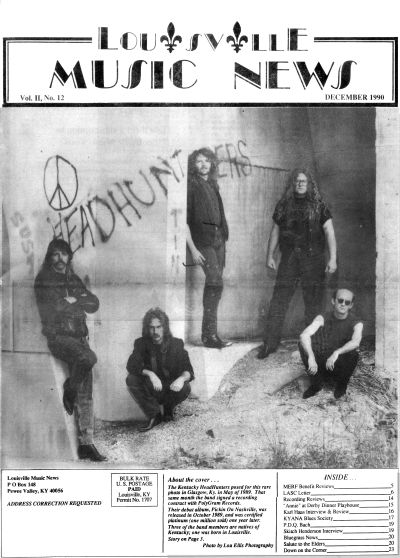 Let Me Tell You About ...
The Kentucky Headhunters
By Jean Metcalfe
The manila, envelope with a Glasgow, Ky. return address contained some fascinating items:
• A yellowed newspaper clipping, date unknown, about "the newest rock group to emerge out of the Edmonton-Glasgow area." The group was called "Aftermath." The newspaper article concluded, if things go right, perhaps (they) will one day cut a record."
• A 45 rpm record by The Headhunters on the Gum Island label. Bill Monroe and Jake Landers' "Walk Softly On This Heart of Mine" was on Side A, and Don Gibson's "Oh Lonesome Me" was on Side B. "The Headhunters" were the artists.
• An attractive, professionally printed invitation from PolyGram Records to attend a "bountiful barbecue bash" to salute Mercury recording artists The Kentucky HeadHunters on October 30, 1990. The invitation was headed "Pickin' On Platinum," and informed that The Kentucky HeadHunters' debut LP, Pickin' On Nashville, the 1990 Country Music Association Album of the Year, had just been certified PLATINUM!
All that and more in one manila envelope!
Greg Martin, lead guitarist for the The Kentucky Headhunters, had promised to send me some "stuff," but I was amazed at all the personal keepsakes he had let me borrow.
There was an insert from their famous "pink tape," several 8x10 glossies, an "Itchy Brother" record sleeve that had once contained a 45 of the group's "Shotgun Effie" and "Rockin Roller." It was great fun to look at each item and wonder what might be revealed next.
I had spoken with Greg Martin at Jimmy Brown's Guitar Emporium just a day or two before Brown moved his business from 1019 to 1610 Bardstown Road. Brown has on the wall a gold record of Pickin' On Nashville, which Greg gave him "because he has been so good to me over the years."
My interview with Greg that Saturday in November and a telephone interview several days later totaled some six hours. Mighty generous of a person who plays with a famous, award-winning touring band. The conversations were laced with mentions of people who had been instrumental in the success of The Kentucky HeadHunters.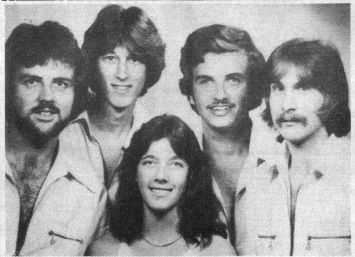 Karen Kraft and Evergreen. Greg Martin is at right.
I found Greg to be an interesting, downto-earth man, and I enjoyed talking with him.
The band members were taking a few days off at the end of a busy tour, before heading for California for four days to tape Dick Clark's New Year's Eve show.
The group will be performing live – and doing their own singing – at the Louisville Gardens on New Year's Eve when the tape is aired.
Greg Martin was born at St. Joseph's Hospital in Louisville, on March 31, 1953. His family lived in Highland Park when Greg was a baby, but his earliest recollection is of living on Sixth Street next door to Ellen C. Semple School.
When Greg was in second grade his father bought a house on Dresden Avenue in Louisville's South End, "about a block over from Longfield, right next to Churchill Downs. And that's where I picked up the guitar."
Greg recalls hearing his brother Gary and his cousin Larry Dowell, who were in bands, playing their guitars. Greg picked up "a little plastic guitar with nylon strings that could actually be played" that one of his brothers had received as a birthday present. Greg's father would tune it and Greg would sit on the porch and "whack away at it."
Greg played that plastic guitar until his brother Steve got mad one day and broke it in the flower bed. (There was also another occasion, and another guitar – a "cheap Stella – that fell victim to a brother, who in anger one day cut off the strings.) "Then I moved up in the world," Greg said. He would play his brother's good Fender guitars when he was at work.
Greg recalls that Gary Kinnamon, who used to play with See Saw, showed him a few chords, and Greg took it from there, learning by watching others play.
Some of Greg's fondest memories are of incidents that happened when he lived on Dresden: Being turned on to the Beatles in the summer of '65, and hearing "Mr. Tambourine Man," "Like A Rolling Stone," and "Satisfaction" by the Stones. Going through his brother's records and "grabbing up a Chuck Berry, an old Chess record, and discovering 'Johnny B. Goode.' That was really cool."
Greg vividly remembers as an "eyeopening" event the time his brother took him to see The Loving Spoonful in their original form at Memorial Auditorium in 1966. "That hit me pretty good," he said.
In December of 1967, while Greg's father was working at Fawcett Printing Company, Greg's parents got "fed up with city life, I guess" and moved to a farm in Edmonton, Ky., where the Martins were originally from.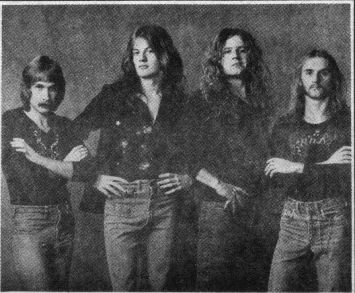 ITCHY BROTHER: L to R, Greg Martin, Anthony Kenney, Richard Young, Fred Young.
Greg's older brother Gary remained in Louisville, living with their grandmother. Unable to find acceptable employment in Edmonton, Greg's father took a job in Louisville and moved in with them.
Good weather or bad, Greg's father would drive to Edmonton on weekends. "We'd always live to see that little Falcon comin' down the road every Saturday morning," Greg reminisced.
Greg liked Edmonton, but he really missed Louisville. On his old General Electric AM tube radio, he would tune in to Louisville radio stations WKLO and WAKY.
"I guess my earliest influences were my bothers, cousins, Dad … and my radio. Records and stuff like that," Greg summed up.
He was beginning to hear such Louisville groups as The Rugbys, The Mersey Beats, Soul Inc., and The Chateaus. "There were some really good bands up there," Greg said. He can remember his brother and cousins talking about how good Frank Bugbee, Wayne Young and Steve McNichol were, but Greg was too young to go to the sock hops with them.
"About 1968, my cousin Larry takes me to See Elysian Field. It was Frank Bugbee, Marvin Maxwell and Gary Johnson. Jimmy Settle was with the band, but he left. I believe it was Gary Johnson's first gig." I commented on Greg's excellent memory. "These are things that really stick with me really fond memories." Although Greg couldn't recall the school where he first heard Elysian Field play, he did remember that their record, "Kind Of A Man," had just hit number one on WKLO.
Greg had heard a few bands, "But when I saw Elysian Field it was like neon lights went off." Bugbee's guitar work "just freaked me out. It was 'magic'... the guy was great, there's no doubt about it These guys came out in three-piece it seems like they had a little light show behind them you know, Marvin Maxwell's a great drummer. He's one of the best drummers I've ever heard. He's simple, and he does what a drummer should do. Frank would be playing 'Classical Gas,' 'McArthur Park,' they were doing 'Sunshine Of Your Love' by Cream. They'd do Moby Grape, they were doing 'Light My Fire,' then they'd do something like 'Folsom Prison Blues." I couldn't believe how heavy they were and right there done me in." he said, with a hearty laugh. "l wanted an electric guitar right then."
He was also hearing about Eric Clapton around that same time, he said.
"Anyway, I went on back to Edmonton. I was still in like a daze from the whole experience. I don't think Marvin Maxwell realizes what those boys done," he said, admitting that it changed his life.
Gary Martin gave his younger brother Greg a Gretsch Silver Jet, "which is a real expensive guitar. The finish was real funky – something Bo Diddley would've been real proud to own." Gary "couldn't handle the color," and had painted the guitar black. "You couldn't give that guitar away back then," Greg laughed.
He remembers sitting on his aunt's porch one day and noticing that some of the black paint had chipped off, so he took all the paint off and got the guitar back to its former silver state. "That was my first electric guitar," Greg related, and it was obvious that the memory was a cherished one.
Greg's father gave him a 1956 Les Paul about a year later, and Greg gave the Gretsch back to Gary. Gary sold it for $100, and "it's probably worth $2,000."
Greg's father fondly recalls when Greg was small and would play guitar until he fell asleep with the instrument in his hands. His parents would remove the guitar and tuck Greg in for the night.
Even when he was in the eight and ninth grades he would fall asleep playing the Silver Jet. "I would just fall out. I mean I would sit there and play that's all I wanted to do was play the guitar."
Greg's father, his older brother Gary, and his uncle Wade Martin played guitar, but none played professionally.
"Wade came pretty close to being professional, but he never did really get out of Louisville." Greg remembers his uncle taking him along when he performed at the Blue Lick Jamboree and once to Lincoln Jamboree in Hodgenville, Ky.
Although Wade Martin never quite made it in the big time, in Greg's mind he made it.
Wade Martin wrote the song "High Steppin' Daddy," and it was released by Grover Gaddie on the Blue Angel label back in the early Sixties, Greg said, but it received only a little local airplay. Then, with more than a touch of pride in his voice, Greg added, "We cut his song and now he's got a platinum album."
("High Steppin' Daddy" is a cut on the HeadHunters current album, Pickin On Nashville, which was recently certified platinum. "Platinum" indicates 1,000,000 units sold.)
The inspiration that Greg's Uncle Wade gave to him had been repaid, I suggested.
Greg reiterated that his Uncle had indeed been an influence, and extended the list of positive influences to include his cousins Larry and Bobby Dowell. "They were really good to me. I was a little kid … I guess they knew that I was into it, and they would just make special trips just to take me out to see bands." During that period of time Greg's brother Gary was in California, and it was Larry who took Greg to see Elysian Field.
In the Fall of 1968, after having seen Elysian Field, "I wanted to be in a band," Greg said.
One day while riding on the Metcalfe County High School bus, a distant cousin, Larry Sullivan – a nephew of Lonzo and Oscar — told Greg that Richard Young was going to be in an FHA talent show and needed a guitar player. Would Greg be interested? "Yes."
"At that time I was into all this real heavy music like Moby Grape, Cream and Jimi Hendrix, and everybody else around school was into The Archies and The Grass Roots, which is fine, too." Although Richard Young and Greg Martin are cousins, and their parents knew each other well, the two had never met.
One day Greg took his old Silver Jet down to the Edmonton Elementary School, and he and Richard jammed for the first time – in the kitchen or in a storage room of the school.
In their first appearance together that Fall, the "put-together" band played in the 4-H Talent Show. They played "Hey J ude" and "Born to Be Wild" and perhaps "Sunshine Of Your Love." Richard Young's brother Fred Young, who is now The Kentucky HeadHunters' drummer, was a little younger (no pun intended), and did not play drums for the 4-H performance.
At that same time, Richard and Fred Young and Anthony Kenney had a regular band called The Truce. Greg started jamming with the three of them at the home of the Youngs "and that was pretty much the beginning of the Itchy Brother band," Greg said, although the actual name would come later.
The group had various names and personnel over the years, but the trio of Greg, Richard and Fred was the nucleus of what would later become The Kentucky HeadHunters.
"Our first professional gig (Greg chuckled at the recollection) was a Toys for Tots show in Glasgow, Ky. We practiced real hard and when it was our turn to go on we all got scared to death."
They continued to play together, in such places as Park Mammoth Resort, and in the summer of '69 they (the group was at that time called "Aftermath") won a "Young Country" talent contest in Glasgow. The prize was a trip to Nashville to appear on a television show. Of that occasion Greg said, "Gee, that was our first brush with the big time, I guess."
They were still in school and would play dances, picnics, "and practice a whole bunch," and "picking up fifty bucks" now and then for a performance.
"Money didn't mean anything, we just wanted to play music. Getting out on the (Young's) farm was enough. You know, you'd go through school all week, drawing pictures of guitars in your school books … they used my agriculture book as a bad example after I graduated" Truce, Aftermath, Thoroughbred and Mandrake Velvet were several of the band names the group used, but the nucleus of the group stayed the same – Greg Martin and Richard and Fred Young. "Anthony would come and go," Greg said. (Anthony would later replace Greg Martin in Ronnie McDowell's band.)
"We were trying to play the heavy music, you know, Jimi Hendrix, Cream, Moby Grape, and that kind of stuff. We weren't the most popular band in school 'cause that wasn't the most popular music around there."
They were playing cover tunes, but would occasionally slip in one of the songs they had written. The originals didn't go over well.
"Give Me Static" was the first original Greg remembers the group doing. "Don't laugh, Greg warned with a grin, as he related the title of another original – "Frog Guts."
I laughed.
"You can see why they wouldn't go over very good ... but we were weird kids," Greg confessed, as I continued to laugh.
They hadn't yet found the formula, Greg said. "It took us to write something great like 'Dumas Walker' figure that out.
'Dumas Walker,"he said incredulously.
"Me and my wife (Ruth) laugh about that all the time," Greg chuckled.
Fred, Richard, Anthony and Greg were going to school weekdays and practicing on weekends whenever they could. "I'd drive my old green Falcon over from Cedar Flat where I lived – that's outside of Edmonton – to Wisdom, Ky. to rehearse at the "practice house," on the farm which belonged to Ma Effie Young, who had passed away several years before, and who was celebrated in the song "Shotgun Effie," recorded by Itchy Brother.
They have been rehearsing in. the practice house since about 1968. "Anything that meant anything to us is hanging out there on the walls."
"That room's heard a lot of music. It's a real special place," Greg said. "You can go out and hear the crickets in the summer and smell the cow manure." It is also the place where they filmed the interview that will be seen on VH1 in December.
I asked Greg if any breaks had come their way after the 'Youth Country' win.
"You would think that after doing something like that things would really take off, but they didn't. We were just doing too weird of a music for everybody around there."
"We would never do what was popular. We would play where our heart was at... We weren't playing Top 40."
"We were hot that Fall, man, we played the factory (Edmonton Manufacturing Company) picnic and another dance somewhere. We thought we were really cool." The picnic, an annual affair, was held at the Branstetter Park in Summer Shade, Ky, and Greg thinks they "actually got paid about $75."
They were hired to play the Metcalfe County High School prom in about 1970, Greg recalls. "Man, I can't believe how we ever got hired ...we were the furthest thing from a prom band there ever was. So we decided to play 'The Pusher' at the prom." That decision prompted the English teacher to "unplug the PA on us. ... Back then, we just thought it was cool 'cause somebody was cussing on a record 'cause you weren't supposed to do that"
Greg understands why that happened, and says that they are friends with the show-stopping English teacher to this day.
"I got bad grades because I did not apply myself," Greg said emphatically, after admitting that he wasn't the greatest student. "All I cared about was playing the guitar."
Gospel music had an influence on Greg. He played with the Temple Trio and the Edmonton Quartet. Playing gospel as well as playing rock 'n' roll made Greg "a pretty schizophrenic musician, I guess."
Every Thanksgiving the Oaks Ridge Boys would come to Metcalfe County High School and do a gospel show. The Edmonton Quartet, including Greg, would open for them. Greg got a kick out of talking with William Lee Golden, who has since left the Oaks.
"I grew up in the country churches like Doug and Ricky (Phelps) did." The Phelps brothers, from Arkansas, are the sons of a minister. Greg said that his family went to Beechville Methodist Church in Beechville, Ky. There's not even a post office there."
"I would play in a rock 'n' roll band on Saturday night and then go play gospel on Sunday." He recalls playing guitar on the live radio gospel show Sherman Hurt Gospel Sing in Columbia, Ky. "We'd play all night long."
Greg remembers going to church events called "dinner on the ground" on Sundays and there would be a lot of "gospel singings.
On one occasion when the Sherman Hurt Gospel Sing came to Edmonton, one of Greg's close friends, bass player Mike Perkins, got "carried away" and started wailing and it sounded like a rock 'n' roll show. The gospel musicians enjoyed it, but a couple of the quartet members didn't care much for it. A couple of days later Greg and Mike got a bit of a scolding. "But we made up. It was just a two-day problem," Greg said reassuringly.
Greg's hair, although not nearly as long as he wears it today, was a bit long then, and he recalls that the bass singer in the quartet would frequently offer him money for a haircut.
(He related that once while he was still living in Louisville – he was in the fifth or sixth grade – he brought home a bad report card and remembers his mother "throwing old Greg down in the chair and taking the scissors to my bangs.") Greg remembers coming to Louisville in about 1971 to play in a school club contest – they won it – and staying at the old Stouffer's Hotel. One of their teen-age pranks, he recalls, was – hanging a microphone out the window and yelling at people on the street. Greg was not in the club, but Ms. Jo Nell Simpson "snuck" him in and they won the contest.
After Greg's graduation from Metcalfe County High School in 1972, he and his family moved back to Louisville. They lived in the Washington Park apartments, and in June of 1972 Greg took a job at Fawcett Printing Company where his dad worked. For his graduation Greg's dad had bought him a brand new Les Paul guitar."
Does he still own that guitar'? "No, I wish I did. Mike Perkins sat down on the bed one night – Mike was a pretty big ol' boy – and that guitar was flung to the floor it never was the same after that."
Greg planned to drive between Louisville and Metcalfe County to rehearse with Fred and Richard (Greg was also dating a girl there). But things didn't quite work out that way, so for the first two or three months in Louisville he played by himself in the basement of their apartment.
It was during that time that he purchased his first real big amps from the Doo Wop Shop, and he would jam along with Johnny Winter and ZZ Top (records). That was the first time that Greg and Richard and Fred had ever been split up for a while. Although they would get together now and again to jam, he told the Youngs that, at least for the time being, there was no way he could play with them, so they took on guitarist James Harrison.
In about the Fall of 1972 Greg "got real itchy to play," because at that time the group Buster Brown – a good band, according to Greg – was real popular in Louisville. Some of the band members had roots in Glasgow, Ky. and they would come down and play at the armory and then return to Louisville. Buster Brown band members were Bobby Richie on vocals, Kenny Smith on guitar, Rico Thomas on bass and Dean Holmes.
Greg got together with a Louisville group called Vengeance, which was made up of Paul Barlow, Flip Schaffner and Tommy O'Neil. (O'Neil now has a photography shop, Greg said, next door to the location just recently vacated by Jimmy Brown's Guitar Emporium, where my first interview with Greg took place.) Greg was still going back to Metcalfe County to play gospel music on weekends.
Vengeance played in the Battle of the Bands at the car show at the Fairgrounds in Louisville, and, according to Greg, "stunk real bad." (I misunderstood, and asked, "Got stomped real bad'?") "Got stomped and we stunk, both," Greg answered.
They had fun, he said, doing originals, one of which was titled "Susie, Who's Gonna Feed the Hogs?" "That's one of our great originals," Greg said.
Richard and Fred Young and Anthony Kenney and James Harrison went ahead with Itchy Brother. Vengeance folded in about the Spring of 1973, but Greg says that to this day he and Paul and Tommy and flip still have a good relationship.
Mike Perkins, who was playing with Fred and Richard at one time, had moved to Memphis, Ind. Mike and Greg started jammin' with Tommy O'Neil, and they put a band together, called Osirus. They were writing songs and playing in Perkins' basement. O'Neil quit and they brought in Billy Judd to be the drummer. Greg still kept in touch with Richard and Fred.
In the Winter of '73 Richard phoned Greg and asked if he wanted to get together with them and cut a record.
Anthony put up the money, and he, Greg, Richard and Fred went into the studio and cut two sides on two tracks in "a little studio in Burkesville, Ky. that is long gone." "Produced by Wayne Sexton!" Greg laughingly said.
One of the two songs was "Shotgun Annie," an early Greg Martin original about Richard Young's grandmother. The flip side was a Richard Young original titled "Rockin Roller." They had 500 copies made up, and sold a few of them.
(One of the record covers was included in the manila envelope Greg sent I to me.) Greg said that once while changing a tire next to a bowling alley on Southside Drive in Louisville, he spied a copy of the record in the ditch. "So we were getting around pretty good."
(We both laughed, and I suggested that if the owner of the record were to read this story, he or she would rue the day they lost or discarded a record by the group that would become The Kentucky HeadHunters.)
In 1974 or '75, Greg got laid off from his job at Fawcett and went to work for a subsidiary of P.I. Burks in Iroquois Manor. His schedule there allowed him more time to play music and he joined Karen Kraft and the Young Kentuckians, replacing his cousin Larry who had had a "falling out" with Mr. Kraft. Greg played off and on with Karen (one group was called Karen Kraft and Evergreen). They played at school dances, and on WKLO's "Toys for Tots" show.
"We had these ridiculous outfits … we bought them at Value City. Later on we got these really cool looking Elvis jumpsuits."
In 1975 when they played the Toys for Tots Show, Harry Chapin was one Of the headliners. Seeing Chapin remains a fond memory for Greg. He recalls seeing Chapin walk into Freedom Hall, drinking a cup of coffee "just a nice, normal human being." A group called Spirits was also on the bill, as was the group Midnight Special.
In early 1977 Greg took a job with a group called Raintree.
"This is where my life gets really weird," Greg laughed, "... where Greg (referring to himself) quits his job, pretty much."
Raintree consisted of Bob Burkmeier, Allen and Chuck Mattingly, a drummer called "Speedo" and a bass player named Bill. Greg could not recall Bill's last name. When an opportunity came along for the group to play spring break, Greg quit his job at the downtown Louisville store of P.I.Burks. He told his boss, Mr. Howard Sanders, that he just had to do the gig in Daytona Beach.
"Eating one or two bologna sandwiches a day, playing all night, sleeping all day and stuff … and I thought 'now this is the life right here."
In the Summer of '77, the Itchy Brother members had moved to Atlanta for an opportunity there. One weekend that Fall, they came looking for a replacement guitar player. Greg took the job. The Atlanta deal fell through and Greg moved in with Richard and Fred and their parents on the farm in Wisdom, Ky.
They started to do some serious writing and rehearsing. They played at Sound Stage in Louisville, at Diamond Jim's Warehouse in Birmingham, at C.W. Shaw's in Atlanta, and other venues. "We made enough money to get by. It was the first time Greg did not have a "real" job.
"I remember owning about two pair of jeans – I had sold my stereo – I owned a Marshall amplifier and a guitar and an old broken down Nova. Somehow I got through." The group played together until about 1981.
Whenever Greg would go home to Louisville, his mother would load him down with canned goods to give to the Youngs to help out since he was living with them.
In early 1978, with a big snow on the ground and the guys stuck in the house, Richard dialed Swan Song Records, Led Zeppelin's label, and Mitchell Fox answered the phone. Fox never answers the phone, Greg said, and feels it was "God at work." Richard told Fox about the Itchy Brother band. Fox was intrigued and subsequently flew into Louisville for the weekend to catch Itchy Brother at Sound Stage. "He came in for the weekend, heard the band, and he loved us we hit it off at the beginning.
Back in New York, Fox "tried to figure out a way …
" To Be Continued Next Month
Tags: