November 1990 Articles
Cover Story
Jean Metcalfe
Columns
Berk Bryant
Paul Moffett
Earl Meyers
Henry C. Mayer
Performance Reviews
Patricia E. Finger
Theresa Johnson
Patricia E. Finger
Docrates
Keith Clements
Patricia E. Finger
Karen Le Van
Karen Le Van
Leonard January
Bill Ede
Interviews
Henry C. Mayer
Calendar
Staff
News Item
Jean Metcalfe
Preview
Staff
Errata
Staff
Photos
Staff
Jean Metcalfe
LASC
Staff
Paul Moffett
Staff
Diana Black
Staff
Jean Metcalfe
Gardner Barger
Diana Black
Staff
Music Business News
Jean Metcalfe
W. Michael Milom
Staff
Staff
Jean Metcalfe
Paul Moffett
Blogs
Got Shows?
Send Them To Us
Bookmark Louisville Music News.net with these handy
social bookmarking tools:
Available RSS Feeds
- Top Picks
- Today's Music
- Editor's Blog
- Articles
Add Louisville Music News' RSS Feed to Your Yahoo!

Issue`: November 1990
Let Me Tell You (Some More) About ...
Alan Rhody
Performer and Songwriter
By Jean Metcalfe
(When last we left Alan Rhody, it was late in 1977 and he was reacting to news that his song, "I'll Be True to You," was going to be recorded by The Oak Ridge Boys. It was to be a cut on the then-gospel quartet's first country-pop album. Alan's reaction: "I thought, 'Nobody's ever heard of these guys. I'm gonna have my first song cut by some gospel guys.'" )
Cliff Williamson, the first song plugger Alan worked with at Tree Publishing in Nashville, was the person who told Alan that the Oaks were going to cut "I'll Be True to You." He was the same person who had earlier told Alan that the original version of the song was too long, and that it would have to be shortened before they could get it cut by an artist. Alan shortened the song, but, at his (Alan's) request, the original version of "I'll Be True to You" was put in Tree's catalogue. But Alan credits Tree vice-president Don Gant with getting the song recorded. It was a cut on The Oak Ridge Boys' Y'All Come Back Saloon album.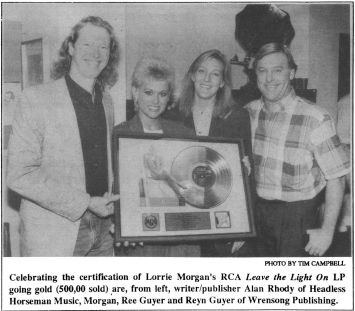 Celebrating the certification of Lorrie Morgan's RCA Leave the Light On LP going gold (500,00 sold) are, from left, writer/publisher Alan Rhody of Headless Horseman Music, Morgan, Ree Guyer and Reyn Guyer of Wrensong Publishing. Photo by Tim Campbell
The title cut became the Oaks' first single and it went to No. 3 on Billboard's country charts. "You're the One," their second single, peaked at No. 2. "I'll Be True to You" became the third single -- and a No. 1 hit -- in 1978.
Shortly after moving to Nashville in October of 1977, Alan had signed a management agreement with Don Light Talent. Light was at one time the manager of such artists as Jimmy Buffett, Delbert McClinton and Steve Wariner. The relationship lasted less than a year because Light didn't feel that Alan was quite ready for the "big time" and Alan was impatient with the pace at which things were moving. "It's nobody's fault, really," Alan said philosophically.
Alan spoke of his early years in Nashville and his ten-year association -- from 1976 to 1986 -- with Tree Publishing Company (now Tree/CBS). "I was basically introduced to the music industry and learned a lot about it, and I'm very indebted to Tree Publishing for educating me, sorta, in Nashville. And even though I wasn't the hottest thing in their company when I left, I don't think they were real pleased that I left. . . . I learned a tremendous amount at Tree, and they are totally responsible for every song I've had recorded, with the exception of maybe four or five that I've been able to get cut myself. . . . I learned how to make good recordings at Tree and how to get good results in the studio. I met an endless number of incredibly talented musicians and songwriters and singers in the ten years I was there."
By the same token, Alan felt that he was not getting the individual attention he needed during his last two or three years as a staff writer for Tree. There were just not enough song pluggers to look after the large number of writers at the large publishing company that Tree had become. (Since then, they have increased their number of song pluggers.) Although some very stressful times occurred during Alan's association with Tree, he still has a good relationship with them. "They are incredibly nice people," Alan said, "or they wouldn't be where they are today."
When Ricky Van Shelton cut Alan's "Wild-Eyed Dream," the song was about eight years old. It's an interesting story, Alan said.
Chuck Howard Jr., a song plugger and producer at Tree -- "a real energetic, positive guy" -- took an interest in Alan, and they cut a couple of demo tapes. "You Burned Me So Bad" (written by Rhody and Bill Caswell) was the last song they did. It came off "real hot" and they "just loved it." They had hit upon a kind of "rockabilly combined with today's sound" -- Chuck called it "techno-billy." Alan has high praise for the musicians who recorded the sound, describing Bill Hullett as "one of the most creative guitarists in the city." (Several years ago I had the good fortune to be present when Hullett played on an album of songs written by members of the Louisville Area Songwriters' Cooperative and produced by Alan. I was certainly impressed with Hullett's expertise on guitar.)
Howard thought it was a direction that Alan could be successful with in pursuing a record deal, so they put together a package of four songs for that purpose. Alan had only one song -- "Wild-Eyed Dream" -- that he thought would work, but was so excited about the idea that he wrote three other songs in one weekend. They went into the studio and recorded "Wild-Eyed Dream" and the three new songs and prepared to "make the rounds."
"Chuck called up Steve Buckingham at CBS, raving about the stuff," Alan recalled. Buckingham listened to the demo tape and subsequently played it for Rick Blackburn, then CBS president, but they didn't offer Alan a record contract. They loved "Wild-Eyed Dream" and wanted to pitch it (offer it to be recorded) to Merle Haggard. Alan agreed to the Haggard pitch (even though he thought it wasn't a good pitch). He asked that the song not be pitched to any new or unknown acts, since he and Chuck were still trying to land a record deal for Alan with it. Haggard passed on (turned down) the song, and Buckingham asked if he could pitch it to Ricky Skaggs. Alan agreed, but reiterated his wish not to have it pitched to new, unknown acts; they were still shopping it for Alan. Skaggs also passed on the song.
One day Alan walked into Tree and somebody asked him if he had heard his new cut. Alan hadn't, and he asked a few questions, such as what and who. The informant said, "Yeah, this new guy at CBS, Ricky Van Shelton, they cut 'Wild-Eyed Dream' on him. They say it's gonna be his first single." Alan had never heard of Ricky Van Shelton, a then-new artist that Buckingham was producing.
Alan asked then-Tree Vice-President Bob Montgomery if he had heard the four-song demo they had done, and Montgomery acknowledged that he had. When Alan asked what he thought of it, Montgomery admitted that he thought it was worth being on a record. Montgomery then explained: "Yeah, but this guy (Shelton) is gonna be a star. They're gonna make a star out of this guy."
"So, anyway, it's just one of those things that happened. Chuck took it much worse than I did. . . . And I think it needs to be known for the record that Chuck Howard Jr. and Bill Hullett created the sound that's on the record (Shelton's) of "Wild-Eyed Dream."
"They weren't trying to be sneaky about it, they were just looking for a hit for this guy."
"And I'm real happy it was a hit for him -- it went to No. 24 -- first single. . . . That is where they found the song for Ricky Van Shelton, was from me being pitched as an artist."
Alan's songs have been instrumental in launching the careers of three new artists (not counting the Oak Ridge Boys, since "I'll Be True to You" was their third single). The three are Ricky Van Shelton ("Wild-Eyed Dream"), Lorrie Morgan ("Trainwreck of Emotion," her first RCA single, which went to No. 20 on Billboard's country charts) and the Wright Brothers ("Family Man," their first Warner Brothers single -- No. 35).
"Yeah, I've hit some points of frustration where I've seriously thought about getting out of the music business. But luckily it didn't last very long because I very quickly came to the realization that I'm not sure what else I would do and be as happy as I am doing music. Yeah, I've gotten real down about it at times, my wife can attest to that. She's put up with a lot over the last twenty years that we're talking about. She's been through a lot and really come through it like a . . . saint . . . to put it in a word."
Alan stresses that his wife, his parents and his wife's parents have been supportive of his career. That's very important, he said. Some musicians aren't as fortunate in that regard as he has been. Some musicians have to overcome family opposition, rather than receive their support, he related. "My family has always been supportive of what I've done. When I was pursuing art . . . and when I switched to music they were just as supportive."
Alan and his family feel it is important for him to hold on to his painting and drawing. He remembers that his paternal grandmother -- "Mumsy" -- would always say, "You know, Alan, you should never give up your art no matter what." She needn't have worried. He says he has never had any intention of doing that. For Alan, art is like therapy.
What is the most difficult part of being in the music business? I wanted to know.
"Along with all of the successes there's a whole lot of disappointments to balance the successes out sometimes. The hardest thing, I guess, is to keep telling yourself that you do have something to offer as good as you think you do, even though, in my case, my biggest thing is accepting the fact that I've never been signed by a major label. But I've come to learn over the years that it has nothing to do with my talent or my ability. It's just the nature of the business and the timing. So many things have to be in place for that to happen and all those elements have never lined up in the right way for me yet, but I'm still convinced that it can happen."
"So you're still aspiring to become a recording artist?" I double checked. "I am," he replied. "I go through ups and downs with that, too," he admitted. "The older you get, you have to think about that, and I've reached a point where I really have to look at it hard and say, 'Do I really still want to do this if it did happen? Do I want to live 200 days of my life on a bus or something like that, if, God willing, I would ever reach that point . . . But at this point and on this day, yes," he laughed.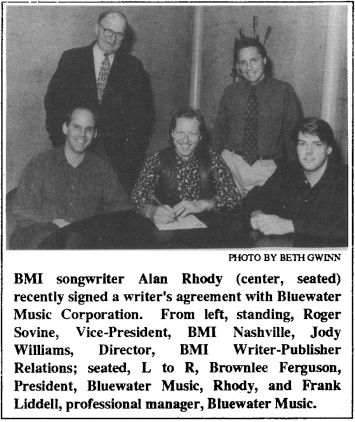 "Yes, I still want to do it very badly, and I'm gonna to do everything I can to make that happen within the next couple of years. And I won't say that I'm gonna stop pursuing it if it doesn't happen in the next couple of years, but at that point I will probably look at it even harder."
"The biggest thing that I need right now, I think, to make this happen is, first of all, a team of people." The team would be comprised of "a manager who just totally, totally believes in you" and "maybe an attorney who you feel very comfortable with, who also touts you." Alan also thinks that "there's a whole lot of weight in word of mouth and stirring a buzz up in a music-business town" such as Nashville.
"When a record label signs a new act, it's a very serious financial venture. Record deals are just the most fragile things, and yet they're the most important things. That's why they have to be so sure before they get anywhere near signing contracts."
Alan enjoys a good reputation in Nashville both as a songwriter and a performer. He hopes to come up with the right combination of his original songs, performed by him, and, after gathering a team that will believe in him, shop the finished product to the record labels. He has just recently recorded some of his new songs, and that brings him one step closer to his goal.
I asked for a bit of advice for songwriters. Alan laughed and said, "Oh boy, I would just say the number one thing is don't ever take rejection personally, and just always keep believing in what you're doing. . . . It's not easy at any time."
I brought up the subject of songwriter recognition, which I feel most songwriters think is inadequate. Alan believes that within the industry there is a real effort going on to give more to songwriters than they used to receive. He told me that the Nashville Songwriters Association International (NSAI) is "making leaps and bounds recently with their pro writers."
They have meetings at which songwriters can, for example, question a record label president. "That is really progress when a record label president will come in and sit and talk to 30 or 40 of the best writers in Nashville. It shows how much they care about the songwriting community."
Alan spoke about a situation where a record label asked a top country artist to limit the number of songs on his upcoming album to ten or else pick up the tab for the extra four songs he wanted included, or call the publishers of the songs and ask for a reduced rate on mechanicals. "Well that started things buzzing . . ." But most of the publishers gave in right away because they wanted to be included on the album of this megastar. A couple of publishers held out for a while, but subsequently went along.
At one of the meetings of the NSAI this was the hot issue. The group took steps that ultimately resulted in the publishers and songwriters not having to accept reduced royalty rates for their songs, thereby preventing a very dangerous precedent from being set. The writers will no doubt be faced with that situation in the future, Alan feels, and they were urged to keep this in mind in future negotiations with their publishers.
Alan's favorite song that he has written? "I don't know if I could name one song that's my favorite."
But by the time I started to ask another question, Alan had come up with an answer to the previous one: "I know what it is. It would be a song about my grandmother ('Mumsy, from England, who was an incredible lady who lived to be 95') that I have yet to finish. I've been working on it off and on since 1981. It's one I've been just sorta letting it sit there and roll around in my head until one night I'll sit down and finally know how I should finish it. It's an important song to me, I'll put it that way."
Has success with his songs caused artists to come to him for new material?
It takes a string of hits to reach that status, he said. He did, however, expect a little more reaction from the Oaks after writing what became one of their biggest hits. But songs such as "Wild-Eyed Dream" and "Trainwreck of Emotion" (his second two biggest songs as far as chart success goes, after "I'll Be True to You") opened doors "in the sense that when they get an Alan Rhody song they want to hear it." But when an artist reaches star status, they are inundated with so many songs that there is no need for them to go to a songwriter and ask for a custom-written song. This does happen to a very limited number of the legendary songwriters (Harlan Howard, to name one). A few artists who want to also be writers might call up a Harlan Howard-caliber writer who they hold in high regard and want to write with that writer. When this happens, I asked tongue-in-cheek, does the songwriter ever decline? We both laughed. Alan then said that he feels songwriters wouldn't pass up an opportunity to write with a major artist. "It's that old cowboy pride," he added, quoting the title of an Ian Tyson song.
Alan feels that if he concentrated 100% of his time and energy strictly on songwriting he could attain the success level of a Bob McDill ("Good Ole Boys Like Me") or a Don Schlitz ("The Gambler"). And I'm not really sure that's what I want to be either."
Right now Alan writes songs as "a spontaneous thing with my inspirations and emotions and things that go through my head. . . . But when you consciously sit down and co-write it's a totally different thing than if something hits you emotionally that makes you want to write a song about it."
Replying to my question, Alan says that he would guess he has written about 300 or 400 songs -- "good and bad" -- he hasn't counted them.
Some were apparently quite good; so far, Alan has earned seven gold and four platinum record awards.
Alan said he has come to realize in the last few years what made his music happen to begin with, and where the source of the stuff he writes by himself comes from.
"I feel like the most meaningful songs and the songs I feel the best about, whether they're commercial or whether they've been commercial successes or not, are things that I've written by myself, that I think will have more lasting quality, put it that way," he explained. "And that could be true or not true. I'm just leaning that way these days. Maybe it's because I'm over forty and feel like I need to write things that are important to me rather than sitting down and trying to write for the radio and that kind of thing."
Alan wrote songs for more than seven years before he went to Nashville, he said, "and I never even thought of co-writing, it never entered mind, 'cause everybody I admired and who had inspired my music were individual singer-songwriters: Joni Mitchell, Dylan, Lightfoot, The Beatles. You almost thought of Lennon-McCartney as one writer.
"And I had the music in me . . . I never felt a need to go to anybody else . . . and it was a long, evolved process to get to where I could feel confident about writing."
Alan does, however, have a select few co-writers that he works with on a regular basis.
For the last four-and-one-half years Alan has been publishing or co-publishing his own material under his BMI company Headless Horseman Music, and Allniter Music, his ASCAP company.
Alan has just signed on as a staff writer with Bluewater Music Corporation, a publishing company based in Houston, Texas. Bluewater has had a Nashville office for about three years, with both BMI and ASCAP companies. It's a very small, but successful, one-owner company, Alan said, and he is very excited and happy about being a part of it. They sign primarily artist-writers -- a real plus for Alan.
Frank Liddell heads up the Nashville office for Bluewater owner Brownlee Ferguson.
Alan spoke enthusiastically about the company: "They have five or six staff writers. They started in Texas some time ago with David Lynn Jones, writer of the Willie Nelson hit 'Living in the Promiseland,' which Joe Cocker recently recorded for his new live album. Wood Newton is also with them -- in his second year with them. A couple of others are artist-writers. One writer, Jim Lauderdale, has just signed a record deal with Warner Brothers and will be produced by Rodney Crowell. It is a small, but a quality kind of company."
Alan says Bluewater is real excited to have him on their staff, and that they are ready to "hit the street with my songs, which is the key to a good publisher-writer relationship. The money is one thing, but enthusiasm and pitching your songs has got to be the key for a writer to want to be with a company."
I asked about Alan's early involvement with Louisville Homefront Performances. He recalls being at Butchertown Pub with Karen Fancher and John Gage, thinking "how great it would be to have a concert series, because most musicians in Louisville don't have too many venues to play other than the bar scene, and we just thought that if there was a locally oriented concert series that focused on local and regional talent that wasn't necessarily name acts or necessarily famous, but gave them a real place to play their music for a listening audience, that it would be really good. And John and Karen actually followed through on it." Alan recalled that Ken Pyle and others were in on the formation of LHP, and that the first gathering was held at the Neighborhood Association Building in Old Louisville where Pyle was working.
"It was really, really great to see that come to life . . . and I'm really proud to have been to at least that first meeting," Alan said. "That's a great group of people," he added.
Alan has performed on most of Homefront's anniversary shows since its inception nearly seven years ago.
When the Phoenix Hill Tavern first started having live entertainment, Alan was one of the first to play there. The stage was located in what is now their Taproom. That was before Phoenix Hill was enlarged, adding two more stages.
Alan has recently gotten involved with Kentucky Music Weekend, and has performed on both their 1989 and 1990 showcases. He performs about once every two or three months in the Louisville area, in addition to performing in Florida, Alabama, Arkansas, and occasionally in Canada. In April of this year he performed as part of the Earth Day celebration at the capitol in Frankfort, Ky.
Alan will be headlining a special Louisville Area Songwriters' Coorperative Songwriter Showcase at the Holiday Inn Downtown in Louisville on November 2. He is an honorary member of that organization.
Alan Rhody, recipient of gold and platinum record awards, would like for people to think of him as being honest to himself and honest about what he is doing in the music business.
I suspect that is exactly how he is thought of by the people who really know Alan Rhody.
Tags: