August 1990 Articles
Cover Story
Jean Metcalfe
Features
Patricia E. Finger
Joyce Trammell
Jean Metcalfe
Columns
Paul Moffett
Earl Meyers
Berk Bryant
Performance Reviews
Jim Powell
Michael Campbell
Wally Stewart
William Brents
Henry C. Mayer
Race Bannon
Jean Metcalfe
Theresa Johnson
Calendar
Staff
News Item
Jeffrey Crowder
Staff
Staff
Preview
Bill Ede
Paul Moffett
Photos
Staff
LASC
Diana Black
Diana Black
Jean Metcalfe
Diana Black
Staff
Staff
Diana Black
Diana Black
Letters
Staff
Music Business News
Staff
Staff
Staff
Blogs
Got Shows?
Send Them To Us
Bookmark Louisville Music News.net with these handy
social bookmarking tools:
Available RSS Feeds
- Top Picks
- Today's Music
- Editor's Blog
- Articles
Add Louisville Music News' RSS Feed to Your Yahoo!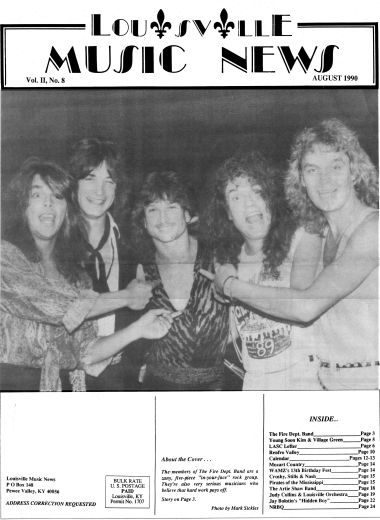 Let Me Tell You About ...
The Fire Dept. Band
Zany, Hard-Working, Serious Musicians
By Jean Metcalfe
(The members of The Fire Dept. Band had just returned from a gig in Michigan and were getting a little rest and recreation, away from the telephone. Their lead guitar player, Allen Needham, met with me at Modern Music Outlet in Jeffersonville, Ind. to represent and talk about The Fire Dept. Band. Needham was reluctant to talk about himself, concentrating instead on the talents of the other members and the group itself. Information about Needham was elicited by my questions.)
They may be a bit crazy onstage, but the members of The Fire Dept. Band are serious musicians. The success they are currently enjoying came about because of dedication and hard work. There have been several personnel changes during the seven years that the group has been together, but three of the early members remain.
Steve Steele and Pat Smith put the group together, hiring Needham to play guitar and Perry L. Scroggin to be their drummer. (Scroggin also plays saxophone.)
Several years ago Smith quit the band and Scroggin hurt his back, all in the same week. "Forty percent of the band leaves in a week. We didn't break up, we sucked it up and kept going," Needham proudly related.
Mark Martin from Stanford, Ky. replaced Smith, and Scroggin came back after a one-year absence. A couple of months ago they took on rhythm guitar player Mike Hatfield, from Grand Rapids, Mich.
Needham says that Scroggin is "one of the most gifted drummers in our circuit, and we're lucky to have him." Scroggin comes up with, and portrays an array of characters in, the skits that are a part of the group's performances. "Occasionally he's James Brown. Occasionally he's all kinds of people, actually. He's got a severe personality disorder. He don't know who he is," Needham said with glee. He also said that Scroggin is like a brother to him.
Lead singer Steele, who fills the role of front man for the band, has been "one of the number one entertainers in Louisville for years," according to Needham. Needham had many additional positive things to say about Steele.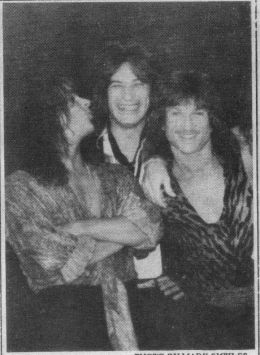 Left to right, Allen Needham, Mike Hatfield, Perry L. Scroggins. Photo byMark Sickles
Of Martin, Needham said, "He's a great bass player." (Martin had been with the group one year that very day, and Needham allowed as how he'd have to call him up and congratulate him.)
The group met Hatfield some time ago when they were playing in Michigan where he had a band that played all original music. They invited him to come to Kentucky to play and write with them, and about two months ago he did. He would be moving his family to Clarksville, Ind. the following week, and the group would be playing a week-long gig at The Toy Tiger, starting on the evening of Hatfield's move.
Needham says that Hatfield is an excellent songwriter and that the first week he was with them, instead of rehearsing cover tunes they wrote an original song. That was proof that they could work together, Needham said.
"We've been having a ball since then. We wrote two or three new originals and, in fact, by the time this tape (their debut album Things Are Tough All Over) comes out, we'll have a half dozen new ones going on."
Although Needham did not comment on his own musical ability, a later listen confirmed my suspicion that he handles lead guitar quite well for the group. Despite Needham's reluctance to talk about himself, it should be noted that he earned the lead guitar player position in Phoenix Hill Tavern's 1989 "Lou-U-Vull All Star Rock 'N' Roll Band."
In a regrouping effort some time back, the band started rehearsing at Modern Music Outlet in Jeffersonville, Ind. They rehearsed a total of 70 hours in ten days (which included a day of setup and a day tearing down). In that time, Needham said, they became a whole new band -- ten times better a band than they had been before the marathon rehearsal. "Hard work, we loved it, it was so much fun 'cause the excitement was back."
Needham said that the band was working very well before the loss of the two members, and that it was a difficult year while they regrouped. But he is philosophical about the turn of events. "I'm pleased with the way it turned out, it was a terrible thing ... but, the current lineup, I couldn't ask for better people to play with. I enjoy every second with 'em, and I think we all feel the same about each other."
"Everybody has been doing it long enough, we're over all of the 'green' part of it, and we know how to take care of ourselves, cause nobody's gonna help you but you."
"We're like brothers. We're tight," Needham said, describing the group's cohesiveness.
Everyone in the band writes. Each member tends to write the part that he will play and/or sing, so it is truly a group effort.
This past January they decided to become an original band, make a tape of their original tunes, and promote themselves as an original band. For the most part they will quit playing cover tunes, although they will continue to do some, including remakes of old songs.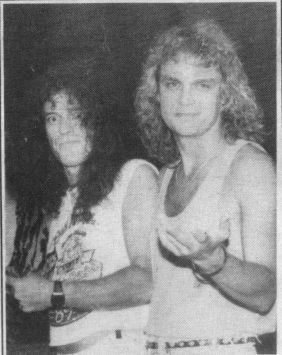 Left to right, Steve Steele, Mark Martin. Photo by Mark Sickles.
"It would be wonderful if people would continue to support us in the original material as they have been in the cover material that we have been doing for years," Needham said. "So when the tape comes out, call the radio stations and request it. Buy it. Buy our tape -- we need the money."
"We're gonna shop the tape. We have a lot of people who are going to help us. Every record company in the United States of America is gonna get one of these," Needham said of Things Are Tough All Over.
"We're gonna give it a shot, 'cause we ain't got nothing to lose. There's nobody gonna come and help us 'cause we do everything ourselves. We book the band ourselves. It's our organization."
Needham credits Rick Boone, who engineered and helped produce the new album, with the high quality of the product. "It wouldn't have been near as good if we didn't have that guy," Needham said. "He can play anything," he added, and went on to elaborate on Boone's talents.
The Fire Dept. Band has "higher aspirations" than playing bars. "We're aiming to make a statement I suppose," Needham said when I asked if they were aiming for the top. "We don't want to play bars a whole lot, nobody does. Who wants to do that, 'cause that's a one-way road and you know where that's going to stop. As soon as the years creep up on you to where you just physically can't go through with it anymore. That's when that stops."
"The tapes will be sold all across America," he said in his cookware-salesman voice. "Buy our tapes."
Needham spoke about Rob Pickett, in whose store our interview was taking place: "I help Rob out because I believe in what Rob's trying to do for the community, and I like him a lot. He's one of my best friends in the entire world. You can definitely say that. . . . He's a musician first (he plays guitar with da Mudcats), he's a businessman second, and he actually cares about musicians."
Needham sounded both wistful and stoic when the subject turned to the group's personal lives: "It takes a different kind of woman to put up with what we do, and we've all lost the people you (they) love most. However, we have a dream, and nobody should tell you how to run your dreams, 'cause you have dreams, you have desires and how could you sit there and be with somebody for years and them say, 'Oh, I don't like what you're doing. I don't care if it's your dream or not' ... What effect would that have? Not a good one."
Speaking of the group's dedication and the vast amount of time they have spent in rehearsal to earn the success that is theirs, Needham said, "Nobody in this whole world has a single right . . . to say 'Stop what you're doing . . .'" He went on to say that no one would tell a doctor not to practice after having spent years of study in preparation for that career.
"We all believe. There's something going on, there's something going to happen . . . too many doors are open for us, and we have a responsibility to ourselves, to the people that's been paying to see us for years, and we're not goin' to let anybody down, starting with ourselves." Needham left no doubt.
TFDB plays in Louisville about once every five weeks, eighteen weeks a year at The Toy Tiger. They also play in Bardstown, Ky. and in Eastern Kentucky. Needham gives The Toy Tiger high marks for having been good for their group. The readers of Guitar for the Practicing Musician recently voted The Toy Tiger and The Fire Dept. Band high on their list of top bands and clubs.
The group played at a benefit concert at Lincoln County High School in April to raise money to help pay for a Jaws of Life for the city of Stanford, Ky. Mitchell Martin, brother of TFDB's Mark Martin, was killed in an automobile accident in that city, and, according to Needham, the death could have been prevented had a Jaws of Life been available. The life-saving piece of equipment has been used on several occasions since that time, Needham added.
Although they have had agents in the past, The Fire Dept. Band currently books its own gigs. "If anybody wants us, they call us," Needham said. "The name is there. They know we've never cancelled a job ever in seven years. We've never been late . . . our record stands, and the bar community talks ('Who does you a good job?'), and the answer is always positive, and that's why people call." Needham speaks with pride of their record, and informs me that as of two or three months ago, they have bookings for the remainder of the year. That must surely be a source of comfort, especially since that is how they all make their living. These are not part-time musicians.
They learned a few lessons along the road to becoming savvy businessmen.
Assuring me that it had happened "one time only," Needham said, "Here's a horror story. Check this out. We started playing (their first job) June 29 seven years ago. We played four or five jobs, we're 'green,' we don't have nothin', we don't know nothin', we're just goin' for it."
Needham kept both of us laughing as he related how they got themselves booked into several venues in Florida, including Daytona Beach and Tampa. Their equipment was woefully inadequate -- the amplifier was about as big as Needham's attache-sized cassette tape case, he said, and they had 16 lights. "If you ain't got 60-80 power cans and five Marshall stacks and a drum stack that kills ya, you ain't competin'. Well, that's what they said."
Needham laughed heartily as he described their adventure. After completing a week in Daytona Beach that wasn't "that okay," the band headed for the Tampa job. Sand was everywhere in their van. Meanwhile the agent had been checking up on them.
The Tampa gig didn't happen. They arrived just in time to see the replacement band's light truck drop off "like, 160 power cans."
"We were goin', 'Oh ... well ... I'm kinda glad we ain't playin' here after all.' And then the PA truck drove in and it was even worse than that." (Both of us are laughing riotously.)
"We realized right then that we were in the land of the giants."
Unfortunately, they had spent all of their money getting there. "It was my first time away from my parents," Needham said, "And I like to freaked out 'cause we were sitting there goin' 'Well, we haven't got any money.'"
"We did call Steve's father and he mailed us some money for gas and we got home. But ... it was like reality ... sitting there in the parking lot with nowhere to go. Wow!"
(Needham's voice turned brighter as their mood had apparently done after the initial shock of reality in Tampa, Fla.) "So what do we do? We camp out on the beach and stayed for three days and watched the band play."
"The band is excellent," the Daytona Beach contact had told the agent, "but they just don't have the equipment." The compliment was the encouragement that the group needed. Two or three years later after they had regrouped they went back and "kicked butt." They warmed up for the nationally known group Autograph who at that time had a No. 1 hit, "Turn Up the Radio." They did two one-hour shows and got an encore. All the members of Autograph were in the audience.
Needham said that he could do a lot of name dropping of groups that they have warmed up for. "Ted Nugent even blew up my amp one night," he told me with a proud laugh. It was not a negative experience.
Nugent had been one of Needham's positive influences as he was deciding to pursue a career in music. So was his father. "I would always see my Dad play -- he played and sang country, just sitting around the house -- and he would always smile. I thought, 'There's something to this,' and I would just sit and watch him. (And he thought) 'I'll give this a try,' so he taught me some chords." The younger Needham fell in love with the guitar, and set about saving his money to buy himself one. He was 19 at the time and attending a Baptist seminary. Career change ahead.
His family moved from Louisville to Corydon, Ind. Needham worked on a farm and got a job in a music store, where he was exposed to the music business, and he liked that business.
"I had lots of time to sit and take my Led Zeppelin records and play along and learn every Led Zeppelin song I could."
He played country music with several bands which he declined to name, in "little dive bars," because he just wanted to play. The founders of The Fire Dept. Band (Steele and Smith) heard him "and here we are today." Needham summed up.
Although they disagree at times -- they get along like brothers and sisters -- "We exercise the Golden Rule. If more people did, there'd be less things said that would hurt people."
The Fire Dept. Band's philosophy? "Hard work pays off." "I think I can speak for the group when I say that," Needham hastened to add.
They plan to exercise that philosophy when they shop their new tape, he assured me.
Needham volunteered to play the title cut from Things Are Tough All Over. I recorded it on my tape recorder and promised not to use it for other than my own enjoyment. Needham wasn't worried, he said, because naturally everything was copyrighted.
"I'd like to publicly thank Beverly Maxwell, Mom's Music, 'cause she helped me and the guys in the band with the copyrights, and just knowing the right and wrong things to do, and I have the utmost respect for her. . . . And I'd like for everybody to know that. . . . She and her family do care about the music business in Louisville. They're good people."
"This one has a charm to it. It's a little different," Needham said of "Things Are Tough All Over," just before he played it for me. (I enjoyed the song and the look of pride on his face as the song played.) Most of their stuff, he said, is 'loud and raunchy sounding, in-your-face kind of music. It's rock 'n' roll."
The song was one that had words of wisdom that all of us, whether in the music business or not, would do well to heed. I liked it.
The new album is due for release in August. Drummer Scroggin did the art work for the album. "He's a real creative person. He could have a career in that if he wasn't doing drums," Needham said. "In fact, we've kidded and told him that maybe that's what he ought to be doing," he added with a wicked laugh.
Allen talked about the outrageous skits the group performs during their weekend gigs. They have been known for years for the skits. One of the characters is "The Flasher," another is "The California Kid." "James Brown" is represented and so is "Paula Purnell" (a spoof of Diana Ross). They only do the latter character a few times a year because it is so difficult. At one time they did only four songs in the second set. The rest was skits.
One night the "Carp-O-Matic" skit went awry. The skit involves Martin as "Billy Bob" and Scroggin as the character played by Johnny Carson in The Mighty Carson Art Players' "Tea Time Movies" sketch. "It was the funniest thing that we've ever seen happen in the history of the band," Needham said as he doubled over with laughter. I joined him.
Turning serious as the interview was coming to a close, Needham summed up: "If you can use your gift to please people, make 'em happy, and yourself also, then you're . . . His voice trailed off, but the word he was heading for was "successful."
The Fire Dept. Band is apparently very successful.
Upcoming gigs for The Fire Dept. Band include:
July 30 - August 4 -- Bentley's, Indianapolis, Ind.
August 7-12 -- Silver Dollar Saloon, East Lansing, Mich.
August 14-19 -- Pauloes, Grand Rapids, Mich.
Further information about The Fire Dept. Band, including how to purchase their album Things Are Tough All Over (cassette tape or CD), T-shirts, posters and photographs, can be had by writing: The Fire Dept. Band, P.O. Box 16386, Louisville, KY 40256.
Tags: