February 2000 Articles
Cover Story
Vicky Moon
Features
Paul Moffett
Rocky Adcock
Jeanette McDonald Wesbrook
Columns
Berk Bryant
Decimus Rock
Mike Stout
Paul Moffett
Robert Gruber
Keith Clements
Tim Roberts
Jason Koerner
Muffy Junes
Laura Spalding
Henry C. Mayer
Jimmy Brown
CD Reviews
Robert Gruber
Kevin Gibson
Bob Mitchell
Bob Mitchell
Robert Gruber
Tim Roberts
Jim Conway
D. M. Mitchell
Robert Gruber
Staff
Performance Reviews
Paul Moffett
Calendar
Paul Moffett
News Item
Paul Moffett
Book Review
Jean Metcalfe
Music Business News
Staff
Bookmark Louisville Music News.net with these handy
social bookmarking tools:
Available RSS Feeds
- Top Picks
- Today's Music
- Editor's Blog
- Articles
Add Louisville Music News' RSS Feed to Your Yahoo!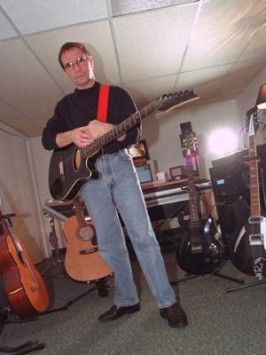 Joel Timothy
Dr. Jekyll and Mr. Joel: The Two Sides of Joel Timothy
I believe your typical chilling tale of mystery and suspense begins with the line "it was a dark and stormy night…" but in truth it was more gray, really, and bitterly cold. It was definitely stormy with snow making it hard to navigate the roads leading to Joel Timothy's home, but it wasn't night at all — two o'clock in the afternoon to be precise when I pulled my car up in front of his house.
I didn't know much about Joel, only that he had recently released Live At the Bunbury Theater which was selling quite well in the area; he was signed to the ear X-tacy label; he was married to renowned Louisville artist Karen Boone and his creative energy was so obvious you could almost hear it through the phone. When he greeted me at the door in a black turtleneck and jeans, his glasses and short haircut made me think of a mild-mannered college professor.
"It's a little crazy in here," he said apologetically as his 5-year-old son Ian tugged on his pant leg to tell him something and his wife walked by, managing to look elegant while talking on the phone, whispering something to Ian and greeting me all at the same time. "My wife and I both work from home, and Ian is home with us all day," he explained, continuing to talk as we headed toward his basement studio, which was lined with guitars and an impressive array of electronic equipment. He handed me a copy of the CD while he went back upstairs to look for something, and while he was gone, I began to read through the CD's extensive liner notes: vignettes of his mother, brother, father, wife and son accompanied by black and white photographs, an aural biography. When he returned, I asked him a little more about the stories he told in the CD.
"I was born in Nebraska," he began his tale, "and before anyone says 'oh, a nice Midwestern boy!' let me just say my father was in the military, and I lived there about a month before we moved to New Mexico and then — when I was still very young — to England. I lived there until I was ten. By the time we got back to the states it was pretty hard to convince me that I wasn't English! England in the early Fifties was a very interesting place — the culture there was still postwar shell shock. They were still rebuilding from the war, and there was a lot of stuff going on in some of the Eastern bloc countries. I remember when Russia invaded Hungary, we had Hungarian refugees in our home – we even had bomb scares! It was a weird place."
His parents split up while he was still young, and he eventually moved with his mother and brothers back to the States, where they settled in the Sierra foothills in a remote section of California. For a boy still not entirely convinced he was American, it was an acute case of culture shock.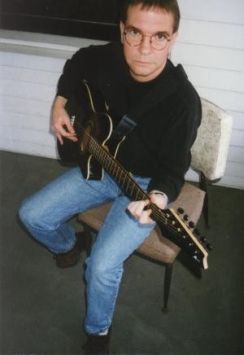 Joel Timothy
"Here we'd gone from cosmopolitan London to this tiny little mining town," he remembered "that had not changed much from the turn of the century. I went to a little schoolhouse straight out of Little House on the Prairie: it had only two rooms, and there were kids who rode their horses in to school each day, and we had even our dogs in there with us! The first mistake we made in that little town was sending me to school the first day. We didn' t know where the school was, so my mother called a cab — the cab, actually, since there was only one in town and sent me to school. Getting out of that cab in front of the school was very bizarre — the other kids were saying 'who's this?!'
Eventually the family settled in, and Joel even figured out the American money system and started feeling a little more American. But the culture shock was not over: in fact, it was just beginning. As he was about to enter high school, his family moved again, this time to San Francisco. Suddenly, he found himself literally at the heart of a cultural revolution.
"I lived right in the thick of Haight-Ashbury in the mid-Sixties during the whole heyday of the Summer of Love and all that. We were hippies in the hippie neighborhood. I lived on Ashbury street between Haight and Fredrick, which is where the street divides, and a few doors up the block was Janis Joplin' s apartment and a few doors down was the Grateful Dead' s apartment and around the corner was Quicksilver Messenger Service, and around the corner was the Jefferson Airplane house. It was a pretty amazing time in history and a pretty amazing place."
It was here that music became a central focus of his life. "Everyone was into music there," he remembered, and it was hard to resist the lure of playing acoustic guitar in Janis Joplin's kitchen with some soon-to-be famous guitar players. Despite the fact that he was in the center of psychedelic rock, he was less influenced by that then he was the folk music that had given birth to this new music. "Most of those groups back then, like Janis Joplin and Quicksilver and Moby Grape, started out as very folk-oriented groups before they became famous in the psychedelic music scene and that was a very fast leap from one form of music to another, fueled probably by a combination of the record labels and drugs. The more drugs everyone took, the weirder the music got and the record labels loved it. I never got into the drug scene, so maybe that's why I stayed more of an acoustic folkie."
A chance meeting with an elderly blues musician was the confirmation he needed to follow down the path of the singer-songwriter. "I remember the moment he gave me [Bringing It All Back Home], with the song "It's All Over Now, Baby Blue" on it. That song just hit me in the head, and I could not put the guitar down. I listened to that whole album, and when I heard that song a light went on and I thought 'this is what I want to do'.
Joel started playing the folk circuit in and around San Francisco, and in the mid-Seventies moved to Los Angeles when a producer who had seen Joel play signed him to a management contract with A & M Records and set him up in L.A. as an artist in development. "I think I hold the record as being an artist in development for the longest time," he said ruefully. After spending three years on that label, he went to another only to have the same thing happen as punk and new wave started taking over the charts and folk acts were considered passé. After several years of working with producers and writing songs, playing the top venues and still unable to release an album, he left Los Angeles and returned to San Francisco ready to take a break from the hassles of the music industry.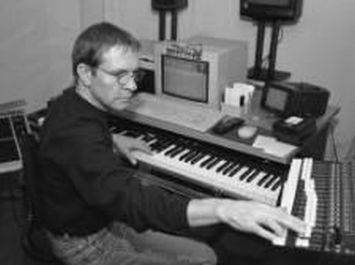 Timothy the composer at work
While in San Francisco, another side of Joel emerged. Some friends asked him to score some music for a planetarium, and he agreed despite the fact that he was unsure of his abilities to do such a thing. He rented and bought some electronic equipment, wrote the piece, got some other commissions and soon found a lucrative outlet for his musical talents that allowed him to avoid the frustrations of the popular music industry. While he was there, he also met his soon-to-be wife, Karen. "She had gone to U of L and gotten her bachelor's degree in art, and then went to Switzerland to get her Master's. When she came back, she worked in New York and San Francisco — at which point I didn't meet her — went to Japan, and it was her the day she got back I met her. We met by coincidence in a little café and I' ve seen her every day since."
After his son, Ian, was born, he wanted to leave the concrete-and-glass urban world of San Francisco for a place where he could afford a home with a slightly quieter pace. Karen's parents were from this area, and on a earlier visit to her parents' home Joel had been impressed by Louisville. "I liked Kentucky, and especially Louisville," he said. When the time came to move, he made a snap decision to move to Louisville.
"Karen and I had been talking about moving north into Napa or the wine country," he recalled, "and I went out one morning to get a newspaper for that area to find out what was available to buy or rent, and as I walked I suddenly thought ' why not move to Kentucky?'. I didn't get the paper and went back to our apartment and I said, 'we're moving to Kentucky'. She said 'I have to think about this for a second'. And she meant that literally — a second — before she said 'okay, when?' And in about two-and-a-half months we were here."
After moving to Louisville, Joel took the demo tapes he'd created from various commercial projects and hit the pavement, visiting all the ad agencies in the area. Agencies were curious about "the new guy from California," and composing work started coming in. As a composer, Joel has scored commercials, videos and informational pieces for clients like Brown-Forman, Coke, the Kentucky Derby and McDonald's as well as movie soundtracks and musicals. He had built up a successful business that allowed him to work from home doing what he loved most, but something was still eating at him.
"I had continued to write songs, but I wasn't going out and playing much. I had developed a friendship with Juergen Tossman at Bunbury Theater, and he said 'you've got to document this material somehow…you need to record it'. So we had Melody Hill come in and set up a remote in the theater, booked two nights at the Bunbury and promoted it as a benefit concert for the Bunbury. My purpose was to get a good, solid, clean documentation of my songs. When we were done, I was pretty pleased with what we had, and I had Joe Castriota produce it at Melody Hill so I had a master tape of a live performance the way I wanted it: solo acoustic, seat-of-the-pants, audience there, raw. When Juergen heard it, he suggested John Timmons might be interested in it for his label."
Joel dropped a copy of the CD off at ear X-tacy, and Timmons told him he would listen to it and get back to him in a couple days. When two weeks passed without any word from Timmons, Joel assumed he had listened to the recording and decided it wasn't worth his time.
"I had this whole negative scenario playing in my head that I would call the store and say 'this is Joel Timothy, could I talk to John Timmons?' and be put on hold until someone gets back on the phone and says 'Joel, John can't come to the phone but he says you can come in and pick up that CD anytime you want — it'll be at the counter.' So I called, and they did put me on hold. I know what's going to happen, I thought, but then John does get on the phone and says 'look, you need to get in here and talk about — and suddenly he used these magical words--your album. This could find a nice home on our label.' I was walking on air the rest of the day!"
Joel has found a nice home on the label, enjoying an artistic freedom he couldn't find during his years with larger, more established labels.
"This is the greatest place to be," he commented, "a small, independent label owned by a guy who absolutely loves music and does it all for the right reasons."
The rest, as they say, is history. The CD Live At the Bunbury Theater has been so well-received it has been listed in the top five local albums in LEO, and positive reviews are coming in from all over. Joel has received requests for the album from Europe along with requests to play there and is considering that as a possibility sometime in the future. Meanwhile, he continues to score for commercial ventures, including the soundtrack for an upcoming horror movie, The Dark Rite, 2 musicals to be staged in the area in the near future and various commercial projects. Listening to his commercial projects shows a side that seems at odds with the acoustic sounds of his CD — ethereal electronic music, heavily orchestrated New Age-y jazz. People who knew his music strictly in the commercial sense were surprised by the Dylanesque rawness and dark lyrics of his album, and fans of his albums are surprised by the extremely marketable pop and jazz orchestrations he writes for his clients. "The two types of music do seem at odds," he confessed, laughing, "sometimes I say I'm Dr. Jekyll and Mr. Joel."
Having dealt with many of the twists and turns of his life in his very autobiographical first CD, he now plans on returning to the studio to work on another album, this one very different from his first outing.
"Hopefully we'll get it done by late this year. It will be the exact opposite of this album — sort of a bookend to this album — where this one is dark and introspective, live and solo acoustic, the next one will be a studio album with an ensemble of musicians. I' ve always played a lot of acoustic stuff and I'd like to cut loose on my electric guitars a little bit."
As the interview wrapped up, I left the cheerful chaos of Joel's house and headed back into the freezing cold. When I got home, I dropped the CD in my player, looking through the booklet that told the stories of his life and listening to a sound very different from the one I'd heard in the studio as he played me bits of the orchestral pieces he'd written. Here was darkness, yes: lyrics touched by the tragedy of his mother's death, his father's absence and his brother's suicide. But it was also suffused with hope — in love, in life, and the future. Both shadows and light were found in the songs, and I came to the conclusion that there really wasn' t as much disparity between the two sides of Joel Timothy's music: it all came from one largely-lived life, one talented composer, one very music-filled soul.
Tags: