March 1990 Articles
Cover Story
Jean Metcalfe
Features
Keith Clements
Paul Moffett
Quentin K. Sharpenstein
John Goodin
Columns
Jeffrey Crowder
Paul Moffett
Earl Meyers
CD Reviews
John Goodin
Performance Reviews
Berk Bryant
Jean Metcalfe
Paul Moffett
Dallas Embry
Beth Moffett
Staff
Calendar
Staff
News Item
Staff
Photos
Jean Metcalfe
Paul Moffett
Mark Sickles
Mark Sickles
LASC
Diana Black
Diana Black
Diana Black
Staff
Diana Black
Jean Metcalfe
Letters
Staff
Music Business News
Staff
Staff
Paul Moffett
Blogs
Got Shows?
Send Them To Us
Bookmark Louisville Music News.net with these handy
social bookmarking tools:
Available RSS Feeds
- Top Picks
- Today's Music
- Editor's Blog
- Articles
Add Louisville Music News' RSS Feed to Your Yahoo!

Issue`: March 1990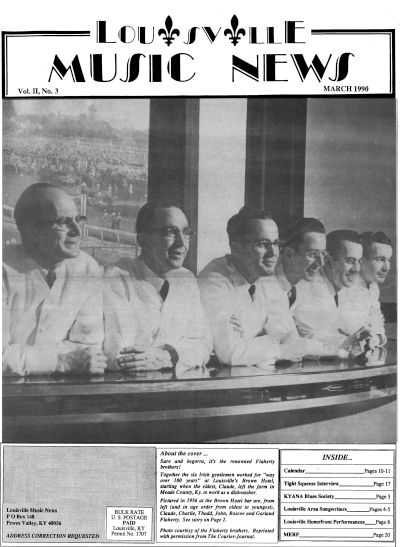 Garland Flaherty
Owner of Flaherty's III . . . and Proud of It
By Jean Metcalfe
Garland Flaherty doesn't care what anyone says about him ... as long as it's true.
There is one thing about being in the bar business, however, that bothers him, and that is that "a lot of people look at you as a third-class citizen. That bothers me, because I run a business here that's as legitimate a business as any business there is. I'm proud of the business I'm in. I ain't ashamed to tell anybody that I'm a bar owner. I ain't a bit ashamed of it. I pay my bills and I run a respectable place."
"Reserved" signs had been placed on just about every table by the time I arrived at Flaherty's III early on a Friday evening to interview the owner of the popular restaurant and bar on Dupont Road. Flaherty led the way to his office, stopping several times to greet patrons. The merry din was left behind as we settled into the small room, and it occurred to me that Garland Flaherty probably doesn't spend much time there.
During the earlier brief wait while Flaherty was being tracked down for our interview, I had looked around and taken mental notes. I had been to Flaherty's III on a number of previous occasions, and each time my impression was the same -- this is a place where people have a good time.
A large movie screen was serving up a video of Ricky Van Shelton singing "Crime of Passion" followed by Dean Martin crooning "Since I Met You Baby" and I could see Flaherty rushing about, taking care of business. Once we settled in his office, however, he gave the impression that the only thing he had to do was talk with me and answer my questions. He was enthusiastic and cooperative.
Flaherty leaves no doubt about the key to the success of Flaherty's III: "I've got a lot of very loyal, hard-working, honest, good employees that help us maintain our image. We work hard at it. My employees are a big part of it. I wouldn't ask any of my employees to do anything I won't do. I work with them. I think that's the only way to do it. You show them some respect, and you'll get respect." Some of his employees have been with him for 22 or 23 years, a lot of them ten and fifteen years.
"We've got the widest variety of things going on here that you could imagine," Flaherty told me. "We have a style show on Thursday, we have cocktail hour, we have a good variety of music and entertainment. I bring in name bands once a month, mostly out of Nashville. We've had Doc Severinson, Billy Joe Royal, Mickey Gilley, B.J. Thomas, Chubby Checker, the Diamonds, the Four Aces, The Four Lads, T. Graham Brown, Herman's Hermits, the Box Tops, the Coasters, the Platters and the Drifters, Bill Haley and His Comets -- you name it. We've had a real wide variety of entertainment here. Live music, that's our thing."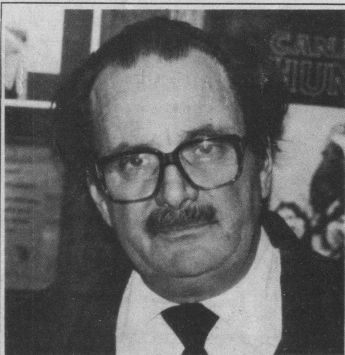 Garland Flaherty. Photo by Jean Metcalfe
I was surprised to learn from Garland Flaherty that the renowned Flaherty brothers were farm boys who had left Meade County to come to Louisville. "We were born so far out in the country, honey, we had to go towards town when we went hunting," he said with a chuckle. "None of us liked the country and when we got a chance to come to the big city and see all of the lights, we liked it.
"The oldest brother got a job at the Brown Hotel as a dishwasher back during the (1937) flood and the rest of us followed in there just like a bunch of sheep. When we got old enough we'd trot in there and get a job and go to work." Together the Flaherty brothers put in "way over 100 years" at the Brown Hotel.
While working at the Brown, the Flaherty brothers appeared on "What's My Line," a television show that was popular in the early days of commercial television. And it wasn't the Flahertys first appearance on network television, either. Some six months or a year earlier, they had been guests on Herb Shriner's quiz show that was also quite popular at the time. "We had a great time both times," Garland told me.
The brothers Flaherty left the Brown Hotel in the mid-Sixties to open the Essex House. At first there were three of the brothers at that location. Garland and another brother joined them at later dates. They were at the Essex House for about six years before Garland and two of his brothers left to open up Flaherty's Tavern. They leased space in Rose Bowl Lanes and stayed there for six years. By that time, according to Garland, he had "gained enough credit with the bank to buy this ground to put this building up on," referring to his present location. "I've done a helluva job fooling these banks," he laughed.
Three of the Flaherty brothers were partners in the original Flaherty's III (hence the name), but they sold the business some years later and retired. Things didn't quite work out and Garland bought the business back, going it alone when his brothers chose to remain in retirement.
There were fifteen Flaherty brothers and sisters who were born on the farm "down in Dandyville and Rhodelia." Garland was the fifteenth child. "They quit when they seen me," he joked. Ten of the Flaherty brothers and sisters are still living -- nine in Kentucky and one in Arkansas.
Garland Flaherty has seen a lot of good times and a lot of bad times in his days. "I think we're experiencing some of the good times right now -- we've got an outstanding mayor. I think Jerry Abramson is one of the best mayors that this city's had since I've been here."
"And you don't mind being quoted on that, either," I suggested, already knowing the answer from the tone of his voice. "I'd love to be quoted on it. I have the utmost respect for Jerry Abramson. He cares about Louisville, he's a positive thinker and he's a doer. He has generated more enthusiasm in this town than any man I've ever seen in City Hall. And I think we've got a good senator in Washington -- Mitch McConnell -- and you can quote me on that, too," Flaherty added emphatically.
Flaherty believes in progress, and notes that "a lot of it is taking place right now." He feels sympathy for the families who have been displaced by the expansion of Standiford Field, but he feels that the larger airport is essential to Louisville's progress. He also believes that the local education system needs to be improved.
"I'm a poor one to talk 'cause I haven't got no education. I went to the eighth grade and that's all I got. And I've never regretted it a minute. I'll tell you why I say that," he hastily added. "I took care of my mother and daddy as long as they lived. I was gonna go to high school -- Mother and Daddy thought I should go. None of the other kids went, but I was the one they thought ought to go.
"One day I got up and got on that school bus to go to school and as I went on out of sight I looked down at the house and I seen my old daddy a-cripplin' out of the house, going to the tobacco patch to cut tobacco by himself. Well, I thought all day about that and I made up my mind that day that I wouldn't be there the next day -- I was gonna help cut that tobacco. The next morning he hollered at me to go catch the bus. And I said, 'Dad, I'm not goin' -- I'm gonna help you cut that tobacco and then I'll go, but I'm not goin' to school now.' And I didn't do it, and I've never regretted it a (expletive deleted) minute."
He pondered aloud whether or not he would have done "a whole lot better than I've done" had he continued his education. I suggested that even if that were true, he probably wouldn't have been any happier. He quickly replied, "I wouldn't be as happy because I'd still see my old daddy in that tobacco patch by himself. If there's anything in my life I'm proud of, it's my mother and daddy -- taking care of them."
"You know, I've met a world of fine people, a world of fine people, and I've got a lot of friends. I ain't got no money, but I've got a lot of friends." He loves the business.
"It's nothing for us to serve 200 dinners a night. Tonight we haven't got a seat left in the place," he proudly related.
According to Flaherty, since the TAP program to cut down on drunken driving went into effect, the drinking has decreased and the restaurant part of his business has increased. "A big, big percentage of my business now is the food business. I can't see that it's any harder to make something in food than I do in liquor anymore. We're doing good on our food sales."
When I asked him if any especially interesting people had ever dropped in at his place, I was expecting him to drop a few names. I was pleasantly surprised when he said, "Oh, sure, a lot of people come in here who are interesting to me." I loved that answer.
He did go on to say that stars and politicians and other "name" people have stopped in his restaurant. "Yeah, I've met a lot of them in my time," he said. "But I'll tell you what, I just like people. It don't make no difference who they are, I like people. But he hastily added, "as long as it's orderly. I don't want no rough stuff or rowdy. This ain't no place for it." In fact, he said, his customers help him police the place. Many of the regulars, he said, "think they own part of it (the restaurant)." "They feel that way, you know, they've come here so much. And they call a table 'my table' and they mean it."
"This is it," Flaherty said when I asked him what he does when he's not working at his Dupont Road restaurant. "Honey, I'm here," he emphasized. "When I'm not here, I'm asleep at home. I've been married 38 years and I live close by so I run home and sleep. "I have to be real careful to keep that dog from biting me. I ain't there enough."
Flaherty has four children, two of whom work at Flaherty's III. One of his grandchildren is an employee also. "My oldest boy is very, very interested in it, and doing an outstanding job here helping me." It looks as if Flaherty's III will be in the family for some time to come.
Flaherty is in the midst of planning Flaherty's III's annual St. Patrick's Party. It will be even bigger this year than last -- two days instead of one -- and that's big. There'll be eight bands to entertain on Friday and Saturday, March 16 and 17. The entertainment will take place in three different locations -- inside Flaherty's III, in a large tent adjacent to the restaurant, and in the large vacant building next door. As a special added attraction this year, an all-expense-paid trip to Ireland will be won by some lucky partygoer.
Flaherty is a Mason and a Shriner, and he's very proud of the annual Christmas party they have at Flaherty's III for crippled children. He showed me some pictures of last year's party, which was attended by 525 people. I enjoyed perusing the scrapbook with him and listening to the stories that went with the pictures. It is obvious that Garland Flaherty is a very caring person.
At one point during our conversation, Flaherty leaned back in his chair, paused for a moment and then, without intending to, quietly summed up what I feel is the essence of Garland Flaherty:
"You know, an old man said to me a long time ago when I first went in this business, 'I'm going to tell you one thing to remember. If you want to have friends, you've got to be a friend.' You think about that," Flaherty challenged.
I did think about it. My mother had said the same thing to me when I was a little girl. I had thought it was from the Bible; that's where she got most of her quotes. I later learned that Ralph Waldo Emerson said basically the same thing almost 150 years ago. Perhaps his mother said it to him.
Although Garland Flaherty's formal education ended after the eighth grade, he is a very smart man. I think it would be nice to be his friend.
Tags: