December 2014 Articles
Cover Story
Paul Moffett
Features
Eddy Metal
Columns
Mike Suttles
Martin Z. Kasdan Jr.
Eddy Metal
Blogs
Got Shows?
Send Them To Us
Bookmark Louisville Music News.net with these handy
social bookmarking tools:
Available RSS Feeds
- Top Picks
- Today's Music
- Editor's Blog
- Articles
Add Louisville Music News' RSS Feed to Your Yahoo!

Issue: December 2014

Jazzin'
PRELUDE:
As late as I am, once again, it's not too late to wish everyone a healthy, joyous and music-filled holiday season and New Year.
RECENT CONCERTS
Miguel Zenón at the Clifton Center
Louisville jazz lovers were treated to an appearance by the artist who made the December 2014 DownBeat cover, alto saxophonist Miguel Zenón, at the Clifton Center on Friday, November 7. My interview with Zenón was in LEO Weekly the preceding Wednesday, and is archived here: http://www.leoweekly.com/2014/11/journey-to-the-center-of-the-sound/. His "4tet" featured Luis Perdomo on piano, Hans Glawischnig on bass, and Eric Doob on drums. Except for the encore, all the concert pieces were drawn from the masterful new album (released November 4), Identities are Changeable. They opened with the title track, Zenón bouncing as he played. "My Home," was next, opening with a lovely sax/piano duet, moving into spare, subtle quartet music. Perdomo's jaunty piano opening to "Through Culture and Tradition" led to a fast, staccato piece, with hints of Ornette Coleman. Zenón introduced "Same Fight" with references to his fellow Puerto Ricans sharing the struggles of African Americans in New York. Where some of the earlier pieces seemed freeform notwithstanding the fact that they were, in fact, composed, "Same Fight" had more of a "song" feel. Glawischnig's bass solo conjured the work of Jimmy Garrison, and drew broad smiles from Perdomo and Doob. They closed with the very fast-paced "First Language," which featured the trio, and a focus on the drums. They returned for an encore, a piece by a Brazilian composer, whose title I didn't catch. Some of my friends who are more accustomed to straightahead jazz were nonetheless impressed by the abilities of this quartet to interact in a highly challenging musical environment. Doob told me later that Zenón wrote drum parts with specific instructions for all four limbs.
Dick Sisto and Jeremy Allen at the Clifton Center
Vibraphonist Dick Sisto has become something of a regular at the Clifton Center, to which he returned for an intimate concert with bassist Jeremy Allen on Sunday, November 16. My interview with Sisto, is at http://www.leoweekly.com/2014/11/an-unspoken-bond-dick-sisto-and-jeremy-allen. They stuck mostly to jazz standards, many of which were originally recorded with trio or larger ensembles, so that their interpretations breathed new life into them. Among the early highlights were their renditions of Charlie Haden's "First Song" and Bill Evans' classic "Waltz for Debby," the latter of which was dedicated to Clifton Center Executive Director John Harris. McCoy Tyner's "Aisha" found Sisto and Allen doubling notes on this sweet ballad. A new addition to the duo's repertoire, Scott LaFaro's "Gloria's Step," was followed by the Sisto original "A Little Something," dedicated to his wife, fiber artist Penny Sisto. Sisto introduced their version of the Beatles' "Here, There and Everywhere" by referring to Charles Lloyd's 1966 live (at the Fillmore) recording. After two more pieces, Sisto and Allen returned for an encore, the original "Endless," during which Sisto accompanied Allen's solo on talking drum. It was a hot ending for a concert on a chilly night.
ON THE HORIZON
Ken Vandermark at Dreamland
Chicago's adventurous Ken Vandermark will make his debut in Louisville at Dreamland on Saturday, January 17, for one solo set following solo performances by Tyler Damon and Connor Waldman. Dreamland is a cool, small venue located at 810 E. Market Street; doors open at 8 PM, music starts at 9 PM. For ticket information and links to the artists, check http://dreamlandislouisville.org/. For more information on the featured artist, and links to many clips of Vandermark, check his website at kenvandermark.com.
SELECTED CLUB AND OTHER LISTINGS
The Laughing Derby at The Comedy Caravan , 1250 Bardstown Road, Louisville, KY 40204, 502-459-0022, http://laughingderby.com The Don Krekel Orchestra will continue its gigs there on the third Monday of each month, but NOTE : this month they play on the fourth Monday, December 22. Also, the club will now offer a menu of sandwiches, salads and more. I've heard rumors that there may be more jazz events; if any of you have specifics, please contact me. Please contact the club for any post-deadline information.
The Nachbar (969 Charles Street, 502-637-4377, www.myspace.com/thenachbar) features "Nachbar Jazz" on Wednesdays, with Jacob Duncan . Check the club for updates or changes. The club also has a Facebook page with occasional updates.
HAPPY 20 th ANNIVERSARY To The Jazz Kitchen (5377 N College Ave., Indianapolis, IN 46220; phone: 317-253-4900; www.thejazzkitchen.com), presents nightly offerings of local and regional jazz; check the website for the full schedule and updates. A road trip might be advised for: The Bad Plus , December 13; Steve Allee & Friends , December 28; and look ahead to Chris Potter with Craig Taborn , Adam Rogers and Nate Smith, January 20! Other shows may be added, so check the site.
Please sign up for updated local jazz listings: The Louisville Jazz Society provides weekly e-mail updates for local jazz happenings. Be sure to sign up for the e-mail "Louisville Jazz Society's "Jazz Insider" at www.louisvillejazz.org. A monthly calendar of local jazz events is at the Louisville Jazz Society's website: http://louisvillejazz.org/calendar. It is both impossible for me to try to provide complete listings here, and it would be duplicative of the weekly listings in the Courier-Journal and LEO and the Louisville Music News monthly music listings, www.louisvillemusicnews.net.
EIGHTH NOTES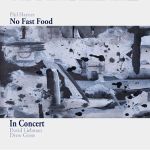 No Fast Food - In Concert
No Fast Food (Phil Haynes, David Liebman, Drew Gress)
In Concert (cornerstorejazz.com)
The leader of this adventurous trio is drummer Phil Haynes; his colleagues are bassist Drew Gress and multi-instrumentalist Dave Liebman. This is a two-CD set, recorded at two performances in September of 2012. Overall, despite the spare setting, there is quite a full sound; one notices "ensemble plus solos" more than "trio." The first songs on the first concert are fairly straightforward, featuring Lieb's tenor. He switches to soprano for the third, "Together," with an apparent compositional nod by Haynes (who wrote all the pieces) to Ornette Coleman. The moods vary from piece to piece, with the first set closing with the aptly titled "Ballad du Jour." The second concert/CD, begins with "Zen Lieb," wherein bass and squealing cymbals set up the seemingly freeform wood flute playing of the title's namesake. Overall, this is music for the open-minded, with forays into the more outside styles alongside more traditional forms.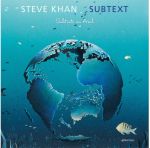 Steve Khan - Subtext
Steve Khan
This release serves as a followup to the guitarist's 2011 album, Parting Shot, with an emphasis on mostly laidback Latin rhythms. He's joined by bassist Rubén Rodríguez, percussionists Bobby Allende and Marc Quiñones, drummer Dennis Chambers, with guest appearances by Randy Brecker (on the mellowed-out Ornette Coleman opening number, "Bird Food"), Rob Mounsey (keys and orchestrations) and others. Other "Latin-ized" familiar tunes include Wayne Shorter's "Infant Eyes" and, most impressively, Monk's "Hackensack." Khan penned three songs, including the title track, "Blue Subtext." While Khan has recorded edgy fusion and straightahead work over the years, throughout this recording, he emphasizes a softer tone appropriate for the arrangements.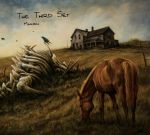 Marbin - Third Set
Marbin
Marbin accurately describes itself on its homepage www.marbinmusic.com: "Marbin is an instrumental jazz-rock band based in Chicago IL." Led by Dani Rabin (guitar) and Danny Markovitch Slor (saxophone), the band also includes Justyn Lawrence (drums) and Jae Gentile (bass). They come through Louisville fairly regularly, and will return on January 28 for a late show at the Hideaway Saloon. This new album is the band's first concert release. Through 10 songs, clocking in at 65+ minutes, the emphasis is more on the rock than the jazz side, as Rabin shreds hard. "Redline" is a changeup, an Ornette-like piece with more saxophone than heard through the prior three numbers. There's some good funky playing, as well, on cuts like "Vanthrax." All in all, a fun outing.
New Piano Trio Albums
The piano trio is a genre unto itself in jazz. Two modern masters give us their takes on the tradition in new releases.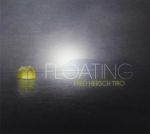 Fred Hersch Trio - Floating
Fred Hersch Trio
Hersch's latest is his first studio recording in a while. It features bassist John Hébert and drummer Eric McPherson. It was recently nominated for two Grammy awards, and rightly so. Seven of the ten songs are Hersh originals, although he chooses to open with the classic "You and the Night and the Music," made new here by its use of fragmented rhythmic interplay. The next song is the title track, a gently unfolding ballad featuring delicate mallet and brushes by McPherson. "West Virginia Rose" is a short impressionistic sketch, followed by the funkiest Hersch I can recall, on a tune dedicated to his drummer, "Home Fries." Most of the remaining pieces are more akin to the title song, although he closes with Monk's "Let's Cool One," which emphasizes melody more than the idiosyncratic rhythms associated with its composer.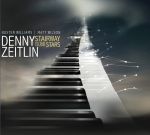 Denny Zeitlin - Stairway To The Stars
Denny Zeitlin
For many decades, San Francisco-based pianist Denny Zeitlin has maintained dual careers as both a jazz artist and a psychiatrist. His latest release is archival in nature, presenting a performance from November of 2001, with bassist Buster Williams and drummer Matt Williams, both masters of their instruments. All but the final tune are interpretations of standards, beginning with a smoothly swinging "There Will Never Be Another You." On "You Don't Know What Love Is," the trio is subtly sensitive to the nuances of the composition. "I Could Have Told You," a lesser-known piece, is exquisite. Sonny Rollins' "Oleo" is a short, breakneck romp, followed by the title track, lushly divine. Williams unaccompanied "Bass Prelude to Deluge" leads into thorough exploration of the Wayne Shorter piece. "Spring Is Here" is a probing ballad, enhanced by subtle brushwork. Zeitlin describes his closing original "Out for a Stroll" as "a minor bluesy 16 bar composition, [which] finishes the CD in a relaxed groove."
LOCAL JAZZ CONTACTS
With two now-sixteen-year-old daughters, it's hard to get out as much as I would like to hear music. As a result, picking and choosing which performances to catch sometimes require that I postpone seeing some of the local musicians and singers in order to not miss the one-night-stands from out-of-town artists. Invariably, I feel guilty, so in an effort to assuage my guilt and, more positively, to provide more exposure to our community of great local jazz performers, I am initiating this feature containing website and e-mail contact information. I am only including those artists who have given their permission to me; some have indicated a preference for website listing only; others have only e-mail addresses. If you wish to be included, drop a line to me with your permission and preferences, at mzkjr@yahoo.com. I reserve the right to edit and to exclude those whose connection to jazz is, in my opinion, tenuous; and this feature may end up online if it begins to take up too much space in print.
MIKE TRACY: www.michaeltracy.com, michael.tracy@insightbb.com, saxophonist and teacher Mike Tracy
UNIVERSITY OF LOUISVILLE JAZZ PROGRAM: www.jazz.louisville.edu
BOBBY FALK: www.myspace.com/bobbyfalk, drummer and composer Bobby Falk;
WALKER & KAYS: www.walkerandkays.com, singer Jeanette Kays and guitarist Greg Walker;
JENNIFER LAULETTA: www.jenniferlauletta.com, singer Jennifer Lauletta;
JEFF SHERMAN: jeff.sherman@insightbb.com, guitarist Jeff Sherman;
RON JONES: www.ronjonesquartet.com, rjmusic@ronjonesquartet.com, saxophonist Ron Jones;
STEVE CREWS: www.jazzcrews.com, jazzcat@iglou.com, pianist Steve Crews.
CODA
1) I am always interested in your comments. Contact me at mzkjr@yahoo.com.