December 2014 Articles
Cover Story
Paul Moffett
Features
Eddy Metal
Columns
Mike Suttles
Martin Z. Kasdan Jr.
Eddy Metal
Blogs
Got Shows?
Send Them To Us
Bookmark Louisville Music News.net with these handy
social bookmarking tools:
Available RSS Feeds
- Top Picks
- Today's Music
- Editor's Blog
- Articles
Add Louisville Music News' RSS Feed to Your Yahoo!

Issue: December 2014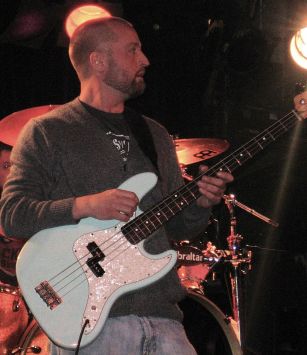 Jeremy Browning
Name:Jeremy Browning
Age: 36
Instrument: Bass Guitar
Band/Former Bands: Some Kind of Saint (Current), After the Fall, and Suckerpunch
How long on instrument: 22 years
Equipment: Fender Mark Hoppus Bass, Orange Terror Bass Head, Fender 410 Speaker cabinet
Influences: Guns N' Roses (Appetite for Destruction) made me want to play music but The Black Crowes really solidified that. As far as Bass playing, Flea from Red Hot Chili Peppers has been the most influential. Also, Robert Deleo from STP and John Paul Jones from Led Zeppelin are two of my favorite bass players who are highly underrated.
My first gig: 1995 at Champs skating rink, in Crestwood KY. There was no one there, but just playing in front of any audience at that time was well worth it, and it still is.
Hobbies: Playing and collecting music, and drinking beer!
Favorite movies: All of the George A Romero zombie movies, all Quentin Tarantino movies, and any Coen Brothers movies.
Favorite food: Beer? Beyond that pinto beans and cornbread.
Favorite place: Rick's Café in Jamaica
Favorite sports or team: Cincinnati Reds and Bengals
What I'm listening to nowadays: The new Bob Dylan basement tapes release, and Antemasque, they are the new band formed from the guys from Mars Volta.
Coolest thing I've done: Opening for Chevelle in 2009. It was one of the first show's we've played as Some Kind of Saint. It was one of those shows that all the people were there just waiting to hear you play.
Most embarrassing moment: There are plenty to choose from, but thankfully I have friends to remind me of them!
Bad Habits: Drinking too much, and smoking (cigarettes).
When/where did you first get some: It was at a friend's house after partying all night, I don't remember much of it and hopefully, she doesn't either!!
If you could meet a Rockstar (past or present), who would it be, and why: I would meet John Lennon in 1969, because I would tell him to stay away from the crazy Japanese chick. That way the Beatles might not have broken up!
Who do you love: My wife of course! Who is currently four months pregnant with our first child!