August 2014 Articles
Cover Story
Paul Moffett
Features
Eddy Metal
Columns
Sue O'Neil
Martin Z. Kasdan Jr.
Eddy Metal
Blogs
Got Shows?
Send Them To Us
Bookmark Louisville Music News.net with these handy
social bookmarking tools:
Available RSS Feeds
- Top Picks
- Today's Music
- Editor's Blog
- Articles
Add Louisville Music News' RSS Feed to Your Yahoo!


Jazzin'
PRELUDE:
I: RIP, Eugene Thomas (1952-2014)
July was a hard month for me in many ways, very weird. Capping it off, just before the end of the month, I learned that a friend passed away. Eugene Thomas was a jazz lover, an artist, and as warm and gracious a person as I could imagine. He told me that many years ago, he had painted a cover for Louisville Music News. Photographer Aukram Burton posted recent pictures of Eugene, his wife CJ Fletcher (also an artist), and more at www.facebook.com/aukram/posts/10202548828703662. The art in the room pictured, in Eugene and CJ's house, was theirs. They graciously held many an open house there, full of good music and food, fine art, and delightful people. This month's column is dedicated to Eugene, and I will close this opening memorial with Eugene's favored closing to his Facebook posts: "Peace to the Artist."
II: RIP, Paul Horn (1930-2014)
Flutist Paul Horn came to the attention of many with his work in Chico Hamilton's band In addition to his jazz work, he recorded many solo flute albums in spiritual places, most famously his 1968 record, Inside (a/k/a Inside the Taj Mahal).
III. RIP, Charlie Haden (1937-2014)
Charlie Haden left us all too early, a master bassist who came to prominence in the brave new quartet of Ornette Coleman in the 1950s, and released scores of albums as both sideman and leader. He was also very concerned with geopolitics, and considered music, especially his Liberation Music Orchestra, to be a voice for change in the world. I was fortunate enough to see him only three times, once with Old and New Dreams, once with his Quartet West, and a walk-on with Alice Coltrane in New Orleans, after his outdoor appearance that day was canceled due to rain. Pat Metheny, who recorded and toured with Haden, paid tribute to him at his recent concert here. Please see below for my comments on the album released just before his passing, Last Dance.
IV. RIP, Lionel Ferbos (1911-2014)
Lionel Ferbos was best known to his fellow New Orleanians, and to fans of the New Orleans Jazz and Heritage Festival, where he performed annually until 2013. He played trumpet and was known for his long tenure at New Orleans' Palm Court.
RECENT CONCERTS
Jamey Aebersold Summer Jazz Workshop Concerts
This year I attended fewer concerts than usual in the series presented by the faculty at Jamey Aebersold's Summer Jazz Workshops at the University of Louisville, but I still managed to hear some six hours of topnotch jazz, plus I had the opportunity to catch faculty guitarist Dave Stryker two other times at different venues. On July 2, and again on July 9, pianist Dan Haerle, bassist Lynn Seaton, guitarist Fred Hamilton, saxophonist Tom Walsh, and drummer Steve Barnes performed sets mixing classics, such as "Prelude to a Kiss," and originals. Of the latter, Hamilton's sprightly "Red Kites" had a vibe like the old Pat Metheny Group, while Haerle's reimagined "Stella by Starlight," titled "Star Bright," was a fast waltz which featured an arco solo by Seaton. Each night they closed with a briefly played rendition of Horace Silver's "Peace," in tribute to the recently departed master. The first week, this ensemble was followed by that of saxophonists Hunt Butler and George Bouchard, bassist J. B. Dyas, pianist Andy LaVerne, and drummer Jonathan Higgins. The second and third pieces were both LaVerne compositions, "Blueprint" (a 6/8 tune based on "Footprints") and the fast-paced "Mr. Softly," based on the standard "Softly As in a Morning Sunrise." The final ensemble that night consisted of Stryker, vibraphonist Dick Sisto, trombonist Steve Davis, Seaton and drummer Jason Tiemann; this lineup returned the following Wednesday. The first two songs and the final song each night were "Never Can Say Goodbye," Pink Floyd's "Money," and "Aquarius," taken from Stryker's current release, Eight Track, reviewed here last month, at: www.louisvillemusicnews.net/webmanager/index.php?WEB_CAT_ID=50&storyid=9243&headline=Jazzin&issueid=305. On July 9, Bobby Hutcherson's "Little B's Poem" gave a nod to the jazz book. The tunes from the popular repertoire were played with jazz soloing that left behind any notion of simply playing cover tunes frm the '60s and 70s.
On Thursday, July 3, I heard Jamey Aebersold playing with trumpeter/fluegelhornist Bobby Shew, guitarist Corey Christiansen, organist Bobby Floyd, and drummer Higgins. "Alone Together" and "I'll Remember April" were enjoyable, but the group really burned on the loping blues of "Bags' Groove." They were followed by Eric Alexander (tenor), Jim Rotondi (trumpet and fluegelhorn), David Hazeltine (piano), Steve Davis (trombone), Jim Snidero (alto) Chris Fitzgerald (bass), and Tiemann. The first four play regularly as the cooperative "One for All," and their ease of playing with one another, as well as with the other musicians, was noticeable. They opened with "Break Through," a Hank Mobley tune from a Cedar Walton recording. Interestingly, during solos, the non-soloing horns would sometimes spontaneously riff. I was pleasantly surprised by the groups' fast bossa nova arrangement of John Coltrane' ballad "Naima," during which Davis quoted "Blue Train" at the opening of his solo. They kept the pace hot with another very fast arrangement of a ballad, "What a Diff'rence a Day Made." Alexander took a long a capella solo, exclaiming "Don't cut me off yet" before the others took their turns.
Dave Liebman was the featured performer who closed out July 9. He was accompanied by pianist Phil DeGreg, former Louisvillian John Goldsby on bass, and drummer Steve Davis. Lieb and Aebersold gave what amounted to a cross between a master class and a pep talk, enjoyable but cutting into the performance time. First up was a version of "All the Things You Are," which seemed first deconstructed, then reconstructed, with Davis burning underneath Lieb's soprano. A more straightforward rendition of "Naima" was next, featuring tenor. The ensemble closed with "Footprints," opened by the leader on wood flute, before he switched to tenor.
All in all, the musical presentations were (as anticipated) excellent. I took a friend with me to the July 9 concert. She expressed surprise at the lack of women players. Other than mentioning that Sara Caswell and Jennifer Barnes performed on other nights (and I happened to miss those performances, regrettably), I had no answer for her.
Dave Stryker at the Mercury Ballroom and Decca
Given the brevity of Stryker's sets at the Workshops, above, it was a treat to hear him stretch out on Friday, the Fourth of July, at the Mercury Ballroom, and again the following night, at Decca. It's good to see the new Louisville Palace-related venue, the Mercury Ballroom, supporting jazz. On the 4th, Stryker brought in his organist from the new album, Jared Gold, together with Sisto, trombonist Davis and Tiemann. In addition to reprising some of the tunes played at U of L, Stryker recalled his days playing with Brother Jack McDuff, with a burning shuffle take on "Our Miss Jones." Stevie Wonder's "Superwoman" kicked the second set off in high gear. Staying with the era, Stryker pulled a "Breezin'" quote into his solo on the Bread ("one of the great jazz groups of all time," he deadpanned) hit "Make It With You." A second set highlight was a rousing rendition of a Monk tune ("Trinkle, Tinkle"?); Sisto's solo was significant for the way in which he played not just notes, but space. The following night at Decca, Stryker and Gold joined saxophonist Tim Whalen, and drummer Mike Hyman for an evening with more of an emphasis on the jazz repertoire than the pop. "Joy Spring" and "Everything I Love" were standouts, with Whalen's sax adding a different color to Stryker's work.
Pat Metheny Unity Group at KCD
The Pat Metheny Unity Group (PMUG) played to a very full house on Sunday, July 27, at Kentucky Country Day. The group now consists of saxophonist/multi-instrumentalist Chris Potter, bassist Ben Williams, drummer Antonio Sanchez, and keyboardist and vocalist Giulio Carmassi. Regrettably, due to a glitch in my ticket, I ended up sitting behind a fool from Columbus, Ohio, who wanted to loudly share his enthusiasm and knowledge with all around him, despite being asked to stop repeatedly. Why people attend concerts, and especially make a long trip for the purpose, and then can't STFU is beyond my comprehension. Ah well . . . Metheny is a remarkable musician, and quite versatile. He opened with a solo on his Pikasso Guitar (with 42 strings and four necks) which bordered on ethereal. The other musicians joined him onstage and proceeded to play their hearts out. While much of the material was from the repertoire of the PMUG, from its 2012 1nd 2014 releases, there was a healthy dose of material going WAY back in Metheny's career. Among the newer pieces were "Come and See" and "Roofdogs," the latter of which gave Metheny the opportunity to showcase his guitar synthesizer skills. Carmassi did not come onstage until after the first 45 minutes, and his keyboards added an extra layer of sound to the other four players. They played the title track from the latest album, "Kin," stretching out to give Potter solo space on his soprano. Metheny incorporated a smaller version of his orchestrion (a sort of "one man band" with keyboards, percussion, and more triggered by Metheny) was incorporated into the second half of the concert without becoming overwhelming. Metheny had recorded and toured with Charlie Haden. Without mentioning Haden by name, it was clear that Metheny's performances of "Police People," from the Ornette Coleman collaboration Song X, and "The Bat" and "Folk Song No. 1" from 80/81, were in memory of his late collaborator. A series of duets showcased each of the leader's bandmates, with a touching and straightforward rendition of "All the Things You Are," with Potter on tenor, being the most mainstream performance of the night. There were not one, not two, but three encores, with the second being an especially memorable solo acoustic medley which started off with "Phase Dance," going back to the Pat Metheny Group's self-titled first album from 1978. In the lobby after the concert finally concluded, friends could not stop marveling at the experience. I just hope Metheny makes it back to town without our having to wait an another four years. Professor Michael Tracy was able to get some great pictures of the band, which can be found on his FaceBook page, posted July 29; I'd give a url, but it's too long and I haven't masrered tiny urls, sorry.
ON THE HORIZON
William Hooker Trio at Dreamland
Drummer William Hooker brings his trio to the intimate venue Dreamland, 810 E. Market Street (behind Decca) on Wednesday, August 20th. More information is available at http://dreamlandislouisville.org, as well as the musician's homepage, www.williamhooker.com. He has a long and varied discography, with an emphasis on free and progressive jazz; he's also performed with Sonic Youth's Thurston Moore. There are two opening acts: Christopher Tignor and Alexander Turnquist This should be an intriguing and provocative evening.
Lincoln Foundation's 19th Annual Evening of Jazz
The Lincoln Foundation raises scholarship money for its Whitney M. Young Scholars Program® which empowers disadvantaged youth to graduate from high school and college. The 19th Annual Evening of Jazz featuring the MarcusClick Band will be held on Friday, August 22, 2014, at The Kentucky Center. More information is available at www.kentuckycenter.org/Events/19th-Annual-Evening-of-Jazz/12426#tab-show-information-link
WorldFest, Labor Day Weekend
Louisville's Worldfest is one of the great attractions of this city, and making it even better, admission is free, plus there are food and other vendors available. The music cover a wide range of cultures. Red Baraat returns to perform Saturday night, jazz groups include Dick Sisto's "Latin All" earlier that evening, plus Ut Gret, Liberation Prophecy, Squeeze-bot, and many more. Details are at www.louisvilleky.gov/globalization/worldfest.
Indy Jazz Fest, September 11-20
Indianapolis will host its annual jazz festival at a variety of venues, from theater and club to outdoor. The headliners include Maceo Parker, Tom Harrell, Grace Kelly, and Steve Turre. Details on the schedule, ticket information, etc., are available at www.indyjazzfest.net.
SELECTED CLUB AND OTHER LISTINGS
The Laughing Derby at The Comedy Caravan, 1250 Bardstown Road, Louisville, KY 40204, 502-459-0022, www.comedycaravan.com; new site: http://laughingderby.com. The Don Krekel Orchestra will continue its gigs there on third Monday of each month, which this month will be August 18. Also, the club will now offer a menu of sandwiches, salads and more. I've heard rumors that there may be more jazz events; if any of you have specifics, please contact me. Please contact the club for any post-deadline information.
The Nachbar (969 Charles Street, 502-637-4377, www.myspace.com/thenachbar) features "Nachbar Jazz" on Wednesdays, with Jacob Duncan. Squeeze-bot returns to the Nach Bar for "Summer Squeeziness," every Sunday from through Labor Day Weekend (August 31). Check the club for updates or changes. The club also has a Facebook page with occasional updates.
HAPPY 20th ANNIVERSARY To The Jazz Kitchen (5377 N College Ave., Indianapolis, IN 46220; phone: 317-253-4900; www.thejazzkitchen.com), presents nightly offerings of local and regional jazz; check the website for the full schedule and updates. A road trip might be advised for: Rahsaan Barber, August 29; Rufus Reid Trio with Steve Allee and Steve Houghton, August 30; Ira Sullivan, September 5; Claire Daly, September 12; Gust Spenos & His Band Featuring Wycliffe Gordon, September 13; Tom Harrell with Luis Perdomo, Ugonna Okegwo and Johnathan Blake, September 19; John Abercrombie, Oct 20; Jason Marsalis, Nov 15; Larry Carlton, Dec 5. Other shows may be added, so check the site.
Please sign up for updated local jazz listings: The Louisville Jazz Society provides weekly e-mail updates for local jazz happenings. Be sure to sign up for the e-mail "Louisville Jazz Society's Jazz Insider" at www.louisvillejazz.org. It is both impossible for me to try to provide complete listings here, and it would be duplicative of the weekly listings in the Courier-Journal and LEO and the Louisville Music News' monthly music listings, www.louisvillemusicnews.net.
EIGHTH NOTES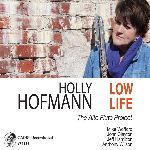 Holly Hofman - Low Life: The ALto Flute Project
Holly Hofmann
Low Life: The Alto Flute Project (Capri Records, http://caprirecords.com)
According to the liner notes, the alto flute has a limited range and requires different technique than the more conventional C flute. Holly Hofmann plays alto flute exclusively here, and the music is delightful. Throughout, the focus is on playing the melody of each song well, without veering too far away in her improvisations. She works with pianist Mike Wofford, bassist John Clayton, and drummer Jeff Hamilton, plus guitarist Anthony Wilson on four tracks. There's only one standard here, "The Very Thought of You," on which the band (including Wilson) swings hard. Several songs, including Wilson's uptempo opener, "Jack of Hearts," are by band members. Clayton shines on his own ballad, "Touch the Fog." The leader contributes "Lumiere de la Vie," a pretty ballad. The album closes with a Latin soul arrangement of Pat Metheny's "Farmer's Trust." Hofmann has chosen her material and her musicians wisely, making for a most enjoyable album.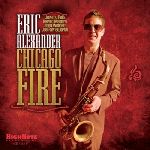 Eric Alexander - Chicago Fire
Eric Alexander
Chicago Fire (HighNote, www. jazzdepot.com)
The title of saxophonist Eric Alexander's new release refers to the city where he came into his own professionally, with the help of his now-pianist, Harold Mabern. Between the title of the album and the nature of his playing, it's just too hard to resist saying that Chicago Fire burns. Opening with the good ol' fashioned small group swing of "Save Your Love for Me" (with guest Jeremy Pelt on trumpet), Alexander and company move on to Mabern's fast hard bopper, "The Beehive" (also with Pelt). Alexander's original. "Eddie Harris," captures the spirit of the late Chicago saxophonist, with a feel like that of "Freedom Jazz Dance" and "Listen Here." Drummer Joe Farnsworth solos near the end of another standard, "Just One of Those Things," after which Mabern and Alexander reminisce over a vamp about the old days in the Windy City before breaking out into some pure blues ("Blueski for Vonski," for Von Freeman). Another artist tribute, Mabern's "Mr. Stitt," is fast and straightahead, while "You Talk That Talk" wails over John Webber's walking bass. Closing out the proceedings is a swaying bossa nova rendition of the chestnut "Don't Take Your Love from Me." Alexander can play post-Coltrane with the best of them, but stays in mainstream mode throughout this new release.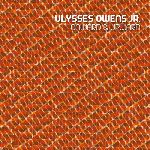 Ulysses Owens Jr. - Onward & Upward
Ulysses Owens Jr.
Back in late February, Louisville jazz fans had the opportunity to see Christian McBride's working trio, with Christian Sands on piano and Ulysses Owens Jr. on drums, at the University of Louisville's Jazz Fest. The following week, Owens' third album as a leader was released, featuring him and Sands, with Anat Cohen (tenor sax and clarinet), Michael Dease (trombone and label founder), Reuben Rogers (bass) and others. Owens opens and closes with drum solos, but for the remainder of the album, he is one of several musical voices. Songs range from mainstream modern jazz (Wayne Shorter's "Fee Fi Fo Fum") to R&B, (an updated yet classic R&B-style cover of the Stylistics' "People Make The World Go Round," with vocal by Charles Turner). A co–write by the leader, Cohen and Rogers, "Samba Jam," is a happy-sounding feature for Cohen's clarinet. Guitarist Gilad Hekselman adds an edgy modern cast to "SST." The last piece before the closing "Drum Postlude," is "Human Nature," the Michael Jackson song performed frequently by Miles Davis from 1985 onward; here's its purely acoustic and showcases first Owens' brushwork, then his deft accompaniment on sticks. In short, This album presents one of the up-and-coming jazz drummers in a variety of pieces where he shows he can lead without overpowering his colleagues.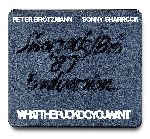 Peter Brötzmann and Sonny Sharroc - WHATTHEFUCKDOYOUWANT r
Peter Brötzmann and Sonny Sharrock
WHATTHEFUCKDOYOUWANT (Trost TR124, http://trostrecords.bandcamp.com/music)
First, an addendum to my concert coverage last month: I meant to identify the Hamid Drake feature, which I referenced as a "reverential piece," as "The Many Faces of the Beloved." Now, this live recording from the archives of Peter Brötzmann has been released, a 1987 collaboration with guitarist Sonny Sharrock. The title refers to an incident where Sharrock intimidated his soon-to-be-ex business manager following an argument. The album is strictly duet playing, but the high energy level of Brötzmann (on alto, tenor and bass saxophones, and tarogato) and Sharrock is such that the lack of other instruments is not a drawback. Sharrock's work is at times reminiscent of Albert Ayler's saxophone, and at other times conjures Jimi Hendrix ("5" is a good example). Over the course of 73 minutes and 11 tracks, all titled "Whatthefuckdoyouwant" 1-11, the musicians reach sometimes cacophonous heights, swirling like banshees, seemingly invoking gods and demons. Notwithstanding the track titles, this is a collection of separate pieces, not one long improvisation broken into smaller segments. This is adventurous and challenging music, not for the faint of heart.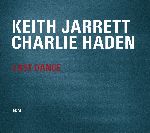 Keith Jarrett and Charlie Haden - Last Dance
Keith Jarrett and Charlie Haden
Keith Jarrett and Charlie Haden played and recorded together in various configurations for many years. In 2007, they played duets at Jarrett's home, recording them and releasing the album Jasmine from those sessions in 2010. This new collection from the same sessions came out just before Haden's passing, with an all-too-prescient title. Given the standing of Jarrett and Haden in the jazz world, one would assume these performances would be of the highest quality; one's assumption would be correct. Most of the songs are ballads, although the duo picks up the pace on a short version of Bud Powell's "Dance of the Infidels." The three final pieces' titles drive home the loss of such a multi-talented player: "Where Can I Go Without You," "Every Time We Say Goodbye," and Gordon Jenkins' touching "Goodbye." Last Dance is an hour and a quarter of deliberate, moving, subtle artistry.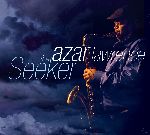 Azar Lawrence - The Seeker
Azar Lawrence
It's been some time since I last heard saxophonist Azar Lawrence, so I was pleased to receive this new live recording. Lawrence worked with McCoy Tyner on some fiery 1970s dates, and has played with a wide range of artists in both jazz and R&B. He's joined here by Nicholas Payton - trumpet, Benito Gonzalez - piano, Essiet Okon Essiet - bass and Jeff "Tain" Watts - drums. The songs are all by the leader, except for the pianist's lovely "Rain Ballad," which evokes John Coltrane's "After the Rain." The opening "Gandhi" is straight out of the Tyner/Trane school, and sets a high bar for the rest of the album. "Lost Tribes of Lemuria" sounds like a modal version of the blues, while the following title track has a jaunty feel. The editing is a bit odd, with silences between the tracks, which detracts from the sense of being at a live performance (recorded in December of 2011 at New York's Jazz Standard). That's a small quibble, though, and it's great to hear Lawrence again, sounding passionately spiritual.
LOCAL JAZZ CONTACTS
With two now-fifteen-year-old daughters, it's hard to get out as much as I would like to hear music. As a result, picking and choosing which performances to catch sometimes require that I postpone seeing some of the local musicians and singers in order to not miss the one-night-stands from out-of-town artists. Invariably, I feel guilty, so in an effort to assuage my guilt and, more positively, to provide more exposure to our community of great local jazz performers, I am initiating this feature containing website and e-mail contact information. I am only including those artists who have given their permission to me; some have indicated a preference for website listing only; others have only e-mail addresses. If you wish to be included, drop a line to me with your permission and preferences, at mzkjr@yahoo.com. I reserve the right to edit and to exclude those whose connection to jazz is, in my opinion, tenuous; and this feature may end up online if it begins to take up too much space in print.
MIKE TRACY: www.michaeltracy.com, michael.tracy@insightbb.com, saxophonist and teacher Mike Tracy
UNIVERSITY OF LOUISVILLE JAZZ PROGRAM: www.jazz.louisville.edu
BOBBY FALK: www.myspace.com/bobbyfalk, drummer and composer Bobby Falk;
WALKER & KAYS: www.walkerandkays.com, singer Jeanette Kays and guitarist Greg Walker;
JENNIFER LAULETTA: www.jenniferlauletta.com, singer Jennifer Lauletta;
JEFF SHERMAN: jeff.sherman@insightbb.com, guitarist Jeff Sherman;
RON JONES: www.ronjonesquartet.com, rjmusic@ronjonesquartet.com, saxophonist Ron Jones;
STEVE CREWS: www.jazzcrews.com, jazzcat@iglou.com, pianist Steve Crews.
CODA
1) I am always interested in your comments. Contact me at mzkjr@yahoo.com.