August 2014 Articles
Cover Story
Paul Moffett
Features
Eddy Metal
Columns
Sue O'Neil
Martin Z. Kasdan Jr.
Eddy Metal
Blogs
Got Shows?
Send Them To Us
Bookmark Louisville Music News.net with these handy
social bookmarking tools:
Available RSS Feeds
- Top Picks
- Today's Music
- Editor's Blog
- Articles
Add Louisville Music News' RSS Feed to Your Yahoo!

Issue: August 2014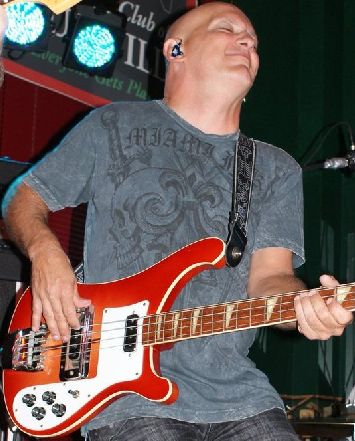 Ronnie Watchmaker
Name: Ronnie Watchmaker
Age: 25 with 23 years of experience! HA! Seriously, 48 but Rock-n-Roll keeps me young and alcohol is a preservative!
Instrument: Guitar, Bass, Vocals & I also play a little keyboards and drums.
Band/Former Bands: I've been with BIG ROCK SHOW for going on seven years now. I've been with a lot of bands over the years including Jefferson Tarc Bus, XS, Slam Circus, XYZ and many others.
How long on instrument: I got my first guitar when I was 9 and really started getting serious about it when I was about 13, so, 35 years.
Equipment: This is an extremely long list:
Guitar wise I have around 10 guitars including a Dave Murray signature strat, Jeff Beck signature strat, Black Paisley & Antigua Mexi strats, Angus Young Gibson SG, Epiphone Michael Schenker V, Epiphone Les Paul 1960 Classic, and 6 string and 12 sting Taylor T5's. I play those through a Fuchs Train 2 with a Marshall 1960A cab. If anyone out there hasn't heard Fuchs amps, you need to check them out - tone for days!
A bunch of pedals: Fulltone OCD Overdrive, Barber Burn Unit, MXR Carbon Copy Analog Delay, Dunlop Phase 90, Boss CE2 Chorus, Boss OC2 Octave, TC Electronics Mini Polytune, Electro Harmonix Bass Balls, & Ernie Ball Volume pedals on a Pedaltrain board powered by a Voodoo Lab Pedal Power 2.
Bass Guitars: My main bass is my Antigua Fender Precision, I also have an Antigua Jazz, Geddy Lee Jazz, Jaco Pastorius Fretless Jazz, 1974 Rickenbacker 4001, 1979 Pre-Ernie Ball Musicman Stingray, 2010 Ernie Ball Musicman Stingray, Cort Gene Simmons Axe Bass, Nikki Sixx Schector Thunderbird, I'm losing count lol…..yes I have serious G.A.S. (gear acquisition syndrome) My bass rig is very simple; I use the same pedalboard for guitar and bass and my amp is a Tech 21 VT 1969 head through Tech 21 4x10 and 1x15 cabs
I also have a Roland TD20SX drum kit and a Roland Fantom G8 Keyboard work station at home.
Influences: Michael Schenker, Malcolm & Angus Young, Dave Murray, Glen Tipton & KK Downing, Pat Travers, Geddy Lee, John Paul Jones, Ronnie James Dio. Honestly, though, the guys who've influenced me the most are Dave Ernspiker, Jon Huffman, Kevin McCreery, Steve Osborne, Kevin Garr, Chip Adams, Tony McElwain, Screamin' John; all the guys I got to share a stage with or watch and learn from every night!
My first gig: A buddy's backyard party. I was 13 or 14. I had a crappy Harmony guitar and used a reel-to-reel recorder as an amp! We opened with "Purple Haze"!
Hobbies: Reading, hanging out with my family, going to see other bands! I think if I expect anyone to support live music, I gotta start with me, so I get out to see bands as much as I can.
Favorite movies: Spinal Tap, The Godfather, The Crow, From Dusk Till Dawn, Caddyshack
Favorite food: You can't beat a great steak with a great wine! I am becoming quite the wine snob!
Favorite place: I've been to a lot of cool places. I love Southern California to relax and Las Vegas to party!
Favorite sports or team: I love the NFL! I'm a Packer fan and will be for life. Living here we all know about and love college basketball! I am a Wildcat fan!
What I'm listening to nowadays: The Winery Dogs, best album I've heard in years and I don't know why the local radio stations won't play it here! STEEL PANTHER! Anyone who says they don't dig them has never heard them! Also Black Country Communion is very cool. And I've been listening to a lot of Badlands again! Oh and the new Judas Priest Redeemer of Souls, of course!
Coolest thing I've done: Being a dad is the coolest thing ever! Musically, the years I spent touring around the U.S. playing music with my friends! I used to live in Seattle and there was a party where I got to sit around and play acoustic guitar with Chris Cornell, Jerry Cantrell, Andrew Wood, Kim Thayil and a bunch of other local Seattle guys before they were big. So many cool things!
Most embarrassing moment: Hard to say; onstage, it was probably the time I fell off the stage when singing for an AC/DC tribute band: off the stage and through 2 tables. I don't think I spilled any drinks, so no alcohol abuse occured! It took about half a song to find the wireless mic!
Bad Habits: Smoking, drinking, I cuss waaaay to much but what the F#@k!
When/where did you first get some: My grandma's summer house (no, it wasn't my grandma, you pervs lol!) It was actually on a dare. Kids will be kids! I was very young. I am NOT proud of that, by the way, but it is what it is.
If you could meet a Rockstar (past or present), who would it be, and why: Elvis or John Lennon. Just think of all the stories they could tell!
Who do you love: My wife Janet, my kids Michael & Alyssa, my brothers from another mother BP Ogle & Alan Freeman, all my family… ALL of the wonderful people I've had the opportunity to jam with!