July 2014 Articles
Cover Story
Paul Moffett
Features
Eddy Metal
Columns
Martin Z. Kasdan Jr.
Eddy Metal
Blogs
Got Shows?
Send Them To Us
Bookmark Louisville Music News.net with these handy
social bookmarking tools:
Available RSS Feeds
- Top Picks
- Today's Music
- Editor's Blog
- Articles
Add Louisville Music News' RSS Feed to Your Yahoo!


Jazzin'
PRELUDE:
I: Apologies
A perfect storm of work and family matters led to the unanticipated delay in finalizing this month's column. Please accept my apologies, and enjoy all the great music coming up here in town the rest of the month.
II: RIP, Jimmy Scott
Jimmy Scott passed away in June, at the age of 88. Back in February of 2006, thanks to Ken Shapero and Dianne Aprile of the Jazz Factory, Louisville jazz fans had the opportunity to see this unique and wonderful singer. In lieu of reviewing the concert myself, I deferred to my colleague, blues columnist Keith Clements. Here's his feature from the March 2006 issue: http://www.louisvillemusicnews.net/webmanager/index.php?WEB_CAT_ID=50&storyid=3095&headline=I%27ve_Got_A_Mind_To_Ramble&issueid=205
III: RIP, Horace Silver
What would the jazz world be today if not for the pioneering efforts of composer and pianist Horace Silver? He was one of the early architects of what became known as hard bop, incorporating the inventiveness of the bebop pioneers with the soulful elements of Gospel and R&B. "Song for My Father," "Sister Sadie," "Filthy McNasty" are just three of his pieces which have become standards. He passed away in June, at the age of 85. One of my personal favorites is his beautiful and haunting "Peace;" here's a link to an online version: www.youtube.com/watch?v=TZc-2nOHf5s
RECENT CONCERT
Peter Brötzmann, Hamid Drake, and William Parker at Dreamland
It's not often that Louisville jazz lovers have the opportunity to hear jazz from the more progressive, avant-garde artists. On Saturday, June 7, Dreamland, brought a trio of masters of this genre to town: German saxophonist Peter Brötzmann, with William Parker on bass and Hamid Drake on drums and percussion. There were no song title announcements; indeed, with one exception, below, they may have all been free improvisations. Brötzmann began the concert with low register clarinet work, leading to a bass/drums segment which, in turn, moved into a clarinet dialog with Parker's bowing, accented by Drake's rhythms. Brötzmann switched to tenor for the next piece, with a funky drum pattern that led to uptempo group improvisation. It's worth noting that these two pieces alone lasted about 50 minutes, with the packed house following with rapt attention. Parker played shakuhachi on the next song, with Drake utilizing many "little instruments." The ensemble then performed a reverential piece which found Drake playing a frame drum known as a tar, and singing, while Parker played a sintir a/k/a gimbri or gimbrel ("a three stringed skin-covered bass plucked lute used by the Gnawa people" - Wikipedia). Brötzmann's horn wove through the trance-like composition like a dancer. Thanks to Dreamland for having the courage to bring non-mainstream jazz to Louisville.
ON THE HORIZON
Jamey Aebersold Summer Jazz Workshops and FREE CONCERTS
Since my June column, there has been an important update to this item. I will quote from an e-mail from Jamey himself: " Eric Alexander will only be here the first week, June 30 – July 4; David Liebman will be with us the second week on Wednesday, July 9th with master class and evening concert; David Hazeltine on piano will be with us both weeks; Jack Wilkins on tenor is back after having been in Italy in the summertime the past several years." Following is my writeup from June, still relevant for this event:
Once again, NEA Jazz Master Jamey Aebersold presents two weeks of jazz workshops right here in Louisville, at the University of Louisville. The dates are June 29-July 4, and July 6-11, with additional workshops June 28-29 and July 5-6. The homepage is http://workshops.jazzbooks.com/, where registration and other additional information is available. In addition to the classes offered, there is a series of nightly concerts by the faculty, Monday-Thursday of each week, from 7:30-10:00 PM, at Comstock Hall in the main building of U of L's School of music. Subject to last-minute changes, the faculty members may be found at http://workshops.jazzbooks.com/faculty. The non-Louisville musicians include many top names, such as guitarist Dave Stryker , bassist David Friesen , saxophonists Eric Alexander and Jim Snidero , trumpeter Jim Rotondi , and many more. At clubs in New York or Chicago, artists of this caliber would pull $20 or more cover charges, drink minimums, and more. In fact, Eric Alexander will be at Smoke Jazz Club in New York, in mid-June for a $38 cover!
Mercury Ballroom Presents jazz: A Jazz-Americana Celebration with Dave Stryker's "Eight Track Project" and Bebop Tribute featuring NEA Jazzmaster Jamey Aebersold
It's good to see the new Louisville Palace-related venue, the Mercury Ballroom, supporting jazz. Located a few doors north of the Palace, at 611 S 4th Street, the hall will showcase musicians associated with the Jamey Aebersold Summer Jazz Workshops. First up, on the Fourth of July, is Dave Stryker, with Jared Gold, Dick Sisto, Steve Davis and Jason Tiemann performing music from Stryker's new release, Eight Track (see below). The following Friday, the 11th, will honor the roots of modern jazz with a concert by Jamey Aebersold with Dick Sisto and others. More information abut the venue, and tickets, is at www.mercuryballroom.com.
Brazilian Music with the Renato Vasconcellos / Mike Tracy Brazilian Quartet featuring Eudes Carvalho (guitar) and Hamilton Pinheiro (bass). The Quartet will present two shows at the Bards-Town on Saturday, July 5 at 7:30 and 9:15 ($10). Seating is limited to 45 per show. Contact Larry Cooper (larrycooper50@gmail.com) or Mike Tracy to reserve your seats. A variety of Brazilian styles, composers and originals will be performed in a close, intimate setting. The Bard's Town is located at 1801 Bardstown Road; www.thebardstown.com.
Pat Metheny Unity Group at KCD
Over the past two years, I have reviewed the releases by Pat Metheny's current project, the Pat Metheny Unity Group. The group now consists of saxophonist/multi-instrumentalist Chris Potter, bassist Ben Williams, drummer Antonio Sanchez, and keyboardist and vocalist Giulio Carmassi. My album reviews are at:
http://www.louisvillemusicnews.net/webmanager/index.php?WEB_CAT_ID=50&storyid=7832&headline=Jazzin&issueid=281 and http://www.louisvillemusicnews.net/webmanager/index.php?WEB_CAT_ID=50&storyid=9004&headline=Jazzin&issueid=301.
Each review closed with my expressing the hope that the PMUG would add Louisville to its tour schedule, and now that's happening! On Sunday, July 27, the PMUG will play at Kentucky Country Day on Sunday, July 27. Ticket information is available at the KCD Theater's site, http://www.kcd.org/theater. Look for my interview with Metheny in LEO Weekly, out Wednesday, July 23.
SELECTED CLUB AND OTHER LISTINGS
The Laughing Derby at The Comedy Caravan , 1250 Bardstown Road, Louisville, KY 40204, 502-459-0022, www.comedycaravan.com; new site: http://laughingderby.com . The Don Krekel Orchestra will continue its gigs there on third Monday of each month, which this month will be July 21. Also, the club will now offer a menu of sandwiches, salads and more. I've heard rumors that there may be more jazz events; if any of you have specifics, please contact me. Please contact the club for any post-deadline information.
The Nachbar (969 Charles Street, 502-637-4377, www.myspace.com/thenachbar)features "Nachbar Jazz" on Wednesdays, with Jacob Duncan . Squeeze-bot returns to the Nach Bar for "Summer Squeeziness," every Sunday from Memorial Day Weekend May 25) through Labor Day Weekend (August 31). Check the club for updates or changes. The club also has a Facebook page with occasional updates.
HAPPY 20 th ANNIVERSARY To The Jazz Kitchen (5377 N College Ave., Indianapolis, IN 46220; phone: 317-253-4900; www.thejazzkitchen.com), presents nightly offerings of local and regional jazz; check the website for the full schedule and updates. A road trip might be advised for: Benny Green , July 11; Hot Club of Detroit , July 20; Jackie Allen , My Favorite Color CD Release Show, July 25; John Abercrombie , Oct 20; Jason Marsalis , Nov 15; Larry Carlton , Dec 5. Other shows may be added, so check the site.
The Blue Wisp Jazz Club in Cincinnati, is now at 700 Race St. (513-241-WISP). Wednesdays remain the province of The Blue Wisp Big Band. As of deadline time, May is packed with mostly local and regional talent; however, a road trip would be warranted for Annie Sellick , May 29-30. For details and the full schedule, the website is: www.thebluewisp.com.
Please sign up for updated local jazz listings: The Louisville Jazz Society provides weekly e-mail updates for local jazz happenings. Be sure to sign up for the e-mail "Louisville Jazz Society's Jazz Insider" at www.louisvillejazz.org. It is both impossible for me to try to provide complete listings here, and it would be duplicative of the weekly listings in the Courier-Journal and LEO and the Louisville Music News' monthly music listings, www.louisvillemusicnews.net.
EIGHTH NOTES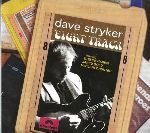 Dave Stryker - Eight Track
Dave Stryker
Eight Track (Strikezone 8809, www.davestryker.com)
Dave Stryker is a versatile guitarist, with roots in the soulful jazz of masters Jack McDuff and Stanley Turrentine, with whom he worked early in his career. He's released many albums, as leader, as co-leader with saxophonist Steve Slagle, and as sideman for Turrentine and others. On his latest release, Stryker presents his renditions of songs from the 1960s and 1970s. Interestingly, he shares with Rahsaan Roland Kirk the use of "Make It With You" and "Never Can Say Goodbye" as source material, giving the bubblegum Bread song a bluesy makeover. His working trio of Jared Gold on Hammond B3 organ, and McClenty Hunter on drums is augmented with special guest Stefon Harris on vibraphone. They turn the Association's 1967 hit "Never My Love" into a blues-tinged piece, and manage to interpret Pink Floyd's "Money" with strong bass pedals and a very un-Gilmour-esque guitar solo. The R&B of The Spinners' "I'll Be Around" and Earth Wind & Fire's "That's The Way Of The World" just lend themselves to the jazz stylings. The concept harks back not only to driving around listening to tapes back inthe 1970's, but also to the use of such material as the source as a way for jazz musicians to connect to wider audiences. In short, Stryker has released an album that shows how jazz can be engaging without losing credibility. He's in town for evening concerts with the Jamey Aebersold Summer Jazz Workshops, and a special engagement at the Mercury Ballroom (see above).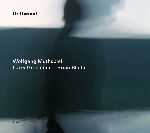 Wolfgang Muthspiel - Driftwood
Wolfgang Muthspiel
Driftwood (ECM 2349, www.ecmrecords.com)
Guitarist Wolfgang Muthspiel has been recording and performing extensively for some three decades, now, yet I suspect he is under the radar for many. His new album, his first as a leader on ECM, follows his ECM guitar trio work with Ralph Towner and Slava Grigoryan, Travel Guide (reviewed here in November at:
http://www.louisvillemusicnews.net/webmanager/index.php?WEB_CAT_ID=50&storyid=8774&headline=Jazzin&issueid=297. Driftwood puts Muthspiel in a different trio setting, with acclaimed musicians Larry Grenadier (bass) and Brian Blade (drums). "Joseph" opens the disc, with delicate electric guitar and subtly shifting percussion, grounded by bass. Ironically, "Uptown," the next piece features acoustic guitar, yet is more aggressive, with a hint of bossa nova. Following is another acoustic piece, "Cambiata, gently exploratory with mallet accents. Grenadier begins "Highline" on arco, before the trio turns to edgy funk as the piece ramps up. In all, the eight originals (including one co-write/improvisation with Grenadier and Blade, the title track), is evenly split between Muthspiel's electric and acoustic work. My personal favorite is the closing "Bossa for Michael Brecker," which begins quietly and gradually builds to a peak before subsiding. For more information on the artist, check his Facebook page and his website, http://www.materialrecords.com.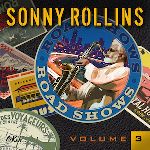 Sonny Rollins - Road Shows, Volume 3
Sonny Rollins
Road Shows, Volume 3 (Doxy/Okeh, www.sonymasterworks.com)
As in the first two releases in this self-curated archival series, Sonny Rollins has chosen to mix and match dates and ensembles. At the core of the bands are Clifton Anderson on trombone and Bob Cranshaw on bass, with Bobby Broom on guitar for three of the album's seven pieces. A track-by-track personnel listing is at http://sonnyrollins.com/project/road-shows-vol-3. His current press bio quotes Master Rollins saying that he chooses to present performances "that present parts of me I want to have presented." While I wish he would want to present one or more concerts in their entirety, his choices here are wonderful. Opening with the Latin funk of "Biji," Rollins blows hot and hotter. "Someday I'll Find You" finds Rollins in a long ballad workout; "Patanjali" changes the pace to fast'n'funky, with Rollins burning throughout, in classic jazz meets soul fashion. "Solo Sonny" is apparently the cadenza of a song, in which Rollins engages in an entertaining eight-minute quote-a-thon, which ranges from "Tennessee Waltz" to "A Nightingale Sang in Berkeley Square" and more. Group interaction is the name of the game on a 23-minute "Why Was I Born," featuring a blues-filled guitar solo by Broom and (hold your breath) . . . 13 minutes of trading fours with drummer Steve Jordan. A brief rendition of Rollins' calypso, "Don't Stop the Carnival," leaves both the recorded audience and this listener wanting more. Sonny, please!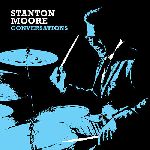 Stanton Moore - Conversations
Stanton Moore: Conversations
(Royal Potato Family, www.royalpotatofamily.com)
Some folks seem surprised that Galactic drummer Stanton Moore has released a straightforward jazz piano trio album; my only surprise is that it took so long. Past solo projects include organ/guitar trios (such as 2010's Groove Alchemy), so it might be said that Conversations represents more of a shift in emphasis than a totally new approach. Former Astral Project pianist David Torkanowsky and Astral Project's bassist James Singleton are the perfect trio mates, with not only chops, but a thorough understanding of New Orleans jazz "from the ancient to the future" (to borrow from the Art Ensemble of Chicago). All the tracks are, in fact, from New Orleans composers, except for the trio's Gospel arrangement of Herbie Hancock's "Driftin'" (in which Moore plays the melody on his kit in his solo). Singleton's uptempo waltz, "Lauren Z," opens the album, followed by one of several tunes to incorporate the second line rhythms of the Crescent, City, "Carnival." The only Moore original. "Tchefunkta," is a new arrangement of a song from his first album, All Kooked Out (essentially the first Garage a Trois release). From the skewed funk of the original (with Charlie Hunter's 8-string guitar and Skerik's saxophone) comes a fast-paced funk undertaking featuring brushes and a strong bass workout. Moore pushes the trio through a full range of modern jazz, stopping short of free jazz, on this highly engaging album.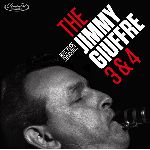 The Jimmy Giuffre 3 - New York Concerts
The Jimmy Giuffre 3 & 4
New York Concerts (Elemental, www.elemental-music.com)
Clarinetist/ saxophonist Jimmy Giuffre had a hit, so to speak, with his famed composition for Woody Herman's Herd, "Four Brothers." From there, he moved more and more into freeform and abstract jazz, and this new archival release adds to the limited discography from Giuffre's early-mid 1960s period. To be honest, I had heard little of his previously released work, notwithstanding some 45+ years of listening to jazz, so I was pleased to have the opportunity to listen to and write about this collection. Elaborately packaged, with a 28-page booklet full of informative notes, interviews and photos, New York Concerts presents the leader with bassist Richard Davis and drummer Joe Chambers from September 3, 1965 on disc one, and with Chambers, pianist Don Friedman, and bassist Barre Phillips on May 19 of the same year. Engineer George Klabin, who runs the excellent Resonance label of previously unissued albums, recorded these for his radio show at Columbia University's radio station, and they have not been heard again publicly until now. Both concerts open with "Syncopations," which moves from outside to in and back again, Giuffre's tenor growling on the trio version, fluttering on the quartet version. The trio then plays "Crossroads," by kindred spirit Ornette Coleman, Giuffre's clarinet giving the piece a distinct feel. The longest piece from September is "Drive," which moves from crescendo to eerie arco bowing with percussion accents to plaintive wails from Giuffre on sax and explosive drumming. Without going through a complete track-by-track analysis, suffice it to say that this is challenging music, with Giuffre expertly navigating through the differing demands of trio and quartet playing.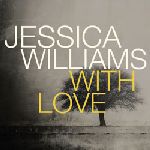 Jessica Williams - With Love
Jessica Williams
With Love (Origin 826604, www.origin-records.com)
Jessica Williams has produced an album of intimate solo piano pieces, rendered with elegance and emotion. There's a backstory here, that Ms. Williams suffered a lumbar spine collapse, followed by lengthy and extensive medical procedures. Her self-penned liner notes suggest that the nonpyrotechnical approach was a result of the spine issues, but had she made no mention of her problem, the album would still be a testament to a musical vision of "less is more." Of nine songs, all are classics except foe her lovely "Paradise of Love." Her performance of "My Foolish Heart" is breathtakingly slow; time seems to stand still as she delicately unfurls her version. "But Beautiful" seems a meditation on beauty. She closes with a somber and reflective "Somewhere," from West Side Story. More information may be found not only on the Origin labels' site, above, but on her own: http://www.jessicawilliams.com. Here's wishing her continued recovery, and many more albums to join her already substantial discography.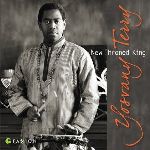 Yosvany Terry - New Throned King
Yosvany Terry
New Throned King (5Pasion, http://www.5passion.com/yosvany)
Saxophonist Yosvany Terry here presents a melding of his Cuban heritage and his jazz outlook. He has assembled an ensemble of performers including his brother, Yunior Terry, on bass, plus Osmany Paredes on piano, and percussionists whose rhythms percolate through the chants and lyrical expositions. Terry recounts how he began to explore his background, having grown up with some of the chants represented here, and seeking out masters of the Arará of Cuba. Throughout this fascinating album, he weaves together modern jazz, ancient chants, and more, including guest spots by Jason Moran and DJ Val Jeanty. I can't help but feel the spirit of Dizzy Gillespie nodding in approval at this extension of Afro-Cuban jazz.
LOCAL JAZZ CONTACTS
With two now-fifteen-year-old daughters, it's hard to get out as much as I would like to hear music. As a result, picking and choosing which performances to catch sometimes require that I postpone seeing some of the local musicians and singers in order to not miss the one-night-stands from out-of-town artists. Invariably, I feel guilty, so in an effort to assuage my guilt and, more positively, to provide more exposure to our community of great local jazz performers, I am initiating this feature containing website and e-mail contact information. I am only including those artists who have given their permission to me; some have indicated a preference for website listing only; others have only e-mail addresses. If you wish to be included, drop a line to me with your permission and preferences, at mzkjr@yahoo.com. I reserve the right to edit and to exclude those whose connection to jazz is, in my opinion, tenuous; and this feature may end up online if it begins to take up too much space in print.
MIKE TRACY: www.michaeltracy.com, michael.tracy@insightbb.com, saxophonist and teacher Mike Tracy
UNIVERSITY OF LOUISVILLE JAZZ PROGRAM: www.jazz.louisville.edu
BOBBY FALK: www.myspace.com/bobbyfalk, drummer and composer Bobby Falk;
WALKER & KAYS: www.walkerandkays.com, singer Jeanette Kays and guitarist Greg Walker;
JENNIFER LAULETTA: www.jenniferlauletta.com, singer Jennifer Lauletta;
JEFF SHERMAN: jeff.sherman@insightbb.com, guitarist Jeff Sherman;
RON JONES: www.ronjonesquartet.com, rjmusic@ronjonesquartet.com, saxophonist Ron Jones;
STEVE CREWS: www.jazzcrews.com, jazzcat@iglou.com, pianist Steve Crews.
CODA
1) I am always interested in your comments. Contact me at mzkjr@yahoo.com.