July 2014 Articles
Cover Story
Paul Moffett
Features
Eddy Metal
Columns
Martin Z. Kasdan Jr.
Eddy Metal
Blogs
Got Shows?
Send Them To Us
Bookmark Louisville Music News.net with these handy
social bookmarking tools:
Available RSS Feeds
- Top Picks
- Today's Music
- Editor's Blog
- Articles
Add Louisville Music News' RSS Feed to Your Yahoo!

Issue: July 2014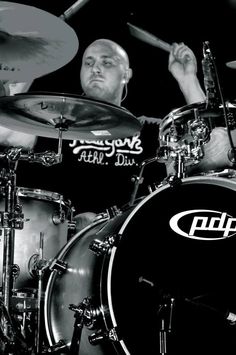 Corey Sturgill
Name: Corey Sturgill
Age: 25
Instrument: Drums
Band/Former Bands: currently drumming for Johari, ex-drummer for Centerfold.
How long on instrument: 17 long years
Equipment: PDP drums and Zildjian K custom cymbals.
Influences: Chris Coleman and Josh Freese.
My first gig: Hmm I've played at church since I was 15, but my first gig in a band was at Bulldog Cafe 7 years ago with my dad. We had a band called Primal Dust.
Hobbies: Drumming, I train Brazilian jui jitsu, I love going out and riding my long board down some hills at Iroquois Park, going to concerts and hanging with my friends.
Favorite movies: Dumb and dumber (super excited about the new one), Elysium, Anchorman and Sex Drive is probably the funniest movie I've ever seen.
Favorite food: I love gyros, Philly cheese steaks, ham and pineapple pizza.
Favorite place: Anywhere with great weather and a beach.
Favorite sports or team: Love mixed martial arts. My favorite fighter is Nick Diaz.
What I'm listening to nowadays: I literally listen to all music, but as of lately I've been listening to a lot of Karnivool, Northlane and Deftones.
Coolest thing I've done: I went to California last year. That was the funnest trip ever. While I was there I got my medicinal marijuana license :)
Most embarrassing moment: Well I embarrass myself on a daily basis but one time I was a St. Matthews mall years ago and this chick had on a shirt that said "save a horse and ride a cowboy" so I wrote my number down on a piece of paper and and folded it up and wrote "cowboy" on the front and gave it to her. Well as I gave it to her, her mom was sittin' beside her and didn't think it was as funny as I did. She was literally yelling cuss words at me in the middle of the mall. Security came and everything. I felt like 1000 people were staring at me.
Bad Habits: I swear a lot... And I mean a lot!
When/where did you first get some: At a truck stop.. He was gentle :p
If you could meet a Rockstar (past or present), who would it be, and why: probably Dave Grohl, he's hilarious and I'd like to drum with him/
Who do you love: Jesus, my family and I love lamp!