June 2014 Articles
Cover Story
Paul Moffett
Features
Eddy Metal
Columns
Mike Suttles
Martin Z. Kasdan Jr.
Eddy Metal
Blogs
Got Shows?
Send Them To Us
Bookmark Louisville Music News.net with these handy
social bookmarking tools:
Available RSS Feeds
- Top Picks
- Today's Music
- Editor's Blog
- Articles
Add Louisville Music News' RSS Feed to Your Yahoo!

Issue: June 2014

Jazzin'
PRELUDE :
New Louisville Recordings
I am happy to report that there are several recent jazz and jazz-related albums out by our great Louisville artists. Carly Johnson and Craig Wagner have released It's Pretty Standard, a collection of classic songs. My B-Side Profile for LEO Weekly was published online at www.leoweekly.com/music/b-sides-161, and a review is scheduled for publication there soon. D'Arkestra's latest recording, Little Voices, will likewise be covered there soon. Longtime Louisville progressive jazz/world/prog/whatever band Ut Gret's new album, Ancestors' Tale, has been out since January in Europe and is now being released stateside. A review and B-Side should also be out soon in LEO.
RECENT CONCERT
The Don Braden Organix Trio featuring Vanessa Rubin at U of L
Take one former Louisville saxophonist/flutist, Don Braden; add one Cleveland-native vocalist, Vanessa Rubin; mix well with organist Kyle Koehler and drummer Cecil Brooks III, and you have a recipe for a swinging night of jazz. Braden's Organix Trio with guest Rubin filled Bird Hall at University of Louisville with a heterogeneous audience whose enthusiasm was palpable. Over the course of two sets, each beginning with instrumental music and concluding with vocals, the band played a mix of old standards (including a revved-up "Lover Man "), newer standards (Donny Hathaway's lovely "The Closer I Get to You, " requested by Braden's mom), and one original, Braden's "Brighter Day. " Braden interacted with the audience not only musically, but through conversational introductions and back announcements, underlining the mutual importance of his band's working together and being able to take chances musically. A good example of the risk taking took place in Braden's arrangement of Leon Russell's "This Masquerade, " during which the tempo changed, Braden's sax was hot in a crescendo, then the band came down before exploding into yet another steamy break before ending the song. Many of the songs were from the recent Full Circle, recorded with the same lineup as appeared here. Rubin could caress a lyric, as in "Never Let Me Go, " or belt out gutbucket blues like the rousing closer, Eddie "Cleanhead " Vinson's "Hold It Right There, " with equal aplomb. By the end of the night, Braden all but promised that he would return without waiting as long as he had since his last appearance here (at the Jazz Factory, if memory serves).
ON THE HORIZON
Peter Brötzmann, Hamid Drake, and William Parker at Dreamland: Documentary and Performance
It's not often that Louisville jazz lovers have the opportunity to hear jazz from the more progressive, avant-garde artists. On Saturday, June 7, Dreamland, (located in NuLu at 810 East Market Street) will bring a trio of masters of this genre to town: German saxophonist Peter Brötzmann, with William Parker on bass and Hamid Drake on drums and percussion. They have worked with one another off and on for decades, and I, for one, am looking forward to this. My interview is at http://leoweekly.com/music/br%C3%B6tzmann%E2%80%99s-risky-business; advance tix at www.ticketfly.com/event/576941-peter-broetzmann-hamid-drake-louisville
Jamey Aebersold Summer Jazz Workshops and FREE CONCERTS
Once again, NEA Jazz Master Jamey Aebersold presents two weeks of jazz workshops right here in Louisville, at the University of Louisville. The dates are June 29-July 4, and July 6-11, with additional workshops June 28-29 and July 5-6. The homepage is www.summerjazzworkshops.com, where registration and other additional information is available. In addition to the classes offered, there is a series of nightly concerts by the faculty, Monday-Thursday of each week, from 7:30-10:00 PM, at Comstock Hall in the main building of U of L's School of music. Subject to last-minute changes, the faculty members may be found at http://workshops.jazzbooks.com/faculty. The non-Louisville musicians include many top names, such as guitarist Dave Stryker , bassist David Friesen , saxophonists Eric Alexander and Jim Snidero , trumpeter Jim Rotondi , and many more. At clubs in New York or Chicago, artists of this caliber would pull $20 or more cover charges, drink minimums, and more. In fact, Eric Alexander will be at Smoke Jazz Club in New York, in mid-June for a $38 cover!
SELECTED CLUB AND OTHER LISTINGS
The Laughing Derby at The Comedy Caravan , 1250 Bardstown Road, Louisville, KY 40204, 502-459-0022, www.comedycaravan.com; new site: http://laughingderby.com . The Don Krekel Orchestra will continue its gigs there on third Monday of each month, which this month will be June 16. Also, the club will now offer a menu of sandwiches, salads and more. I've heard rumors that there may be more jazz events; if any of you have specifics, please contact me. Please contact the club for any post-deadline information.
The Nachbar (969 Charles Street, 502-637-4377, www.myspace.com/thenachbar) features "Nachbar Jazz " on Wednesdays, with Jacob Duncan . Squeeze-bot returns to the Nach Bar for "Summer Squeeziness, " every Sunday from Memorial Day Weekend May 25) through Labor Day Weekend (August 31). Check the club for updates or changes. The club also has a Facebook page with occasional updates.
HAPPY 20 th ANNIVERSARY To The Jazz Kitchen (5377 N College Ave., Indianapolis, IN 46220; phone: 317-253-4900; www.thejazzkitchen.com), presents nightly offerings of local and regional jazz; check the website for the full schedule and updates. A road trip might be advised for June 14: Larry Coryell with Larry Gray and Paul Wertico ; June 20, vocalist/keyboardist Joe McBride ; June 21: Steve Allee Colors National CD Release ; June 27: Buckwheat Zydeco
Dance Party ; June 28: Corey Christiansen . Also, plan ahead for these: Benny Green , July 11;
Hot Club of Detroit , July 20; Jackie Allen , July 25; John Abercrombie , Oct 20; Jason Marsalis , Nov 15; Larry Carlton , Dec 5. Other shows may be added, so check the site.
The Blue Wisp Jazz Club in Cincinnati, is now at 700 Race St. (513-241-WISP). Wednesdays remain the province of The Blue Wisp Big Band. As of deadline time, May is packed with mostly local and regional talent; however, a road trip would be warranted for Annie Sellick , May 29-30. For details and the full schedule, the website is: www.thebluewisp.com.
Please sign up for updated local jazz listings: The Louisville Jazz Society provides weekly e-mail updates for local jazz happenings. Be sure to sign up for the e-mail "Louisville Jazz Society's Jazz Insider " at www.louisvillejazz.org. It is both impossible for me to try to provide complete listings here, and it would be duplicative of the weekly listings in the Courier-Journal and LEO and the Louisville Music News' monthly music listings at www.louisvillemusicnews.net.
EIGHTH NOTES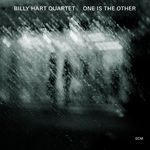 Billy Hart - One Is The Other
Billy Hart Quartet
One Is the Other (ECM, www.ecmrecords.com)
Billy Hart has been a musician's musician for much of his career, playing with the likes of Miles Davis, Herbie Hancock, Dave Liebman and Charles Lloyd (among many others), yet his own sessions as a leader have been relatively few. This second outing by Billy Hart's current quartet finds the 72-year-old (when recorded last year) drummer pushing his younger cohorts, Ethan Iverson (piano, from The Bad Plus), Mark Turner (saxophone) and Ben Street (bass) through tunes contributed by each of them, plus their version of "Some Enchanted Evening. " Throughout the album, the musicians venture from post-bop to free territory, never losing the pulse. "Lennie Groove, " Turner's dedication to Lennie Tristano, begins with low piano rumbling, before the others join in for intertwined lines taken at midtempo with a touch of Latin. Iverson's "Maraschino " unfolds into quiet thematic explorations. Hart's "Teule's Redemption " features his cymbal work, expanding into cymbals and drums, before settling into an inviting groove for all, some 2&1/2 minutes into the song. Another Hart original, "Amethyst, " begins subtly, but builds in intensity, with Turner's soloing fragmenting and then recrafting the melody. Turner's "Sonnet for Stevie [Wonder] " invokes not only its namesake, but Monk. Hart's brushwork is exquisite on "Some Enchanted Evening, " which is played slowly and wistfully. This quartet tours, and a live recording would be a great followup to this one.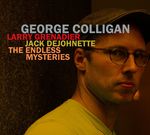 George Colligan - The Endless Mysteries
George Colligan
The Endless Mysteries (Origin 82654, www.origin-records.com)
Pianist George Colligan's trio mates are probably more recognized than he, but they are not just on board for star value; Jack DeJohnette and Larry Grenadier add to the leader's sometimes challenging work. Colligan's liner notes refer to having played in DeJohnette's band, and the musical empathy is apparent from the beginning; if he hadn't mentioned only one prior playing experience with grenadier, one wouldn't have known it from listening to the music. The opening piece, "Waiting for Solitude, " begins with Colligan's delicate soloing, before he launches into the piece, with busy-but-not-overpowering drums and rich bass; indeed, Grenadier's woody solo is so warm it sounds as if he's playing in your living room. The fast-paced "Song for the Tarahumera [a Mexican Native American people] " is next, honoring the dedication and spirit of the people, many of whom are known for long distance running. "Her Majesty " is more deliberately paced, with a Latin accent. Colligan changes the feel with "Liam's Lament, " for his son. A cleanly articulated bass introduction leads into a somber tune played on melodica, with a melancholic accordion sensibility. The album continues with mostly alternating faster and slower pieces; a special highlight is the unaccompanied piano ballad "Thoughts of Ana, " dedicated to fellow musician Jimmy Greene's daughter who was a Newtown victim. Colligan deserves to be better known, and this latest album (he's been releasing recordings more or less annually since 1996) may be the one to break him out. Here's hoping.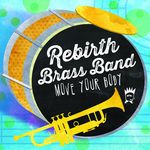 Rebirth Brass Band - Move Your Body
Rebirth Brass Band
Move Your Body (Basin Street BSR-1204, www.basinstreetrecords.com)
Rebirth Brass Band, a fixture on the scene for over three decades, now, epitomizes the funky second-line brass band music of New Orleans, The band's alumni include the irrepressible Kermit Ruffins, and first call trumpeter Shamarr Allen (Willie Nelson's road band). The repertoire here ranges from Gospel ( "Lord, Lord, Lord, You've Sure Been Good to Me ") to lascivious ( "HBNS, " an in-your-face booty call). Both the album title and the second song, "Rebirth Makes You Dance, " tell you just about all you need to know; this is a joyous celebration of life New Orleans style, with kickin' drums, enthusiastic vocals, and HORNS! Yeah you right!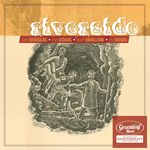 Dave Douglas/Chet Doxas - Riverside
Dave Douglas/Chet Doxas
Riverside (Greenleaf GRE-CD-1036, www.greenleafmusic.com)
Dave Douglas and Steve Swallow are the marquee names on this new album, but Canadian brothers Chet Doxas (clarinet and saxophone) and Jim Doxas (drums) round out this quartet with verve and talent. In fact, the album is released under the collective "Riverside " name. The recording is dedicated to the late saxophonist and clarinetist, Jimmy Giuffre, who was an exploratory musician who played his own brand of free jazz. Here, there are echoes of early Ornette Coleman in the piano-less sax/trumpet configuration, but these musicians are following their own collective muse. Only one piece by Giuffre is included, a short and snappy "The Train and the River. " With the exception of the sweet clarinet blues of "Travelin' Light, " the remaining pieces are by Douglas or Chet Doxas. "Thrush, " which is the first song, is celebratory. Swallow's electric bass solo introduces "Old Church, New Paint, " which opens up into a song which sounds like some long lost hymn, but is composed by Doxas. The musicians explore every nook and cranny of the 12-minute closer, "Sing on the Mountain High/Northern Miner. " There's almost an alchemy here, transmuting old sounds into new, mixing familiarity with originality in a way that invites repeated listens.
LOCAL JAZZ CONTACTS
With two now-fifteen-year-old daughters, it's hard to get out as much as I would like to hear music. As a result, picking and choosing which performances to catch sometimes require that I postpone seeing some of the local musicians and singers in order to not miss the one-night-stands from out-of-town artists. Invariably, I feel guilty, so in an effort to assuage my guilt and, more positively, to provide more exposure to our community of great local jazz performers, I am initiating this feature containing website and e-mail contact information. I am only including those artists who have given their permission to me; some have indicated a preference for website listing only; others have only e-mail addresses. If you wish to be included, drop a line to me with your permission and preferences, at mzkjr@yahoo.com. I reserve the right to edit and to exclude those whose connection to jazz is, in my opinion, tenuous; and this feature may end up online if it begins to take up too much space in print.
MIKE TRACY: www.michaeltracy.com, michael.tracy@insightbb.com, saxophonist and teacher Mike Tracy
UNIVERSITY OF LOUISVILLE JAZZ PROGRAM: www.jazz.louisville.edu
BOBBY FALK: www.myspace.com/bobbyfalk, drummer and composer Bobby Falk;
WALKER & KAYS: www.walkerandkays.com, singer Jeanette Kays and guitarist Greg Walker;
JENNIFER LAULETTA: www.jenniferlauletta.com, singer Jennifer Lauletta;
JEFF SHERMAN: jeff.sherman@insightbb.com, guitarist Jeff Sherman;
RON JONES: www.ronjonesquartet.com, rjmusic@ronjonesquartet.com, saxophonist Ron Jones;
STEVE CREWS: www.jazzcrews.com, jazzcat@iglou.com, pianist Steve Crews.
CODA
1) I am always interested in your comments. Contact me at mzkjr@yahoo.com.