June 2014 Articles
Cover Story
Paul Moffett
Features
Eddy Metal
Columns
Mike Suttles
Martin Z. Kasdan Jr.
Eddy Metal
Blogs
Got Shows?
Send Them To Us
Bookmark Louisville Music News.net with these handy
social bookmarking tools:
Available RSS Feeds
- Top Picks
- Today's Music
- Editor's Blog
- Articles
Add Louisville Music News' RSS Feed to Your Yahoo!

Issue: June 2014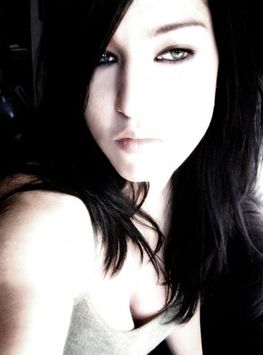 Michala Bouska
Name : Michala Bouska
Age :30
Instrument :Vocals
Band/Former Bands : Caducus
How long on instrument : From what I can remember, I've been singing since I discovered Buddy Holly and Elvis Presley at around 3 or 4 yrs old.
Equipment : My mic, I'm not a fan of mic stands but I have one of those, too.
Influences: : Opera, Celtic, Metal, Bluegrass, Punk, Electronic, Folk, Rock … my musical tastes are eclectic and everything I hear influences my personal style.
My first gig : Does hiding in the back row of 1st grade choir at a Christmas concert count? No? Well, it should.
Hobbies :Technically my band, until we make enough money for me to quit my day job. Really though, I have horses and dogs that keep me busy, I try to grow plants like the farmer I was raised to be and they die anyway, and I climb anything in front of me that goes vertical. Trees & jungle gyms, people...Jeesh.
Favorite movies : Any Jet Li movie, Lost Boys, Labyrinth, The Crow, Sean of the Dead, new Star Treks. Mostly I enjoy Kung Fu, Horror or Comedy, or Horror Comedy movies.
Favorite food : Ice cream...Yeah that.
Favorite place : Phelps Park in Decorah, Iowa (Yep I'm Iowan!). Or anywhere I am where it's just my horse and me, doesn't really matter where we are.
Favorite sports or team : Bull riding! It has to be the Built Ford Tough Tour. Even though I'm a Chevy girl, they have the best bulls and the hot Brazilian riders!
What I'm listening to nowadays : Azam Ali, Karnivool, In This Moment, and Buddy Holly have been my most listened to I<3Radio/Pandora stations lately.
Coolest thing I've done : TBA, I'm not dead yet.
Most embarrassing moment : I'm not sure that I've spent much time being embarrassed. I get smoked int the head often enough to realize that I am clumsy, and I take it in stride.
Bad Habits : I chew my nails like they offended me.
When/where did you first get some : I think I was 14, it was in the sauna of a hotel where my mom's entire family was staying for my aunts wedding.
9.If you could meet a Rock star ( past or present ), who would it be, and why : I've met plenty of rock stars, I want to meet Jet Li.
Who do you love : Oh, they know who they are, no need to announce it.