June 2014 Articles
Cover Story
Paul Moffett
Features
Eddy Metal
Columns
Mike Suttles
Martin Z. Kasdan Jr.
Eddy Metal
Blogs
Got Shows?
Send Them To Us
Bookmark Louisville Music News.net with these handy
social bookmarking tools:
Available RSS Feeds
- Top Picks
- Today's Music
- Editor's Blog
- Articles
Add Louisville Music News' RSS Feed to Your Yahoo!

Issue: June 2014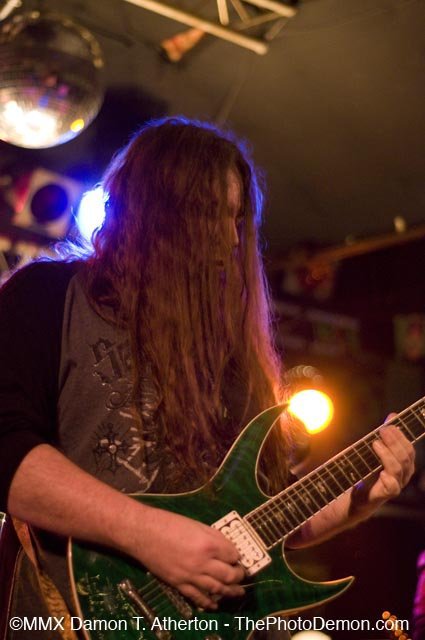 News From the Pit
No Summertime Blues here.....
Hey everyone! It's summertime! Yay. I love summer: cruising my Jeep Wrangler around, going to see concerts, playing shows, going to the park and stuff. It's pretty frikkin' awesome. I have a fun summer planned. I'm playing two cool outdoor festivals at least, opening for metal legends Prong later this year, and I may be going to Florida again! I'm stoked. I really need some downtime on some white sandy beach with my Takamine acoustic guitar in hand. Good positive things are happening and the Louisville music scene is looking much better these days (thank god), but these last few weeks have been kinda shitty for me, for real. A few weeks back at 1 A.M, I heard my doorbell ring, and it was my neighbor saying that someone had hit my parked car and was trying to leave the scene. I ran outside in my undies to see a car smashed into my car. It was phucked. I ran into the house to call police and to get clothes on and when I returned the two guys driving the car had run off, leaving their car smashed into mine. I waited two damn hours for the cops to get here. Then I found out the two guys reported the car stolen after the accident. My insurance won't cover because I had liability only, and the cars owners insurance won't cover because they didn't pay their bill and it got canceled the day before. So now I have to sue the car's owner to get any compensation for the loss of my car. What had happened was, the cars owner lent her car to the two guys (her friends) who ran into my car, who then ran off and reported it stolen. The car's owner then backed her friends ridiculous "stolen car' story so save her friends' asses. Total frikkin' bullshit! I feel like going postal.
I don't care if it takes 20 MF'ing years. I will have my justice and make sure I get my car fixed or replaced. I've went through this horseshit before and I got screwed then. This time it will not happen again. I would like to thank David and Chris from Sonny's Auto Collision on 3904 South 5th Street,(these guys are good! They fixed a friend's car and it looks sweet!) for coming by my house and helping me out with estimates. Losing a car was bad enough of a loss in itself, without having to spend hundreds to tow a totaled car all around Louisville to get estimates!
Life is sometimes a beeyatch.
Shows shows shows! It's time for summer fun, outdoor festivals and getting out there and playing your hearts out if you are in a band. Rob Zombie at Iroquois Amphitheater was a freakin' blast! What a cool outdoor show! (see review and pics below!) ZZ Top is coming there in July. We have Befuddled Fest coming up in late summer, Cannastock 2014 coming up soon and Rockstar Mayhem Festival, plus countless other local rock shows that should not be missed. So get up off yer lazy taters, get off that damned computer and get out to see some good local talent. This scene seems to be doing a lot better these days. So that is a great thing! We needed it!
Truth Challenge Update...
As far as how my truth challenge in last month's Louisville Music News went? Well, my challenge went unanswered. Not a word from the individuals who constantly accused me of ripping off the bands. Even after I offered a reward of a $6000 guitar to anyone who could prove I ripped bands off. Once again, I am sorry for bringing up such nonsense, but when someone accuses an innocent person like that, slandering their character/business and morals - for spite - then something should definitely be said.
Never ever again let it be said that I screw bands over and keep the money. I have provided proof on many occasions. Last month's Truth Challenge was the icing on the cake of true vindication.
Now hopefully, things can be worked out where there is peace, unity and a willingness to help one another in our music scene. I'm all about forgiving and moving on, as well as kicking ass when I have to.
Peace.
The Metal Grapevine
Send me your band's live Video, and maybe I'll post the MF (if it's not too fargin' hideous)
Yup, you read it right! This here MF will officially post your band video on our Louisville Music News website if I like it, and you aren't a complete a-hole. Have a bunch of idiots you don't know watching you fuck up playing the wrong chord or part, or singing hideously off key! Wouldn't that be just too cool of me? You can thank me later, tater! But in the meantime, make sure the shit is somewhat audible (not just fuzz). I'll only post halfway decent sound quality. So don't make my boss bitch at me! Try to keep things professional, like my pro narration skills!
Don't Forget Peeps, I'm on the MERF Board now, and we help Musicians in need!
Don't Forget My Fellow Musicians; I am now a board member for MERF. "Musicians Emergency Resource Foundation. " If you rockers have an accident and need help really bad, we may be able to help. The MERF peeps are really good people, so yeah, you rockers do have someone on your side. Visit our site ands see what MERF is all about! We help musicians from all walks of life, from Folk music to Death Metal! I'm here to make sure my metal brethren are taken care of too. MERF!!!! http://www. merfbenefit. org/
Rob Zombie/Iroquois Amphitheater Review at Iroquois Amphitheater on Derby Eve:
(Pics by Jason Schwartz)Wow, what a fun, much-needed show! Total props and mucho thanks go out to promoters Production Simple and AC Entertainment for allowing us rockers to have an outdoor show that normally would have never ever happened. All I've heard was how nice Iroquois Amphitheater was and this and that. But I'm a rocker, and most of the shows put on there have been some pretty weak stuff. Nothing with any balls at all,untilDerby this year. I was quite shocked to learn that Rob Zombie was coming onDerbyEve. Hell yeah, now that's more like it! This winter was pretty harsh, so I was ready for a cool outdoor metal show! It was what the doctor ordered. We showed up and the lines were long as hell. A bunch of wild-looking people, too. A few redneck A-holes driving down Taylor Blvd were yelling at peeps in the line calling them "Freaks," which pissed me off some. But the freaky rockers weren't up for trouble, we just wanted to rock out and have fun! Iroquois Amphitheater is a very cool little concert venue with promise! It's arenovated building with new facilities, clean bathrooms, and a sweet little social, beer-drinking area to chill with your friends and have a drink or two. It's a nice layout! There was no opening band,thoughthey should have had one. I requested that my band open the show to the promoters but we didn't get the gig. I tell you what though, we would have rocked the house if we would have gotten the gig. No matter who opened, they needed an opener. No one paid any attention to the DJ spinning records. Oh well, maybe next time.
Rob Zombie came on to guitarist John 5 playing the National Anthem, then lit into the Grand Funk Railroad cover "We're An American Band," then "Superbeast," followed by "Meet The Creeper." Mr Zombie then told the crowd how he had been very stressed out lately and this was exactly what he needed to let off some steam. Rob may not be the most talented guy, but he sure does love his fans! The huge hit: "Living Dead Girl" was up next, followed by "Dead Radio," which featured John 5 playing his very brightly lighted Fender Telecaster LED guitar! I want one of those! That sucker was bright! I rarely drink alcohol, but I was in a beer-drinking mood this night because I needed to get out, so I was sucking down some locally brewed beer that was pretty darn good! I was starting to get a buzz. "More Human than Human" brought out a wild mask for John 5 as Mr Zombie went strolling through the crowd meeting the fans, who were more than happy to shake hands with him while he sang his hit song. I love John 5's playing. The sound that night was great. No complaints at all. Then they played "Sick Bubble Gum," which is one of my favorite RZ songs. Next, he brought out a cute little girl wearing a Rock MF shirt. Rob's mike stand was a work of art (that no doubt he made). It was a six-handed skeleton/demon micstand that he sang into! It was neat.
"Never Gonna Stop (The Red Red Kroovy)" was next and it sounded good, too, despite being one of his few slower songs. Then it was "Thunderkiss 65" as Rob once again was all over the venue, making a connection with his fans. Dude was everywhere! I wouldn't have been surprised had I been in the bathroom taking a dump, and seen Rob Zombie sticking his head over the stall wall whilst singing "ninteen-sixty-fiiiiive, YEAH! Ow." The crowd ate it up and loved him for it! Then he played some new songs that I couldn't understand the titles of, sorry. But they sounded pretty good! "American Witch" was next. But they left out the trippy and eerie John 5 solo at the end, which is my favorite part, because that guitar part is totally wicked and spooky. I was kinda bummed about that part not being in there. It's like playing "Crazy Train" by Ozzy, and not having the epic Randy Rhoads solo in it! Sheesh.
"Demonoid Phenomenon," "Demon Speeding," and "Scum of the Earth" were rockin' as well. The band was in tight form all night. For an encore, Rob Zombie played "Dragula." What Rob Zombie lacks in vocal skills, he makes up for by connecting with his fans, by going out to meet them, shake their hands, hugging them. The dude cares. Except for monsters on the back wall and a few cool mic stands, his stage show was all but nil, considering what cool stuff he usually uses, but room was limited, and time was probably an issue too. So it was mostly just a very cool rock show with one cool cat named Rob Zombie.
I had camera issues that night, but luckily, I ran into my friend Jason Schwartz, a fine photographer and all around great guy, who got some pics for us. Thanks a ton, Jason. I know you didn't have your good camera on you, but you did great with what you had on you, and some is better than nothing! You rock, bro!
All in all, I had a blast hanging with tons of friends. You people treated me like a rock star and I want to thank you for always reading my words and attending my shows and stuff. Supporting what I do. It truly means a lot to me!
I left kinda buzzed. At one point at the show, I went up to a chick who looked kinda like my date from behind, and I wrapped my arms around the chick thinking it was my date!! My bandmember's girlfriend Kellie said "Um, Eddy, that is not your date." Reality hit me and I slowly turned and looked at the chick's face, and I was soooo embarrassed! My face was probably bright red! It was hilarious! Oh well, I don't drink that much, dammit. And to be honest my eyes are starting to suck. Hell, they had the same hair and everything! And yes, I stopped drinking after that incident. I apologized to the chick and her boyfriend.
Oh well, it was still a fun night.
Rockstar Mayhem Festival 2014
The 2014 lineup is Korn, Avenged Sevenfold, Asking Alexandria, Trivium, Cannibal Corpse, Suicide Silence, Miss May I, Mushroomhead, Emmure, Texas Hippie Coalition, Veil Of Maya, Upon A Burning Body, Darkest Hour, Body Count (Featuring Ice T), Ill Nino, Wretched, Sister Sin, King 810, Erimha and Islander. Our chance to see this blistering show is July 19 in Noblesville Indiana at the Klipsch Music Center, which is an awesome place to see big shows at! Get your tickets now!
(Eddy: picks of bands I would stop and actually watch play whilst avoiding drunken, sweaty, fat guys on the verge of falling/passing out/yakking all over on you! Bands I would personally like to see on this bill are Trivium, Sister Sin (the brunette chick is smokin' hot and has a great metal voice), Suicide Silence, Texas Hippie Coalition (maybe they'll burn with the fans???), Bodycount w/ Ice T (I loved that album. Metal and rap that I actually liked!!!) and last but not least Ill Nino (they rock).
Here, enjoy some THC.
ZZ Top to bring Texas boogie to Iroquois Amphitheater on July 29:
Awwwwww hell yeah! Another worthy rock n roll show to actually attend at Iroquois Amphitheater. The place is starting to have some good music in there! Before it was all pretty boy lame commercial doo doo, and you couldn't get a good show in there to save your life. But now, they seemed to have lightened up and realized that the hard rock does make $$$. Rob Zombie and now ZZ? Sweet. I saw ZZ Top last year at another venue and despite their age, they were rockin'. If you love bluesy rock guitar, then you need to go see the legend Billy Gibbons while you still have that option. So you people should head on out to this show, and chill out in the beer garden section before the show, they have some pretty good beer.
TIP:
Get your tickets now, this will sell out for sure! Tickets are starting from $59.50.
Befuddled Fest (Quiet Riot, Bulletboys, Faster Pussycat, Tantric, Days Of The New and more) is Coming:
We have a doosy of a show coming up at The Rustic Frog in New Albany Indiana right across the bridge on August 29, 30, and 31rst. It's a 3 day festival featuring such bands as Days Of The New, Tantric, Bullet Boys, Quiet Riot, Faster Pussycat, Psychostick and a whole slew of local original bands like Dirty Cheese and The Hoodie Thieves, Nova Red, Popkiss Chainsaw, Year Of The Gun, The Mad Taxpayers, Stone The Crow, Vintage Voodoo and a lot more when things get fully confirmed. As well as fine music, they will have an assortment of activities/entertainers like a Volleyball Tournament, Magicians, Fire Breathers, Clowns, Illusionists, Dancers, Hula Girls, Contortionists and a wide selection of food booths (I hear theses place have and all manner of festival stuff. This promises to be a fun weekend. I'll fill you in when I have more info.
Cannastock2014, a Kentucky Herb and Music Lover ' s Dream
Cannastock is a free admission,three-day,cannabisawareness music festival that will be held in Woodstock, Kentucky (near Somerset Kentucky) on August 1, 2 and 3. There will be live music forthree days! Free onsite camping available. There will be a parking fee to compensate the venue location. My band Krosjoint played last year and we had a blast. There were hippies, rockers, hipsters, smokers, tokers, midnight pokers - that show had it all! I'm excited for us to be playing this year as well. Krosjoint fit well with the crowd/event theme. The festival features all kinds of music from original metal bands, rap, to DJs, to country, to folk music, to rock cover bands, and whatever else you can probably think of. Last year's event gained a lot of notoriety around these parts and I am expecting this year to be even more memorable. It's too bad they couldn't secure the same farm location as last year (it was very cool), but I'm sure Cannastock founder Arthur Van Winkle won't let us peeps down. I
So far the band lineup is Restless Leg String Band, Strange Tang, The Lust, Billy Jack Parnell, Tom Hagley, Krosjoint, The Whiskey Riders, The Prowl," Rust-N-Bones, Chief Greenbud, Wandaliz ColonandThe Machine, Old Soul Envy, Ricky Morse Music, Devon Rosenblatt, The Redstone Band, Atomic Thrillride, America's Most Wicked, Grass Monkey, Kung FU Grip, Max Powers," Rebel Hollow, Miscellanous Full Frontal Saurus, Positive MentalAttitude, Dublove Reggea Band and many more.
Check out Cannastock performer Chief Greenbud!!
Whitener Releases CD:
Time for a lil Louisville rock with some soul. I just received the new Whitener album that they recorded down in Nashville at Todd Whitener's home studio. The band recordedthirsteen songs and has been working on this album for about a year now. "Simmering" starts out with some killer clean tones on guitar. Todd Whitener's voice is phucking great. I never knew the guy could sing so gooduntil I heard him. Great lyrics. "You need the drugs like I need deception, they make it easier to go. And if you are higher then you lose perception/then you die alone. You try to screw me with no inhibition/it's like you never cared. But if you knew me and thought I would listen/ it's sad to see you there." All these are sung with great melody, though.
Great songwriting and harmonies. I like the clean guitar with the effects. There are some really nice clean leads with effects that sound beautiful. The song just has a good laidback melodic feel to it with a somewhat grungy chorus that compliments the verses. Actually it's hard as hell to try to compare this to something. They don't really sound like anybody, which is good. I can hear this song on the radio. It does have kind of a Sixites or early Seventies sound at times, if I'm not mistaken. It has a classic feel to it, somehow. I love that I can actually understand Todd's vocals. That is a huge plus to me. I like vocals to be melodic and clear. "Until The End" is a short but sweet, folky, acoustic endeavor with a bluesy vocal style that reminds me of the deep South, maybe even New Orleans. Again I'm getting that classic rock feel, but I can't put my finger on what classic rock band it reminds me off. The guitars start out super clean with no effects, but slowly evolve into a full, rich sound with effects. The keyboards and layering in the middle of the song make it sound almost trippy and mystical sounding. There are even a few country elements in this tune, perhaps. Todd is more soulful in his singing on this one. His love of Tennessee is shining through it seems! I like Tennessee. too.
Next up is "Tragic Ending." Killer vocals already. This music is real laidback, but damn good just the same. Wow, the sound quality is awesome. I wonder how much Todd charges to record bands? Hook me up, bro! Seriously, this sounds out of this world. Frikkin' beautiful and clear as a mountain stream in winter. What blows me away is how Todd plays and sings those hard melodies with extended notes at the same time. And yes, he pulls off the same melodies LIVE in concert! I've seen it myself. The song has a nice flowing chorus. Terry Harper's drums are great. He is one of the better drummers in Louisville and dedicated too.He's not all pilled and heroined out like a lot of musicians are! Must be a bit weird for Terry playing the lighter music he has with Whitener, since he has been used to playing heavier stuff in the past. I like the easygoing guitar solo. Finally, someone who agrees that you don't have to be super technical and play 350 notes per second to get your point and emotion across to the listener. All guitar tones on this recording are nearly perfect. The vocals and background vocals are outstanding as well. Drums and bass are highly proficient and fit in extremely well with the music Todd writes. These guys played my Rock ForKosair Benefit last November, so I would like to thank them for donating a performance to help poor children. That says everything in itself, to have such a talented band playing for free to help children in need. I hereby issue another invite to play again RFK again this year. I hope Whitener is available.
">
Johari, Louisville Metal's Future:
I'm checking out the new Johari album that just came out. Wow, this sounds badass. Killer quality. The guys recorded the music themselves but went to Jordan Haynes at Earlygrayce Studios to do the vocals, which sound super sweet. Wise move!
"Fight Me IRL" is a quick and maddeningly chaotic song that is ass-kicking metal, but it also has some nu metal elements in it. The guitarwork of Kyle Meredith and Max James sounds fantastic. Insane drumming! Modern and still pretty darn crushing! Those guitar tones are deadly. Vocalist Connor Hill has come a long way in a short time. Talk about an improvement. Whoa. He mixes up the vocals very well now, utilizing metal vocals with a bit more melodic singing! Well done, Connor! There is no rule that you can't sing AND growl viciously in the same song! I wish Connor would tell that to more bands here in town. I'm impressed with the sound and playing. The drums of Corey Sturgill are also killing. The drums sound thunderous. Dude is awesome on drums. I like how the song slows and the melodic vocals come to life in that instant, then there is a super sweet guitar solo. This is melodic but heavy metalcore with technical alternate picking, and it even has some death metal elements, but without running the listener off. Instead, it invites you to come on in and have a drink, and hear a few good stories. Maybe a few emotional ones, so be prepared for the whole shebang.
"Alternate Ending" starts way cool. Holy shit, this stuff slams! Nice vocals again. Jordan Haynes did a great job on Connor's vocals. I like this song better than the first one. These guitar riffs are very cool! Everyone knows I'm very picky about guitar, but this is no doubt - the shit! The creative rhythm guitars are just rockin', doing the chug-chug triplet style of muting picking," complete with on/off stops, make for a groovin' listen. The guitars are well layered, too, just like I like double guitar attacks to be. While new modern metal isn't really my thing, no one can deny that this isn't good stuff. I love to be able to show a hometown band some praise, and this recording deserves that in full. I wish I had the time and space to review the whole album. All I can say is that I will be watching/reviewing this band's performance on Friday June 6 at Phoenix Hill with extra interest. Great job guys!
Check out the bands lyric video for "Douche Canoe!"
To my boss: See, I'm not the only one who uses this word! Douche is just a fun word!
Centerfold folds, again:
One of Louisville's promising bands, Centerfold, has broke up again, and this time for good. I had been giving this band props bigtime for sounding unique and being very tight as a band. But there are internal issues apparently and the guys cannot seem to keep the ball rolling. I decided to talk to guitarist Rich Brown about what happened and why these breakups happen, especially after the band seemed to be doing so well.
Eddy: So, Rich, what happened this time and why did Centerfold break up when you seemed to be doing so well??
Rich: Well as you know, being in a band is hard work. Some guys have their shit together and strive for what is best for the band, and others. … well, do not seem like they want it bad enough. Missing practices and stuff like that. Issues can always be worked out. It really comes down to how bad to you want it? Centerfold had shows booked and was trying to finish a album. It only takes one, or in our case, two, to fuck it all up. They know who they are. This is my last time reuniting with Centerfold. It is kind of like dating your ex-girlfriend. It never works out.
Eddy: That sucks, believe me, I've had bandmates who missed practices a lot (It's one pet peeve I have, missing practices! One bandmember repeatedly told us his grandmother died, but forgot about his excuse every time, so every missed practice was a dead grandmother! Dawg must have had 150 dead grandma's!), and were seriously lackluster. Don't worry dude, you are a rockin' guitarist and will find like-minded guys to jam with soon enough, I bet. Let me know when you do get going again! Our scene needs more dedicated rockers like you.
Rich: Thanks so much bro, I really appreciate it.
Rodney Adams' K entucky Bigfoot Special to air on June 8:
Former E-Flat vocalist Rod Mack has a show coming up on Animal Planet on Sunday June 8 at 9 p.m. Rod has been an avid believer inBigfoot and other mysterious things as well. I cannot lie to you good folks, I myself have seen some amazing and very odd things in my life (if I told you, you would think me a liar), and Rod is the same way. We both believe in stuff that many others don't. I've known this guynearly20 years, and he does not lie. I trust this mans wordcompletely. I thought it would be cool to talk to Rod about what he has seen/witnessed here in our home state. Strap on your seats belts, for you have entered The Eddy Yeti Zone~!!!
Eddy: Rod, what have you experienced to make you think we have Bigfoots around here? And where and when did you witness these things?
Rod: I have had two encounters with what I can explain as nothing other than a Bigfoot. The first was in 2004 in the Red River Gorge area, which vocalized and hurled large rocks and tree limbs into my camp. I could see it was very tall, very broad shouldered and had hair all over except for the face. It smelled like garbage, too. The second was a few months ago on Trimble County. I watched a smaller creature run across the side of a ridge, in the area we conduct our research. The legends go back in Kentucky for hundreds of years, however they were never called Bigfoot or Sasquatch. Usually it was just called the monster or creature or woodbooger. That is where the term "boogeyman" actually cones from. I also have many casted footprints from the woods of Trimble and Carroll counties.
Eddy:Wow. Thats a trip dude! I woulda shat a brick! What can we expect to see our your show on Animal Planet on June 8 at 9p.m.?
Rod: Basically, the team from "Finding Bigfoot" come to Kentucky to see what they deem as some of the best footprint casts on the East Coast. They also hook up with Turtle Man to do some squatching while they are here. My wife had a sighting as well and they cme to reenact her encounter.
There will be a viewing party June 8 at The Brickhouse starting around 8 p.m. The show is at 9 p.m.
The more the merrier!
Cryptik Ink's Instrument/Musicians Swap Meet:
On Saturday, June 14 at Cryptik Ink Tattoo Studios, (located one mile south of the Gene Snyder on Dixie Highway, on the right!) there will be a Musicians Swap Meet. Guitars, Drums, Amps, Keyboards, anything musical will be up for grabs at this place. You can probably get a killer deal on some gear! Free booth space if you are selling. It's from noon until 9 p.m. Hopefully the weather will be great. Hit up Erik Angelini at the store for more info!
This is a super cool idea so make sure you check it out!!
Rockaway Drive, Re-Building the Metal:
I love these guys. They about the coolest, most humble and down-to-earth guys I've ever met. Unfortunately, they have had member change issues and had to rework some stuff to try to get back on track. The band has just released a new tune called "Eternal" and I am checking it out now. I'm digging the music and guitarwork. Sounds like some classic doom metal to me. Kinda slow and grooving, just like I like it. Very catchy. The band has a new singer named Dani O'Dea who doesn't sound bad. He's good at what he does. He has nice high voice for this type of music. The new vocals might sound a bit dated to many though, but I like the Queensryche type old-school "Lady Wore Black" type vocals. so I guess I'm the perfect columnist to review this. The lyrics do come off as a bit cheesy at times, but dude's high notes and vibrato technique are pretty sweet, and the guitar rythms are rockin'. The drums unfortunately are computer generated drums. I'd like to hear the song with real thunderous drums! The reverb or whatever effectison Dani's vocals works against him on this track. It's not the right reverb. It's a tad too much.. The new vocals remind me of earlyEighties metal bands like Tyrant, and maybe even a little like Sanctuary's Warrel Dane at times. These guys should cover Sanctuary's "Soldiers Of Steel." I'd like to see these guys back on stage real soon. Mick and Wes work really hard to get their music out there and I wish those cats the best! I think they are currently looking for a bassist, so if you play bass, you should give them a shout!
LMN Musician Of The Month:
This month's feature is vocalist Michala Bouska of the band Caducus,a band that has come out of nowhere and made a fast name for themselves as a good, tight band. Michala has a very nice singing voice, so be sure to look up her feature in this months edition of LMN.
Zebras In Public, the Review:
I've been hearing the name Zebras In Public for some time now, as a band I need to check out. This Cincinnati rock band is different. They have played Louisville a few times and have gotten some good word out about them from those performances. Personally, I have not heard them yet. I'm checking out "Propaganda" right now and this music sounds good. The clean guitar parts of Ian Zwosta are trippy and well thought out. Beautiful guitar work. At first it reminds me of a Duran Duran-type guitar riff, or even guitar work by The Edge. It's a little ballad-like. The vocals of Zebediah Williams are soulful, and fit very well with the music. The guy has a great singing voice and you can tell he is a professionalwho takes his songs very seriously. The song heavies up real nice, even getting kinda kinda slammin' at the end. This is what good music is all about, when you can be mellow at the beginning, and rise up and kick some ass to finish things out. Nowadays, bands always seem to wanna be tough and be all "GRRRR" and "I want to kill you!" It's very refreshing to hear good, positive, upbeat, non-crushing music that has the balls to be pleasant and melodic. Zebras In Public is very melodic and creative! "Sunshine" is a bit more indie alternative sounding of a tune. Once again the vocals really stand out. It reminds me of 311 or Sublime or something like that. It has a reggae / funk fusion sound that reminds me of the Louisville band Burning Babylon. I really like Ian's guitarwork on both tracks! I can see why I have heard this band's name several times, even though they are from Cinci. This is damn good music,that's why! All members are very good at what they do musically. They are coming down from Cinci on July 4 at PHT and I suggest you come up to theHill to see some new jams! I can't wait to hear what they sound like live!! Zebras In Public!!!!
Here is a live music sample!!
Bandaid For Cancer Benefit Results:
Congrats to Randy Napier for raising over $5000 for the "Shirley's Way" Cancer Benefit Fund. Over 200 people attended his benefit at Hillview Community Center on May 18. Randy is proud of the show results and he should be! Randy states "This Benefit will help out with cancer patients in need of money to help pay for medicines, bus tickets to get back and forth to chemo, and radiation treatments, and other various things related to cancer treatment." Special thanks to the bands; Short Bus, Unleashed, The Dallas Moore Band, Talk Of Spring, Jenny Carr and Twang Town, Don Goodfleisch as Elvis, and last but not least The Big Rock Show! For being unselfish and contributing a performance to a great, and very human, cause!
Mötley Crüe "The Final Tour" w/ Alice Cooper on October 14:
It looks like the infamous coke-snorting, heroin-doing, groupie-banging legendary rock band Mötley Crüe will finally head out to pasture. All I can say is, it's about time. And no, I am not a hater! I love MC! But when performances slip and your singer sounds like total doody and doesn't sing half of the lyrics, it's time to re-evaluate your future. Nikki and Tommy are good to go, but poor old Mick with his spinal disease just can't do this much longer. And MC is Mick Mars! So it wouldn't be the same. And Vince just plain doesn't have it anymore live. Some songs sound decent I admit, but on the old classics that are hard for anyone to sing, he suffers, er, the audience suffers. Dude sounds like a dying cat withpneumonia. But like I said, that shit is hard to sing! Trying singing the verses on key in "Shout At The Devil" and see how well you do! So with all due respect to The Crüe. I agree with this decision to retire the band. I've seen some seriously badass MC shows in the past, too. Almost every album tour all the way back to MC atCardinalStadium in1984 w/ Ozzy. Classic.
So if you wanna see the guys one last time, now is your chance to see one of rocks raunchiest, nastiest, sleeziest and rockin' metal bands ever! Get your tickets to this show Oct 14 at The KFC Yum! Center.
BTW, Alice Cooper is opening! I saw Alice two years ago opening for Iron Maiden in Indy and he was awesome! Alice still has the heart and ability to kick some butt.
The Bad Humor Report - Tales From The Tattoo Studio, the debut of some funny and sick chit:
I was sitting back one night, getting baked with some buddies, when I thought of something. Why not get local tattoo studios to each tell a tale of an unforgettable experience as a tattoo artist/shop owner. Drunken customers, bad tattoos they've seen on people, fugly people who came in, tweakers who couldn't stand still, hell, the possibilities are endless. One thing is for sure,it would be one interesting read after another! So let's do this thing! First up is Stay Gold Tattoo Studio owner Mark Metcalf, a cool cat (who is always wanting to donate tattoos for charity to raise money for the cause!!) who I'm just recently getting to know.
Eddy: Okay, Mark, you've had your own tattoo shop a while now. Tell us about one of your most memorable stories of customers who have frequented your establishment. Don't hold back on us, bro, we are grown-ups and can handle the reality of tattoo shop life!
Mark:The shop had only been open for about a month, and we decided to do a 24-hour, Friday the 13th special, and my first customer of the night was an older lady, mid 50's. While she was waiting, I thought she was eating Tic Tacs, but I was wrong, they were Xanax. One after another! So she comes over and lays down and we start. five minutes into tattooing her she kicks off her skirt and looks at me and asks if I took her skirt off. I said "no ma'am, I'm tattooing your shoulder." Then she tells me she is gonna bang my face off, so I said "no way, I'm gay, and that hunk of manmeat over there, Kyle, (who works with me) is my boyfriend." He agreed with me to save me. That didn't work however. Then she said she was gonna bang the both of us!
The whole time this grandma's tit was hangin out under her armpit. This is why I love my job! The memorable encounters we have with you people.
Upcoming Shows
The Bard's Town (1801 Bardstown Rd)
Friday, June 6 - "Rock For Momma Benefit" All poroceeds to go to Hospice, Band featured are; Rust N' Bones, Clowncar, Matt Jaggers, The Tunesmiths, Robbie Stephens, Ban She, Huh Robots and Lost In London. All ages. Raffle/doorprizes! 7 p.m. $5.
Billiards Club
Friday, June 6 - Soundtrip.
Diamond Pub (on Baxter)
Tuesday, June 3 - Threat Signal w/ Hatchet, Gravemouth, Reign Of Revelation and Heart Of Kings. 7:
30 p.m. $10
Tuesday, June 17 - Eyehategod w/ Ringworm, Enabler and Devil And The Darkness. 7:
30 p.m. $18 - $30
The Dungeon (Danville Kentucky )
Saturday, June 14 - Bury The Wicked, Creature Of Exile, Succumb To Demise, Regurgitated Flesh and Norfallen. 7:30 p.m.
Grapevine Lounge and Sports Bar (Scottsburg Indiana)
Friday, June 21 - "Summer Mayhem" w/ Popkiss Chainsaw, Krosjoint, Liquid Violence and Rust N' Bones. 8 p.m.
Haymarket Whiskey Bar
Friday, June 6 - Bree (Nashville) and The Ass Haulers.
Headliners
Saturday, July 26 - WSFR Cover Up Concert Series Benefiting Salvation Army; featuringKimmet and Doug, Whatever Will and The Ass Haulers. 8 p.m.
Phoenix Hill Tavern
Friday, June 6 - "Southern Disaster" featuring Kentucky cult legends Luther, Krosjoint, Johari, Hello Agony, Popkiss Chainsaw. 9 p.m. Free before 9pm too! Only $5 after 9 p.m.
Friday, July 4 - Zebras In Public (from Cinci), Caducus, Year Of The Gun, All But Dead and Sounds Like A Lawsuit. Free before 9 p.m.
Spillway Bar and Grill (in Bowling Green KY)
Sunday, June 22 - Full Devil Jacket, Luther and Despite the Fallen. 7 p.m.
Third Street Dive
Saturday, June 14 - Atomic Thrillride, Overload and Rifle. 9 p.m.
Saturday, July 19 - Luther, Chigger and Hellfire Militia. 9 p.m.
The Vernon Club
Saturday, June 7 - For The Fallen Dreams, Obey The Brave, I The Breather, Reflections, Sylar and The Pale Sky. 7 p.m. $15
Thursday, June 26 - Granshaw, The Dirty Raggae Punx (featuring members of Green Jello!!), Clockwork 1:01 and TBA. 8 p.m.
Wicks Pizza (in Highlands)
Friday, June 6 - The Death In Me and Heart Of Kings.
Saturday, June 7 - Rusty Old Crows, The Devin Roberts Project and Bury The Wicked.
Friday, June 13 - Blind Peace and Magnolia Sons.
Saturday, June 14 - Untold Relik, Theories Of The Apocalypse, Heiress To An Empire and Candlefly.
Friday, June 20 - Digg, Straticus, Witches Prayer, Chaos And Reason,
Saturday June 21 - Friday June 21 Make A Wish Foundation Benefit – all proceeds go to Ohio, Indiana and Kentucky Make A Wish Foundation! Featuring Vice Tricks, Empyrean Asunder, Heans Gate Gospel Revival, Despite The Fallen, IIattatime, Caducus and Untold Relik. 6 p.m.
Friday June 27 - Kentucky Ugly, Gods Below Us, Meanstreak, Lethean.
Saturday June 28 - Luie Branger, Krosjoint, Zeroking, Hello Agony, Lame.