June 2014 Articles
Cover Story
Paul Moffett
Features
Eddy Metal
Columns
Mike Suttles
Martin Z. Kasdan Jr.
Eddy Metal
Blogs
Got Shows?
Send Them To Us
Bookmark Louisville Music News.net with these handy
social bookmarking tools:
Available RSS Feeds
- Top Picks
- Today's Music
- Editor's Blog
- Articles
Add Louisville Music News' RSS Feed to Your Yahoo!

Issue: June 2014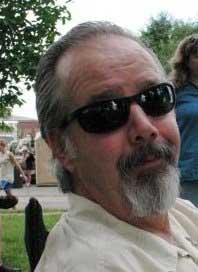 I've Got A Mind To Ramble
Quiet, Affable Man -- Big, Big Harp
I recently sat down and had lunch with Denny Thornbury, harp player and leader of The River City Blues Band. An extremely nice guy, I've known him for quite a few years, though not really well. He seems to be very reflective, not one to talk loudly or brag, certainly someone to feel comfortable with from the get-go. As we talked, it dawned on me that this quiet, unassuming and gentle man surely plays a mean harmonica and is one heck of a good blues singer. Over the course of the last thirteen or fourteen years, Thornbury has built his chops to become one of the best harp players in town.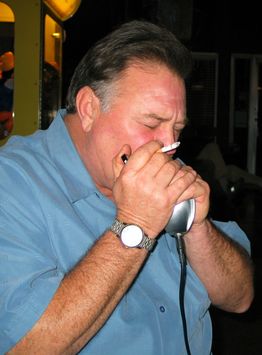 Denny Thornburg - Photo By Gary Sampson
One of ten siblings, Denny was born in Cincinnati sixty-two ago. Some time after that. his father was transferred to Southern California, where the family stayed a couple years and then moved back to the Cincinnati area. It wasn't long afterwards that they again moved to California, landing in San Diego, where Denny spent his formative years. He became a local high school star on the baseball diamond as a left-handed pitcher, subsequently going to Palomar Junior College and San Diego State University on baseball scholarships. He was drafted by the Texas Rangers but suffered a career-ending rotator cuff injury. Baseball's loss was the Louisville blues scene's gain.
Right after giving up baseball, Thornbury moved to Los Angeles to live with his brother, Jim, who played guitar (Jim played with Canned Heat for ten years in the 80s and 90s). Denny credits his brother with teaching him to play the harmonica. He was able to sit in with Jim from time to time and gained some valuable experience. Jim's love of the Delta Blues was one of Denny's first and greatest influences on his journey through the blues. It was also around this time that Thornbury got deeply into the Bible, teaching Bible fellowship classes for a while.
Thornbury married Margo, his wife of thirty-four years, in 1980. They moved to New Orleans, where they began a family. They have three kids; Katie, Daniel and James. They moved to Louisville in 1985. Denny put his family first and didn't play the blues for the longest time because it was very important to him to be a father and work with Margo in raising the kids.
Once the kids got a little older, Denny felt it was time to get the blues again. In the late Nineties, he started venturing out to Stevie Ray's three or four times a week to listen to the bands and jams. One night, he happened to catch Pat Boyack and the Prowlers and that flame was lit. Thornbury went out the next day and bought some harmonicas and he hasn't looked back since.
For a couple of years, he hosted jams at Stevie Ray's and other places so he could have a place to play and hone his craft. In 2000, he formed the River City Blues Band, which has been performing around town and in local and regional festivals ever since. There have been some exceptional players in the group over the years, including Mark Stein, Tim Dennison and Rex Newland among others. The one constant has been Thornbury.
After a few years, Denny decided he needed to take a year off and work on feeling better. His health wasn't good and wisely, he decided to take care of it. He came back raring to play. The latest rendition of River City includes Jimmy Gaetano on guitar, Hank Dobson on bass and Tom Murray on drums. Through its various rosters, River City has put out three CDs to date. Pan Fried, Live at The Grand, and Live No Jive. The band also cut a song that is featured on the Kentuckiana Blues Society's Blues Compilation II, which was released last year.
Thornbury's playing ranges from West Coast Swing to Delta Blues to Chicago Blues and he says, "all kinds of blues." He cited influences such as Sonny Boy II, Muddy Waters, Howlin' Wolf, Rick Estrin, Rod Piazza and Willie Dixon. When I hear Denny play and sing, the late William Clarke comes to mind. Pretty heady influences, indeed.
Presently Denny and his wife, Margo are writing some songs and he hopes to take the band in the studio with a possible Fall release. As for his plans for the band, he wants them to continue playing in bars around town "to get better, to get as good as we can" and do more festivals. He also mentioned that he would really like to do some regional touring.
River City will be very busy this summer. You can catch them around town at places like Bud's Tavern and the Smyrna Inn. They will be playing Smokin' on the River Blues and BarBQ and another festival in Corydon, Indiana.
As we were finishing up with the interview, Denny wanted to make sure I gave a shout out to all the local blues musicians and blues family (in particular he named Gary Sampson of the Blues Society) around town for all of the support they've given him and the band.
Denny Thornbury is a throwback to the days when the blues was about subtlety. All of the players meshing together to form a sound where the sum is unmistakenly greater than its parts. The River City Blues Band is the most underrated band in Louisville. If you want to hear what I consider to be the real blues with a harmonica player that can lead out front or blend in with the tastiest of little licks to fill out a song, then Denny Thornbury and his band is the one you need to see. You won't be disappointed.