March 2014 Articles
Cover Story
Paul Moffett
Features
Eddy Metal
Columns
Mike Suttles
Martin Z. Kasdan Jr.
Eddy Metal
Blogs
Got Shows?
Send Them To Us
Bookmark Louisville Music News.net with these handy
social bookmarking tools:
Available RSS Feeds
- Top Picks
- Today's Music
- Editor's Blog
- Articles
Add Louisville Music News' RSS Feed to Your Yahoo!

Issue: March 2014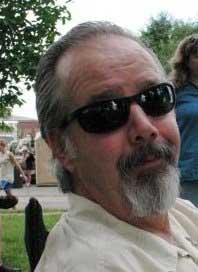 I've Got A Mind To Ramble
"IT'S ALWAYS ABOUT THE MUSIC"
For both those devout fans and those who who are simply attending a blues show, festival or party for a chance to hear some of the "devil's music," hang out with friends or to see what Louisville offers as the lineage from Sylvester Weaver, Mary Ann Fisher, and Henry Woodruff, there has been one noticeable constant for the last few years. Chatting up a musician, walking towards the stage with a purpose and a clipboard in hand, dancing amongst the horde or manning the Kentuckiana Blues Society's booth, the Society's president, Gary Sampson, has become the face of the blues in this town.
Sampson sat down with me for an interview and I came away with a greater respect for the man who for the last eight years or so has put every ounce of blood, sweat and tears he has into making the Kentuckiana Blues Society one of the most viable, important groups in the country to "preserve, promote and perpetuate the blues traditions" (the group's mission).
Sampson, 54, was born in Louisville and grew up in the West End, Audobon Park and the Highlands. He went to school in the parochial system, graduating from St. X then attended the University of Louisville as an art major. About a year after graduating college, he accepted a job with Ray Schumann and Associates working with computer graphics. In 1986 the company was expanding nationally and Sampson was offered a chance to move with them to San Francisco, New York or Chicago. He told me, "San Francisco was too far away, New York was too big and scary. I decided that Chicago was more me." That move began 13 years of "dipping myself in the blues bath."
Sampson was vaguely familiar with the blues when he left for Chicago, mostly - like many fans - through the music of artists like Eric Clapton and the Rolling Stones. He began to venture out to clubs in the city and had the good fortune to get to see many of the seminal acts during what was a heady time for the blues. He was hooked. He talked about what a great experience it was to see all of this music and get to know a lot of these musicians that most people outside of Chicago knew very little about.
In 1999, Sampson returned to Louisville to marry the love of his life, his wife Jill. He spent the next few years checking out the scene, going to shows and the few festivals in town. In 2003, he began volunteering for the Society wanting to get more involved in their work. Members of the group approached him and asked if he would be interested in becoming president in 2005. After giving it some serious thought, he said yes and was elected to the position. I asked Sampson what his goals were once he was elected.
"We needed to become more engaged in what we were doing. Essentially we were putting out the newsletter once every two months (every other month was a blues calendar). We had enough material for a monthly one. We needed more members. I wanted to put more emphasis on sending representatives to the International Blues Competition (IBC), a Blues in the Schools was also part of it. The Society has been successful in reaching three of those goals. The newsletter now arrives once a month with lots of photos, a few reviews of albums and maybe an article or two. Just in January, KBS sent a band, a solo act, a teen group and a CD to Memphis to compete in the IBC. In addition to that, the Society has been able to procure financing from Four Roses that enables them to support those entrants with cash for the trip. As for the membership, it has soared. Hovering somewhere around 150 members when he took over, they now have 582 members. When I asked how they did it, he referred back to one of his goals of becoming more engaged with the public by mere presence at events, offering contests and drawings for prizes at festivals and by making sure people knew what they were about. It is essential to add that by no means does Sampson consider himself to be the sole savior of the Society. He credits hard working volunteers such as David True, Nelson and Chris Grube, Natalie Carter and countless others for stepping up to the plate to help him reach these goals. Gary plans to step down as president somewhere in the next year or year-and-a-half. His goals for his remaining time include one of his original ones of Blues in the Schools and writing more grants that will enable the Society to better live up to its mission.
We talked next about the state of the blues nationally. "It's changing. In ways that not everybody likes. Most of the old blues guys are dying, there are very few of them left. It's adapt or die. We all love the old blues performers. Their children are not taking their place. New people are taking over. Young shiny faces are showing up and lots of them are white guys. Muddy Waters said that blues is a feeling and these new guys have that feeling. Those people who believe that only the old guys really play the blues are helping it die."
We moved on to the state of local blues. "We have some very talented bands and players here. Some are exceptional songwriters, such as John Burgard, Rick Cain and Amy Johnson. There are a few younger folks who are up and coming. There's Boscoe France, Mississippi Adam Riggle, Laurie Jessup and Cort Duggins and Jimmy Davis. I think for locals to really live up to their talent they need to think about taking their music out on the road and getting known."
Sampson not only is the Society's president but has branched out to be a board member of the Musicians Emergency Relief Fund (MERF) and also hosts a weekly blues show on Crescent Hill Radio. He is also on the Crescent Hill Radio board.
Gary Sampson's fingerprints are all over the blues in Louisville. He is a true ambassador for the music and has heightened its status in the eyes of everyone involved. I asked Gary what he thought about being "the face of the blues". "If people connect me to blues and recognize me as the reason they might go to a show or buy a CD, I'm okay with it. I love the music and promoting the blues. It's the best job I've never gotten paid for. But let's remember it isn't about me. It's always about the music."