March 2014 Articles
Cover Story
Paul Moffett
Features
Eddy Metal
Columns
Mike Suttles
Martin Z. Kasdan Jr.
Eddy Metal
Blogs
Got Shows?
Send Them To Us
Bookmark Louisville Music News.net with these handy
social bookmarking tools:
Available RSS Feeds
- Top Picks
- Today's Music
- Editor's Blog
- Articles
Add Louisville Music News' RSS Feed to Your Yahoo!

Issue: March 2014

Jazzin'
PRELUDE:
RIP, Paco de Lucia
Paco de Lucia passed away unexpectedly recently at the age of 66. Like many American jazz fans, I first became aware of his work through his classic collaboration with John McLaughlin and Al Di Meola. Over the years, as I explored his artistry, I came to appreciate his role in bringing new life to flamenco, and learned of his role in promoting modern variants of the genre. RIP, Paco.
RECENT CONCERTS
Todd Hildreth Trio at St. Raphael Catholic Church
While Todd Hildreth's "main squeeze" may be his eccentric Squeeze-bot, he can play straightforward piano trio jazz with grace and dignity, as he aptly demonstrated on a chilly Sunday afternoon on February 2. Joined by bassist Mark McCulloch and drummer Mike Hyman, he filled the lovely St. Raphael Catholic Church with music from his recent, self-released Hymns. Opening with "Just a Closer Walk with Thee," the musicians showed how synthesizing jazz and church music need not necessarily go into the pounding Gospel zone. "How Deep the Father's Love for Us" opened with solo piano before moving into a Guaraldi-style waltz. "Whatsoever You Do" was tranquil and languid, and the classic "Let Us Break Bread Together" began with a long, slow Hildreth solo, leading to joyous trio interaction. They closed with a hard-driving "Ill Fly Away." As much as I enjoy the antics of Squeeze-bot, I hope to hear more of Hildreth's piano soon. Hymns is available through Amazon and iTunes, if you can't find it locally, and is a worthy acquisition.
Rufus Reid at University of Louisville
Master bassist Rufus Reid was the featured guest for the University of Louisville's 18th Annual African American Music Heritage Institute, performing with both the U of L Jazz Ensemble I (JEI) and the U of L Symphony Orchestra on Monday February 3, at Comstock Hall. The Institute's theme was the fusion of jazz and classical music, and Reid's compositions were perfect expressions of that theme. The Symphony, directed by Kimcherie Lloyd, opened with Reid's "Mass Transit," before Reid and JEI joined the orchestra for his "Moods," a 3-part work whose movements, "Tranquil," Restless" and "Celebration" were aptly named. Following a break, John La Barbera, who will retire at the end of the semester, led JEI with featured soloist Reid through a program of his compositions, beginning with "Come Out and Play," which lived up to its title. Reid noted the title alluded to chord progressions in jazz as being playgrounds. Next up was "Ode to Ray," his tribute to "my hero, my mentor, my friend and inspiration," the late Ray Brown. "Time for Nostalgia, he told the audience, was inspired by his trip to Sweden, and featured his lovely bowing for most of the piece, although he switched to pizzicato for his solo. He dedicated a blues, The Meddler," to his son, closing the concert with a return to the roots. The audience reaction was interesting, as it observed the classical music tradition of not applauding until the end of the symphonic pieces, while showing its appreciation for solos during the big band segment. Due to some conflicting sources, I originally thought that the evening would include pieces from his a new album, Quiet Pride, a suite inspired by the work of sculptress Elizabeth Catlett. While it did not, I would nonetheless highly recommend this Motéma release, a gorgeous large ensemble work with a beautifully illustrated and thoughtfully written booklet.
ON THE HORIZON
The Odin Quartet at Nachbar Monday March 3
Graeme Gardiner and Drew Miller, saxes, Jon Gardner, bass, and Zack Kennedy, drums. Gardiner says "I think a highlight of the group is the challenge of not having a chordal instrument. Zack likes to call it 'power jazz', the description of most of what we're playing. It's a mix of my originals, a few from the rest of the band, and a few choice renditions from people like Kenny Garrett, Elvin Jones, Coltrane, and Ornette Coleman."
Jazz Concerts at the Clifton Center
Dick Sisto/Steve Allee and Tierney Sutton
The Dick Sisto/Steve Allee Quartet pay homage to the artistry of Bill Evans on Sunday, March 16. These old friends and veteran players will perform on stage with the audience, creating an intimacy befitting Evans' music. More information on this concert is available at www.cliftoncenter.org/?post_type=events&p=2323. Four nights later, Tierney Sutton (see album review) brings her tribute to Joni Mitchell to the stage. Touring as "After Blue: The Joni Mitchell Project," Sutton will be joined by guitarist Serge Merlaud and cellist Mark Summer (from the Turtle Island String Quartet), both of whom play on the album. Additional information can be found at www.cliftoncenter.org/?post_type=events&p=3092.
New Orleans Jazz and Heritage Festival 2014
The 2014 edition of Jazzfest includes pop headliners Bruce Springsteen and Phish, and many more, but the jazz side is amply represented by many New Orleans artists such as Ellis Marsalis, Branford Marsalis, Astral Project, and many more, plus guests Pharoah Sanders, Gregory Porter, Chick Corea, and the list goes on. The official site, with daily schedules, ticket information, etc., is http://www.nojazzfest.com.
SELECTED CLUB AND OTHER LISTINGS
The Laughing Derby at The Comedy Caravan , 1250 Bardstown Road, Louisville, KY 40204, 502-459-0022, www.comedycaravan.com; new site: http://laughingderby.com . The Don Krekel Orchestra will continue its gigs there on third Monday of each month, which this month will be March 17. Also, the club will now offer a menu of sandwiches, salads and more. I've heard rumors that there may be more jazz events; if any of you have specifics, please contact me. Please contact the club for any post-deadline information.
The Nachbar (969 Charles Street, 502-637-4377, www.myspace.com/thenachbar)
features "Nachbar Jazz" on Wednesdays, with Jacob Duncan . Check the club for updates or changes. The club also has a Facebook page with occasional updates.
The Jazz Kitchen (5377 N College Ave., Indianapolis, IN 46220; phone: 317-253-4900; www.thejazzkitchen.com), presents nightly offerings of local and regional jazz; check the website for the full schedule and updates. A road trip might be advised for March 2: Terence Blanchard : March 7: Cécile Mclorin Salvant ; March 16: Monika Herzig, Natalie Boeyink , and more, A Celebration of Women's History Month ; March 21-22 (22nd added since prior listing): Regina Carter . The first half of April is outstanding, if you believe in planning ahead: April 9: Christian McBride Trio ; April 12: Charlie Hunter/Scott Amendola ; April 13: Poncho Sanchez . Other shows may be added, so check the site.
The Blue Wisp Jazz Club in Cincinnati, is now at 700 Race St. (513-241-WISP). Wednesdays remain the province of The Blue Wisp Big Band. As of deadline time, March is packed with mostly local and regional talent; however, a road trip would be warranted for Bane Ira Bloom
Sixteen Sunsets (Outline Records OTL141; 5.1 high resolution surround sound on Pure Audio Blu-ray (Pure Audio Records 55017) www.janeirabloom.com)enny Golson , March 13-14 For details and the full schedule, the website is: www.thebluewisp.com.
Please sign up for updated local jazz listings: The Louisville Jazz Society provides weekly e-mail updates for local jazz happenings. Be sure to sign up for the e-mail "Louisville Jazz Society's Jazz Insider" at www.louisvillejazz.org. It is both impossible for me to try to provide complete listings here, and it would be duplicative of the weekly listings in the Courier-Journal and LEO and the Louisville Music News' monthly music listings, www.louisvillemusicnews.net.
EIGHTH NOTES
Rez Abbasi Trio
Continuous Beat (Enja, www.enjarecords.com, www.reztone.com)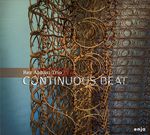 Rez Abbasi Trio - Continuous
Guitarist Rez Abbasi performed in Louisville in January as part of the band backing his wife, Kiran Ahluwalia, (reviewed here last month). His most recent release under his own name is on the well respected Enja label, and features him with his working trio including John Hébert, bass, and Satoshi Takeishi drums. He deftly blends Pakistani and Indian influences with mainstream and fusion jazz. The opening "Introduction," in fact, sounds like an electric version of the introductory alap segment of a raga. "Major Major," a Gary Peacock composition, channels New Orleans street parade drumming, while "Rivalry" is an edgy, almost rock instrumental. "iTexture," is slow and deliberate, with exploratory guitar lines over subtle bass and drums, leading to a bass/drums (brushes) duet with subtle, atmospheric comping by Abbasi. Keith Jarrett's "The Cure" finds common ground with modern jazz and psychedelic-era Beatles. Monk's "Off Minor" is deconstructed and rebuilt, while Abbasi's "Back Skin" is edgy electric jazz. Any guitarist covering "The Star Spangled Banner" invites comparison to Jimi Hendrix, except that here . . . Abbasi uses a straightforward, acoustic approach, defying expectations. All in all, this is a highly enjoyable outing.
Jane Ira Bloom
Sixteen Sunsets (Outline Records OTL141; 5.1 high resolution surround sound on Pure Audio Blu-ray (Pure Audio Records 55017) www.janeirabloom.com)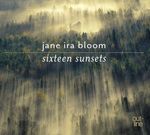 Ira Jane Bloom - 16 Sunsets
I've been listening a lot to this album by soprano saxophonist Jane Ira Bloom. The music, a mix of standards and originals, does not so much grab your attention as it does invite it. Bloom is accompanied by bassist Cameron Brown, drummer Matt Wilson, and pianist Dominic Fallacaro. What seems like your standard quartet lineup frequently defies convention, with many pieces featuring just sax and piano, with the barest of subtle cymbal shimmers, or perhaps arco bass punctuating the sax lines. Whether interpreting classic ballads such as "For All We Know," or gliding gracefully through her compositions, including the lilting "Ice Dancing (for Torvill & Dean)," Bloom is sublime. This is not an album of "pretty music," it's one of beauty, fully realized.
Pat Metheny Unity Group
Kin (<->) www.nonesuch.com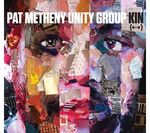 Pat Metheny Unity Group - Kin
Sheerly by coincidence, I signed up for an e-group of Pat Metheny fans just as the new record was coming out. Group members were of mixed minds about Kin (<->), some going so far as to suggest that the song order should be modified for a better listening experience. In my opinion, this followup to the 2012 release Unity Band (a 2013 Grammy winner for Best Jazz Instrumental Album) seems to mix the edginess of its predecessor with some of the more melodic and airy music associated with some of the older Pat Metheny Group (PMG) recordings. In addition to the lineup from the prior record, Chris Potter on saxes, clarinets and flutes, Antonio Sanchez on drums and Ben Williams on bass, Metheny has added Giulio Carmassi, to whom he referred in an interview (http://www.newyorkjazzworkshop.com/talking-kin-pat-metheny-cj-shearn) as a "utility player." Carmassi's contributions include keyboards, various horns and flute, and vocals. The first track, "On Day One," is an epic 15+-minute adventure, starting with a Trane-like invocation and moves through many moods and styles, before the theme is restated and the piece ends in a crescendo of "PMG" voices. The next piece is also long, the 12-minute "Rise Up," which starts with mellow acoustic guitar work and builds in intensity. "Adagia" is a brief ballad interlude, leading into "Sign of the Season," which unfolds gradually and captures many moods. The title track is a fast-paced workout, with Metheny's trademark use of guitar synth adding colors, leading to searching tenor work ­by Potter and arco stylings by Williams in a Latin-feeling groove. After an Ornette-style tease on "Genealogy," the final two pieces are calming, almost pastoral. Although no tour dates have been announced for Louisville, I can't help but hope we're added, as I think this group would be even more intriguing onstage.
Tierney Sutton
After Blue (BFM, www.bfmjazz.com)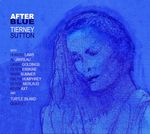 Tierney Sutton - After Blue
It must take a combination of courage and self-confidence to record an album of jazz-influenced tributes to an iconic fellow singer. In this instance, Tierney Sutton proves the undertaking to be worthwhile. After Blue was nominated for a Grammy, and upon listening, one can see why. Sutton eschews her usual ensemble, recording two tracks ("Blue" and "Little Green") with the Turtle Island String Quartet, and using the piano and organ skills of Larry Goldings on five other songs. Notwithstanding Sutton's stature as a jazz singer, she chooses only one track from Mitchell's Mingus album, "The Dry Cleaner from Des Moines," to interpret here, with excellent support from Hubert Laws and Peter Erskine. Her rendition of "Both Sides Now" hews most closely to the original. In addition to Mitchell material, Sutton covers "Don't Go To Strangers" (which would work well on a non-themed Sutton album), "Answer Me, My Love," and turns "April in Paris" into a surprisingly successful medley paired with "Free Man in Paris." Sutton appears in Louisville on March 20 at the Clifton Center.
LOCAL JAZZ CONTACTS
With two now-fifteen-year-old daughters, it's hard to get out as much as I would like to hear music. As a result, picking and choosing which performances to catch sometimes require that I postpone seeing some of the local musicians and singers in order to not miss the one-night-stands from out-of-town artists. Invariably, I feel guilty, so in an effort to assuage my guilt and, more positively, to provide more exposure to our community of great local jazz performers, I am initiating this feature containing website and e-mail contact information. I am only including those artists who have given their permission to me; some have indicated a preference for website listing only; others have only e-mail addresses. If you wish to be included, drop a line to me with your permission and preferences, at mzkjr@yahoo.com. I reserve the right to edit and to exclude those whose connection to jazz is, in my opinion, tenuous; and this feature may end up online if it begins to take up too much space in print.
MIKE TRACY: www.michaeltracy.com, michael.tracy@insightbb.com, saxophonist and teacher Mike Tracy
UNIVERSITY OF LOUISVILLE JAZZ PROGRAM: www.jazz.louisville.edu
BOBBY FALK: www.myspace.com/bobbyfalk, drummer and composer Bobby Falk;
WALKER & KAYS: www.walkerandkays.com, singer Jeanette Kays and guitarist Greg Walker;
JENNIFER LAULETTA: www.jenniferlauletta.com, singer Jennifer Lauletta;
JEFF SHERMAN: jeff.sherman@insightbb.com, guitarist Jeff Sherman;
RON JONES: www.ronjonesquartet.com, rjmusic@ronjonesquartet.com, saxophonist Ron Jones;
STEVE CREWS: www.jazzcrews.com, jazzcat@iglou.com, pianist Steve Crews.
CODA
1) I am always interested in your comments. Contact me at mzkjr@yahoo.com.