March 2014 Articles
Cover Story
Paul Moffett
Features
Eddy Metal
Columns
Mike Suttles
Martin Z. Kasdan Jr.
Eddy Metal
Blogs
Got Shows?
Send Them To Us
Bookmark Louisville Music News.net with these handy
social bookmarking tools:
Available RSS Feeds
- Top Picks
- Today's Music
- Editor's Blog
- Articles
Add Louisville Music News' RSS Feed to Your Yahoo!

Issue: March 2014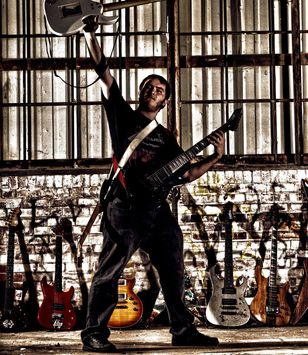 Cheyenne Powell
Name: Cheyenne Jeconiah Powell
Age: 20
Instrument: Mainly guitar, but I also play bass guitar and a trumpet.
Band/Former Bands: Overload, Astral Consummation, Blessed By Death (formerly).
How long on instrument: 9 years.
Equipment:
Guitars: BC Rich Mockingbird equipped with a Hammer Slammer (great device that everyone should check out if they haven't already), BC Rich Jr. V, LTD EC-401VF, Ibanez JEM 7V, Ibanez RG-5EX1, Dean Mustaine V United Abominations, Douglas WRL-590 Floyd, LTD M-207 (7 String), Washburn WG-587 (7 String), Memphis Brand Beginner Electric Guitar.
Amps: VLH 120W Amp head with VLH 4"x10" speaker cabinet with Eminence speakers. If only I had as many amps as I do guitars...
Pedals: Digitech RP255
Influences: Paul Gilbert, Jeff Loomis, Rusty Cooley, Michael Angelo Batio, Guthrie Govan, Chris Poland, Yngwie Malmsteen, Marty Friedman, Steve Vai, Ron Thal, Buckethead, Randy Rhoads, Joe Satriani, John Petrucci, John 5, Jim Root, Wes Borland, this list could go on for a while...
My first gig: I played with my old band Blessed By Death at our buddy Foster Lucas's birthday party.
Hobbies: Playing guitar, writing music, playing video games and working in a steel factory where I produce lots of METAL!
Favorite movies: Pulp Fiction, Monty Python and The Holy Grail, and right now one of my other favorites would have to be Bad Grandpa.
Favorite food: Whatever I can afford. If it's food, I'll eat it.
Favorite place: Guitar Center.
Favorite sports or team: I'm too busy playing guitar to pay attention to sports.
What I'm listening to nowadays: Anything metal. Mainly I've been listening to Jeff Loomis, Animals As Leaders, Gru, Viraemia, Rings Of Saturn, Meshuggah, and The Faceless.
Coolest thing I've done: Well, I haven't done a lot of cool stuff in my life, but I guess I could say winning the 107.7 SFR King of the Six String contest a few years ago was pretty cool. I won my LTD EC-401VF and the VLH Amp head and cabinet that day. Also, I ended up winning the Willis Music Store Shred Fest a few months back, and that's where I acquired my BC Rich Jr. V.
Most embarrassing moment: When I was in high school, I played trumpet in the wind symphony and we used to do a solo and ensemble contest every year. My buddies James and Chris teamed up with me so we could do a trumpet trio. Well, we never practiced our trio even once before the contest, so when we got there, we had to pretty much wing it. Nothing like standing there in the middle of the room in front of friends, family, and the judges as we play our trumpets completely out of tune and none of us are in the same key or anything. It just sounded like a bunch of cows being viciously disemboweled for about three minutes. After we finished, I think my dad was the only one to give a clap or two, just because he thought it was funny. After we left the room, we waited for our results. When we got them back, we had somehow achieved getting a bronze medal. It's pretty bad when you get a medal knowing you absolutely sucked and when everyone there sees that medal, they know you only got it because the judges must have felt sorry for you after hearing such a horrid racket.
Bad Habits : Rhythmically tapping my hands and/or fingers on objects such as tables or counter tops.
When/where did you first get some: In a VAN DOWN BY THE RIVER!
If you could meet a Rockstar (past or present), who would it be, and why: Either Jeff Loomis or Paul Gilbert. I would love to meet them because they are my two biggest inspirations. I would love to learn some stuff from them more than anything.
Who do you love: I love all my friends and family who are there to support me everyday. My parents Tyson and Dina have helped me through just about everything in my life so far, and I'm very thankful they are here for me. My sister Brie, her boyfriend Alex, and their son (my nephew) Azrial. Also, I love my beautiful girlfriend of two years, Abby Fitzgerald. She brightens my life each and everyday, and she is one of my biggest inspirations in writing music as of lately.