March 2014 Articles
Cover Story
Paul Moffett
Features
Eddy Metal
Columns
Mike Suttles
Martin Z. Kasdan Jr.
Eddy Metal
Blogs
Got Shows?
Send Them To Us
Bookmark Louisville Music News.net with these handy
social bookmarking tools:
Available RSS Feeds
- Top Picks
- Today's Music
- Editor's Blog
- Articles
Add Louisville Music News' RSS Feed to Your Yahoo!

Issue: March 2014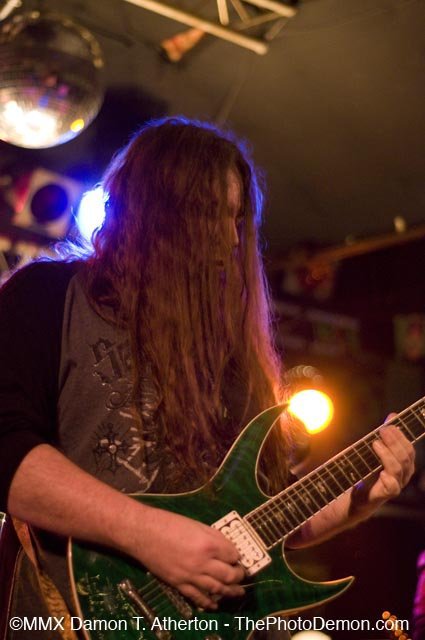 News From the Pit
Ok, what in god's name is going around in the 'Ville? I've had the flu bad for over two weeks now and it's not been a fun time at all. Dizziness, cold chills, the squirts, violent coughing (I even coughed up blood), vomiting, and the basic need to be in bed for long periods of time. Heck, I even blacked out in the shower and banged up my arm real good. And plenty of other people have had it, too! There has been a nasty stomach virus going around for about a month or so as well, that has left many a folk on the toilet for long periods of time. Whatever these viruses are, a lot of people seem to be affected and to me, it seems a bit to coincidental that so many people have these same symptoms. Several times I've seen black military looking aircraft spraying something over our city. I find that very odd and would like to know what the heck it is that they are spraying all over us!
This will be a short news month because I'm feeling like total doody, so I'm sorry about that. I had a few CDs I was going to review, but it will have to wait until next month. Anyone who knows me knows I do my best to make my column chock full of news/reviews and stuff of that nature, and I've never missed a deadline in 13 years! It sucks being sick. I will do my best to get better and kick some booty next month to make up for this short month though.
Shows, shows, shows! We have a few of those coming up for you, so you might want to take this opportunity to get out of the house for a bit. If you are like me, you are extremely sick of all this cold weather, being sick, and being all couped up like a chicken in a hen-house. We've got Volbeat/Trivium, Rob Zombie on Derby Eve, Alice In Chains, Tantric, Primal Fear, and Flaw all coming, so get out to support all these rockin' bands!
The Metal Grapevine
Rob Zombie to rock Iroquois Amphitheater on Derby Eve:
Yup, you read it correctly, the king of horror rock, Rob Zombie will be playing an outdoor concert right here in Louisville! This is a rarity, indeed. We never get any good outdoor shows anymore, and now we get to rock out with some heavy metal on Derby Eve Friday, May 2? That's just too damn cool if you ask me. Iroquois Amphitheater was always a cool venue, but they never seemed to have metal shows much, which always bummed me out.
But now we get one on one of the coolest days of the year! Yes, this show show should be off the frikkin' hook, I'm thinking. Tickets are $39.50 each, and this will sell out, so take my advice and get your tickets now. Do not wait!! Rob Zombie always puts on a great show, and it has me wondering how he will adapt to the smaller venue, especially when he has such a huge stage show with all the props and fire and evil artwork. It should be very interesting. Props to AC Entertainment & Production Simple for making this very cool event a reality! Doors at 6 p.m. Show is at 8 p.m.
Volbeat to play Louisville Palace:
Danish superstars Volbeat are heading this way in April. I don't know what it is about this band that drives people so crazy for them, but no matter what, you have to admire their success. They will be at Louisville Palace on Wednesday, April 23 with Trivium. I remember seeing Trivium several years ago at Jillian's before they were famous, and I must say, those guys were very cool. Such polite fellas and very down to earth back then. I would like to check out this show. Hopefully I will be able to cover this event and see what all the hubbub is about Volbeat, and see some serious shredding by Trivium. Those guys have come a long way since that night at Jillian's. I've been itching for a good show at the Palace and this is it! This will sell out, so if I were you, I would get my tickets asap before its too late.
Flaw to kick off tour on April 18:
Louisville rock legends Flaw will be heading out on a short tour in mid April to stretch their legs, and will be taking Signal The Revolution with them. But before they go, they will be having a kick off bash right here in Louisville at Diamonds on Friday, April 18, so you should all come out and support those guys before they enter a new chapter in their lives by going for broke one more time. I swear, these guys have more lives than a cat on crack! Other talented bands on this tour kickoff bill are Centerfold, Year Of The Gun & Hello Agony. So be sure to get up to the show early to support these great Louisville original bands.
Alice In Chains Heading This Way:
Seattle rockers Alice In Chains are heading this way in the month of May, first at The Horseshoe Casino Pavilion in Cincinnati, then at Elizabeth Indiana at Horseshoe Casino on May 22. I saw AIC a few years back at Louisville Palace and was very impressed with their new singer, William DuVall. He is no Layne Staley, as he isn't nowhere near as dark and foreboding as the classic and legendary Staley, but DuVall does have a heck of a voice and is a darn good replacement. It just seemed he was way too happy of a frontman to be in Alice In Chains. Alice In Chains is a dark expression of music. But if anyone were to replace Staley it should be DuVall. I wouldn't mind seeing them again as it was very much worth it. So you AIC fans should get your tickets asap because these shows will probably sell out.
Great Floods Bash at The Treehouse w/ Va Va Vixens:
Louisville punk/metal juggernaut Great Floods will be recording a video series at The Treehouse (on the corner of Barrett & Broadway) on Sunday, April 2 with Louisville's Va Va Vixens. The band is excited and will release the footage a week or so after the shoot, so be on the lookout for those guys n' gals tearing it up online soon!
New Band Alert, Fatal Step:
One of the best shredders in town has a new band. Guitarist Chris Leffler has formed a band called Fatal Step. Chris formerly played guitar for Stonecutters but was let go for whatever reason not too long ago. That's okay, though, because now Chris can do what he has been wanting to do for some time now. Play in a band with strong old-school vocal metal influences. Actual singing instead of the whole growly death metal cookie monster shtick. To me, the old-school metal thing is what Chris should have been doing all along because his guitar playing style calls for it, and it's the music he truly loves. Fatal Step features members and ex-members of Abominant, Stonecutters, Ohlm, Assisting Sorrow, & Sowing Discord. The band is Mike Barnes - Vocals (Abominant, Assisting Sorrow) Chris Leffler - Guitars (Assisting Sorrow, Stonecutters, Sowing Discord, Demon Wind) Dave - Bass - (Ohlm, Sowing Discord) Todd Hawkins - Guitars (Assisting Sorrow, Spider Gods) Bryan Snook - Drums (Sowing Discord) Music is in the vein of Judas Priest, Death, Sanctuary, Nevermore, Accept, Metal Church, King Diamond, Emperor, etc. The band is currently in intense writing mode and will be entering the studio in March followed by several local and out-of-town shows. I can't wait to hear this new music from Chris and the guys in Fatal Step. He is a heck of a guy and one brilliant Louisville musician.
Louevil bands in the Studio:
Chigger, Great Floods, Aphids, Empiria Vultura and Knocked Loose are all in the studio getting ready to release new music upon the masses.
Rockstar Mayhem Festival 2014 Rumors:
The official lineup won't be released until March 31, but there are rumors going around. The rumors are that the headliners will be Korn & Avenged Sevenfold, but we will have to wait and see.
I'll have the complete lineup for you in April Edition of LMN!
As I Lay Dying frontman Tim Lambesis guilty of trying to hire hitman to murder his wife:
What the hell was this guy thinking? If you don't like your wife, then just divorce the beeyatch! But to try to murder someone is just plain wrong. Lambesis was sentenced to nine years in prison and possibly a $10,000 fine as well. Chances are he will get out sooner with good behavior. This is a death blow to the band he has worked so hard to build up, and I feel sorry for the other guys in the band who will suffer this great setback for one man's stupid act. What a shame.
Luther to record in April:
Southern Ky's Luther will be recording in late April with David Barrick in Glasgow. Barrick is a good engineer so this should be some pretty good stuff.
Upcoming Shows
Brewskees
Saturday, March 1 - Louies Birthday, Bash w/ Threads Of Sorrow, Atomic Thrillride, The Jereactors & Sheppard/Smith/Sexton.
Saturday, March 8 - Despite The Fallen & Mangeled Atrocity.
Cahoots
Thursday, March 14 - Devil And The Darkness, Sons Of Medusa, Serial Hawk, Order Of Leviathan.
Diamonds on Baxter
Saturday, March 15 - The Black Dahlia Murder w/ Gorguts, Anagnorisis, Noisem & Order Of Leviathan. 7 p.m. $15
Saturday, March 22 - The Ocean, Scale The Summit, The Atlas Moth, Silver Snakes, Ohlm, Eschatos. 7 p.m. $15
Sunday, March 30 - Tantric w/ Soil & Social 66. 7 p.m. $15
Friday, April 18 - Flaw Tour Kickoff w/ Flaw, Signal The Revolution, Year Of The Gun, Centerfold & Hello Agony. 7 p.m.
Thursday, May 22 - Primal Fear, Stagecoach Inferno, 18Xray. 7 p.m. $20- $50
Dillingers
Friday, March 7 - Whiskey Riders, Rust N' Bones, Damsel & Chap, The Prowl & Riverwolves. 7 p.m. $5 or "Two for one" cover!
The Elks Lodge (310 North 4th St, Paducah, KY.)
Friday, March 28 - Voyage Of Slaves, Synapse, Crvcifer, Kythera & Danny Greene. 7 p.m. $7
Expo 5
Wednesday, April 23 - All Time Low, Man Overboard & Handguns. 7 p.m. $20
Headliners
Monday, March 17 - The Neighbourhood. 7 p.m. $20
Highlands Tap Bar
Monday, March 17 - Sons Of Medusa. 10 p.m.
Monday, April 14 - Ohlm. 10 p.m.
Magbar
Friday, March 14 - The Revenants, Voyage Of Slaves, Death Of Kings & Sub X.
Friday, April 1 - Ohlm, Joe Buck Yourself & Call Me Bronco. 10 p.m.
O'Sheas
Saturday, April 5 - Soundtrip. 9 p.m.
Phoenix Hill Tavern
Friday, March 7 - Empyrean Asunder, Bury The Wicked, Heart Of Kings, Creature Of Exile & CoMorbid. Free before 9 p.m. Starts at 9.
Friday, March 14 - The Tri Tones, Voodoo Hero, D.O.S.E, Blue Soul Gypsies, Luie Brangers & Dare To Dream. 9 p.m.
Friday, March 28 - Heavens Gate Gospel Revival, S.I.C., Slit Throat Vendetta, Sons Of Medusa, Tomorrow Never Ends & Jason William Allen. $109 p.m.
Friday, April 4 - Boozer, Caducus, Rust N' Bones, Atomic Thrillride, Luie Brangers. $5 and Free before 9 p.m.
Thursday, April 10 - Primer 55 w/ The Black Order, Bury The Wicked, Right To Violence & Far From The Vine . 7 p.m. $10
Third Street Dive
Saturday, March 8 - Luther, One Pretty Minute & Roundheels. $5
The Vernon Club
Saturday, March 8 - Emmure, Volumes, Thy Art Is Murder, Gideon & Sworn In. 7 :30 p.m. $20
Friday, April 4 - Icon for Hire. 8 p.m. $12
The Wright Place Bar (501 North 33rd St in Portland, Louisville.)
Saturday, March 22 - Sane Anonymous. 8:30 p.m.