January 2014 Articles
Cover Story
Paul Moffett
Features
Eddy Metal
Columns
Mike Suttles
Martin Z. Kasdan Jr.
Eddy Metal
Blogs
Got Shows?
Send Them To Us
Bookmark Louisville Music News.net with these handy
social bookmarking tools:
Available RSS Feeds
- Top Picks
- Today's Music
- Editor's Blog
- Articles
Add Louisville Music News' RSS Feed to Your Yahoo!

Issue: January 2014

Jazzin'
PRELUDE:
RIP, Jim Hall
I am pleased to offer you an obituary prepared by LouisvilleTime and space do not allow for more than passing mention of the following artists who recently left us: Chico Hamilton, drummer (1921-2013); mullti-horn player Yusef Lateef,(1920-2013); trumpeter Al Porcino (1925-2013); bassist Dwayne Burno (1970-2013); pianist Jimmy Amadie (1937-2013); Ron (Rahn) Burton, a Louisville native perhaps best known for his many years playing piano with Rahsaan Roland Kirk; drummer Ronald Shannon Jackson: 1940-2013; and more. JazzTimes' Jeff Tamarkin has a far more extensive list at http://jazztimes.com/articles/116056-remembering-those-who-left-us-in-2013.0's own Jeff Sherman, which he graciously prepared for use in my column.
Jazz guitarist Jim Hall died December 10th at the age of 83. Guitar Player magazine once described Jim as one of the most important guitarists of the last 25 years. Jim's self-deprecating sense of humor was evident when critics would describe his style as sparse and Jim would explain that meant he didn't have any chops. Jim once said that if anyone wants to play fast, he goes home. Yet, he always had enough technique to take jazz to the high art form that it is by responding immediately to the other players in the band. Jim told me that he and Bill Evans had only played briefly once before they recorded the important and intuitive album "Undercurrent".
Jim, like many of his colleagues of the 1950's, was a word guy. He loved language and enjoyed playing Scrabble with his wife Jane. Jim's solos often sound like someone working his way through a Scrabble board, building on what is there and finishing the game with a new sonic structure. Jim will be missed but aren't we glad that he left us this timeless music and his positive life force described in a song that he liked to play, "The Answer Is Yes".
----- Jeff Sherman
More Losses to the Jazz Community
Time and space do not allow for more than passing mention of the following artists who recently left us: Chico Hamilton, drummer (1921-2013); mullti-horn player Yusef Lateef,(1920-2013); trumpeter Al Porcino (1925-2013); bassist Dwayne Burno (1970-2013); pianist Jimmy Amadie (1937-2013); Ron (Rahn) Burton, a Louisville native perhaps best known for his many years playing piano with Rahsaan Roland Kirk; drummer Ronald Shannon Jackson: 1940-2013; and more. JazzTimes' Jeff Tamarkin has a far more extensive list at http://jazztimes.com/articles/116056-remembering-those-who-left-us-in-2013.
RECENT CONCERTS
Hal Galper Trio at U of L
Pianist Hal Galper has been on the jazz scene for decades, yet is not a household name, despite some 30 albums of his own, and a long history of playing with Phil Woods and others. More's the pity, as he continues to take chances with his music. He brought his working trio of
Jeff Johnson on bass and John Bishop on drums to University of Louisville's Bird Recital Hall on November 1. Most of the material was from his 2013 Origin Records release, Airegin Revisited, and showcased his penchant for shifting tempos (playing in rubato). The old Sinatra torch song, "Guess I'll Hang My Tears Out to Dry," from the trio's 2011 Origin release Trip the Light Fantastic, was perhaps the song which most closely adhered to the classic piano trio concept, with subtle brushwork by Bishop. John Taylor's "Ambleside," a waltz from the current release, slowly coalesced from its virtually freestyle opening. Galper played early on in his career with Sam Rivers, and referred to him as a mentor and influence in his introduction to Rivers' "Melancholia." In a more traditional vein, Galper said that the first jazz record he heard was by George Shearing, whose "Conception" featured a bass solo before a spirited piano/drums exchange which led to Bishop's only solo of the night (although even his accompaniment was usually tastefully busy). They closed with their extrapolations on Sonny Rollins' classic title track, "Airegin," introduced by Johnson's bowed solo, with Bishop adding colors on cymbals, leading to some freeform trio playing before the musicians settled into the theme, with Johnson changing from arco to pizzicato. The music then moved deeper into space, with Galper keeping his left hand on the keys while plucking the piano strings with his right hand. At 75, Galper is clearly looking forward as he pursues his muse.
Jeff Sherman Quartet at the Rud
Jeff Sherman brought his friends Hunt Butler on tenor and flute, Bruce Morrow on drums, and Mark McCulloch on bass to the Rudyard Kipling on a beautiful Sunday afternoon, November 10, for the latest in the monthly concert series presented by the Louisville Jazz Society, on whose Board I serve [disclaimer]. "C & H Sugar," by Carol Kaye and Hampton Hawes, was mellow Latin funk, followed by a Pat Metheny piece whose name I didn't catch, but which was fun and tricky. Sal Salvador's "Loose Walk," a/k/a "Blues Walk," was classic uptempo bop, followed by the well-known Adagio from "Concierto de Aranjuez." Sam Jones' fast-paced blues "Bittersweet" closed out the first set. The second set was bookended by Charlie Parker's "Scrapple from the Apple" and Ray Charles' "Hit the Road, Jack," with a highlight being "You Can't Go Home Again" a Don Sebesky composition based on Rachmaninoff's second piano concerto. Sherman is a past master of modern mainstream guitar, playing with verve and taste throughout, and his colleagues added to the delightful performance.
Bill Frisell at the Clifton Center
Bill Frisell returned to Louisville's Clifton Center with his Big Sur ensemble, on Wednesday, December 4. (My interview of Frisell for this performance was in LEO, at http://leoweekly.com/music/good-chemistry-bill-frisell). This time, he performed with his Big Sur Quintet, consisting of featuring Eyvind Kang, viola; Hank Roberts, cello; Rudy Royston, drums; and Jenny Scheinman, violin, for two hours of music that ranged from dreamy to rock'n'roll surf. Most of the material was from his latest release, Big Sur, a suite commissioned by the Monterey Jazz Festival. The musicians used scores, but stretched and shaped the music far beyond what was on the written pages. Song titles were not announced, but themes from the album were heard throughout. The second piece was a long waltz, featuring a pizzicato viola solo with only subtle loops from Frisell underneath, which somehow meandered into a funky piece. The next piece may have been the album opener, "The Music of Glen Deven Ranch;" it had a hint of reggae and at one point sounded like an echo of the "eternity blue"refrain from the Grateful Dead's "Blues for Allah." which led to some heavy whammy bar playing. After a short intermission, the musicians returned with a slow blues, with emotional viola and guitar solos. Next up was a fast, riff-driven piece, followed by a pretty ballad with touches of folk and Celtic music. And then, this "string quarter + drummer" launched into outright, Ventures territory surf music; the double encore of the Beach Boys' In My Room" and the Astronauts' "Baja" neatly tied up the California coastline concepts. Frisell never ceases to explore music, with new projects and ensembles. Here's hoping he comes back through with his next one.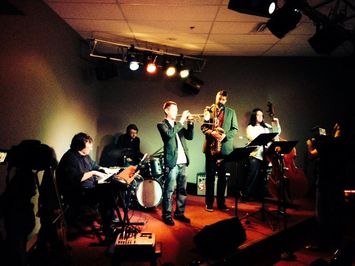 Craig Tweddell Quintet at Willis Music
Craig Tweddell Quintet/Brandon Coleman CD Release Party
I profiled guitarist Brandon Coleman, in LEO (http://leoweekly.com/music/b-sides-135), and reviewed his album Decisions there (http://leoweekly.com/music/reviews/decisions). He and his friend and fellow University of Louisville School of music alumnus, trumpeter Craig Tweddell, profiled at http://leoweekly.com/music/b-sides-140, brought their bands to the Willis Music Performing Arts Auditorium, at 1850 S. Hurstbourne Pkwy #128, for a CD release show; a review of Tweddell's Away With Words is scheduled to be published in LEO as well. Tweddell opened, with bandmates Jacob Duncan on alto, Todd Hildreth on electric piano, Jose Areta on bass, and Zack Kennedy on drums. "Grin. And Barret" was old school Blue Note style, with propulsive solos and a hint of "Fly Me to the Moon." "Slumber" was aptly titled, beginning with a gentle piano solo before the band came in. Tweddell employed his mute for the upbeat "Walkin' wit Shell" (for his dog), featuring a walking bass line. A highlight was the ballad "Thank You Jonathan Larson," for the late creator of the musical Rent. It was a slow waltz, with Tweddell again employing his mute to good effect. "Killing Two Birds With One's Tone" featured incisive soloing by Duncan, who then riffed behind Kennedy's drum solo. The group closed with "Blueisville," dedicated to keeping Louisville weird, based on a Monk-ish head, and bringing up Coleman as guest soloist.
Coleman's quartet, with Diego Lyra on keyboards, Areta returning for bass duties, and Jeff Mellott on drums, opened with "Rewind," which had a Brazilian feel. "New Blues" was up next, more of a ballad than a straight blues, with the soloists each building in intensity before handing off the lead to the next. "Vast" was more of a mood-creating piece, emphasizing textures over soloing. Three more from the album, "Deimos and Phobos," a moody piece representing shapes of the moon, "Geometry," with exploratory guitar over a funky beat, and the title track, "Decisions," followed. Special props to Areta, who was filling in for a bassist who was ill, and was learning a great deal on the fly. This music is thoughtfully composed, not simple blues licks, and Areta delivered. They closed with a Coleman arrangement of Vince Guaraldi's "Christmas Time Is Here." The following night, the bands showcased their work at Cincinnati's Comet, and they have each released their Comet performances for purchase.
ON THE HORIZON
Greg Abate at U of L
Saxophonist and flautist Greg Abate will perform at the University of Louisville on Saturday, January 11. He will be joined by a U of L faculty combo, at 8:00 PM at Bird Hall; the Louisville Jazz Society is helping to support this.
Jamey Aebersold NEA Jazz Master Award Broadcast
As reported here (July), and in LEO, www.leoweekly.com/music/indefatigable-jamey-aebersold, Jamey Aebersold has been named a National Endowment for the Arts Jazz Master. The ceremony will be webcast at 7:30 PM EST on Monday, January 13, 2014. You can follow his induction, along with that of fellow 2014 Jazz masters Anthony Braxton, Richard Davis, and Keith Jarrett online at the following url: http://arts.gov/lifetime-honors/nea-jazz-masters/nea-jazz-masters-awards-ceremony-concert-webcast.
Tiempo Libre at the Kentucky Center
Tiempo Libre is a Miami-based band of Cuban-born musicians who received Grammy nominations for their 2005 and 2006 albums, Arroz con Mango and Lo Que Esperabas. They are known for their Timba style, which represents a synthesis of traditional; and contemporary styles of music, including jazz. They play on Thursday, January 30, 2014, 8:00 PM , at the Kentucky Center's Bomhard Theater. Ticket information is available by phone, 502-584-7777 and online, www.kentuckycenter.org/BoxOffice.
SELECTED CLUB AND OTHER LISTINGS
The Comedy Caravan , 1250 Bardstown Road, Louisville, KY 40204, 502-459-0022 www.comedycaravan.com, has long been a venue for quality musical acts. The Don Krekel Orchestra has been performing the third Monday of each month, and is scheduled for January 20. Please contact the club for any post-deadline information.
The Nachbar (969 Charles Street, 502-637-4377, www.myspace.com/thenachbar)
features "Nachbar Jazz" on Wednesdays, with Jacob Duncan . Check the club for updates or changes. The club also has a Facebook page with occasional updates.
The Jazz Kitchen (5377 N College Ave., Indianapolis, IN 46220; phone: 317-253-4900; www.thejazzkitchen.com), presents nightly offerings of local and regional jazz; check the website for the full schedule and updates. A road trip might be advised for January 17-18: Fareed Haque | Tony Monaco Trio . Other shows may be added, so check the site.
The Blue Wisp Jazz Club in Cincinnati, is now at 700 Race St. (513-241-WISP). Wednesdays remain the province of The Blue Wisp Big Band. As of deadline time, January is packed with mostly local and regional talent. For details and the full schedule, the website is: www.thebluewisp.com.
Please sign up for updated local jazz listings: The Louisville Jazz Society provides weekly e-mail updates for local jazz happenings. Be sure to sign up for the e-mail "Louisville Jazz Society's Jazz Insider" at www.louisvillejazz.org. It is both impossible for me to try to provide complete listings here, and it would be duplicative of the weekly listings in the Courier-Journal and LEO and the Louisville Music News' monthly music listings, in print and online, www.louisvillemusicnews.net.
EIGHTH NOTES
Dave Sharp's Secret 7
Worlds
(Vortex Jazz)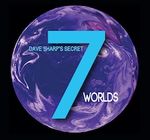 Dave Sharp - Worlds
Detroit-based bassist Dave Sharp explores the intersection of jazz and world musics on this new release. His colleagues, including saxophonist/flutist Chris Kaercher, move from lilting Afro-pop on the opening "Sherehe" to raga-influenced pieces such as "Return" and "Kalinjar." "Sunrise" features oud and other Middle Eastern instruments, evoking memories of Sandy Bull's pan-ethnic explorations. Throughout, Sharp and the many musicians demonstrate a love for and mastery of a variety of styles, for an entertaining and uplifting album.
Cava Menzies & Nick Phillips
Moment To Moment (Nick Phillips Music, www.cavamenziesnickphillips.com)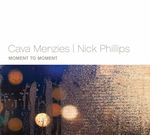 Cava Menzies & Nick Phillips - Moment To Moment
Pianist Cava Menzies and trumpeter Nick Phillips, joined by bassist Jeff Chambers and drummer Jaz Sawyer, have produced a subtle, low-key, floating, gorgeous album of ballads, with one original by each and six delicate interpretations of works by others. The first track, the classic Jimmy Rowles composition "The Peacocks," sets the pace, with a hushed ambiance and a tempo relaxed even by ballad standards. Phillips' "You," half-way through the album, has a middle section whose midtempo playing feels fast in comparison to the rest of the songs. Another standard, "You Don't Know What Love Is," is warm and spare. Interestingly, Menzies is a music teacher and Phillips a producer for Concord; their work together here suggests that they could successfully add public performance to their resumes.
Robert Hurst
BoB - A Palindrome (Bebob Records, www.roberthurst.com)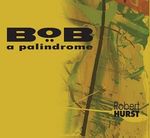 Robert Hurst- BoB - A Palindrome
Recorded in October 2001 but not released until 2013, bassist Robert Hurt s album is an all-star affair, with, Branford Marsalis, Robert Glasper, Bennie Maupin, Marcus Belgrave, Jeff "Tain" Watts, and Adam Rudolph. The centerpiecea is a three-part suite, "Middle Passage, " which begins with a brief introduction before sorrowful bass and hushed horns and a yearning flute solo pay homage to "Those of Us Who Didn't Make It [Part II]." Part III, "For Those of Us Still Here," calls to mind Jimmy Garrison in the powerful opening solo, which leads into Trane-like saxophone cries, which grows into feverish horns ultimately resolving onto an arco solo by the leader. Other pieces range from the upbeat opening waltz, "3 for Lawrence" to the little big band sound of "Tigers on Venus" and the Mwandishi-influenced closer, "Jamming - a.k.a. Ichabad." Hurst has been featured in the bands of both Wynton and Branford Marsalis, Diana Krall, and others, and this release provides a great opportunity for Hurst to connect with audiences through his own music. There are some more recently recorded albums, also on his Bebob label, which have come out prior to this, and all are worth checking out.
Robb Cappelletto
!!! (www.robbcappelletto.com)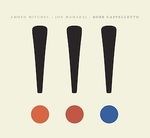 DRobb Cappellett - !!!
Guitarist Cappelletto has released a debut with an emphasis on fusion, with bassist Jon Maharaj and drummer Amhed Mitchel, plus keyboardist Robi Botos on the fast and fun "There Are Monsters" and saxophonist Daniel Easty on "Shifting Morality." The album opens with ""Scare Tactics," which sounds like it was influenced by some of Larry Coryell's early work. Cappelletto slows it down with "Gotham," then covers "Corcovado" with taste. The only other cover is "It's All Right with Me," with an acoustic guitar intro that leads to a very electric solo. The closing "Clean Slate" takes the disc out on a soft and pretty note. I hope to thear more of this guitarist in the future.
LOCAL JAZZ CONTACTS
With two now-fifteen-year-old daughters, it's hard to get out as much as I would like to hear music. As a result, picking and choosing which performances to catch sometimes require that I postpone seeing some of the local musicians and singers in order to not miss the one-night-stands from out-of-town artists. Invariably, I feel guilty, so in an effort to assuage my guilt and, more positively, to provide more exposure to our community of great local jazz performers, I am initiating this feature containing website and e-mail contact information. I am only including those artists who have given their permission to me; some have indicated a preference for website listing only; others have only e-mail addresses. If you wish to be included, drop a line to me with your permission and preferences, at mzkjr@yahoo.com. I reserve the right to edit and to exclude those whose connection to jazz is, in my opinion, tenuous; and this feature may end up online if it begins to take up too much space in print.
MIKE TRACY: www.michaeltracy.com, michael.tracy@insightbb.com, saxophonist and teacher Mike Tracy
UNIVERSITY OF LOUISVILLE JAZZ PROGRAM: www.jazz.louisville.edu
BOBBY FALK: www.myspace.com/bobbyfalk, drummer and composer Bobby Falk;
WALKER & KAYS: www.walkerandkays.com, singer Jeanette Kays and guitarist Greg Walker;
JENNIFER LAULETTA: www.jenniferlauletta.com, singer Jennifer Lauletta;
JEFF SHERMAN: jeff.sherman@insightbb.com, guitarist Jeff Sherman;
RON JONES: www.ronjonesquartet.com, rjmusic@ronjonesquartet.com, saxophonist Ron Jones;
STEVE CREWS: www.jazzcrews.com, jazzcat@iglou.com, pianist Steve Crews.
CODA
1) I am always interested in your comments. Contact me at mzkjr@yahoo.com.