January 2014 Articles
Cover Story
Paul Moffett
Features
Eddy Metal
Columns
Mike Suttles
Martin Z. Kasdan Jr.
Eddy Metal
Blogs
Got Shows?
Send Them To Us
Bookmark Louisville Music News.net with these handy
social bookmarking tools:
Available RSS Feeds
- Top Picks
- Today's Music
- Editor's Blog
- Articles
Add Louisville Music News' RSS Feed to Your Yahoo!

Issue: January 2014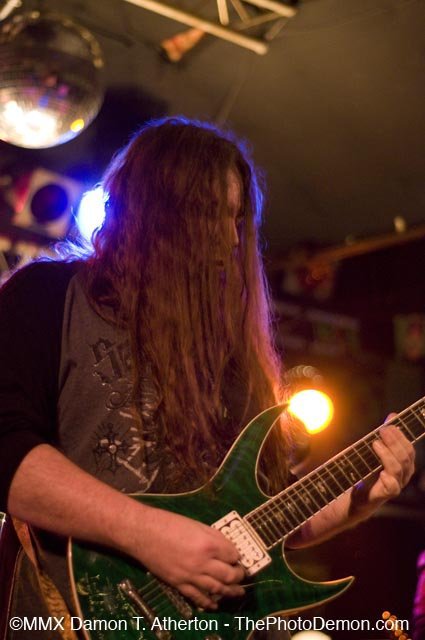 News From the Pit
Eddy's Rant
Happy New Year, everyone! I'm as happy as can be these days, because I just finished the best recording I've ever done, and everyone knows how important it is for a musician to record their own music. Turned out all my worrying about using click tracks was for nothing. Oh, well. I can't help but to be a worrywart. All is good, though. Be sure to read about Year Of The Gun's new CD and our experience working with one of Louisville's best sound engineers, Jordan Haynes, below.
Another year passes. I hope 2014 holds more and better national shows. I'm usually a concert-going fool, but 2013 didn't have much to offer in national shows that I really cared for, so I didn't attend as many as usual. It is a time of new beginnings and hope. Speaking of hope, I am very proud to announce that you people really came through for Rock For Kosair when we came up a bit short of earning cash this year to buy toys for the kids at Kosair Charities. To be honest, I was worried we wouldn't have enough toys to give out and take care of all the poor kids at the annual Kosair Christmas Party. Yeah, attendance was a bit short this year compared to past years (you can't break a record every year, I reckon), but thanks to all of you wonderful people donating at the last minute to this great cause, we were able to pull through and take what we usually take to Kosair (actually a bit more than average.) We did some serious shopping at Toys 'R' Us. All in all, with us going to buy toys on the one day when they were having a killer sale, having several gift certificate donations in hand, and with a tax exempt form from Kosair (no taxes to pay), and the awesome discount the store gave us, we ended up doing very, very well at buying toys for the kids at Kosair! The manager said we walked out of Toys 'R' Us with over $6000 worth of toys (almost a record!), even though we only had about $4600 in cash to spend. Toys 'R' Us was really great to us and I want to thank them for having a heart and hooking us up. We shopped wisely and it paid off. The Kosair Ladies were very pleased when they saw the mountain of toys we gave them. I want to thank some people for the last-minute gift card donations, so many thanks to B-Mart owner Rick Borowick (who donated $155 when we went a little over our alloted money), "Fender" Vize, Donna Wisdom, Lisa Grillo, Liz and Joe Johnson, Todd Smith of the band Peace Pipe, Wendy Shwartz, Elizabeth North and musician Bryan Fox. And thanks to a great guy named Cliff Davis for renting/supplying a U-haul truck to transport the toys to Kosair. Your kindness will not go unnoticed. Sorry if I missed anyone. Words cannot express how happy I was to see everybody step up and do something like this in a time of worrying and stress about not having the usual load of toys to take to Kosair. It was super cool of you. Thank you.
What should we wish for in 2014? Heck, I never thought I would be this old, but now that I am here, and still kickin' and putting out decent music and news for you peeps to read, I would like to see a few things happen in 2014.
For one, I would like to see more people get out and go support local musicians, whether it be originals or cover bands. The crappy economy has really hurt Louisville rockers and we need your support. I know times are rough, people get older and have kids and nagging spouses screaming in your ear, but please try to attend some of these shows. My long-time original music PHT showcase used to be packed every month for years, and now its hard to get fifty people in there. All venues are suffering, and the bands and people who work these venues are the ones who really suffer. We put everything into our music and it really blows to see only a handful of patrons out there in the crowd.
Secondly, bands. When you play a show, try to show a little support to the other bands on the bill. Stick around, chat with them a bit, show a little support to other artists in the scene. I do not like how this city's music scene has become a huge competition between bands, taking the crowd away purposely, or leaving immediately after they play. There is not enough comradery and support shown for each other in my opinion. I would love to see that change for the better.
And lastly, Cliques can suck my ****. I'm getting awfully tired of the same bands playing with their buddies all the time, at almost every show. Mix that chit up a little, for god's sake. It's almost as if some of these bands have a love affair with one another. Is it possible that you can seperate from each other for one friggin' show? A lot of the big shows feature the same fargin bands over and over, so, to some of you more popular bands out there, how about you give some of the other Louisville bands a shot at showing what they can do? Instead of forever proclaiming love for the handful of bands you will only play with. This holier-than-thou attitude is seriously getting kind of old, and I'm sure I'm not the only one who feels that way. Louisville has a rich and plentiful music scene and I'm sure a lot of bands would welcome the opportunity to play some of these higher profile shows. I think that there are a lot of rockin' Louisville bands deserve a shot at showing what they can do, but the way things are going, they won't get that chance until you bigger bands pull your tongues out of each other's tater.
I love you guys, but sometimes the truth needs to be told. It's time for some changes, so for the sake of the Louisville rock scene, quit being selfish and stuckup, and please try to make these things happen in 2014.
Peace.
The Metal Grapevine
16 Bones is Back, New and Improved
Impressive! After a period of inactivity, 16 bones is back with some recorded tracks that have been redone and improved upon. I'm sitting here listening to "Dust Them Bones" and I'm digging the changes they made to the song. It sounds like they added some electric and stringed orchestral instruments to great effect. It gives the song a twangy outlaw sound that reminds me of some old Western movie where an outlaw walks into town to face the sheriff in a showdown. This would be good music for some Western movie! The vocals of David "Sailor" Bryant and Bryan Fox work very well together. Great harmonies. I like the leads on the track, too. This sounds great! You can tell they spent a good time in the studio to do this. I'm really digging the guitar tones, too. "Way Back Home" has some beautiful acoustic tones starting out, and the added effects really make the song come to life. If I did some acoustic stuff in the studio, this is how I would want it to sound. Sailor has a great lower voice. I can see why he loves the 16 Bones music so much, his voice works very well with the music. It's just so weird hearing him do lighter, soulful stuff when I've been used to hearing Sailor's heavy metal side for so long. It turns out that the band recorded all these tracks in Bryan Fox's home studio! It sounds awesome. Really good production. I might have to beg Bryan to record some of my acoustic stuff. Bryan wasn't involved with previous 16 Bones recordings, but this time around, he had a big hand in making things better and it does sound fuller and deeper. In addition to singing harmonies, Bryan Fox played mandolin, electric guitars, Dobro, hand percussion, keys, and he mixed, editied and recorded all these himself. I admit I like these recordings much better than the ones before. All the extra instruments and stuff mixed in makes for a more interesting listen. They used some seasoned Louisville musicains for this recording as well, including bassists Chip Adams and Frank Green (both whom are ridiculously awesome players), and drummer Ryan Murphy. The electric solo in "Way Back Home" is a soulful riff for the song, but it sounds a bit dry to my tastes. A lillte reverb would have been sweet. Maybe an echo or short delay too? "Travesty" sounds different. I like this. I'm not sure if I've heard this one before. It sounds different from the others. I'm trying to figure out what that instrument is in the background. A mandolin? I'm thinking. It is! Whatever, it is it sounds awesome! It seems Bryan Fox can play whatever instrument you put in front of him. Chances are you could put a never-before-seen instrument from a tiny island across the world in front of Bryan and he'd start wailing on it. Nice lyrics by Sailor. The guy always writes some good stuff, whether it be brutal metal or laid-back acoustic rock. This is some very different music for this region. I got to hand it to the guys in 16 Bones for being original and not following trends or musical styles poplular in today's music. Thank god!
It's so Western sounding I can almost hear the high female voices that most always accompany those old spaghetti Westerns like in "The Good, The Bad, And The Ugly."
"Weary Bones" is a heavier track, and another song that sounds like it should be on a violent Quentin Tarantino Western. They should send him these tracks for consideration. The guitar solo is über-twangy and perfect for the song! Nice. The sound 16 Bones has come up with this go-around is epic and downright talented. Good playing, good songwriting, good vocals, you can't ask for more really. I can really see this music on a movie soundtrack or something. The Louisville musicians in 16 Bones have come a long way and this new recording is proof of that. They have built upon something that was already good to begin with, by adding mandolin and all those other goodies to the mix. There is still some mixing and editing to do, Bryan Fox says, but it sounds good to go to me.
New Centerfold Music "One Way Out" Review
Centerfold is back and is serious about kicking some butt. They absolutely tore it up playing at my Rock For Kosair show in November. Thanks for helping the kids at Kosair guys! You guys rocked. And they had a huge show on New Years Eve at Diamond Pub with Flaw, so things are definitely in high gear for a band just getting back in the groove of things. The guys just recorded a song at Earlygrayce Studios with Jordan Haynes (the same place my band just recorded). "One Way Out" is a modern endeavor with super-cool sounding guitars that are complex and vocals that are melodic and well done. It's hard to describe the musical category that this song belongs in. Progressive rock? Modern rock? Melodic rock? They don't really sound like anyone that I can think of, and that's good. I really like the use of effects on the guitars. Nice! I like Bobby Naelitz's guitar style, riff writing abilities, and lead guitar work. Dude was shredding at RFK. Some schorching leads! The vocals of John Hager are quite good. I like that he actually sings. The song starts a bit slow but kicks more butt as it progresses. Rich Brown and Bobby Naelitz work very well together as a team and together are a formidible duo. Excellent musicianship and very complex and well thought out songwriting. This is no simple three-chord ca ca that a lot of bands do. These guys put a lot of time and effort into their music and it shows in this recording and in live performances. The sound quality of this recording is badass. No complaints here. My band was in the same studio almost at the same time that these guys were recording. Both our recordings sound pretty darn good if you ask me! But thats Jordan Haynes for ya.
Scary Uncle Calling It Quits
My favorite Louisville cover band Scary Uncle is calling it a day after their New Year's Eve gig. There is no drama or bad blood, just life catching up to the guys with family, jobs, kids and stuff like that. This blows, because I loved the variety of covers that Scary Uncle played over these last several years. How many band can play Guns N 'Roses and make it sound good? This band played a lot of songs that most cover bands do not do, that is why I loved seeing them compared to other cover bands who always play the same crap over and over. (If I hear "Bulls On Parade" one more time, I'll frikkin' barf.) I wish more bands would be like Scary Uncle and mix that chit up a bit and throw your own personality in there. Vocalist Chuck Weber has a frikkin' great voice and it will be a loss to the scene if he gives it up for good. I hope not! I do know that guitarist Frank Campbell and drummer from hell Danny Murphy are talking about putting together an Eighties cover band. That would be super cool, as I love Eighties rock. So good luck to those guys, who BTW, are awesome dudes all around, and a credit to the Louisville rock scene!! I hate to see you fellers go, but I understand.
I'll keep you folks updated on the Eighties tribute when I hear more.
Year Of The Gun'sNew CD/EarlyGrayce Studios Review
Well, after two years of lollygagging, Louisville's Year Of The Gun has just finished recording five new tracks at EarlyGrayce Studios with studio engineer Jordan Haynes. In case you haven't been paying any attention whatsoever, I play guitar in this band. I have heard about Jordan Haynes forever, about how good he is in the studio and how as a musician, you've got to get in there and record with him at all costs. Well, all that was true. The guy is awesome. These days, I'm pretty picky about studios and who records me, but everything worked out really good for our band at Earlygrayce Studios. Jordan was easy to work with. Fast at getting the music back to us. And he didn't rush us like some engineers tend to do. This was the first time I had ever used a click track in a studio and to be honest, I was scared to death. I'm used to playing with the band and getting drum tracks first, and laying instrument tracks over that, but this way was very good. I ended up playing first to a click track by myself to a room full of people, which was stressful, but it ended up being much easier than I thought. I flew through it like poo through a goose! The end result is pretty awesome. I've been posting it like crazy. I'm a ham, what can I say! I'm proud of what the YOTG guys and myself have made. If you are in a band and are wanting to record soon, you should try to get in there with Jordan. He is booked a lot and turns away work a lot because of how busy he is, but if you are lucky you can get sqeezed in. The best part is that you will sound good, regardless. It doesn't matter who you know, or if you are not real good friends with Jordan. He does his best every time. I've noticed some studios do you up better if you are good friends with them. With Jordan, you get the full service regardless. I like that.
As a long-time musician in Louisville, I highly recommend Jordan Haynes and another great engineer, Michael Sanders, to handle all of your recording needs. Both are really good and have a great ear for capturing what needs to be captured.
As for our five song CD? There are at least three singles that can be played on the radio "That Mouth Of Yours" "She Dreams" and "Beautiful." Our singer, Steve Sawyers, killed and you can easily see why (in my opinion) he is one of the premier vocalists/songwriters in Louisville. Great lyrics and melodies are abundant in every song. It's the best recording I've done. I'm pretty happy with how it came out. Of course there are always a few things you would like to change, and maybe we might spend some more cash down the road to fix things up a bit, but for now we are good to go.
Check out our brand new music at https://soundcloud.com/year-of-the-gun/that-mouth-of-yours and you can see us next on Friday, February 7 at Phoenix Hill Tavern with Popkiss Chainsaw and Some Kind Of Saint.
Introducing The Smokin Gorillas, from Indiana with Love
Billy Youngblood is a very busy individual, indeed. Aside from being an incredibly talented guitarist and singer, Mr Youngblood has his own indie record label called Smokin Gorillas Records. Billy mostly does acoustic shows these days, but also does the full rock band thing when the time is right. Billy has quite the resume, having played with Louisville breakout stars Days Of The New and short stints with Tantric and Modern Superstar. Billy currently resides in Fort Wayne, Indiana but loves Louisville and plays here when ever he can. I'm so glad Terry Harper turned me on to this guy, because not only is Billy a ridiculously good guitar player, but he is one great guy as well, and I think a lot of Louisville musicians could learn a lot from a guy with his experience. Billy is seriously thinking of moving to Louisville soon, and I hope he does. We need more people like Billy in this town. "Too Much Pain To Cry" is an odd acoustic rocker of a tune. There is some kind of stringed orchestra instrument playing with the acoustic guitar that sounds really cool. The acoustic tone is awesome. This reminds me a lot of Days Of The New. Billy's voice is one of confidence and classic influence. He has a great classic singing voice that mixes well with the laid back guitar vibe. This kind of reminds me of Hendrix a bit too. Neil Young meets Hendrix! This is some good stuff. Acoustic rock with a serious classic rock vibe. Very nice alternate picking technique. I would have liked to have heard more effect on Billy's voice in this recording, though, it's a bit oo dry for my taste. Other than that it, sounds really good. I bet Billy knows every guitar chord in existence. He puts off that kind of vibe. A guy that knows guitar like the back of his hand, and probably knows more about guitar than any 100 average guitarists, including me! It's very good songwriting, lyrically and musically. "No Romeo" is the song that was released in Europe last year through an European distribution deal, and later released in the USA through a deal with Viacom Media (MTV). This song is different. I love the lead guitar work Billy does. Sounds excellent. It's hard to describe the music in this song. It's jazzy, funky, energetic and original. Santana meets Eric Johnson! Clean guitars, jazzy leads, and funky clean rthythms, this song has it all. Heck, it even has a South American feel about it a little. The sound quality of the recording is good. I'm not even sure what category of music this would be in! It's rock, but a different sort of rock. Hard to catagorize. I've been scrolling through a few of Billy's songs and dude is very good on guitar. His leads shred! He does covers as well. I was checking out a cover of Zeppelin's "No Quarter" live and his leads were killing. He did a cover of Hendrix's "Foxy Lady" and his vocals sound like Jimmy. A killer cover! This really sounds good! 2014 should be a good year for The Smokin Gorillas, especially if these distribution deals Billy made pan out the way they should.
Lately though, Billy has used his music to spread a far more important message. Billy's son David has been the target of bullying and the authorities have done nothing about it, so billy has launched a campaign against bullying through his music. It's a touching story and no child should be bullied, especially one with Fetal Alcohol Spectrum Disorder (FASD), like his son David has. I myself was bullied a lot growing up and it is not a cool thing to live in fear. It only stopped for me when I took Tae Kwon Do and started cracking ribs with kicks. Alas, violence is not the answer these days, so I hope Billy can make some headway battling this situation with his music and music connections. Check out Billy and his son's story. http://thejunglevine.wordpress.com/
I'm going to try to bring Billy back down here in a few months so you mofos can get a taste of the Smokin Gorillas in action once again. Until then, check out Billy's unreal playing online at http: //www.reverbnation.com/smokingorillas/songs
Popkiss Chainsaw returns with New Lineup
Wow, these guys do not give up. I totally respect their dedication and persistence. Having been through several lineup changes, you think they would give up and start anew, but giving up is not in these guys vocabulary, apparently. The band parted ways with singer Billy Burton (There's a fargin' surprise. Not! I hate to say "I told ya so" but I just can't resist.) and guitarist Tony Henry a few months back but have announced a new lineup coming your way soon. The band has enlisted Troy Hendrix on vocals and James Toler on guitar. Two guys I haven't heard of before, but that means nothing, as there are lots of undiscovered talent out there just waiting to be heard. These new dudes could be awesome. And knowing Troy and Nick for as long as I have, I'm sure they jam pretty good to even be considered. We will find out on February 7 at Phoenix Hill Tavern when they play one of their first shows back! So be out to support the guys and their new members.
Rust N' Bones
Rust N' Bones has had a pretty darn good year, indeed. Coming from out of nowhere and playing shows all the time must have been grueling, but I don't think band founder and one of the coolest guys in the scene, Justin Spicer, minds much. In fact, I know the man lives to play his music. He is like me, he doesn't care if 15 people like his music, he is going to do his thing his way and that's all there is to it. I respect that totally.
The band just recorded some tunes at two different locations. "The Things You Do" has some lovely, bluesy lead work starting out, though I'm not sure I like the rhythm guitar tone very much. Sounds a bit too fuzzy, kind of like a Crate amp of the Eighties. The lead sound works, well though. Justin's vocals have a bluesy feel to it and sound pretty good in a Billy Gibbons sort of way. A raspy, Gravelly, gruffy soulful endeavor, but actaul singing, nonetheless. He's like an old black man down South singing the blues in a Blind Lemon Jefferson sort of way, which makes Justin an original around these parts. I'm not into the drum sound on this recording, though. They are a bit weak to be effective. I have to admit I'm kind of spoiled on studio quality recordings, and I do pick at anything less than what the music deserves. The studio quality is not terrible, but it could be better. I like this band because they don't care about trends or stupid crap like that. They have their own sound and be damned to everything else! This song reminds me of old ZZ Top or something other South Texas rock! Justin's leads are rockin'. "Bad Love" is a love song of hurt and betrayal. The guitar tones sound a little better in this one. The use of the wah pedal is cool. The songs are a bit simplistic but who cares, it isn't about how hard of stuff you can play, its about feeling and soul. And Rust N' Bones have both. Yeah, they don't sound like the cookie monster on vocals (thank god), nor do they play lightning fast, ridiculous death metal riffs, but what they do is play music with soul, from the heart. I like this song much better. It's a good bluesy tune with a good rockin groove. If you like bluesy no nonsense rock n' roll, then Rust N' Bones is just what the doctor ordered! Seek them out at www.reverbnation.com/rustnbones
Guitar Talk with Eddy, Introducing Steve Yocum "The Tube Guy"
Lately, my Bogner guitar head, which is a tube amp, has been kind of weak. My tubes were at least three-and-a-half years old, and you could tell. My sound wasn't bad mind you (it's a Bogner!), but it was noticibly less crisp, less, punchy, and less loud as it usually is with new tubes. And rather than pay close to $300 to take it to a music store to have it retubed and biased by God knows who, I decided to go with a guy recommended by Tom Dawson, bassist of The Olivia Henken Band and Thunder Tribe. The guys name is Steve Yocum (the singer for the cover band Redline), and he comes to your house and biases your tube amps for you! Steve has been doing tubes for 10 years! No need to haul heavy gear back and forth to and fro, and have to wait days for your amp to be completed. Steve does your tube work right in front of you, and even explains what he is doing so you see he is doing things right! This was sooo much better than taking my amp to a music store. As long as Steve is around, I'll never do that again. His price was surprisingly cheap! About a third the cost of a music store! His work was flawless. My Bogner head came back to life and was more crisp, more tight, louder and had way more balls than before. So if you have a tube amp of some kind and need to fix it up to where it has "balls" again, or if your tubes blew out, be sure to give Steve Yocum a call at 502-321-3325 or hit him up on Facebook. Save big bucks and get it done by a pro. Oh yeah, if you need new tubes, buy them from Eurotubes.com. That company comes highly recommended and that's why I tried it out. All went well and my amp has new life now, so give Eurotubes and Mr Yocum a shout and they'll fix you up nicely.
Your welcome!!!
New Zeroking Video, WV Rockers looking to the Future
Hailing from Huntington, West Virginia is Zeroking, a four-piece original rock band that does really well. Zeroking is Andy Haught on vocals, Shane Day on guitar, Paul First on bass and Chris Webb on drums. They have opened for such artists as Bobaflex, Drowning Pool, Soil, Pop Evil, Nonpoint, Black Stone Cherry and others. I know this band because I used to be in a band called Sideshow with the singer Andy Haught, formerly known as Andy Christ of the band Sick World. a band who played Louisville frequently back in the late Nineties. Zeroking has done well for themselves, fan wise, and at getting national gigs. Andy has a very melodic voice when he wants to and that is his strong point. Former Louisville metal radio pioneer Black Frank (whom I hear is managing bands or scouting for bands) has taken an interest in these guys and I can see why. The band just put out a video for the song "Dead Rockstar" (which debuted on Revolvermag.com) and I'm checking it out now. I'm impressed with Andy's vocals. He sounds better than ever. The quality of the recording is darn good, too. A good amount of money was spent here on this. This is a bit more commercial, musically, than what I'm used to hearing Andy sing, but it's still good. Andy has always had good range and projection in his voice, and he's always been a good charismatic frontman. You don't see many singers like Andy these days. The guitars of Shane Day cut through very nicely. Awesome solo! Nice guitar effects implemented. Great tone and playing by all members, really. The drums sound great. The video looks pretty good, sounds good, and was filmed good too. You can't really ask for much more from an up-and-coming band like Zeroking. The studio they went to is really good! There aren't a lot of rockin' bands around the Huntington area I would guess, but Zeroking is looking to expand to bigger and better things, and with music and video like this, I would say they are off to a damn good start.
I really need to get these guys a gig here in Louisville. Until then, check out "Dead Rockstar" right here!!! http://www.youtube.com/watch?v=RuJSqszl17Y
Upcoming Shows
Baxters 942 Bar
Saturday, January 4 – Ugly and Unleashed. 9 p.m.
Diamond Pub on Baxter
Saturday, February 1 – 10 Years w/ Trapper Schoepp – 8 p.m. $15
Saturday, February 8 – Hellfire Militia, Luther, Stagecoach Inferno and Stonecutters. 8 p.m. $5
Saturday, February 22 – Chimaira w/ Iwrestledabearonce, Oceano, Fit For An Autopsy and Reflections. 7 p.m. $15
Friday, February 28 Dark Tranquility w/ Omnium Gatherum and Exmortus. 7 P.M – $20- $50
Expo 5
Wednesday, February 26 – For Today, w/ Like Moths To Flames, Stray From The Path, The Plot In You, Fit For A King. 6 p.m. $15
Haymarket Whiskey Bar
Thursday, January 2 – The Lloyd Coy Benefit featuring Anagnorisis (release show for the vinyl version of "Beyond All Light", as well as the Anagnorisis winter tour kick-off) w/ Esoteric Burial, Order of Leviathan, Sounds Of Laughter. 7 p.m. All ages. $8
Friday, January 10 – Full Zenith, Sons Of Medusa, Open Grave and Spider Gods. $5
Headliners
Thursday, February 13 Hopsin. 8 p.m. $22
Wednesday, February 19 AER w/ RDGLDGRN 7 P.M $15- $23.99
Saturday, February 22 – Old School, Willie Jeffries and Blind Sight. $10 8 p.m.
The Mag Bar
Friday, February 7 – Beast In The Field, All Dead, Devil And The Darkness and Full Zenith. 8 p.m. $6
Phoenix Hill Tavern
Friday, January 3 – Hellfire Militia, Underwater, Krosjoint, The Yat Machines. 9 p.m. Free before 9pm.
Friday, January 10 – Rifle, The Jereactors, Day Of Ruin, Dare To Dream and Tomorrow Never Ends. 9 p.m. $10
Friday, January 24 – Metal Mafia, Bury the Wicked, Despite The Fallen, Luie Brangers, Daniel Muss, Dare To Dream and Caducus. 8 p.m. $10
Friday, February 7 – Popkiss Chainsaw, Year Of The Gun, Some Kind Of Saint, Chadillac Dundee. 9 p.m. Free before 9 p.m.
Spinelli's Pizza (Downtown)
Tuesday, January 7 – When Words Fail. 8 p.m.
The Vernon Club
Saturday, February 8 – Attila w/ I See Stars, Capture The Crown, Ice Nine Kills, Myka Relocate. 6 p.m. $18
Wednesday, February 19 – Beartooth. 7 p.m. $10