January 2014 Articles
Cover Story
Paul Moffett
Features
Eddy Metal
Columns
Mike Suttles
Martin Z. Kasdan Jr.
Eddy Metal
Blogs
Got Shows?
Send Them To Us
Bookmark Louisville Music News.net with these handy
social bookmarking tools:
Available RSS Feeds
- Top Picks
- Today's Music
- Editor's Blog
- Articles
Add Louisville Music News' RSS Feed to Your Yahoo!

Issue: January 2014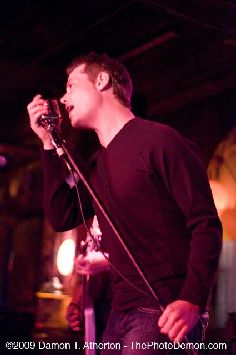 Steven Parrish Sawyers
Name:Steven Parrish Sawyers
Age:Body – 43 yrs; Mind – 13 yrs. Soul – Enlightened.
Instrument:Vocals, although I've recently started taking guitar lessons and I suck! Apologies to all the guitarists I've given crap to over the years because it's much harder to play than I thought.
Band/Former Bands:Year of the Gun 2008-current, Never 2002-2004, Blowfly 2000-2002, Orion 1999-2000, Rude Awakening/Shattered Reality 1990-1997, Captain's Trip 1989-90, White Lightning 1986-87.
How long on instrument:I've been singing in bands since 1986 but I didn't start writing original music until 1990. Damn I'm old!
Equipment:Shure Super with a Beta 58 cartridge. It's the same style microphone that Elvis Presley and others used back in the day.
Influences:Like a lot of people from my generation, KISS was my first favorite band but I also listened to Styx, Bad Company, AC/DC and a ton of other great bands from that era when I was a kid. My teens took me down the hair band road (Tesla, Whitesnake, Bon Jovi etc.) and then grunge (A.I.C.) and metal (Pantera and Metallica). Nowadays I prefer more laidback music.
My first gig:Carl Casper's Auto Show band battle in 1987. We played "Shook Me All Night Long," "Living After Midnight," "Nobody's Fool" and a Spanky Lee song I can't remember.
Hobbies:Songwriting, bass fishing (although I can't get Scott Holston to take me anymore – wink, wink, nudge, nudge...)
Favorite movies:Star Wars series, anything J.J. Abrams, Christopher Nolan or Quentin Tarantino, "A River Runs Through It," "The Princess Bride," "True Romance," "The40-Year-Old Virgin."
Favorite food:Burgoo from Mark's Feed Store, sushi, meat and potatoes, Mexican food.
Favorite place:NYC, but Los Angeles and San Francisco are both cool places to visit. Yosemite national park is amazing, too
Favorite sports or team:GO CARDS!!!
What I'm listening to nowadays:It may shock some people but I listen to new country about half the time. As a songwriter, I'd love to be able to sell some of my songs to a country artist, so I want to know where the industry currently is. I also listen to Marcy Playground, Cake, Seven Mary Three, Rob Thomas, 30 Seconds To Mars, Justin Timberlake, Bruno Mars. Yes, I prefer mostly commercial music and I'm not ashamed of that.
Coolest thing I've done:I've been fortunate to have been able to experience a lot of cool stuff. There's no way to pick just one but some of the things that stand out are: getting married at sunset on the beach to my wife; meeting my music hero John Wozniak from Marcy Playground; meeting Jerry Garcia; Ice-T; Metallica; James Woods; Carlos Santana; Herbie Hancock and several other awesome musicians. (Yes, I know James Woods isn't a musician).
Most embarrassing moment:My first wife and I were waiting for our pizza inside Pizza Hut. The place was packed! She had been standing beside me but had decided to go play a video game without telling me so imagine my surprise when I reached down to grab her ass but grabbed a handful of some dude's ass instead!!! I quickly apologized and got out of there. Talk about embarrassing. Now I make sure to look before grabbing ass!
Bad Habits:Saying "That's what she said," eating sweets and I really need to quit smoking cigarettes!
When/where did you first get some:My first time was at the young age of 13. So was she. We didn't have a clue what we were doing, we just knew it felt good! (Sorry Mom).
If you could meet a Rockstar (past or present), who would it be, and why:John Lennon before Yoko. He was an awesome songwriter and had a great outlook on life.
Who do you love:Stephanie Wilson Sawyers and my entire family including my mother-in-law, how many guys can say that?