December 2013 Articles
Cover Story
Paul Moffett
Features
Eddy Metal
Columns
Paul Moffett
Sue O'Neil
Martin Z. Kasdan Jr.
Eddy Metal
Blogs
Got Shows?
Send Them To Us
Bookmark Louisville Music News.net with these handy
social bookmarking tools:
Available RSS Feeds
- Top Picks
- Today's Music
- Editor's Blog
- Articles
Add Louisville Music News' RSS Feed to Your Yahoo!

Issue: December 2013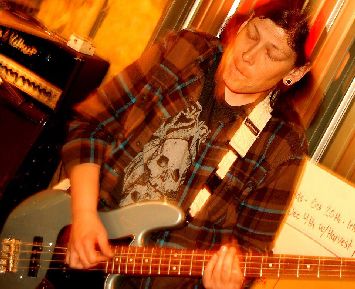 Jamie Dailey
Name: Jamie Dailey.
Age: 38
Instrument: bass guitar.
Band/Former Bands: stage left for Great Floods. Also: Ampersand, Countermeasure, Destined to Fall, Delta Nine Theory, Kallus, AntikytherA, & Lo-Fi Devastator.
How long on instrument: I"ve been buying bass strings for 22 yrs.
Equipment:Fender Jazz Bass, Ampeg B4R head, GK goldline 500 head, Ampeg ISOvent cab (2x15x2x10), Peavey 410TVX cab, Electroharmonix Big Muff Pi, quite a few cables, and a splitter.
Influences: Performance art, the DIY ethos, and the urge to make noise.
My first gig: 1st grade Christmas program. Our renditions of "All I Want For Christmas" and "Rudolph the Red Nosed Reindeer" left them wanting more. We seriously killed it.
Hobbies: Videogames, reading, writing, drawing, cooking, watching movies, shuffleboard, pool, fishing.
Favorite movies: The Empire Strikes Back, Citizen Kane, John Carpenters' The Thing, Ichi The Killer, Battle Royale, Old Boy, Aliens, E.T.
Favorite food: Mexican cheese dip, eggrolls, pumpkin pie, and sushi.
Favorite place: Home.
Favorite sports or team: Bowling, skateboarding, competitive ice sculpting, shuffleboard.
What I'm listening to nowadays: Converge, Kvelertak, Pig Destroyer, Botch, Every Time I Die, Clutch, Integrity, Weekend Nachos, Wovenhand, Iceage, The Jesus Lizard, Birds in Row, Russian Circles, High on Fire, 80's punk and Britpop. Local bands I fully endorse are Aphids, All Dead, Empiria Vultura, Greyhaven, Ohlm, Anagnorisis, and anyone who Keeps Louisville Loud.
Coolest thing I've done: Hard to say… I do a lot of cool stuff.
Most embarrassing moment: Hard to pinpoint just one.
Bad Habits: I smoke things and think too much.
When/where did you first get some: First time I got some pop rocks I was at the grocery store.
If you could meet a Rockstar ( past or present ): I'd rather meet Hunter S. Thompson or Ben Franklin. They're interesting.
Who do you love: aside from friends and family, no living person holds my heart.