December 2013 Articles
Cover Story
Paul Moffett
Features
Eddy Metal
Columns
Paul Moffett
Sue O'Neil
Martin Z. Kasdan Jr.
Eddy Metal
Blogs
Got Shows?
Send Them To Us
Bookmark Louisville Music News.net with these handy
social bookmarking tools:
Available RSS Feeds
- Top Picks
- Today's Music
- Editor's Blog
- Articles
Add Louisville Music News' RSS Feed to Your Yahoo!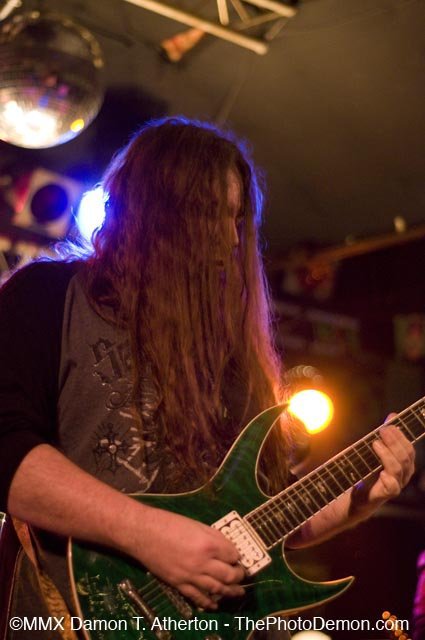 News From the Pit
Eddy's Rant
OMG. I'm so busy these days I'm gonna have a fargin' stroke if I don't get away at some point. Getting the Rock For Kosair Benefit ready, playing in two bands and getting ready to record in early December has me all stressed out. I don't know what it is about going into a studio that stresses me out so badly. I guess it's knowing you have to nail your music like never before. Everything has to be perfect. I've always gotten very nervous before recording! My Annual Rock For Kosair Benefit show went well, but it was a tad bit short in attendance expectations (read full review below), but I can't really complain about that. It was still a pretty fat show. I went to Gobblestock 2013 and had a great time seeing Flaw, Incursion and Primer 55. It was an old-school Louisville show from hell and they ended up having a great turnout. It was the best Gobblestock in years (Check out the review below), so congrats to those guys and 93. 1 The Fox for delivering a real treat this year.
Twenty-thirteen has been a very fun year for me. I got to play out my own music at several good shows in two bands and I saw what would have to be the best national concert of 2013 for me, Black Sabbath. Seeing Ozzy, Iommi and the crew one last time (and they absolutely destroyed) was a great moment for me. Not to mention it was the biggest stoner fest I've seen in a long time, maybe ever. There was so much weed smoking going on that you could have stood at the highway entrance at the venue, even before you got into the parking lot, and you still would have gotten a contact buzz! Ha.
Strangely, we didn't have that many great national concerts come through this year. Nowhere near as much as usual. Well, nothing I really wanted to see. As far as our original regional bands go, we've had an up-and-down roller coaster of bands coming and going as usual. Eddy's pick of rockin' notable bands of 2013 that played out quite a bit and did their best to showcase their music are: Unleashed, Whitener, Littledidweknow, Two Pump Chump, Anagnorisis, Heavens Gate Gospel Revival, Underwater, Iron Bells, The Whiskey Riders, Krosjoint, Some Kind Of Saint, Signal The Revolution, The Villebillies, Elephant Room, IIattatime, Demise Of The King, Rifle, Year Of The Gun, Ohlm, Beyond Doubt, Devil And The Darkness, Rust N' Bones, Popkiss Chainsaw, Bury The Wicked, Granshaw, Overload, The Tri Tones, Stonecutters, Hellfire Militia, Sons Of Medusa, Six Foot Fall, Talk Of Spring, Boozer, Rockaway Drive, 18-Xray, Reign Of Revelation, The Revenants, Lost In Eden and more. Sorry if I missed anyone. My memory isn't the greatest these days due to all the acid I did in the mid Eighties.
This time of year is always kind of slow in the scene because of the holidays, but that's okay, because everyone could use a break every now and then. Take this time to enjoy time with your family and to be thankful for the people in your lives. I wish all of you the best Christmas and happiest New Year. Be sure to have a designated driver on New Year's Eve! Don't end up like my roommate, who went to jail for DUI because he wanted White Castle at 3 a. m. when he was drunk!! Everyone knows nothing good comes from a trip to Whiteys at 3 a. m. Whether it be hideous heartburn or having to sit next to a giant con named Tyrone in the drunk tank.
The Metal Grapevine
Diamonds New Year's Eve Bash w/ Flaw, Villebillies, Signal the Revolution and Elephant Room:
After partying with Flaw at their recent show at PHT, I don't know if I can handle more awesome shows like that. I'm getting' too fargin old! I was exhausted. For all you youngsters, and youngsters at heart, New Year's Eve at Diamonds promises to be a barn-burner of a show. You get to see Flaw in action again, as well as newly signed Villebillies, Signal The Revolution and Elephant Room. One price and you are covered for the night, party favors included! Noise makers, goofy hat, champagne toast, stuff like that. This show will probably sell out pretty fast, so you better get your tickets asap or you'll be left out in the cold. So take my advice, don't wait!!! This promises to be one epic show.
Rock for Kosair Stuff:
Well, we had another good show for the kids. Unfortunately the take was a little bit low this year. I guess you cannot expect to break records every year, especially in this bleak economy. I would like to thank all involved, and also rip some ass, but I will leave the ass-ripping until the end of this writeup. You aren't going to believe the a-hole actions of some people. First things first. I want to thank; all the good bands who donated time and a performance to help the kids at Kosair Charities. Whitener, Signal The Revolution, Iron Bells, Jefferson Tarc Bus, Centerfold, Talk Of Spring, Unleashed, The Josh Goodlett Band, Year Of The Gun, The Smokin Gorillas, Some Kind Of Saint and Seedus. You guys really rocked! I want to thank the RFK helpers who helped run the show, the RFK sponsors J&J Old Louisville Music Shop, Music Go Round, Guitar Center, B-Mart (Rick Borowick, you are awesome dude, for helping so much with other donations, too!), Tatu Jefferson Mall, Detoxify, Cryptic Ink Tattoos, Mystic Lounge Tattoo and Art Studio and Stay Gold Tattoo Studio. Those guys have been awesome! Victoria George for making us the awesome flyer, Billy Youngblood (thanks soooo much, Billy) for providing a PA System for the Tap Room and performing. The Phoenix Hill Tavern. WAVE 3 and WHAS Channel 11 news for helping us get exposure. 93. 1 The Fox for being there for us every year. Stephanie and Paige at Kosair Charities for doing a great job getting the word out there. Rock and Troy for having us on their radio show! Those guys were too cool. We may have come up a little short compared to other years, but we truly tried our best. Well at least some of us did.
Ass Ripping Time!!
Yeah, we had some great people pulling for the cause, but we also had some great disappointments that night as well. Starting off, people simply did not do what they were supposed to do. Several RFK collections girls never showed up when they promised they would be there for sure. And long before the show I stressed to them over and over how important their part in this was, that we count on this extra money that they make. On top of that, some of the girls who did actually show up to collect, apparently did not give a crap about raising money for toys for kids for Christmas. Partying, drinking, socializing and chatting with their boyfriends were much too important than to worry about poor kids having a Christmas. So that was a big blow to the fundage. so thanks a lot! You cost the kids hundreds of dollars in toys. To the RFK Collections girls who did do their best, thank you for being the only ones who actually cared enough to try.
And there was a band who was inconsiderate beyond belief. The worst in RFK history! The band was an acoustic collaboration with two of the city's popular vocalists. They were to play last in the Tap Room. One of the singers, Jack, was very sick with a 101 degree temperature, so that is understandable that he did not show up. But the other half of the acoustic act, has shown his true colors once again. He was supposed to play from 1am to 2:30 a.m. in The Tap Room. Well, I saw Mr Unreliable at 1:30 in the smoking section partying it up and talking to women. I was like, what the hell!! He knew his time to play, he knew this was for the kids, he knew we had a schedule to keep. But just like everything else in this guys life, nothing mattered but HIMSELF. I've known the guy for a long time and was in a band with him for a few years. Over the years I've seen him literally destroy band after band he has been in because of his unreliable and inconsiderate actions. It does not matter how many people's lives and dreams he ruins, it doesn't matter how much time and money people have in their music/dreams, as long as he can do what he wants, when he wants, as long as he wants. This guy has no consideration for anybody. Not showing up for practice, or even calling to let people know he is not coming, being all messed up on alcohol and other stuff. I can honestly say this guy is the most unreliable musician in Louisville music history. I thought maybe he would have his stuff together since he has a kid or two himself now, but I was wrong. His response to partying when he was supposed to be playing/raising money for Kids at Kosair was "Uhhhh, I didn't think it was a big deal. " He finally went up, (almost an hour late!) and jammed like 20 minutes before being kicked off stage for being too messed up to perform. The thing is, I actually care for the guy, and once thought of him as a little brother. But that day is gone for good. You can only screw over people so many times. In the immortal words of Russell Crowe in the movie Gladiator "What you do in this life echoes throughout eternity. "In dude's case, I imagine that which will echo throughout eternity will be one long stink trail of caca. It's truly sad that such a talent is wasted.
RFK Results after expenses and radio ads bought, and total donations are as of now roughly about $4150 I'm guessing. I'm still collecting last minute donations to make up for coming up short this year and will be collecting until December 8, so please, if you can, send in a Toys R Us gift card or cash to 4006 South 5th street, Louisville, Kentucky 40214. Of course, after the Toys R Us crew gives us their discount, we will probably have about $4600 in toys overall, which isn't bad!!!
Gobblestock/Flaw, Incursion and Primer 55 Review:
Wow, what a fun night! Congrats to 93. 1 The Fox and all the good guys there for a wonderful night of Louisville music. It was an old-school show from hell, and I loved it. I saw so many people I knew that I hadn't seen for a long time. This show was even more packed than my Rock For Kosair show! And that hasn't happened for several years.
We got there in time to see long time metal veterans Incursion (who have almost been playing Louisville's scene as long as me! It's close!) let loose on some brutal, severely down-tuned riffage. Incursion killed as they tore into some of their tunes of the distant past. The sound was pounding and the screams of Van Avery were piercing. That guy can scream really well. I'm usually not into screaming all the time, but for this type of music, Stem and Van work very well together vocally. They had Gezuz on bass, but other than that it was an all original lineup. Those guys don't play out much anymore, but when they do, apparently they really rip it up. It was good to see such a heavy band on a Gobblestock bill. They sounded pretty darn tight to me, even though they only had one guitarist this time around, Jeremy Roberts. No problems this night though, and while in the past, Incursion has had tuning problems, everything was right on the money this Thanksgiving night. The low tuning and fat PA system made for a thunderous sound in the saloon. It was good to see Nik Houpt kicking butt on the drums again, too! That dude is a beast.
Next up was old school rockers Primer 55. I remember being the first DJ to play Primer 55 on The Fox! This version of Primer 55 is a far cry of the old Primer from back in 1997. The Primer 55 from way back when, was my favorite Primer 55. Guitarist and Primer 55 founder Bobby Burns went on to some fame as bassist for Soulfly, touring the world and seeing things not many musicians get to see. It's great that our native Kentucky boy has done some great things. The new Primer 55 rocks, too, mind you, but its so different from the old Primer, it almost shouldn't be called Primer 55. It's like a whole other sound. Bobby grew up in Kentucky, has lived in Tennessee and now resides in Atlanta. The new Primer features Bobby on vocals as well as guitar. He said he has had trouble with singers, so he decided to do both and get rid of all the drama! That is one tall order. To play and sing at the same time. I have so much respect for Bobby to be able to pull that off. The new stuff is a mixture of hardcore heavy/almost punk to radio-friendly rock. It's pretty diverse and mixes things up well. Bobby's voice is great on the heavy stuff, but being occupied with guitar duties may take a little off of the clean singing parts. And he could have used some more vocal effects on the singing parts of this set. His vocals were very dry on this set. Effects would have really set off the vocals on the singing parts! Bobby is one down-to-earth guy and it was so great to see him tearing it up here in Louisville once again. Primer 55 may not sound like the old version of Primer 55, but they are still a very formidable band to contend with! And the new sound will appeal to people who like the heavier music. I talked to Bobby and he said they were heading up north to Fort Wayne after Gobblestock. I wish the best of luck to Primer 55 on their tour!
Next up was Louisville's own Flaw. I have to be honest with you, with the addiction problems that plagued the band, I never thought these guys would get back together with the original lineup, but it has happened. And they sounded fantastic at Gobblestock. Out of all the Louisville bands that have been signed, I like Flaw the best. The excellent vocals, the rich, textured melodic guitar duo parts, the sweet background vocals and basswork of Ryan Jurhs, the modern drumming of Chris Ballinger, the charisma of Jay Daunt. Flaw is back, and sober! And that, my friends, is a powerful thing indeed. I've known these guys forever it seems, especially Lance and Chris from Shapeless Matrix days! The crowd for Flaw was awesome! The Flaw fans were there for the guys and it must have felt great to be Flaw to come back like this, to so many caring and supportive friends in attendance, singing the songs and having a ball. Chris Vols sounded great this night, and didn't miss a beat. He might have been a tad rusty but it really did not show. He hit the notes and had good range. I really love this guy's voice, especially in his song "My Letter." Flaw played a bunch of their classics like "Payback, " "Only The Strong Survive, " "My Letter, " "Whole" and two new songs that rocked, one was very heavy, and the other, "Do You Remember, " was a very good slower, more commercial song and probably will be their first single they will release of the new stuff, I'm betting. The band had to cram in some practices at the last minute to be able to play Gobblestock on such short notice, but they pulled it off without a glitch. The crowd was very happy to have their favorite Louisville band back in action, and having all original members back – and sober – made a huge difference. Everyone got along and it showed. It was so cool to see so many old friends from the scene of old. Some of these folks never come out anymore because of kids, family, work, getting old, so it was a real treat.
Littledidweknow gets signed:
Louisville technical groove metalhead band Littledidweknow has just signed with Subliminal Groove Records. This is one mean and brutal technical metal band with some very formidable skills. I was just checking out a guitar play through video for a new song called "Permagrin" and it's pretty sick. These guys have it going on! It's good to see some heavier Louisville talent getting a chance to do something cool. Congrats guys!
Devil and The Darkness seeks Drummer:
Louisville metal veterans Devil And The Darkness are now seeking a drummer. This is one good metal band with some very thick riffage, so one of you all-out metal drummers could be rockin' in no time at all. Contact Tommy at 502-403-4640.
Old School Mining Company Review:
I love these southern Kentucky/Cave City/Glasgow guys. I've known Andrew and Stephen since 1995 (and played many a great show with those fargers), and it's great to see them back in action and in two bands, no less! They got the Luther reunion going on, and another project called Old School Mining Company that rocks. For those of you who don't know or weren't around, Stephen and Andrew were in a band called Luther in the mid- to late- Nineties. Luther was an odd mixture of redneck rock/metal, and Seventies rock combined to powerful effect. They had a good following and had many a great show. On to the new project, though!
I'm about to listen to the Old School Mining Company demo. On this project, they have singer Stephen Cleveland on guitar as well as vocals. Hell, I didn't even know he played guitar. I recently saw them for the first time in this project and it was rockin'. I hadn't seen the guys play in many years! This music is similar to Luther, with the redneck, raspy, awesome vocals of Cleveland. And Andrew is one badass on bass guitar. There is something special about these guys. Somehow they come up with some serious grooves and soul in their music. It was like that with Luther, and now its that way with Old School Mining Company. Cleveland isn't a guitar showoff, but he gets the job done just fine, all the while singing at the same time. I've always loved his voice, and the melodies he comes up with. I'm an old Luther fan from way back! I'm listening to "Nipper" and the guitar tone is kinda grungy in a Luther sorta way. Cleveland is in fine vocal form these days, sounding like Lee Dorian of Cathedral on this track. It's straightforward rock/metal with no frills or ridiculous guitar sweeping that so many death metal bands overdo nowadays. "Move Me" is a bit more up tempo and reminds me a little of Rob Zombie somehow, only much better vocals. The lyrics of Cleveland have always been a good thing as well. I would have liked to have heard a few more guitar changes and solos, or maybe a breakdown, but its fine the way it is really. "Toohey Ridge" is a bit more redneck and groovin' as they show their southern Kentucky roots. Stephen Cleveland's growling, redneck vocals and syllable placements are so cool. Imaginative and creative. Dude is like Jim Morrison meets Lee Dorian meets Rob Zombie meets Danzig. But from the hills of Kentucky! It's quite a compliment, vocally.
This music is more straight forward than Luther and a bit more laid-back it seems, but the skills are there, and it may take a little time to get the ball rolling on this project, because they don't play out as much. I suggest adding a smokin', bluesy, lead guitarist, add some wicked breakdowns and make the songs a bit more diverse. Maybe I'm still hung up on former and late Luther guitarist Tommy Yates' crazy guitar style. That guy is hard to forget even after all these years. The guy would get beyond drunk and still play awesomely! The way he got that wild, whacked out badass feedback out of his old ancient tube amp was crazy. But dude was one of a kind. I miss Tommy. But Luther has a great guitarist in Jason Williams, so that's a good thing. Either way, check out Andrew and Stephen's bands, Old School Mining Company and Luther! You can thank me later!
Lawrenceburg's Bury The Wicked:
This five-piece from Lawrenceburg, Kentucky is one fine band. Not only do they sound great, with darn good vocals and good gear/instrument tones, but they happen to be some fine people as well. I've dealt with so many bands that were douchebags it's uncountable, but occasionally you come across some cool ass mofos that rock bigtime. That would be Bury The Wicked. When I first met them, they didn't speak much. They kind of reminded me of my band, which a few of the members aren't really the outgoing, talkative types. But the more I talked to them, the more I liked these guys. And the music is badass. It's heavy but there is still melody and groove in abundance. I had them on one of my shows a month or so back, and they killed it! If I had choose a band to compare them to it, would be Five Finger Death Punch, I guess. Because it's heavy, but still has singing in it sometimes, which I like. I can't stand screaming all the darn time. The vocals of Rich Kurtz mix things up well, with brutal screams as well as melodic interludes. The guy can sing! The best of both worlds, you could say! The guitars of Eric Gidcumb and Matt Ryan are formidable. I like the pinch harmonics they use. I always did like the squalls! And talk about good peeps? These guys donated $61 to Rock For Kosair Benefit for the kids even though they weren't even on the bill. So take my word for it, the next time you see their name on a show bill, you should go check them out for sure. They may come from a small town here in Kentucky, but their sound is gigantic!
Eddy's Guitar Talk, w/ Luthier Kevin Stiles:
Wow. This guy is straight up awesome. I'm so glad I was recommended to go see luthier Kevin Stiles of Frankenstile's Monster Guitars. Several guys in the scene were always talking about about how Kevin is the bomb, and Kevin is this and that. So I finally went and got some work done by him, and I'm very happy with the results. He installed a few pickups and put some wood blocks underneath my Floyd Rose systems for tuning accuracy. Well, actually he put in half wood blocks, when I usually have the whole thing blocked off because I hate Floyds and they drive me insane when restringing. But good ole Kev told me about a thing he does with Floyd Rose systems that Eddie Van Halen uses to stay in tune, so I said "what the hell, what could it hurt?" Now I can go whammy bar insane and stay in tune! I had never heard of this half-block procedure but it works! Now I don't have to do without a whammy bar just to stay in tune. And restringing is a snap. Kevin does guitar repair, custom building (he does awesome Eddie Van Halen Replicas), painting, wiring, pickup change-outs, fretwork, intonation, whatever you may need. But Kev's really good at setting up the Floyd Roses and Fender trems! His experience with painting and finishing wood goes back to previous jobs he had, so that experience spilled over to his guitar work! Kevin works out of his home in Clarksville. Indiana, has the ultimate set of tools, and guarantees all of his work. If you don't like something, you can come back a few weeks later and he will set it up how you like it. And the best part are his prices! Kevin is much cheaper than guitar stores. I don't know about you, but I got really tired of getting financially butt-raped every time I went to get some guitar work done. Kevin is the man, and a guy who cares about his work and making it affordable to the poor musician like myself. Kevin has quite the A-List of clientele to brag of, including Allen Needham of Dark Side of the Wall, Kevin McCreery of Uncle Kracker, Ronnie Watchmaker and Jon Huffman of Big Rock Show, Tom Dawson of The Olivia Henken Band, Frank Campbell of Scary Uncle and the late great guitar whiz Steve Osbourne used to go to Kevin all the time. So trust me, for guitar work, give Kevin a call. On a good day you can even get him to do the work in front of you, if it's not too big a job, so you don't have to make two trips. I loved that. Contact Kevin Stiles at 502-322-3200 or stop by at 151 N Randolph Ave., Clarksville, IN 47129. Kevin rules!
California's Steel Panther Coming to Cinci:
I am looking forward to seeing Steel Panther at Bogart's on Sunday, December 22. I have been wanting to see those guys for some time now, but they never come to Kentucky, so I'm going to drive up to Cincinnati to see their legendary show. Steel Panther is one of the top cover bands in the nation if you haven't heard of them before! They wear cheesy Eighties clothes like tiger-print spandex and they wear wigs and are raunchy to the extreme, and are very funny. If you haven't heard of them before and you like Eighties music, then this is a must-see. Look up Steel Panther "Community Property" uncut on Youtube and you will see what I mean.
Rust N' Bones to Record:
Up-and-comers Rust N' Bones are set to record at two places in December. Smokehouse Productions and Wax Tape Recording. Two places I've never heard of. I'm sure I'll do a review of their new stuff soon, so hopefully the engineers do a good job so I can give a good review! The band also has a new bass player Madelaine Oaklander.
LMN Musician Of The Month, Bassist Jamie Dailey:
Be sure to check out this month's Musician Of The Month Feature, bassist Jamie Dailey. This chick has been rockin' the scene for a long time, and she plays some pretty brutal stuff. Go to our home page and look it up!
Year Of The Gun Set To Record 4 Tracks at EarlyGrayce Studios in December:
Longtime Louisville rock/metal veterans Year Of The Gun will be recording four songs in early December. Chosen tracks are "Fallout, " "That Mouth Of Yours, " "She Dreams" and "Beautiful. " We are excited about working with Jordan Haynes and look forward to getting these tracks done by such a good sound engineer.
Upcoming Shows
Cahoots
Saturday, December 21 Rose Funeral, Reign Of Revelation, Eschatos and Littledidweknow. 8 p.m.
Diamonds
Sunday, December 8 – Finntroll, Blackguard and Metsatoll. 7 p.m.. $20-$40
Sunday, December 8 – Whitener, Signal The Revolution, Trust Divided, The Heart Strings and Beyond Doubt. 7 p.m. $5
Saturday, December 14 – (Hed) P. E 8 p.m. $11. 25 - $15
New Year's Eve Tuesday, December 31 – Flaw, Villebillies, Signal The Revolution, Elephant Room. 6 p.m.
Dillinger's Music Venue
December 14 – Toy Drive Benefit w/ The Whiskey Riders, Rust N Bones.
Expo 5
Sunday, December 8 – Motionless In White. 7 p.m. $15
Gilbert's Bar and Grill
Wednesday, December 4 – Rust N Bones w/ Project Heavy Death. 9 p.m.
Headliners Music Hall
Saturday, December 14 – Whitener, Signal The Revolution, The Heart Strings and Beyond Doubt. 7 p. m. $5.
The New Vintage
Sunday, December 15 – The Blue Soul Gypsys. 9 p.m.
Phoenix Hill Tavern
Friday, December 6 – Heavens Gate Gospel Revival, Reign Of Revelation, Project Heavy Death and Bury The Wicked. Free before 9pm, and only $5 after 9.
Friday, December 20 – The Blue Soul Gypsys.
Friday, January 3 – Hellfire Militia, Krosjoint, Underwater and The Yat Machines. Free before 9pm, and only $5 after 9.
The Vernon Club
Wednesday, December 4 – Norma Jean w/ Vanna, Ken Mode and The Greenery. 7 p.m.$15
Saturday, December 21 – The Art Is Murder w/ I Declare War, Fit For An Autopsy, The Last Seconds Of Life and Kublai Khan. 6 p.m.$10