November 2013 Articles
Cover Story
Paul Moffett
Features
Eddy Metal
Columns
Nelson Grube
Martin Z. Kasdan Jr.
Eddy Metal
Blogs
Got Shows?
Send Them To Us
Bookmark Louisville Music News.net with these handy
social bookmarking tools:
Available RSS Feeds
- Top Picks
- Today's Music
- Editor's Blog
- Articles
Add Louisville Music News' RSS Feed to Your Yahoo!

Issue: November 2013

Jazzin'
PRELUDE:
Louisville Jazz Artists Rock!
I am happy that we have so many talented local jazz artists, and happier still that so many of them are releasing new albums. At this writing, I have received new material from Graeme Gardiner and Lourenço Vasconcellos , entitled Kinetic Meditations, Brandon Coleman's Decisions, Craig Tweddell's Away with Words, and the Todd Hildreth Trio's Hymns. Look for more information here and in LEO Weekly; see below for information on a joint CD release party Coleman and Tweddell are planning for mid-December.
RIP, Ronald Shannon Jackson
Drummer Ronald Shannon Jackson was an integral part of Ornette Coleman's Prime Time, and put together a hard-hitting ensemble, The Decoding Society, which had been influenced by Coleman. He combined jazz and funk with African and other world rhythms. He passed away, from leukemia, in October at his home in Fort Worth, at the age of 73.
RECENT CONCERTS
The Dave Douglas Quintet at the Clifton Center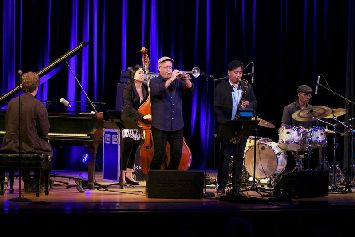 Dave Douglas Quintet. Px Mike Tracy
The Dave Douglas Quintet, featuring Jon Irabagon (saxophone), Matt Mitchell (piano), Linda Oh (bass) and Rudy Royston (drums), the same lineup featured on Douglas' last two albums, Be Still and Time Travel, played its first Kentucky concert at the Clifton Center on Sunday, September 29. The group opened with a track from Time Travel, "Little Feet," introduced by Douglas with the comment that it was based on a children's song. Douglas took the first solo, starting slowly but steadily, then building in intensity, a pattern followed by Irabagon (who snuck in a quote from "I Got Rhythm") and Mitchell. "This Is My father's World," a hymn from Be Still, was next, with a lovely a cappella trumpet coda. Indeed, most of the songs throughout both sets were from these two albums. One notable exception came near the end of the second set, a moving rendition of the spiritual "There Is a Balm in Gilead," a thematic fit to the songs on Be Still. Douglas and company played this slowly and emotionally, with a touch of New Orleans. Douglas eschewed the customary mute, instead cupping his upraised bell with his hand, even dropping to one knee before the song's conclusion. The band closed with "Garden State," from Time Travel, which featured a tight drums-and-bass duet. As Douglas told me in my interview for LEO [http://leoweekly.com/music/dave-douglas-older-dog-newer-tricks], ". . . the band that I'm coming with is the most identifiably jazz group of the things that I'm doing right now." Indeed, between the classic quintet formulation and the handing off of solos from one musician to the next, this was mainstream modern jazz at its finest.
Amjad Ali Khan at the Kentucky Center
Sarod master Ustad Amjad Ali Khan, in celebration of 50 years of American tours, came to the Bomhard Theater on October 4, performing with his two sons, Amaan Ali Khan and Ayaan Ali Khan, also sarod players, and two tabla players, Salar Nader and Vineet Vyas. ["Khan" below refers to Ustad Amjad Ali Khan unless otherwise noted.] For background, you can read my interview for LEO at http://leoweekly.com/music/amjad-ali-khan-one-world-music. The ensemble began the concert with two selections from "Remembering Mahatma Gandhi." Khan then filed his fingernails, explaining that this was necessary because he used them rather than his fingertips to play his instrument, demonstrating the difference in the sound of each style. He then introduced "Raga Zila Kafi," noting that it is a Holi song associated with the spring Festival of Colors, played in a rhythmic cycle of 14 x 3. [Note: some of the titles following may be misspelled; I apologize if that is the case.] Next came "Raga Bahar" from the Sufi tradition, a short, fast intense piece. A song from the Bengal tradition followed, with a theme of beauty and ecology. The father turned the next portion of the concert over to his sons, who performed "Raga Barishvi," with times changing from rupak (7) to tintal (16), with climax after climax following the slow introductory section known as the alap. Ustad Amjad Ali Khan returned for "Raga Balishiri," and "Raga Kirwani," challenging each son in turn in a call-and-response interplay that was exciting, fun, and most of all, musical. At a reception following the concert, I was overwhelmed with the warmth and kindness of the Khan family. Those who might be interested in hearing some of the recordings by this master musician should know that there are lots of recordings available, primarily of Indian classical music, many on the Navras label, www.navrasrecords.com. A recent release which should appeal to folk and AAA fans is Everything Is Everywhere, a collaboration with singer/songwriter Carrie Newcomer.
Laurence Hobgood Quartet featuring Ernie Watts at KCD
Pianist Laurence Hobgood and his friend, saxophonist Ernie Watts , returned to Kentucky Country Day on October 8 for an evening of sophisticated modern jazz, with Louisville's own Liberation Prophecy opening. The ensemble also includes Marquis Hill - trumpet, Jared Schonig - drums, and Clark Sommers - bass. Liberation Prophecy combines jazz talents with sophisticated songwriting to create a sound which cannot be pigeonholed. Most of their set was comprised of songs from their current album, Invisible House. A highlight was the ballad "The Lazy Mist." After a brief intermission, Hobgood, Watts and company took the stage. A rumbling piano introduction led to a hard bop flavored "The Gilded Cage," one of several new pieces by Hobgood. Another was next, "Rip Van Winkle," which had more of a straight four than swing feel. Hobgood began "O Wakare" ("Farewell") with a fittingly Japanese-sounding solo, before the rest of the musicians joined in and the tempo increased, with Watts adding emotion by holding long, high notes. Hobgood offered a spoken tribute to several recently departed pianists, then offering his composition "Cedaresque" in homage to the late Cedar Walton. Watts' sole original offering of the evening was another homage, "For Michael," a waltz dedicated to Michael Brecker. A heartfelt saxophone solo led to a Hobgood solo which, in turn, gave way to the sole bass solo of the evening, but worth the wait. Watts returned to spar with Hill, with each horn cline complementing the other. The final selection of the night was "Septitude," ("attitude in 7," quipped Hobgood). A musically trained friend and I exchanged notes after the concert, and while neither of us could count the 7, we both enjoyed the swirling piece. Although the quintet only played six pieces, the group played a full hour and a half. Hobgood continues to forge a strong identity of his own as both writer and player, stepping away from the tag of "Kurt Elling's pianist."
ON THE HORIZON
Jeff Sherman Quartet at the Rud
Guitarist Jeff Sherman gets headliner status rather than dinner music backlighting when he brings his quartet to the Rudyard Kipling on Sunday, November 10, for a matinee at 3:00 PM. His comrades in arms are Hunt Butler on tenor and flute, Bruce Morrow on drums, and Mark McCulloch on bass. The Rud is at 422 W Oak Street in Old Louisville. This is another in the monthly concert series presented by the Louisville Jazz Society, on whose Board I serve, and discounts are available for members. http://louisvillejazz.org
Jake Shimabukuro at the Brown Theatre
Jake Shimabukuro is a very talented ukelele player, whose renditions of songs ranging from The Beatles' "While My Guitar Gently Weeps" to Queen's "Bohemian Rhapsody" to many original compositions. Not a jazzer, perhaps, but he plays with the virtuosity of an accomplished jazz artist. He returns to Louisville on Friday, November 22 at the Brown Theatre, 315 W Broadway; tickets at the Kentucky Center Box Office, 501 West Main Street, by phone at 502-584-7777, or online at www.kentuckycenter.org
Bombino at the New Vintage
Bombino is a hypnotic guitarist and singer from Niger, and a member of the Tuareg Tribe. I really enjoyed him at the 2012 New Orleans jazz & Heritage Fest, where his insistent music was appropriately showcased in the Blues Tent. He brings his band to The New Vintage, the site of the old Uncle Pleasant's (2126 South Preston St., phone: 502-749-4050) on Friday, November 22.
The Dick Sisto-Steve Allee Sprit of Life Quartet at the Clifton Center
Vibraphonist Dick Sisto and pianist Steve Allee return to the Clifton Center for a series of four concerts, in the same setting as the first, with audience members joining the musicians on stage. On November 24, the musicians will feature the spiritual music of Duke Ellington and Billy Strayhorn. The concert will also celebrate the release of the quartet's new CD. Ticket information at www.cliftoncenter.tix.com
Bill Frisell at the Clifton Center
Bill Frisell returns to Louisville with his Big Sur ensemble, on Wednesday, December 4; save the date, more details to come. Ticket information at www.cliftoncenter.tix.com.
SELECTED CLUB AND OTHER LISTINGS
The Comedy Caravan , 1250 Bardstown Road, Louisville, KY 40204, 502-459-0022 www.comedycaravan.com, has long been a venue for quality musical acts. The Don Krekel Orchestra has been performing the third Monday of each month, and is scheduled for November 18. Please contact the club for any post-deadline information.
The Nachbar (969 Charles Street, 502-637-4377, www.myspace.com/thenachbar) features "Nachbar Jazz" on Wednesdays, with Jacob Duncan . Check the club for updates or changes. The club also has a Facebook page with occasional updates.
The Jazz Kitchen (5377 N College Ave., Indianapolis, IN 46220; phone: 317-253-4900; www.thejazzkitchen.com), presents nightly offerings of local and regional jazz; check the website for the full schedule and updates. A road trip might be advised for November 1: Freddy Cole ; November 8: Annie Selleck ; November 20: Mike Stern Trio with Tom Kennedy – bass and Richie Morales – drums. Other shows may be added, so check the site.
The Blue Wisp Jazz Club in Cincinnati, is now at 700 Race St. (513-241-WISP). Wednesdays remain the province of The Blue Wisp Big Band. Possible road trips for the month: November 9: Annie Selleck ; November 23: Tom Browne ; the rest of October is packed with mostly local and regional talent. For details and the full schedule, the website is: www.thebluewisp.com. Please sign up for updated local jazz listings: The Louisville Jazz Society provides weekly e-mail updates for local jazz happenings. Be sure to sign up for the e-mail "Louisville Jazz Society's Jazz Insider" at www.louisvillejazz.org. It is both impossible for me to try to provide complete listings here, and it would be duplicative of the weekly listings in the Courier-Journal and LEO and the Louisville Music News' monthly music listings, in print and online, www.louisvillemusicnews.net.
EIGHTH NOTES
Fareed Haque :
Out of Nowhere (Charleston Square, www.charlestonsquare.net)
Guitarist Fareed Haque is probably best known for his work with the fusion group Garaj Mahal, now disbanded, although he has been gigging with organist Tony Monaco more recently. On this new release, Haque returns to his roots in mainstream jazz, joined on four of the nine songs by drummer Billy Hart and bassist George Mraz, with support on the other material from pianist Rob Clearfield, drummer Corey Healey, bassist John Tate, and tabla player and percussionist Salar Nader (part of Ustad Amjad Ali Khan's ensemble, see concert review above). The two opening songs are the only originals, "Waiting for Red" and "Tex Mex," followed by Grant Green's "Flood in Franklin Park." "Red" is straightahead, building in intensity, while "Tex" sounds as though Haque overdubbed acoustic and electric guitars, to good effect. "Park" is old school soul jazz, with Clearfield digging in for a hot solo. And so it goes, with Haque playing with beauty and grace over Clearfield's organ on a too-short rendition of "I Got It Bad." Two pieces do get edgier, though: "Giant Steps," with synthesizer guitar, and "Inner Urge," with an outside opening that does, ultimately, move toward the center. Closing with the title track and "Out of. Nowhere," Haque proves that he is too talented to be pigeonholed as simply a fusion guitarist.
Stan Getz:
Live at Montreux 1972 (Eagle Rock CD & DVD, www.eaglerockent.com)
When most folks think of Stan Getz, bossa nova and, perhaps, the later collaborations with Kenny Barron come to mind. But fusion? In March of 1972, the master saxophonist went into the studio with Chick Corea, Stanley Clarke, Tony Williams, and Airto Moreira to produce Captain Marvel. The same lineup, without Airto, played the 1972 Montreux Jazz Festival, and their stunning performance has now been released on separate CD and DVD. Getz was hardly an elder statesman, but at 45, he was definitely of an older generation than Corea (31), Williams (26), and Clarke (21). Most of the tracks on this live set are Corea compositions from Captain Marvel, starting with the title track from that album, which would have felt in place on either of the first two Return to Forever albums. After more Latin electric jazz, the group does a rendition of "Lush Life" with Getz and Clarke's arco bass playing an almost mournful duet. Corea's now classic "Windows" is rendered brightly, followed by the warmth of Getz's sax on the hard bop classic "I Remember Clifford." Corea's "La Fiesta" is next, with a Corea intro, followed by the busy playing of Clarke and the addition of Getz and Williams. Getz plays a strong, animated solo, followed by Corea soloing with an emphasis on space and accents rather than "lots of notes." The closing "Times Lie" is vintage RTF-ish Corea with Getz again showing his ability to play with verve in the company of younger musicians. As between the CD and DVD, the content is the same; neither contains bonus tracks or interviews, so the consumer must choose whether s/he will be more apt to watch the concert, listen to it without the visuals, or perhaps have a DVD for home and CD for the car or office.
Allen Toussaint:
Songbook (Rounder Records, http://www.rounder.com)
Ernie K-Doe, of "Mother-In-Law" fame, famously said "I'm not sure, but I'm almost positive, that all music came from New Orleans." His biggest hit, as well as "A Certain Girl," were but two of the almost countless songs written and produced by Allen Toussaint, who has just released the aptly titled Songbook. This live set from Joe's Pub in New York City is available as a standard CD, with 16 songs, and as a deluxe package, with 25 tracks on the CD and well-shot video of the music plus interviews. Toussaint has virtually been an annual fixture at the New Orleans Jazz and Heritage Festival, usually leading a large ensemble well-stocked with horns. On this intimate set, featuring the artist at his piano with no backing, Toussaint is relaxed and charismatic, digging deep into his catalogue for classics such as "It's Raining" (a hit for Irma Thomas), "Lipstick Traces" (a Benny Spellman hit) and the gorgeous social commentary (how do you see "gorgeous" and "social commentary" linked?) "Freedom for the Stallion." More recent material includes a prelude of "We Are America" which leads into "Yes We Can (Can)," and some paeans to his hometown, including "Shrimp Po-Boy, Dressed" and "It's a New Orleans Thing." His classic "Southern Nights" ends the set, with sweet reminiscing about his childhood. The audience seems almost overly polite; in my head I kept hearing the applause of a New Orleans audience during the opening notes of all but the newest songs, rather than the quiet respect frequently demonstrated here. My fellow Louisvillians of a certain age who recall Toussaint's brilliant solo set at the Kentucky Center as part of the Lonesome Pine Special Series should get a special kick out of this. At this writing, the standard CD was around $12, the CD/DVD around $16-18, and hands-down, just get the deluxe if you have any interest at all.
John Abercrombie Quartet:
39 Steps
R alph Towner/Wolfgang Muthspiel/Slava Grigoryan:
Travel Guide (ECM, www.ecmrecords.com)
One of the early hallmarks of ECM was the label's records featuring guitarists. John Abercrombie has been with the label since 1975, and his newest release features the lineup of pianist Marc Copland, bassist Drew Gress and drummer Joey Baron. All the tunes are originals by Abercrombie or the band, except for a very updated take on "Melancholy Baby," which closes the album. Several of the pieces allude to works by Alfred Hitchcock, including the title track and the opening "Vertigo" which, despite its title, is mellow. "Greenstreet" is bright and peppy, "As It Stands" shows off the ballad side of the quartet, and "Shadow of a Doubt" sounds freely improvised (and is credited to all four musicians). Abercrombie's guitar is clear and ringing throughout, and it's a treat to hear with piano, as it has been many years since he included this instrument in his lineup. Another ECM "old timer" is Ralph Towner, who is joined by fellow guitarists Wolfgang Muthspiel and Slava Grigoryan for a warm and engaging set of original pieces, five by Towner and five by Muthspiel. Throughout the album, the guitarists avoid stepping on each other's musical toes, creating a tapestry of music which includes influences from both the jazz and classical worlds.
LOCAL JAZZ CONTACTS
With two now-fifteen-year-old daughters, it's hard to get out as much as I would like to hear music. As a result, picking and choosing which performances to catch sometimes require that I postpone seeing some of the local musicians and singers in order to not miss the one-night-stands from out-of-town artists. Invariably, I feel guilty, so in an effort to assuage my guilt and, more positively, to provide more exposure to our community of great local jazz performers, I am initiating this feature containing website and e-mail contact information. I am only including those artists who have given their permission to me; some have indicated a preference for website listing only; others have only e-mail addresses. If you wish to be included, drop a line to me with your permission and preferences, at mzkjr@yahoo.com. I reserve the right to edit and to exclude those whose connection to jazz is, in my opinion, tenuous; and this feature may end up online if it begins to take up too much space in print.
MIKE TRACY: www.michaeltracy.com, michael.tracy@insightbb.com, saxophonist and teacher Mike TracyUNIVERSITY OF LOUISVILLE JAZZ PROGRAM: www.jazz.louisville.edu BOBBY FALK: www.myspace.com/bobbyfalk, drummer and composer Bobby Falk;WALKER & KAYS: www.walkerandkays.com, singer Jeanette Kays and guitarist Greg Walker; JENNIFER LAULETTA: www.jenniferlauletta.com, singer Jennifer Lauletta; JEFF SHERMAN: jeff.sherman@insightbb.com, guitarist Jeff Sherman; RON JONES: www.ronjonesquartet.com, rjmusic@ronjonesquartet.com, saxophonist Ron Jones;STEVE CREWS: www.jazzcrews.com, jazzcat@iglou.com, pianist Steve Crews.
CODA 1) I am always interested in your comments. Contact me at mzkjr@yahoo.com.