November 2013 Articles
Cover Story
Paul Moffett
Features
Eddy Metal
Columns
Nelson Grube
Martin Z. Kasdan Jr.
Eddy Metal
Blogs
Got Shows?
Send Them To Us
Bookmark Louisville Music News.net with these handy
social bookmarking tools:
Available RSS Feeds
- Top Picks
- Today's Music
- Editor's Blog
- Articles
Add Louisville Music News' RSS Feed to Your Yahoo!

Issue: November 2013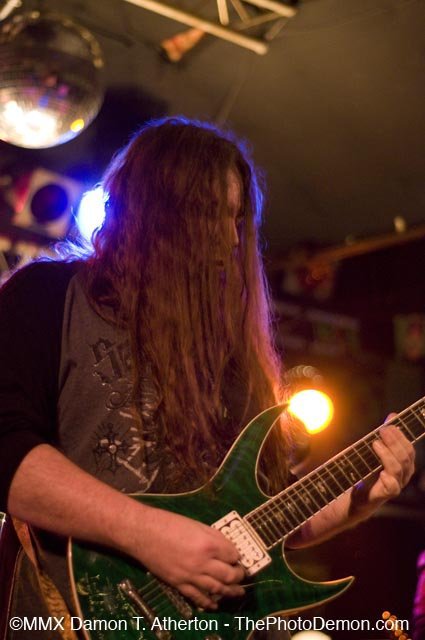 News From the Pit
Holy cow, it seems like everyone is sick or getting sick these days. Cold weather can suck the big one. I, myself, missed all the Halloween festivities because I had a nasty cold and another illness that had me worried to death. I yawned one day and I felt something like a charlie horse in my jaw that hurt like hell. Ten minutes later my face was numb and I was left paralyzed on the left side of my face! This same thing (a pinched nerve) happened 20 years ago and it went away after two months of discomfort and worrying. Amazingly this time it went away after only a week and a half, because I took a bunch of vitamins and shocked the crap out of my face with an electrode unit. Trust me, it's no fun to not be able to talk right/eat right. Especially when I have a few big shows coming up with my bands and the Rock For Kosair Benefit so close now.
So needless to say I haven't been out much lately. I would have loved to have gone to PHT's Halloween Bash, and MF5, and I probably would have reviewed Danzig. too, but I was a bit self-conscious about my face to go out gallivanting about town. I am feeling a lot better now and am ready to give my all to playing and supporting our local music scene once again.
We have a bunch of cool shows to attend coming up, from Rock For Kosair IX to Fates Warning, Overkill, Kreator, Iron Bells CD Release, Trivium, Devildriver, Revenants CD Release, Halestorm, Flaw and Incursion at Gobblestock, and the return of Primer 55.
One show I am looking forward to seeing is Steel Panther at Bogart's in December. I have been wanting to see those guys for some time now, but they never come to Kentucky, so I'm going to drive up to Cincinnati to see their legendary show. Steel Panther is one of the top cover bands in the nation, if you haven't heard of them before! They wear cheesy Eighties clothes, like tiger print Spandex, they wear wigs, are raunchy to the extreme and are very funny. If you haven't heard of them before and you like Eighties music, then this is a must-see. Look up Steel Panther "Community Property" uncut on youtube and you will see what I mean.
I'm so busy this month, it's retarded. I have major stuff to catch up with! I have my Rock for Kosair Benefit to attend to, and I'm preparing to go into the studio to record some songs with Jordan Haynes at Earlygrayce Studio, so I'm pretty much slammed, but never too much to hear you lovely people out. If you have any great story ideas or have some great band news or CDs you want covered, then get in touch with me and I'll see what I can do for you. I've been doing this stuff for a long time and I want you to know that I am here for you, the Louisville music scene, until the end.
Contact me at eddymetal1@aol. com
The Metal Grapevine
Louisville Music News is "ONLINE ONLY":
With newspapers all across the nation in financial trouble because of the internet, LMN has joined those that have stopped printing. In the past few years, we have reduced the newspaper to only a slight semblance of what it used to be when times were better. My printed column was only 1/5 of what is was online, so it really isn't a huge loss newspaper-wise. But fret not, we aren't going anywhere. You can still find us online at Louisvillemusicnews. net so pass the word around that to get Louisville's REAL music news (that other publications snub and ignore!!), you've got to visit us online!!! Long live LMN!!!
The Villebillies Get Signed to Major Label:
Congrats to Louisville hip hop rockers The Villebillies, who have recently signed with Sony Music Entertainment, a bigtime label. Their Love Is Kind Of Crazy record is set to be released to national radio this week and features a sample from Dusty Springfield's cover song "Spooky." I just checked out the video The Villebillies made for the song and it's great! Very very cool and original. Wow. I can see why Sony was interested in these guys. Sony also gave the band's own label Island Earth Music a production deal as well, and that could bode well for some Louisville bands in the future. This is awesome news and I wish these guys the best of luck. Right now, though the band is concentrating on recording the best tracks they can for a full length album. Villebillies vocalist and Island Earth owner Dustin "Tuck" Tucker states "we are just thankful for another opportunity to get our music to a bigger audience. Tell the dreamers to keep dreaming because it can happen. If you dedicate yourself to your craft."
Rock For Kosair IX, on Friday November 15 at Phoenix Hill Tavern – Win One Of Four Guitars and Several Tattoos!!
Well, the time is almost here. Time to put selfish things aside and help others at a time when they need it the most. I've been working my butt off to make this a great show, but I will need your help to make this a success. I would love to take a mountain of toys to Kosair again this year. The kids at Kosair Charities need you to tell everyone you know about this show on November 15. Check out this year's lineup! Three stages of live music! Special thanks to these following bands for contributing a performance, all for the kiddo's! Whitener, Signal The Revolution, Iron Bells, Jefferson Tarc Bus (with new singer!), Centerfold, Talk Of Spring, Unleashed, The Josh Goodlett Band, Year Of The Gun, The Smokin Gorillas, Some Kind Of Saint, Billy Jack (Jack Brizendine and Billy Burton acoustic collaboration), Seedus and more.
Of course, I cannot forget to mention our awesome guitar and tattoo giveaways to give you more incentive to get your butts to the Hill on this night! We will be giving away four guitars from generous businesses like J&J Old Louisville Music Shop, Music Go Round, Guitar Center and B-Mart, as well as several Tattoo giveaways from Tatu Jefferson Mall, Cryptic Ink Tattoos, Mystic Lounge Tattoo and Art Studio and Stay Gold Tattoo Studio. We have tons of prizes!! But you have got to get to the show early to be able to get a FREE (while they last) Drawing Ticket with paid admission. There will be only so many of these Drawing Tickets, so don't risk being left out when the prizes are being given away. The show starts at 8 p. m. sharp and will go to 3 a. m.
Not only is this a great cause and wicked rock show, but it is one of the sickest parties of the year!!! Don't miss it.
Review of The Louisville Crashers New Video:
The most popular cover band in Louisville, The Louisville Crashers, has released a new video for their original song "All I Need Is You." The band has never been my personal cup of tea, because I'm pretty much a metalhead, but there is no denying the talent, skill level and professionalism in this band. The video is way cool, with the band as Lego characters. All the band members are represented in their own way as Lego people! It's so cool. Bassist Jesse Vest's Lego self has a beard, Mark Maxwell's Lego guy has long hair just like Mark's, guitarist Shane Isenberg 's Lego guy has Shane's infamous Goatee. It's hilarious. Jesse's Lego hand is moving to the beat on Jesse's Lego bass guitar! The song is catchy and sounds great. Mark's voice is the best I've heard from him. The studio quality is outstanding and the engineer who did this should be commended! The people who made this video are very gifted as well, as this stuff didn't look to easy to pull off, creating a whole Lego world in stop/go action sequences. Very well done. I'm impressed and the more I hear the song the more I am drawn to it. This darn song has been stuck in my head all morning! My metal wall is being systematically broke down by this video, help!!! The Louisville Crashers have tainted my metalness. Anyway, congrats to those guys for a job well done. Neat video!
Guitar Talk Lowdown, featuring Ryan Scott from Scott Guitar Works:
I admit at first I had my doubts about his guy because of his young age, but it turns out that Ryan Scott is a badass mofo. About two or three years ago, my band member's kids were over at my house for band practice when one of them knocked over my very rare, handmade Bernie Rico Vixen flying V guitar, broke off one of the pointy horns on the end of the V and knocked a chuck out of the headstock. This was the very first guitar, #1 of only 20 made in the whole world. The guitar had taken a fall of about 5 feet and was not looking good at all. I had fallen in love with this guitar from the get-go. Striking looks emanated from this axe because it came in Arctic white and issued forth a blistering tone, easy as sin harmonics, and sustain for days! I've had many great guitars that have come and gone throughout the years, but this one was here to stay forever. At least until the accident happened. Then I was furious and sickened by the sight of my beloved axe broken. I didn't even want to look at it now. Needless to say the kid's parents ended up buying the guitar from me and there it languished in a closet for years, gathering dust. It was evident my bandmember had no intention of trying to fix it, so I ended up buying it back to try to have it restored. That was when I was refered to Ryan Scott by Hot Action Cop guitarist Tim Flaherty. Tim don't farg around when it comes to guitars, so I immediately contacted Ryan. Upon meeting Ryan, I was thinking to myself, "How much experience could this young whippersnapper actually have?"
I went to his shop over by Cardinal Stadium and walked in, and wow, this young feller had a guitar workplace from hell. Tools everywhere and guitars amputated and guitar innards laying about. It made a man nervous, especially with Ryan's young age, but Ryan was cool, very smart, and walked me through a few of his projects. I was especially impressed with the basses that Ryan had made from scratch. OMG, were these basses awesome! Had I been a bassist, I would have bought one for sure, even though they were not cheap, and ran from $2000 and up. Absolutely beautiful instruments! Comparable quality to a top-notch Warwick or Spector. I was shocked by this young man's skills. Right then, I knew that if anyone could bring my baby back to life, it would be this positive young man. So I trusted Ryan with my baby and went home. Three months later Ryan called to tell me to come to the shop. The result? My beloved Bernie Rico axe was like new again. You could hardly tell the guitar was damaged at all, all the way around the guitar from top to bottom. It played as good as ever and I was happy. Yeah, it took a good while to get my guitar back, but you cannot rush something like that. You surely don't tell Picasso or Rembrandt when to have their work done, and this is no different. Ryan is a great guy and will work with you on whatever you need done. His skills far exceed his age. It's kinda weird! It's like some old master guitar luthier who had died long ago had possessed this young man with knowledge and skills from another era. Turns out Ryan studied under master luthiers in Arizona for six years before moving here in 2011 with nothing more than his tools and a suitcase full of clothes. I highly recommend going to Ryan for your guitar work needs, especially body work and painting!But Ryan can do it all. Set ups, intonation, pickup changeouts, fret issues, custom inlay, a custom guitar order you want made from scratch, repairs, or whatever. Ryan has you covered! Be sure to check out his band Quiet Hollers if you get a chance, they are hitting the road on November 5!
Don't hesitate to give Ryan a call at 502-299-7525 or email him at scottguitarworks@hotmail. com
Signal The Revolution's New Website:
One of Louisville's top original bands, Signal The Revolution, has just completed their new website and it is a doosy: www. signaltherevolution.com You can check out the jams, buy merch, see pics; they got it going on. This band is so professional, it's sickening! That is how you do it! And congrats to those guys for playing out of town so much these last seix months or so. I'd give anything to be able to tour and get my music heard to tons of new people. I can barely arrange to get my bands to play sixty miles away! But Signal has been tearing it up, Knoxville, Indy, and especially up in Ohio. I've been getting on them about getting into a studio again to record their newer song, "Day Star." I love that tune. You can see STR at my Rock For Kosair show at PHT on Friday November 15. Do not miss their set, because they don't play here much these days! It will be one of your last chances to see them here until after Christmas.
Kentucky's Thunder Tribe making waves:
Central Kentucky's Thunder Tribe is one wicked metal band, comprised of some seriously gifted musicians, which has just put out a new album. Thunder Tribe is Michael Duncan on vocals, Ronnie Duncan on guitar, Rick Seargent on guitar, Tom Dawson on bass and Chad Osbourne on drums. The band just recorded 11 tracks on the album, which was produced by Curran Murphy and recorded at Smiley Sound Studios in Akron, Ohio. I'm checking out the song "More Wicked Than Not" and it starts out eerie as heck; you can hear the oldschool influence immediately. As I have always said vocalist Michael Duncan is one of the best singers in our state. I've known this cat for going on almost 20 years (we've never had one cross word, either) and the guy sings better than ever, having really mastered his art over the years. Guitarists Ronnie Duncan and Rick Seargent are ridiculously good. Makes me sick how good they are. Makes me want to give up the guitar! Bassist Tom Dawson is a rock-solid bassist who is also playing with popular Louisville artist Olivia Henken. I don't know much about drummer Chad Osbourne, but he rocks as well. This song is a bit slower than what I'm used to with Duncan's playing, I think, but it still has that Pownd-ish feel to it. 'War Chant" starts off with a classy bass riff with awesome tone. I can already tell I like this song better than the last one. Wow, these vocals are awesome! Michael has a voice that can get so high sometimes that it can make your balls crawl into your body, not wanting to emerge. I've seen the guy hit the high note in "Cemetary Gates" and go even higher than Phil Anselmo ever did! Needless to say, Michael is killing on this recording. This guitar solo is badass. This song has great melodies. I am really liking the quality of the recording, too. The use of effects on the vocals are perfect. Good stuff. I need to listen to this track again, because I think I'm hooked. This reminds me of Fates Warning or old Queensryche, long before they cheesed out and went mainstream. "Part Of The Black" was made into a video. This is a slower, more melodic song with absolutely killer guitar riffage! I'm blown away by these guitarists. Such feeling and emotion conveyed through their instruments. You don't find that very often, especially in Louisville, where it seems to be all about how fast and technically you can play, with little feeling. Me? I'll take feeling over technicality any day. Don't get me wrong though, this stuff is not easy to play at all. But the feeling overcomes everything. Some might say this music is dated, but who gives a flying farg. Musically, 95% of Kentucky's bands can't hold a candle to the skills in this band. I know these guys couldn't care less about creating music that's accepted in today's lame music industry, and that makes me respect them even more than I already do. It's not about what is current and trendy these days, it's about what is in your heart and releasing it through your music. That is what Thunder Tribe has done. This record is great and should do well overseas, where metal is still popular. If I was these guys, that's where I would really push this product! Congrats are in order to Thunder Tribe for making such a good album, and for being a band who sticks to their roots!
Littledidweknow Review:
I recently got to see a hardcore/grindcore or deathcore band (some kind of metalcore) that I hadn't seen before and, boy, was I impressed. The band is Louisville's Littledidweknow, and do these five guys play some wild and crazy music. I am a metalhead through and through, but this is some modern molten metal if I've ever heard some! The music is very technical and brutal. Blistering, really. The band is like "Star Trek," they boldly go where no one has gone. The guitar skills of Mike Kruse and Brent Allen are all over the place. It's some very technical stuff that I wouldn't even want to try to learn, because it would be a bitch to do so! Low, down-tuned crisp riffage with tons of crunch make this enjoyable to watch. Those guys make the guitars their bitch. Bassist Evan Fowler was off the hook and has some excellent chops and bass tone going on. It's easy to see the guy is a pro. The drumming was sick as well. The vocals of Kelly "Sully" Sullivan are perfect if you are into the whole grindcore brutal vocals thing. The guy can scream like a banshee on her period. This band's music changes a lot and you rarely hear the same riff twice; instead. it's more of a roller coaster ride through hell and back all the while observing all the demons in their natural habitat. Littledidweknow is madness personified. And if you like bands like The Faceless, Between The Buried And Me, and other extreme metal bands, then you surely need to check our local guys Littledidweknow. This chit is el sicko! In a good way.
MF5, Weather KO's Annual Cancer Benefit:
Cold weather and high winds hurt Allen Ashbaugh's Annual Cancer Benefit at The Bullitt County Fairgrounds on October 25 and 26. Despite having a thriving lineup of the region's underground bands, the show did not do well, I heard. It's a shame, because Allen worked his butt off to make this a great show and to do some good for the Cancer Research Center and Louisville music scene. I'm thinking Allen lost out bigtime financially, with all the money he put into this show. Not to mention he was most likely unable to get a profit to donate to the Cancer Fund. He always puts a ton of money into providing a great atmosphere/quality stage sound for the bands playing these shows. I feel bad for him for having put so much into this event. There is always next year! Although he may want to have the event earlier in the year though, just to be safe. Good job, regardless Allen! You did your best and that means a lot. Be on the lookout for MF6.
Year Of The Gun to Record at Earlygrayce Studios in December:
I'm sooo stoked. It's been at least two years since our band Year Of The Gun recorded any music, but that is about to change very soon, as we are set to go into Earlygrayce Studios in December to record four or five songs with well-known Louisville engineer Jordan Haynes, who has quite the reputation as a man who has mucho talent as a musician and as a engineer who can capture the essence of a band on tape. I think Jordan is perfect for recording the type of music we do and we can't wait to get in there and kick some butt. The new stuff should be out sometime around Christmas. Just in time for my birthday! Sweet.
Musician Of The Month, guitarist Travis "T-Raz" Mudd of Two Pump Chump:
Don't miss our LMN Musician Of The Month feature on Two Pump Chump guitarist Travis "T-Raz" Mudd. This guy has been playing Louisville a very long time, indeed.
Hellfire Militia Demo!
I'm sitting here listening to my first dose of Louevil's Hellfire Militia and this stuff is brutal to the extreme. These guys are from very experienced metal bands in our city's history, like My Own Victim, Snake Eyed Savior, Kallus, Caldera, Graveflower and Ky Deathwish. I've learned that any band guitarist Jeff Toy is in is gonna rock Dude is a riff machine with feet. It's uncanny. He cranks out good riff after good riff in each band he is playing in. This newer band is killing it! Hellfire Militia is JD Hall on brutal screams and growls, Jeff Toy on mean, angry guitar, Todd Conn on the thunderous bass, and Jason Proctor on the dead animal skins. The song is called "Blacken The Sky." The music is all-out heaviness with no compromise, but there is some nice groove going on with the music, so those of you who do not like some of the heavier death metal stuff could still like this music. It's thrashy, old-school crunchy metal with a hardcore twist. It's kinda hard to not like these riffs if you like metal music. These guys are some of my favorite metal players in Louisville. It doesn't get much better than this, skillwise. Although the extremely brutal vocals personally don't do it for me (I'm a wuss, I reckon, I like both singing and screaming in my metal. I'm a King Diamond fan, for god's sake!), I'm sure metal fans will love what JD does with the crazy vocals. I do dig the music big-time though. The quality of this recording is awesome, too. I commend Lot 49 Studios for the quality of this recording. I might have to look into recording with my band Krosjoint there, if prices are decent. I'm planning on doing some shows with these guys real soon, so I'll let you know something when it's confirmed, which shouldn't be long.
Kreator, Overkill and Warbringer!!!
Old-school, baby. You don't want to miss seeing these metal titans when they come to Diamond Pub on Thursday, November 21. I've had the pleasure of opening for Overkill twice and I'll never forget it. And a few years back, I drove to Chicago to review Kreator and Voivod and Kreator kicked so much butt. So if you are an old-school metal fan, buy a fargin ticket and support these badass bands, and Diamond Pub. A truly cool venue that we need to make sure stays open for good!
The Guitar Center Guitar Battle Winner. . . . is:
Congrats to Cheyenne Powell, a very talented young man who recently won the Guitar Center Guitar Battle! Cheyenne went against many great guitarists but came out on top to take the victory. Cheyenne plays guitar for Overload, a rockin' metal band from here in Louisville. Those guys play out a lot, so if you get a chance to see them, you should go check out Cheyenne's skills. This guy is retarded good! Another guitarist who makes guys (like myself) want to give up on guitar! I would like to say a few good words about Guitar Center. At first, I admit I was anti-Guitar Center,but after going in there, seeing the wide selection of gear, the low prices and deals they got, and the super cool people that work there, I have been turned. Guitar Center is badass! For this cool Guitar Battle! I'm sure you made Cheyenne's year! Not only that, but they have contributed a brand-new guitar to my Rock For Kosair Benefit, for the giveaways! So how can anyone not like all I have mentioned? The truth is, that I was turned before they even agreed to help us with the Kosair Benefit, but that act of kindness made it all the more sweeter. Guitar Center has a new fan in me. So thank you for all you do, Guitar Center. And thank you for helping the benefit and Kosair Charities! It means a lot that you care!
New Band Alert, 8Days:
From the ashes of broken bands of the past, four rednecks, too lazy to drive out anywhere else to jam, have found each other in order to form a kick-ass band that drives that old man down the street nuts. 8days is Sean Lee, vocals/back up guitar; Matt Buley, lead guitar/backing vocals; Sean Link, drums; and MURF, bass/backing vocals. The guys hail from Hillview and list influences like Taproot, Chevelle, Deftones and Sevendust. I've known guitarist Matt Buley a few years and he is a good guitarist who is dedicated. I'm looking forward to hearing the new music. Hopefully these guys will get into a studio soon! I'll have more info on these rockers soon.
The Bad Humor Report, Volbeat/Muppets Connection?
Rock's newest superstars, Danish rockers Volbeat have stormed the world and claimed major success in very little time. Their patented style of heavy metal, rock n' roll and rockabilly have dazzled millions. What are the inspirations behind this juggernaut? The band claims Elvis Presley and Johnny Cash made them who they are, but one man in Louisville, Kentucky, thinks the band may have left out one important inspiration for pompadoured vocalist Michael Poulson. The Swedish Chef from The Muppets! My bassist was at band practice one day when he said the singer of Volbeat sounds exactly like The Swedish Chef on the Muppets. The more I thought about it, the more I realized he is right. Poulson should have listed The chef as a vocal inspiration. Great band, but they should give credit where it is due.
Upcoming Shows
Diamonds
Wednesday, November 6 – Eye Empire, Mindset Evolution, True Becoming and 4forty9. 7 p. m. $10
Saturday, november 16 – The Whiskey Riders, Blue Rooster, Shyaway, The Protagonist, The Everyday, Losers and Black Math. 7:30 p. m. $5
Sunday, November 17 – Fates Warning w/ Halcyon Way 7 p. m. $18
Monday, November 18 – A Band Of Orcs w/ Empyrean Asunder and Threads Of Sorrow. 8 p. m. $10
Wednesday, November 20 – Primer 55 w/ T. B. A.
Thursday, November 21 – Kreator, Overkill and Warbringer. 8 p. m. $25-$75
Thursday, November 28 – 93. 1 The Fox's Gobblestock. Featuring Flaw w/ The Company We Keep, Incursion, Sintonik and Chasing The End. 7 p. m. $15
Saturday, November 30 – Iron Bells CD Release Party w/ Smoke Shop Kids, Vice Tricks, Buffalo Rodeo.
Sunday, December 8 – Whitener, Signal The Revolution, Trust Divided, The Heart Strings and Beyond Doubt. 7 p. m. $5
Expo 5
Friday, November 1 – Taking Back sunday, w/ Polar Bear Club and Transit. 7 p. m. $25
Sunday, November 3 – August Burns Red w/ Blessthefall and Beartooth. 7 P. M $20
Tuesday, November 5 – Bleeding Through w/ Six Feet Under, Winds Of Plague, Oceano, Gideon and Sworn In. 6:30 p. m. $20
Friday, November 15 – Trivium w/ Devildriver, After The Burial, Sylosis. 7 p. m. $20
Saturday, November 16 – Chunk! No! Captain Chunk! W/ Counterparts, State champs, Living With Lions, Stay fubar, Blindside Drop. 6:30 p. m. $15
Haymarket Whiskey Bar
Friday, November 1 – The Revenants CD Release show w/ Stonecutters and Ohlm. 8:30 p. m.
Friday, November 15v Static Revival, Rifle and Plastic Friends.
Headliners Music Hall
Wednesday, November 27 – Halestorm w/ Redlight King and Stars In Stereo. 7 p. m. $20
The New Vintage
Saturday, November 9 Iron Bells, Lost In Eden and Season At Sea. 9 P. M . $5
Phoenix Hill Tavern
Friday, November 1 – The Devil And The Darkness, Old School Mining Company, Krosjoint and Bury The Wicked. Free before 9pm, and only $5 after 9.
Saturday, November 23 – Sons Of Medusa and T. B. A.
Friday, November 29 – Huntress, Stonecutters, Project Heavy Death and Ritual Void. 7 p. m. $10
Friday, December 6 – Heavens Gate Gospel Revival, Reign Of Revelation, Project Heavy Death, and T. B. A. Free before 9pm, and only $5 after 9.
The Rudyard Kipling
Saturday, November 16 – Dean Jordan Howlett, Herbie Bramble III, Ricky Morse, Flowers For Judith, Clay Graham and Christian Johns. 9 p. m. $1 donation for admission.
Spinelli's (8610 dixie Highway)
Saturday, November 7 – Reign Of Revelation, Demise Of The King, Sons Of Medusa, Haethen and Dendritic Arbor. 8 p. m.
Friday, November 22 – Devil In The Darkness, Chigger, Imbroglio and Left In Despare. 8 p. m.
The Vernon Club
Monday, November 11 – The Story So Far w/ Stick To Your Guns, Such Gold, Rotting Out and Souveniers. 6 p. m. $16
Wednesday, November 4 – Norma Jean w/ Vanna, Ken Mode and Exotic Animal Petting Zoo. 7 p. m. $15