November 2013 Articles
Cover Story
Paul Moffett
Features
Eddy Metal
Columns
Nelson Grube
Martin Z. Kasdan Jr.
Eddy Metal
Blogs
Got Shows?
Send Them To Us
Bookmark Louisville Music News.net with these handy
social bookmarking tools:
Available RSS Feeds
- Top Picks
- Today's Music
- Editor's Blog
- Articles
Add Louisville Music News' RSS Feed to Your Yahoo!

Issue: November 2013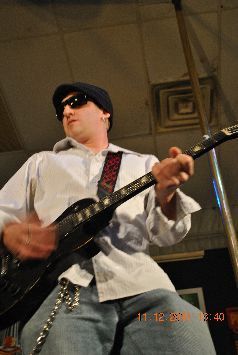 Travis Mudd
Name: Travis Mudd a.k.a "Trazsmania Devil".
Age: 35
Instrument: Acoustic/Electric guitar, and backing vocals.
Band/Former Bands: Ten Minutes, Grounded, Garden of Stone and Two Pump Chump (present).
How long on instrument: Since I started.
Equipment: 1992 Gibson Les Paul, w/hot active EMGs 81and85s, and a cheap acoustic, which sounds pretty damn good!! Play on a Marshall 2000 TLS 60-watt head, through a 412 cabinet, /a few stomp pedals and a wah. I like to keep it simple (which means I'm too broke to afford anything else).
Influences: Rock 'n Roll, Slash, Zakk, James Hetfield, Randy Rhoads, Dime Bag, EVH.
My first gig: At an American Legion. We were so young (except for the drummer) the band name was Ten Minutes, cause that's how long it took the drummer to get drunk and fall off his drum stool. All in all, we had a great time, and no one threw rotten diced apples at us!!!
Hobbies: Playing guitar and anything else to do with music. Riding my mountain bike, walking at the park, movies, throwing football, drinking and bar fights.
Favorite movies: Summer School." "Rad." "Thrashin'." "Dumb And Dumber." "Stepbrothers." "Halloween." "Nightmare On Elm St.." "Misery." "Predator." "Casino." "Scarface." "Goodfellas.
Favorite food: Pizza, spaghetti, steak, hamburgers, fries.
Favorite place: Home
Favorite sports or team: Louisville Cardinals basketball and football, Indianapolis Colts, and X games.
What I'm listening to nowadays: Always Metallica, A7X, Blue October, Pantera, Motley Crue, Primus, and TWO PUMP CHUMP!! (Grinning )
Coolest thing I've done: This is hard to pin point, but one that comes to mined was when we (TWO PUMP CHUMP) played The Village Tavern in Manhattan, NY on a Saturday night. It was everything i thought it would be and some, great crowd and a bunch crazy motherf$#$ers everywhere ... loved it!!
Most embarrassing moment: At Uncle Pleasants, finished playing and was hanging out with Mudd.(radio DJ and 93.1) He said he would give me $10 if i could get "this girl's" number at the bar. I'm like hell ya! I can do this, (got one hell of a buzz and out of money) so I went over too this beast of a person and looked up at her and started talking … got her name and number, (which i thought was terribly easy) "Destiny"!! So, I'm swaying back towards Mudd with my chest pushed out and with the piece of paper with her number on it. Mudd standing around with a circle of people looked like they were crying cause they where laughing so freaking hard, I'm like whats so funny? Mudd hands me $10 and says "Destiny" is a MAN!!! Thanks Mudd LMAO.
Bad Habits: Beer, food, women.
When/where did you first get some: I was around 12 to 14 years old, at my buddy's mom and dad's house, I was on the floor with my buddy's cousin and he was in bed with his girlfriend in the same room … don't judge me!!