September 2013 Articles
Cover Story
Kevin Gibson
Features
Eddy Metal
Columns
Berk Bryant
Mike Stout
Paul Moffett
Djinn Shockley
Nelson Grube
Martin Z. Kasdan Jr.
Eddy Metal
Alexander Campbell
Blogs
Got Shows?
Send Them To Us
Bookmark Louisville Music News.net with these handy
social bookmarking tools:
Available RSS Feeds
- Top Picks
- Today's Music
- Editor's Blog
- Articles
Add Louisville Music News' RSS Feed to Your Yahoo!

Issue: September 2013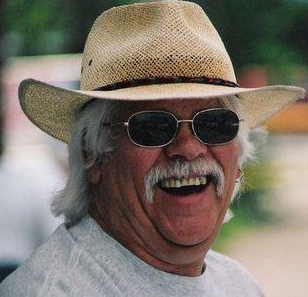 I've Got A Mind To Ramble
Graduations of James Gaetano
I managed – somehow – to get James Gaetano to sit still for two hours and to tell me his story. Here it is.
James was born in EL Paso, Texas on October 8, 1967. He moved from Dallas, Texas to New Albany in 1993 to go to bible school – the Christ Gospel Bible Institute in Jeffersonville, where he studied for ten years. There was no graduation ceremony – you KNEW if you did or not.
"I started playing at 9 years old, according to my sister who took me to my lesson. I got my first electric guitar at 12 when I was in middle school. My friend won an electric guitar and amp and I was so mad that HE won it – Dang, David! – but a month later he was tired of it, so my mom paid him $100 for it.
Eighties music – Eddie Van Halen – Randy Rhodes – "Rush" and there was this guitar player, Gary Moore – I didn't like the blues but he was a very emotional player and I liked his stuff. His records were imported – but we are products of our environs, so I played what my peer group played. But who was I? Gary Moore and Van Halen – blues in the playing.
A friend took me to see SRV at El Paso Coliseum and I liked him but nothing clicked until I went to Music School – 1989 – the Musicians Institute (GIT– Guitar Institute of Technology) in Hollywood, California. A one-year program, '89 to '90 – and I graduated. What did I do with it – what did I learn? Well I went there with a blue B.C. Rich with a Floyd Rose on it and left with a Telecaster. I had graduated.
Keith Wyatt was the head of G.I.T. and he was a blues guy. I kept going back to his classes and I realized I was disillusioned by the Eighties guitarists with their emphasis on technique and speed and [liked] the emotionality of the blues. I moved to Dallas because of the blues scene there.
I met John Ganza at an open mic thing and started the first Jimmie G and the Sidewinders. We played anywhere we could – and back then blues were really so popular, that we played all the clubs – the Greenville Bar & Grill, Schooners, the Blue Cat Blues Club in Deep Ellum (an area in Dallas) – just developing –listened to Freddie King Albert Collins, Anson Funderburgh – and I sat in with Sam (Meyers) when he was back from being on the road with Anson. He was drinking and getting mad at people – that's what I remember about him – he could be mean at times. He only liked guitar players that played like BB King – and if you didn't – he didn't want you around.
So 1990 to 1993. I was in Dallas. learning and playing with people like Jim Suhler (now with George Thorogood), Hash Brown, Mike Morgan (and The Crawl) and Johnny Moeller with the Thunderbirds now), Pat Boyak (was with Marcia Ball), Paul Size and Anson Funderburgh.
Mike (Full Moon over Dallas) 1991 – 1992 was quitting the band to be a Realtor, so he went on the road with the Crawl – but he wasn't getting along somehow, so I played around for awhile and at a record release party at the Blue Cat, they auditioned two guitar players – me and Jim Suhler. I played Mike's Danelectro and I played two songs and broke a string during each song finishing with a four-string guitar – and I once again graduated – but minus two strings.
I had two days to learn forty songs – I had to learn the whole set in two days! Then we were on the road – to Midland, Texas, to Europe, to Norway – the band then was Lee McBee who sang and played harmonica, Randy Simmons on bass, and Mark Wilson on drums (This was Anson's old rhythm section), and me on guitar.
Man, I was close – the blues were big then. On the road with the Crawl! And I was a late bloomer! I believe that the longer it takes to get in – the longer it takes to get out!
On the road with The Crawl – I wouldn't trade that for nothing! We played with Albert King at the Kansas City Blues Festival, with Earl King in Norfolk, Virginia, in Norway with Jimmy Buffet – New York – Ithaca – on a Monday night – huge stage and there were only two people in the audience – and they were from Maine – they were Mike's step-sister and brother in law and had come all that way to see Mike, so we played the show as planned (I always felt like I was learning – but once in a while I skipped a class)!
Buddy Guy's in Chicago had the worst dressing rooms. I don't drink but there were these two friends of somebody's – airline pilots – and they brought a bunch and we all imbibed , so much so that I couldn't play and the place was packed – it was Buddy Guy's! – and I just stood there grinning for awhile but then played something anyway.
…and the dressing room – the ceiling leaked, there were holes in the concrete floor and the couch looked like it had so many bugs in it that it could have danced on its own.
In Houston, Doyle Bramhall Jr. came out and played with us. I learned from all these guys – and those guys are among the top players now. In addition to what I already said – Johnny Moeller plays with Kim Wilson – Pat Boyack also worked with Doyle Brammet senior, and Hash Brown – he ended up with a massive record collection and then he worked in a pawn shop and bought up all the vintage equipment that came through the door.
This was a great learning experience but it was time to graduate to something else, so I quit the Crawl after eight months – playing "other people's music" (Mike's) was getting old and I found out that fame and fortune are not all there is – they are not ALL, not everything.
So I graduated back to Jimmy G. and the Sidewinders, who then were John Ganza, Doug Swancey on drums and Lisa Dupree on vocals. Doug owned a bus and worked as Bugs Henderson's and Anson's bus driver. Bugs Henderson wanted me to play guitar for me but I declined, as it was more rock than blues.
JG and the Sidewinders entered a contest at Charle's Guitar Shop and we put on the best blues band show and won! And Zack Wilder played after us.
Anson mixed our recording but I didn't like it. So I quit Jimmy G. (me) and moved to New Albany. Somewhere in here, I got saved. I took the Fender emblem off my amp and replaced it with a "Jesus" sticker. The back of my Fender guitar had been signed by Albert Collins who wanted to carve his name into it, and he had the blade to do it with him right there but I stopped him. Then I put a "Jesus is Lord" emblem on the back of my Fender so it would show when I played it behind my head to flash the crowd. Then I realized that when I flashed the guitar – it would say: ALBERT COLLINS and JESUS IS LORD.
Man, but vintage guitars were available then at low low prices.
Anyway – we won the competition and I graduated again – this time to being saved – the music lifestyle no longer fit me. I realized that there had to be more to life than that – and I wanted to go to Bible school and that is how I ended up in Southern Indiana. I quit playing out when I decided that I needed to do more spiritually, so I joined a Gospel Group and played in church – and as a part of the Gospel Group, we played penitentiaries for six years in Kentucky and Indiana.
The Kentuckiana Music Center in New Albany – yes, the same one that Fred Helm ran for years – was starting to offer in-store music lessons by Jim Dowell. I got a job teaching guitar there and taught until 2006 when the owner wanted to sell the place. My wife Debbie (wife and also at least 4 children) and I decided we wanted to be music store owners and we became music store owners – that was seven years ago. We had to move the business three times and now have settled at the old Woolworth's building at 123 E. Market Street and have been there for four years.
I started Jimmy G and the Sidewinders up again in 2009 because I wanted to have a backup band for the store.
One of our first jobs was at Harvest Homecoming that year. We also went up in the Knobs to the Strawberry Festival in Starlight, Indiana, taking the President of KBS, Gary Sampson and the Treasurer, Chris Grube with us, plus Denny Thornberry too – harmonica player for River City Blues at that time. Although there were a gazillion strawberries around, there was not – to Denny's chagrin – a place to get an adult beverage any closer than back over the bridge to Louisville! The band played really well but with bellies full of strawberry concoctions and at noon on a sunny warm day and with many just coming from Church – and inside a hot tent – not many got the blues!"
Jimmy thinks that (and rightfully so) that his move to the center of downtown New Albany has helped with other businesses opening up. He has a good number of students in and out and that usually means parents to drive them and they needed some place downtown to eat. Today there is a bustling little downtown there serving many types of food and there is a lot more credibility in this area with musically educated kids– some examples:
Matt Meyers was Gaetano's student and he was on Conan 0'Brien recently with Houndmouth
Tyler Stiller with A Field of Kings attended Gaetano's Rock School.
Houndmouth's Zak Applebee and Katie Tupin both went to Gaetano's Rock School.
The store's influence in the area has brought youthfulness to downtown New Albany. When thethe store first opened, downtown New Albany was a ghost Town, and now there are more places to play.
Now James is working in and/or with three bands. For two years, he has been playing with the country band Olivia (Henken). He was playing at Gilbert's because he knew the owner from church and Olivia's guitar player quit. The band opened for Charlie Daniels, Kip Moore, and Candy Boburn at 4th Street Live.
That's the country side– for the KBS Blues Contest, Gaetano got with "Doug Wright and the Nomads."
Reading back this story reads funny in places but hey, we were at the New Albany Winery on Bank Street for a couple of hours – and in the middle of the afternoon at that – and we had cheesecake after lunch – mine was slathered with caramel – so we were not our normal selves until after supper! And it is a true story straight from a Texan's lips. More or less.