September 2013 Articles
Cover Story
Kevin Gibson
Features
Eddy Metal
Columns
Berk Bryant
Mike Stout
Paul Moffett
Djinn Shockley
Nelson Grube
Martin Z. Kasdan Jr.
Eddy Metal
Alexander Campbell
Blogs
Got Shows?
Send Them To Us
Bookmark Louisville Music News.net with these handy
social bookmarking tools:
Available RSS Feeds
- Top Picks
- Today's Music
- Editor's Blog
- Articles
Add Louisville Music News' RSS Feed to Your Yahoo!

Issue: September 2013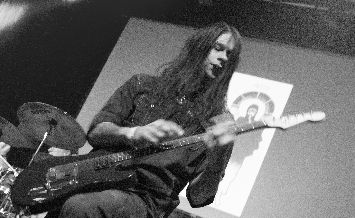 >Nathan McDaniel
Name: Nathan McDaniel
Age: 33
Instrument: 6, 7, 8 String Guitar/Bass.
Band/Former Bands: Chigger and (Ohlm) currently; formerly, Kallus, Sevenfold, Antikythera, The Dogs Divine, S. L. T. T. to name a few.
How long on instrument: 23 years
Equipment: In (Ohlm), I play an array of Fender guitars but my main is a Fender American Big Apple Strat w/FR. In Chigger, I use a late 90's Ibanez RG 421 7-string and an RG 8-string. My pedals are all over the place, so many. I will say I use a lot of delay pedals.
Influences: Just about any old Death metal or Prog. Chuck Schuldiner has been a huge influence. Black Sabbath are my favorite band and the reason I play guitar. I've always been a big fan of instrumental music so, of course, Satch, Lifeson and Vai play a big role. GYBE, Pelican and so on.
My first gig: Fern Creek Community Center 1994, I was in a band called Autopsy (before I heard the original). We opened for Dump Gang, Undecided and Mindstorm. I remember being nervous as phuck and Nick Houpt takin me to his guitar player and he helped me, uhh, calm down. The bands after us blew my mind and I had been on a big Sepultura kick at that time. I told my band while watching Mindstorm that I was gonna quit if we didn't start playing music like that. Next day I came and picked up my gear.
Hobbies: Camping, Playing Guitar(still), Shopping for old Records/Cassettes.
Favorite movies: Tombstone, Red Dawn, M. I. B, Big Trouble in Little China, Gladiator, Evil Dead & Lawless.
Favorite food: Pizza.
Favorite place: My couch.
Favorite sports or team: I'm not a sports fan but I dig some hockey.
What I'm listening to nowadays: As of late, I have really been on a Napalm Death kick. I listen to a lotta Scale the Summit as well. I strongly urge all Prog lovers to check out this band. And if you've never heard Napalm Death, you are missing out!
Coolest thing I've done: I got to share the stage with my favorite singer once. Chris Hall from Stabbing Westward. They were our direct support during the Flaw tour, why is beyond me. At the time they were "the Dreaming" and needed a fill in while 2nd guitarist flew back to L. A. to play a show with Berlin. I was off for a week and needed a break from our camp. I learned the set in two days. We co-headlined with Dave Vincent's other band. the Genitorturers. They even played my favorite "Stabbing" song. Shame and I partied with Dave and his wife Gen all night. I'll never forget that.
Most embarrassing moment: sharing a stage with Chris Volz; in general, my hairstyles in the early 2000's
Bad Habits: A lot to name, bro. Smoking cigarettes might be the worst one.
When Did You First Get Some She was my partner in crime and had a license. She was changin for work after a J and I saw her naked. I told her she was scared to take my virginity, dared her, she wasn't.
If you could meet a Rockstar ( p ast or present), who would it be, and why: That's a really hard one. I guess it would have to be Ritchie Blackmore. As a lead player, I feel he was very ahead of his time. Technique was flawless and he seemed to set the bar for shredders to come. Plus he's got style.
Who do you love: You, Eddy, so much it hurts. George Thorogood asked me that same question the other day. No really, like Ozzy. I love you all.