September 2013 Articles
Cover Story
Kevin Gibson
Features
Eddy Metal
Columns
Berk Bryant
Mike Stout
Paul Moffett
Djinn Shockley
Nelson Grube
Martin Z. Kasdan Jr.
Eddy Metal
Alexander Campbell
Blogs
Got Shows?
Send Them To Us
Bookmark Louisville Music News.net with these handy
social bookmarking tools:
Available RSS Feeds
- Top Picks
- Today's Music
- Editor's Blog
- Articles
Add Louisville Music News' RSS Feed to Your Yahoo!

Issue: September 2013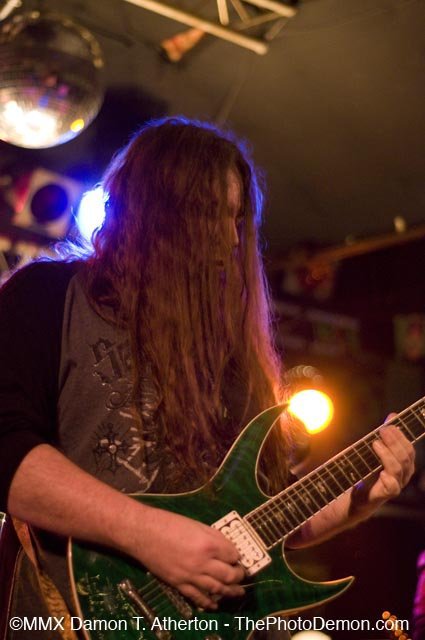 News From the Pit
Hello, all. I hope you good people had a great summer like I have. The weather has been very strange this summer though, first all that rain, and then 70 degree temperatures in mid August? What the heck? It's usually the hottest time of the year here in Kentucky. The scene has been doing pretty well this summer, too. Lots of shows both nationals and local. Lots of good times. I've had a blast playing out my music and checking out other local bands showing off their original music. To me, original music is the life's blood. Any rocker can get onstage and attempt to imitate top 40 radio music, but to create your own music and lyrics from absolutely nothing is, well- there is something to be said for it.
I recently saw Skid Row, Quiet Riot and last but not least one of the best metal bands of all time Black Sabbath. Talk about a recent blast from the past! A triple whammy if I ever saw one. Be sure to read my Black Sabbath and Quiet Riot reviews below! I wanted to go see Chavelle at the Fair, but I didn't have enough money to do Black Sabbath and the Fair, so I chose Sabbath! Duh.
I did finally get to go to the Fair to see Black Stone Cherry and Theory Of A Deadman, though. (See review below).
I have a few new bands and CDs that I have reviewed for your pleasure. I hope you like it. I always like to hear brand-new music and bands that do their own thing, especially if they aren't trendy or following certain styles. Too many bands have the same style/sound. It gets old after a while.
Fortunately you get a few bands that are doing their own thing, and doing it well.
Fall is quickly approaching and you know what that means: The 9 th Annual Rock For Kosair benefit concert. Helping poor people to be able to give their kids a decent Christmas since 2005. Can you believe we have raised at least $43,000 in toys, maybe even more! I know, because we went to buy them! You have no idea how much $43,000 in toys is. OMG.
This is the best/most unselfish thing I have ever done in my life, and I am very proud to say that this little event (that means the world to me) has helped the Kosair Charities annual Christmas toy drive a heck of a lot each year since we started. The people at Kosair are wonderful people. The bands that have made this annual toy drive successful have been great, for not thinking "How much money will we make," but of giving at a time of year known for giving.
I'm going to need your help on this stuff, people. I cannot do this alone, nor do I want to even try it alone. I like working with good people to do some actual good for the community. This is a group effort and everybody must come together for one great cause. This year we will be having Rock For Kosair IX on Friday November 15th at Phoenix Hill Tavern. So far I have Whitener (former Days Of The New and Tantric guitarist Todd Whitener's new project.), Signal The Revolution, Unleashed, Year Of The Gun and Some Kind Of Saint booked. I asked a few of the bigger Louisville bands to play, but they are too busy or too greedy to participate in a No-Profit Benefit to aid kids in need. I tell you, it is a big disappointment how some people act once they've had a few good shows under their belts. Everything is about money these days. Egos and greed. Even if I was in a signed band, I would have played (if not on tour) this important home town show to help the Kosair kids. Oh, well, what can you do?
Let us not focus on the A-holes, but focus instead on the bands who are donating a performance for this great night of Louevil rock bands to come together for one cause: to do some good!
Speaking of doing some good, don't forget Allen Ashbaugh's 5th annual cancer benefit concert named MF5, located at the Bullitt County Fairgrounds on Friday and Saturday, October 24 and 25. It sounds like a brutal metal showcase by all the heavy bands on the bill. Should be a lively event. Check out the lineup in The Metal Grapevine!
Support our regional unsigned artists!!!
The Metal Grapevine
Black Sabbath Review:
OMG. This show was epic. Leading up to this show, I kept hearing negative things about Black Sabbath and it was starting to get to me a little. One guy was saying on Facebook that Ozzy is an old clown who can barely talk and has no talent whatsoever (that made me mad and I replied "Ozzy is a legend! And no amount of insults and remarks will erase what he accomplished!"), and another guy said he heard Ozzy sounded terrible in recent gigs. So yeah, these things got to me a little but it wasn't nearly enough to persuade me to not go see Black Sabbath in Indianapolis on August 18 at Klipsch Music Center. The trip didn't start out great, as I was not approved for media tickets or photo pass to cover this event as I had hoped to, even though I had given this show exposure for months in advance. This was the first concert that I had to pay for in probably 20 years, since I've been a rock columnist for 12 years, and before that I was on 100.5 The Fox's local music show. But I wasn't going to let corporate greediness stop me from seeing these greats for probably the last time ever. So some friends and I packed up the van and headed north to Indy with party favors galore.
To my utter amazement there was no opening band, but instead they had some totally lame DJ spinning classic metal records on a turntable, on the main stage! Ridiculous. It was some pud named Andrew W. K. Seriously, this is the best opening act they could find? Horrible. I didn't drive two-and-a-half hours to get there early to see some DJ spin records. Very disappointing. My band would have done it for gas and hotel money and would have really got the crowd going. This wicked crowd deserved a good opening act. Anything would have been better than this DJ cheesiness.
Oh well, Sabbath was the reason for this trip, so I'll get back to that.
The weather was very nice, clear sky, the moon was almost full, and the crowd was phat. I would say that it was about 90 to 95% packed. And you all know how big that place is. It made me feel good for Sabbath that so many could not wait to see them once again.
The show kicked off with "War Pigs" and "Into The Void." I could tell right away that all rumors and negative comments were bullchit. The band sounded fantastic. Replacement drummer Tommy Clufetos (former drummer for Rob Zombie and also touring drummer for Ozzy Osbourne's solo band) was killing it. "Snowblind" absolutely kicked butt, and Tony Iommi's guitar solo sent chills up my spine and made every hair on my arm stand straight up. Iommi is one of my guitar inspirations and true guitar heroes. He may not be super-technical like today's guitarists but he has feeling out the wazoo, and not many can play with the same heart and soul that Tony Iommi does. The poor guy has been battling cancer for a few years now and is one tough old bird, indeed, and I love him to death. I could tell from the mile-wide smile on his face as he gazed out over the sea of people in front of him that this is his life's passion and that if he were to leave this world soon, it would be on his own terms, and he would go out doing what he loved: playing to his fans! (I am almost tearing up as I write this. I'm such a sentimental cheeseball!) They played a new tune off of the new 13 album called "Age Of Reason" and then the classic "Black Sabbath." This song is badass and one of my faves. And it is kind of hard to sing, too (I'd like to see the pud who said Ozzy has no talent whatsoever, try to hit those notes correctly!), but Ozzy nailed it. Ozzy sounded like he did 15 years ago. Rumors were flying around that Ozzy is now sober and doing yoga and other health stuff. If true, it seems to be working just fine, because Ozzy was all over the place, energetic and sounding perfect.
Next up was "Behind The Wall Of Sleep," a tune with serious blues influence. Twenty thousand heads rocked in unison to the music. After that, it was legendary bassist Geezer Butler's (who also wrote most of Sabbath's cool lyrics) turn to shine as he went into a cool bass solo. He had a bass wah pedal and the cameras (huge movie screens you could see even way in the back of the venue) were on his feet as he worked that bass wah. Geezer's tone was thunderous to the extreme. At the end of his solo, he played one of the most famous bass intros in metal ever. The famous bass intro to "N. I.B," another song which Ozzy was in fine form, especially the breakdown when he sings "Your love for me has just got to be real. Before you know the way I'm going to feel." Arm hairs standing on end again.
Then they played another new song and this is was much better than the first new song. It was called "End Of The Beginning" and this song made me realize that Tony Iommi had gotten better and improved as a guitarist. Think about it. Tony has to play all these riffs just like he did 30 or 40 years ago, with no room to compromise or to add in new riffs, or to make old riffs better! With the new songs Tony could do whatever he wanted. He could showcase his newer riffs, new stuff he learned, new techniques, and show that old dogs can do new tricks.
His leads in this new song were scorching! It was awesome.
Drummer Tommy Clufetos then came to the rescue to give these older fellas a much needed rest for a few minutes while he destroyed on the drums! Very impressive work by Mr Clufetos. He even looks like a young Bill Ward. I have to admit my disappointment that original Sabbath drummer Bill Ward could not be a part of this tour due to health issues. As much as I wanted to see Bill Ward in action one last time, I doubt he could have rocked as aggressively as Mr Clufetos did (except when Ward was young!). Seeing Sabbath with a young beast of a drummer (who plays like he just snorted two grams of pure Bolivian white) on drums was wicked. People were talking about that drum solo quite a bit.
Speaking of drugs – I have never seen as much pot smoking at a concert, probably ever. Even back in the old days. It seemed almost everyone around my group was toking away. There was a perpetual haze over the arena from the start. There was no way security could quell 20,000 Sabbath fans this night. No frikkin' way. Ozzy commented on the over abundance at least four times saying stuff like "I'm getting a contact high up here, you guys get some good sh*t." and "keep oooon smoking!" Heck, at one point, I almost fell over face first, and I wasn't even drunk. They played "Fairies Wear Boots" "Rat Salad" and the classic "Iron Man," where Iommi once again soared on his guitar solo. They broke out their new hit single "God Is Dead" and it sounded perfect. Just like the recording! Then they played an old obscure song called "Dirty Women" off 1976's Technical Ecstacy album. Very cool. A very powerful and rockin' "Children Of The Grave" was next as the night came to an end. The encore was a song that's not my favorite, "Paranoid." The crowd went nuts, however. What a show. I'm so glad I decided to go with all my friends. Like I said, Ozzy was incredible. He is the Mel Tillis of metal. He may not be able to talk all that well, but the man can throw down on some vocals.
Leaving the arena was a nightmare. Traffic didn't move an inch in 40 minutes, but luckily, I spied a back road no one was using or even looking at, so we risked it and it led us straight to the highway with no wait.
All in all, it was an unbelievable event. Great sound, great venue, super cool laid back people, and legendary musicians performing at the top of their game. It was truly epic. If you wanted to go but didn't, you screwed up royally, because I doubt they will tour around here ever again, if at all.
Quiet Riot at Diamond Pub Review:
I just got to see – and open for – Frankie Banali's Quiet Riot in August 9 at Diamond Pub and Billiards with local acts Popkiss Chainsaw and Rockaway Drive, plus my band Krosjoint. Yeah, yeah, the drummer was the only original member, but it was still a fun night and a trip back in time to hear some old classics, redone with style. Yeah, it kinda sucked not having guitarist Carlos Cavazo and the late great vocalist Kevin DuBrow, or bassist Rudy Sarzo on board, but sh*t happens and you got to move on with life. The locals really tore it up this night. Every band did good. Props to all of you. I personally had a blast playing on the same stage as Quiet Riot.
Great response and everything. I was a happy camper.
Quiet Riot hit the stage and I was ready to see what this new version of this legendary rock band had to offer. Back in the early Eighties, every kid on the block had a Metal Health cassette! Ha. "Metal Health (Bang Your Head)" was a bona fide hit and kids across the nation ate it up like candy.
Quiet Riot played "Run For Cover" "Slick Black Cadillac," a Slade cover "Mama We're All Crazy Now" and two of my faves (even though they neither was one of their big hits), "Sign Of The Times" as well as "Condition Critical," the title track off of the album Condition Critical, an album that was underrated, in my opinion. They played "Love's A Bitch," "Thunderbird," – which is a tribute to the late great QR guitarist Randy Rhoads – "Put Up Or shut Up" and "Let's Get Crazy," with guitar solo by guitarist Alex Grossi. The guy can play fine, he was shredding, but his tone wasn't the greatest. It seemed to lack the power/gain need to imitate such classic tunes. Heck, I had a few people say my guitar tone/sound was better than QR's guitar tone. Mr Grossi might need to change his amplifier head or tubes or something. The band finished this fun night with the classic Slade cover "Cum On Feel The Noize" and their 1984 smash hit "Metal Health (Bang your Head)" which was featured on the hit movie Footloose.
Of course, Frankie Banali was rockin' on the drums. Vocalist Scott Vokoun did a good job recreating Kevin DuBrow's raspy vocal technique. He sounded a lot like DuBrow, but the vocals were a bit too dry for my tastes. A little reverb wouldn't have hurt. I don't even think they used a reverb or effect at all. Bassist Chuck Wright was good too (but wasn't no Rudy Sarzo by any means). And guitarist Alex Grossi was just sorta there. The guitar sounded good but was a bit lifeless. Together they made some "Noize." It was Quiet Riot songs played well. Sung well. Represented well, well … all except the guitar tone. I had a lot of fun hearing those old songs live, some I haven't heard in years and years. The sound at Diamond Pub was good this night. The crowd could have been a little bigger for such a classic name like QR, but I think four-fifths of the original members not being there hurt the turnout.
Props to Diamond Pub anyways for remembering us older Eighties loving rocker folk and the bands we grew up on! And for bringing them here to rock out for us. Thanks Diamonds!
Black Stone Cherry and Theory Of A Gayman Review, and R.I.P to the old Cardinal Stadium:
I finally was able to go to the Fair, and my lady friend and I had a blast. The setup of the shows at Cardinal Stadium was different this year, because they will be tearing down the old stadium, I hear. The bleachers and seats are in disrepair and it is time to tear it all down. This saddens me a little, because I have witnessed two "classic metal" Louisville concerts there at the old stadium. Both Ozzy shows in 1984 and 1986 were barn burners that I'll never forget, and I'm betting the Fairgrounds will never forget them too. Good ole crazy Ozzy.
First we were at the Bud Tent, where they usually have some rockin' bands, but not this year. At least when I was there. They had some top 40 rock band that was just plain, uncool. No edgy music at all. No character at all. It was rock aimed for the masses. The problem is it did not appeal to anybody it seemed, it was so boring. So we decided to go to the Fairs free rock concert early to see the new concert layout.
They had the stage set up on the baseball field and the sound was 100 times better. The last few years, the sound quality was atrocious. Distorted drums, low guitar volumes, muddy PA system, it was terrible to the point of us leaving to go to the Bud tent right in the middle of the show. But this year, the sound on the ground facing the field was much better. You could actually hear the instruments. First up was a good band called Devour The Day from Memphis. I liked their sound and they weren't bad at all. Nice guitar tones and the singer could sing! I was having so much fun walking around talking to you good people who always recognize me and stop to say hello. I'm kinda shy around peeps that I don't know well, so I apologize for sometimes not being the most talkative feller. But yes, I love seeing friends out, old and new.
The next band, Edmonton, Kentucky's Black Stone Cherry (a band I've always admired) rocked out as usual. I haven't seen these guys in a few, but they still jam out as good as ever. They are some busy guys! Seems like they are always on tour. They played a version of Joe Walsh's "Rocky Mountain Way" that sounded real good, if a bit slow. Guitarists Chris Robertson and Ben Wells work very well together and Robertson's leads are smokin' these days. Drummer John Fred Young is a beast on the skins. Good music with soul. And that is what Kentucky music is about. Soul. They ended the set with a rockin' version of "Lonely Train." These guys represent Kentucky in a very good manner, and all the touring has paid off. They are a completely successful band now and I wish them all the best luck.
The headliner, Theory Of A Deadman, was totally lame. I gave them a chance. I sat there and tried to get into the music but I couldn't. It was way too weak and ball-less for my preference. My testes slowly disappeared into my body and if I would have stayed I would have been de-balled by the end of the show. I like music with a kick. This was a lame duck. Black Stone Cherry should have been the headliner.
I'm sure a lot of the women liked TOAD's music. But I couldn't get into it at all. It literally killed the night! No joke. So we left to go home and get freaky in the sack. A much wiser choice than watching TOAD. Good food, cold frosty beer, decent bands (except TOAD), lots of friends, and some awesome lovins after the show made for a memorable night indeed. I'm glad I went to the Fair. What a blast.
New Band Alert, Chigger:
Chigger is a new band comprised of well-known Louisville metal/rock musicians who want to keep their identities hidden. They do so with masks and mud. I love the name.
Chigger! I remember as a boy I used to get Chiggers. Boy oh boy, do they itch! A few times I got them on my scrotum, and I about rubbed those little nuggets raw. Not fun at all.
The music of Chigger is self-described as Texas chainsaw metal, and it is achieved by using seven and eight-string guitars. The guys have nicknames like Zeke on Guitar, Sol Daddy on vocals, Unk on guitar and Jebadiah on drums (no bass player is listed?). I'm checking out a demo and it sounds out there a bit. There is some great groove going on here, though. The song is called "Skynrd And Titties" and it has some good chicken pickin' riffage in it. Sweet leads. These two players are darn good guitarists that I have respected for a while now. One I have known since 1991. He has played in numerous bands, even national touring bands. There are no vocals on this track as of now. But I can hear some redneck vocals going along with this in my mind. I don't think an all-out screamer would work as well for this music. There is too much going on, and it calls for a good singer. I do like the song titles, though, like this next one "Bullitt County Rape Kit." My god, are these riffs tuned low! I like low-tuned guitars, but damn. Can you even buy a tuner that can register these notes? The groove and tone is monstrous. The drums of Jebadiah are awesome as always. Dude is a beast on drums. I wish these tracks had vocals, though. I think this band would be interesting to see live, so I'm going to have to get out and go support these Louevil veterans real soon. Can't wait to hear vocals on these tracks. Chigger has some really good talent in this band and they should do well. To me. it's progressive groove redneck chicken pickin' metal with some doom thrown in for good measure. Sounds like a good original combo to me. Be on the lookout for these crazy guys at a club near you!
Iron Maiden and Megadeth coming to Nashville in Sept 5:
Here is one you should surely mark your calendars for: Thursday, September. 5 in Nashville at the Bridgestone Arena (I reviewed The Scorpions and Ratt there a few years ago, and it was a nice venue with good staff who treated us here at LMN great.) It's British metal legends Iron Maiden, with American thrashers Megadeth! Last summer, I drove to Indy to see andreview Maiden and it was superb! Well worth the two-and-a-half hour drive. It was one of the best shows I've seen in a good long time. So do not miss this chance to see one of the all time metal greats live in action. This is something special to see and hear! And count Megadeth on top of this? A Must See!!!
MF5, the Jeremy Noe Memorial Cancer Fighting Weekend:
Promoter Allen Ashbaugh is back with another Cancer Benefit Concert for metal lovers. His 5th Annual Cancer Benefit MF5 will be held at Bullitt County Fairgrounds on October 25 and 26. MF5 (formerly Metal Fest) is an annual music festival to support the cure, research on and treatment for cancer. Donations will be going tohttp://www.jimmyv.org/ which gives 100% of its donations to research or treatment. Every year for the past four years, Allen and several bands from Louisville, Kentucky and the surrounding regions have come together for two nights of rockin' music and friendship. Allen and friends are back for MF5 in 2013 to do the same!!
Friday night features; Kyzer, Billtown Road, One For The Doc, Underwater, Moonlight Theory, Yesterdays Diary, The Lost River Cavemen, The Lonesome Cowboys, My Addiction, Second Nature.
Saturday night features; Luther, The Stonecutters, 6 to the Third, Slit Throat Vendetta, Granshaw, Devil And The Darkness, Great Floods, They Left Her Body In The Woods, Sons Of Medusa, Chigger, Two Pump Chump and Bury The Wicked. Also two huge bounce houses, one pink ambulance that we can sign, vendors, food vendors, a movie outside both nights (weather permitting), costume contest, pumpkin painting contest, and pumpkin chunkin'. Should be a good time.
Kamelot coming to Diamonds September 27:
I'm excited about this show. I've never seen Tampa, Florida's, Kamelot before, as they don't tour around here much. I dig their symphonic power metal style and the vocals of Roy Khan are awesome. I just recently learned that the band has a new singer, which floored me. A Swedish cat named Tommy Karevik has replaced Roy Khan. Khan's vocals were what drew me to Kamelot, so I guess I will have to check out some of the new stuff. Why wait? I love Youtube! I'm watching new Kamelot and the new singer is very good, almost as good as Khan. He sounds very similar to Roy Khan. Okay, I'm still liking the band's music despite a new singer. Feedback on Youtube says that the new guy is doing very well at filling Khans rather large boots. Man, that would be one tough vocalist to replace! This Swedish dude has balls. Get your tickets, this is going to be sick. In a good way!
Rock For Kosair IV, Seeking Bands:
Yup, it's about time that I started to get an idea about how I want to present my annual Rock For Kosair Benefit Concert in November. If you have a theme or idea about a band that would be perfect, give me a shout and I'll see what can be done. Of course, the most important thing is to raise as much money as possible for toys for the kids at Kosair Charities for Christmas. So I'm going to need all the help I can get doing this. So far you people have been great help and have really shown that you do care. So my deepest most sincere thanks to you. Let's make this year the best ever. If you have ideas how to generate more money for the kids, I'm all ears. EDDYMETAL1@aol.com
The Whiskey Riders CD Here To Burn Review:
T he first thing I noticed is the sweet artwork on the CD. Very professional and cool looking. This CD, I am told, is a concept album that basically tells one big long story from start to finish. Singer Johnny Blaze says "The story is about life's journey, the hard times, the dark times and overcoming your demons, like alcohol and drug addiction. It also gives a little hint of going against the corrupt powers that be."
"Here Come The Whiskey Riders" is a good song. I liked it from the first demo I heard it on. But this version sounds much better. The vocals of Johnny Blaze sound great, as does the guitar tones. Great songwriting and groove. It reminds me a lot of Corrosion Of Conformity's music. For a self-recorded CD, these guys have done a pretty good job. (They have their own studio, Bearbones Studios, in Sellersburg, Indiana.) "Shotgun Sisters" is a bit more bluesy. I dig the opening guitar riff. So far, there are some real good soulful guitar parts on this CD. Pretty. Rockin'. "Time Bandits" has a guitar tone that sounds a bit too metallic and tinny for my tastes, but it works okay for this song. "Sunshine" is probably one of my favorite WR songs. It starts out with a really clean guitar sound. It has a Kentucky down-home sound that many here can relate to I'm thinking. The vocals and backups are very good, indeed. These guys spent a lot of time in the studio recording this CD.
"Big Bad Wolf" starts out a lot like "Here Come the Whiskey Riders" but quickly goes into it's own entity. This band rocks. If you like Down, C.O.C, Trouble, and other bluesy influenced metal, then The Whiskey Riders are right up your alley. Vocals/Guitarist Johnny Blaze is all over the place with his crazy style. The guy plays lead and sings at the same time. Not easy to do. "Old Man River" sounds fantastic in the intro. Some lovely acoustic sounds going on here. Perfect! I'm impressed with the sound quality of this do-it-yourself recording project. The song kinda lost me in the middle, but towards the end, it rounds out well. Cool, laid-back drumming towards the end. "Find Our Way" is an acoustic ballad with piano and good harmonies in the vocals. "Symphony Of The Lost Boys" is the ending song and it features acoustic accordion music in it. You don't see much accordion music in the Louisville rock scene. It almost sounds like an old sailor's song with the accordion sounds.
This is a very weird CD. It has a lot going on. Blues, punk aspects, soulful groove, actual singing (Thank god! I'm tired of all the cookie monster nonsense in a lot of today's bands), metal, narrated parts narrated by Mike "Papa" Armstrong, a rockin' musician in his own right that I used to work with several years back; guest apprearances by female vocalists CJ Anderson and Cheryl Anderson on two songs, piano, organ and I thought I even heard a banjo or mandolin in there once or twice. This CD is chock full of guitar parts that rock, backed by equally rockin' vocals. Like I said, these guys spent a lot of time in the studio to record this. It's different and fun to listen to. And these guys are a trip to see live. They are not boring, that's for sure. If you want a redneck rip roaring good ole rock n roll time, then you need to hang with The Whiskey Riders, for they are of the few "Real Deals" musically in this town.
Bands! New Venue Alert, Stich's Review:
I recently got to play a smaller venue in the Southend called Stich's, at 7323 St. Andrews Church Rd. Two Pump Chump and my band Year Of The gun played there. Any new venue that welcomes Louisville original music is very welcome in my book! We need all the venues we can get, and Mr Stich himself has made it clear that his club welcomes Louisville original talent.
The bar is one of those long and narrow clubs.
It's not a small small club, its just kinda narrow. But it probably is about 100 feet long at least I am guessing. The stage isn't very big though and my five-piece band could not set up all our gear onstage all at once, so I had to set up my guitar rig on the floor next to the stage. Not a big deal. The club has a decent P.A system that gets pretty loud. We had a pretty good sound going through there. The staff and people running the place were great. It was a pleasure working with them. They have pool tables, darts and other entertainment as well. Drinks were not expensive and were pretty stout. A bunch of bands have started to book there so you bands might want to contact Kevin Stich to see about getting on the calendar. We had fun and this place has possibilities galore. We just have to get the word out a little better, hence this writeup. Get yo butts out to Stich's and hang out/rock out Southend style!!
Comedian Kevin James coming to Louisville Palace:
On Tuesday September 10, actor/comedian/writer/producer Kevin James will be in town for a show at The Louisville Palace. He is the chubby, funny guy who played on "The King Of Queens" TV show, and many movies, including I now Pronounce You Chuck and Larry, Grownups and Paul Blart, Mall Cop. I didn't even know he was a touring comedian! I'm betting that he would be a funny mofo live in concert though. Raunchy too!
A lot of these TV actors are raunchy as heck when out on their own with no rules. Just look at Bob Saget, whom I thought was a complete dork and not funny at all. I saw his comedy special on HBO and it was hilarious and very dirty, indeed. The man played guitar and sang a song called "Buttplug Made Of Leather." So I think I might try to attend this show because I got to support the chubby guys like myself! I just saw Grownups 2 and it was very funny, so let's see what Kevin James has to offer live in concert. Get your tickets, this might sell out!!
Rockaway Drive seeks Bassist:
Oldschool Louisville original metal band Rockaway Drive is now searching for a bassist to complete their lineup since bassist Joshua Carpenter left the band.
If you like classic rockers like Judas Priest and Iron Maiden, then this band could be the perfect style for you. Good musicians and good people. Give Mick a call at 502-876-4217
Musician Of The Month, Nathan McDaniel:
This month's props go out to guitarist Nathan McDaniel of the bands Ohlm and Chigger. Be sure to check out this month's LMN Musician Of The Month!
Upcoming Shows
3rd Street Dive
Friday, September 6 – Rifle, Overload and Aint Worth Killing.
Saturday, September 7 – Two Pump Chump and TBA.
Diamond Pub
Tuesday, September 10 – Stardog Champion (Ex Breaking Benjamin). 8 P.M. $10
Thursday, September 19 – Intronaut. 8 P.M. $10
Friday, September 27 – Kamelot w/ Delain and Eklipse. $22-$70
Tuesday, October 22 – Otep w/ Stolen Babies and New Years Day. 7:30 P.M. $15
Sunday, November 17 – Fates Warning 7 P.M. $18
Thursday, November 21 – Kreator, Overkill and Warbringer. 8 P.M. $25-$75
Expo 5
Friday, October 18 – Twizted w/ Madchild, Blaze, Aqualeo. 8 P.M. $20
Thursday, October 31 – (Halloween) Clutch w/ The Sword and American Sharks.
Headliners Music Hall
Monday, October 14 – Between the Buried And Me w/ The Faceless, The Contortionist and Safety Fire. 7 P.M. $18
Tuesday, October 15 – Senses Fail w/ For The Fallen Dreams, Expire and Being As An Ocean. 7 P.M. $15
Phoenix Hill Tavern
Friday, September 6 – Unleashed, Krosjoint, Heavens Gate Gospel Revival, Graveyard Romeos and Thread. Free before 9 P.M. Only $5 after 9 P.M.
Saturday, September 21 – Trust Divided and 18Xray. 8 P.M.
Friday, October 4 – The Whiskey Riders, Demise Of The King, Littledidweknow and TBA.
St Andrews Pub
Saturday, September 7 – The Tri Tones.
The Vernon Club
Monday, September 2 – Capture The Crown w/ Secrets, Ice Nine Kills, My Ticket Home and City In The Sea. 7 P.M. $12