April 2013 Articles
Cover Story
Kevin Gibson
Features
Eddy Metal
Columns
Berk Bryant
Mike Stout
Paul Moffett
Djinn Shockley
Nelson Grube
Martin Z. Kasdan Jr.
Eddy Metal
Alexander Campbell
Blogs
Got Shows?
Send Them To Us
Bookmark Louisville Music News.net with these handy
social bookmarking tools:
Available RSS Feeds
- Top Picks
- Today's Music
- Editor's Blog
- Articles
Add Louisville Music News' RSS Feed to Your Yahoo!

Issue: April 2013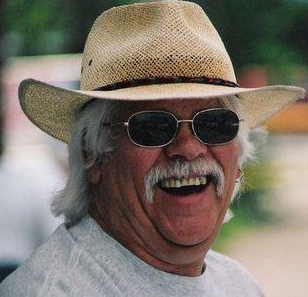 I've Got A Mind To Ramble
The 29th International Blues Challenge
The Kentuckiana Blues Society each year holds contests to decide the best representative to compete in Memphis at the International Blues Challenge. This year's winners were Danny Henderson and Joe DeBow in the solo/duo competition and Lamont Gillespie and 100 Proof Blues in the band category.
I asked Lamont about his experience with this event and this is the story that he told me:
"You know I have played around here (Louisville) and pretty well know what to expect – then WHY? Oh WHY? Did I want to go someplace different to see how good we were there?
All them people in Louisville that made this possible – the benefit at Stevie Ray's for Danny and Joe and us – THE city that I live in – turned out for us – and it makes me wonder if I'd go out for others? That will humble you! And it sure sent us off with a good attitude. The WHOLE city – they sent us to Memphis – and we didn't have to pay one red cent. Well except for some stuff. Everyone should be proud of them – I mean I even saw a personal side to LG&E – I hope that this is great publicity for them.
We went down in three cars and kept contact by cell phones. It was like the young days all over again. We only took my (harp) amplifier since we could not take other amps. The back line was provided for us, and everyone else, due to fairness to all. When we got there, we all walked Beale Street to see what it felt like and the first person that I ran into was Anson (Anson Funderburgh from Lamont's days with Sam Meyers) and that made me feel really good. It was like it was a good omen for us.
"That first night was perfect – we NAILED it! I sent an e-mail home that said the same thing: 'They put the talk back in the walk and the roll back in the stroll.' Before eight bars were played, the dance floor was packed with dancers and the whole set went just about perfect.
The second night we were not as lucky. The PA system was not right and they couldn't seem to get it fixed. It was like that for everyone that played there that night. I even tried singing thru my amp mike to try and get a better sound – no luck but NO REGRETS either!
There was a young band from Chicago that played there the first night. Their father was impressed with us and asked us if maybe we would show his young band how to get the beat right, etc., and I said sure. Well, they went on to the quarterfinals and we didn't. So, I wondered if I should go and find him and ask him if THEY could give us some pointers!!!
Road trips are morale builders for the band. You send the bands and that equals a WIN/WIN situation and it is a unique situation.
It is great. The local band competition at home – I felt like the bands were not in competition against the other bands. We were all playing our best just for ourselves. In Memphis they told us that the other bands were not our competition. That we were competing with the point system on the score sheets that the judges were using. The score sheets – that's your competition. AND it was great seeing all the people who showed up down there from Louisville – that really surprised me, too.
Back in our room after the second night, Spoonie said: 'Do you realize how old us guys are? Do not enter us in any more contests!' We'll see.
Danny and Joe, playing out of Dancin' Jimmy's would have the exact opposite experience with the house PA system. The PA system was off the first night for them and was better on the second night. Both of our KBS representatives did their thing very well but did not make it past the Quarterfinals.
To Memphis and Back
We decided that it was our turn to support our guys – the KBS winners – Lamont Gillespie and 100 Proof Blues and Joe DeBow and Danny Henderson at the International Blues Challenge.
We had been privileged to visit Beale Street in the summertime when not much was going on. This trip we had cold windy weather that reminded you of standing on the corner of Fourth and Broadway in Louisville. Our visits to Memphis were very different. The first time there were no crowds and it was a quiet little place. This time people were thick as could be and music was bouncing off the walls all over downtown Memphis.
There is no way to see ALL that's going on with 225+ acts and 20 different Bars. So I am going to try to cover some high spots of our time there and not try to tell it all because we did not see it all.
Remember that there are shops all up and down Beale Street and on the side streets and in alleys and any way that you look there are more and more and they are selling drinks, food, T-shirts, trinkets, CDs, souvenirs, your hopes and dreams and other peoples hopes and dreams. Watch out for the panhandlers, all of whom have great stories to break your hearts and to try to get you to clear your wallets of nasty old cash.
Of particular interest to me was Memphis Music "Records, Tapes & Souvenirs". The proprietor, Dr. Malcolm Anthony, Bluesologist, had seen me looking in his front window at some familiar-looking toilet seats that made me think of guitars for some reason. He asked me where I was from and when I told him Louisville, he asked if I knew Marvin Maxwell. Of course they were Marvin's Jammin' Johns. He had talked with Marvin a bunch of times and even had some Elysian Fields CDs and pictures of Marvin and Frank and Jim. We had a big ole time discussing the difference 'tween vinyl and tape and eight-track and cassette and CD. So, I had to ask, what was the best CD for sale in his place? He smiled as he handed me a copy of CHESS BLUES GUITAR, two decades of killer fretwork 1949 – 1969, and said 'Here – review this for sound quality" and it is one of the best CDs I ever ran into.
B.B. Kings – Lunch and a Show
We arrived early and took a table for four next to the stage. Joey and Byron joined us to watch what seemed like a Delbert McClinton show. There was Kevin McKendree at the piano (in the audience were wife Laura and son Yates, who is looking like a great rock 'n roll piano player at age nine), Tom Britt, Anson Funderburgh and Andy T., each on guitar, Dana Robbins on sax, and Etta Britt adding some vocals behind Nick Nixon. Nick performed in Louisville just three weeks before this day, according to Mr. True. Etta invited the McCrary Sisters on stage to join in the singing. Then, this guy that was sitting in front of us, partially blocking our view, got up and played harmonica. It was none other than Bob Corritore. That's maybe six different concerts at the Louisville Palace back home. All at once.
The men's restroom at B.B. King's was a lot like the men's restroom at Porter's back in Louisville, in that there was an attendant ready to serve you. First, he would squirt soap on your hands, then he would put a warm towel around your neck, then he would show you the money basket on the washstand. He said that if you didn't have the correct change it was OK to make change from the basket. Just like the small church in the country that I went to growing up. I felt that it was evident that he wanted more than Porter's dollar.
Other Shows on Beale Street
There were many opportunities to see live Blues. The music went on day and night with events before, during, and after the Challenge. We watched shows by Bart Walker, who has been traveling in Delbert McClinton circles. We caught a show by Randy Colvin, who was sent by the Kentucky Blues Society and [who] plays at Stevie Rays in Louisville with his Band One Shot Johnny.
Kidd Cain, sent by the Israel Blues Society, was very interesting. He has been playing in Israel since 1958, getting his start by listening to Little Richard and Jerry Lee Lewis. This evening he did a jazzed-up blues number where all the words were in the mother tongue of Israel – Hebrew words that were used in the original versions of the bible – and was interesting in that we liked it but we didn't have one inkling of what he was saying and therefore what the song was about. Alas, no CD!
FOOD on Beale Street
BBQ was hard to find. Our favorite place to eat was City Lights, where we sampled their ribs and a hamburger and stuff like that. And then we discovered that they also served tamales! An order of tamales would get you 6, 8 or 12 sticks and a huge salad that must have had at least two heads of lettuce in it. Great tamales! And then – dessert time – they had a chocolate cake with real homemade butter icing and lots of vanilla ice cream. They must have a narcotics license to sell this addictive delight. If I'm ever back there ,I'll be sure to stop in and have at least one more piece of chocolate cake. It was so good!
The Finals were Saturday afternoon at the Orpheum Theatre. We saw three or four acts and decided that we could not go anymore. That we were going to fall over if we didn't give it up. We stopped by the beautiful Cigar Shoppe where you could sit and enjoy a Joya de Celebration, if you so desired, have a drink (cola or otherwise) and watch a young jazz group playing just for the exposure and any tips you felt like letting go of.
We left Memphis on Sunday. Someone suggested that we stop at the Casey Jones attraction about an hour up the road and eat. My goodness! Home cooking and more stuff ready to eat than I ever saw under one roof: Six kinds of potatoes – fried, mashed, boiled, baked, cheesed or fried into tater cakes. And it was like that with everything beans, veggies, salad fixin's, bread, meat, etc. And then there were the desserts: cobblers – cherry, blackberry, apple, peach, blueberry, and on and on. If we get back to that area ,I will not eat breakfast and will get a room after lunch to sleep for awhile before starting back.
It was a wonderful trip. Even thought KBS entrants didn't win – they sure didn't lose either. We would love to go again!"