April 2013 Articles
Cover Story
Kevin Gibson
Features
Eddy Metal
Columns
Berk Bryant
Mike Stout
Paul Moffett
Djinn Shockley
Nelson Grube
Martin Z. Kasdan Jr.
Eddy Metal
Alexander Campbell
Blogs
Got Shows?
Send Them To Us
Bookmark Louisville Music News.net with these handy
social bookmarking tools:
Available RSS Feeds
- Top Picks
- Today's Music
- Editor's Blog
- Articles
Add Louisville Music News' RSS Feed to Your Yahoo!

Issue: April 2013

Jazzin'
PRELUDE: RIP DONALD BYRD
Bop trumpeter Donald Byrd passed away at the age of 80 in February. He moved toward R&B and black pop for a period before returning to his roots. He played on numerous Blue Note sessions, and helped introduce Herbie Hancock to the world.
RECENT CONCERTS
University of Louisville Jazz Festival 2013: Amina Figarova Sextet, Dick Oatts & Joe Magnarelli, and Zach Brock/Aaron Goldberg Duo
The long weekend of concerts at U of L marking the 20th anniversary of its Jazz Festival was crammed with an eclectic lineup of topnotch musicians. While there were no elders among the guests, as has frequently been the case (Lou Donaldson, Elvin Jones and Dave Brubeck immediately come to mind), these musicians all played with conviction and feeling, spanning styles. On Friday, February 22, the U of L Faculty Ensemble, consisting of saxophonist Mike Tracy; guitarist Craig Wagner; bassist Chris Fitzgerald; trumpeter Ansyn Banks; alto saxophonist Jerry Tolson and drummer Jason Tiemann opened with a two-song, 20-minute set consisting of Lee Morgan's "The Procrastinator" and Kenny Garret's "Sing a Song of Song." They captured the vintage Blue Note feel of the first piece and delighted the audience with strong solos in both pieces, all the while looking like there was no place they would rather be at the moment other than on stage with one another.
The Amina Figarova Sextet made its Louisville debut after a short break, playing a strong 90-minute set of all original material. In my interview with Figarova (LEO, February 20), she stressed the importance of maintaining the personnel: "I've worked hard and fought for this band, and it pays off." Indeed, had she not mentioned that this was the first night of the tour, it certainly wouldn't have been apparent from the razor-sharp performances of material that did not rely on basic blues or bop changes. The mastery of the ensemble was apparent throughout, with an early set highlight being "Ocean Trilogy," consisting of three pieces from her latest release, Twelve (www.inandout-records.com). From the waltz of "Another Side of the Ocean" to the fast-paced "Sneaky Seagulls" to the introspective "Shut Eyes, Sea Waves," the sextet moved as one, with open spaces for improvisation. "NYCST," in 11, evoked the New York subway, with nimble flute work by Figarova's husband, Bart Platteau, and hand drumming by Chris "Buckshot" Strik during Marc Mommaas' saxophone solo. Ernie Hammes' wistful flugelhorn solo graced "Morning Pace," which was followed by a song dedicated to Figarova's grandmother, "Leila." A brief, 90 MPH encore closed the evening, filled by new music that was both challenging and accessible.
The next night, a different faculty lineup, consisting of pianist Jim Connnerley, bassist Tyrone Wheeler, plus Tracy and Tiemann, came out with guest artists Dick Oatts on alto and Joe Magnarelli on trumpet and flugelhorn. Hard bop was the backbone this evening, as the artists played a fun boogaloo, Oatts' "Saddleback," to open, and followed with his tribute to Benny Golson, "One for Benny." Tracy left, and the band continued with what Oatts jokingly called his "demented" arrangement of "What's New," but it sounded good to me, played at midtempo. Kenny Dorham's "Prince Albert" closed the set, with fast and fun solos by all. A few minutes later, the U of L Jazz Ensemble I, directed by John La Barbera, came on stage. Year after year, I come away impressed with how La Barbera molds his students into a cohesive, swinging big band. They opened with Woody Shaw's "Moontrane," recorded by La Barbera on his second album, Fantazm, and it was fun to see Lourenco Vasconcellos driving the band with straightahead drumming, as I am used to seeing him play Brazilian rhythms. Next came "Cape Henry" with a drum and conga break, followed by "Organic Lady," with Kendall "Keyz" Carter providing organ on a keyboard, for a fast waltz which also included an unplanned, spicy guitar (Brandon Coleman) jam with the drummers. Two songs later, an ovation was met with an unnamed second line big band soul number, with Oatts, Magnarelli and the students all strutting their stuff.
The ambiance was different for the concluding concert, a matinee by the duo of violinist and Lexington native Zach Brock and pianist Aaron Goldberg playing in the 140-seat Bird Hall without amplification. Most of the songs were from Brock's Criss Cross debut, 2012's Almost Never Was, which features Goldberg and bassist Matt Penman, and drummer Eric Harland. Translating the music from quartet to duo did not mean losing rhythm or drive. They began with Joe Henderson's "Black Narcissus," moving on to a blues-drenched version of "Monk's Dream," with a stride piano interlude. A highlight for me was the almost impossibly slow, gorgeous reading of "You've Changed." Brock introduced his "Almost Never Was" with pizzicato, and he and Goldberg gently probed the melody. Another Joe Henderson piece, "Isotope," found Brock dancing to Goldberg's boogie woogie. A well-deserved encore performance of "You Don't Know What Love Is" was simply lovely. Many thanks to all those involved in the presentation of this 20th anniversary set of concerts.
Red Baraat at Headliners
Red Baraat returned to Louisville for the second time in less than a year, playing for an audience ready to dance at Headliners on Wednesday, February 27. Local favorites Appalatin opened, with their patented blend of Appalachian and Latin rhythms. They are preparing to release their second album, Waterside, which was 167% funded (!) Through Kickstarter. Red Baraat combines Indian rhythms and New Orleans brass to create an intensely danceable sound. Touring in support of their new album, Shruggy Ji, they played the title track, as well as the title song from their first album, Chaal Baby. Horns blared, leader Sunny Jain's dhol (over-the shoulder long drum) meshed beats with trapset player Tomaas Fujiwara, and the jubilant spirits of the musicians were matched by those of the audience. For a taste of the live sound, check out Bootleg Bhangra, a reasonably priced download from their site, www.redbaraat.com.
Louisville Jazz Society Presents Luke McIntosh at the Rud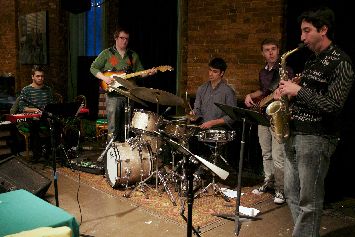 Luke McIntosh Band at the Rudyard
The Louisville Jazz Society continued its monthly series of concerts on Sunday, March 17 with Luke McIntosh and the Flexi-Sextet, featuring the bassist with Samir Kambarov - alto sax, Diego Lyra - keys, Brandon Coleman - guitar, and Bruno "Gafanhoto" Souza - drums. McIntosh has recorded a live album at the Rud, Permanent Circus, and he and his band played their hearts out to a disappointingly small audience. Arriving a little late, the first full song I heard was a new ballad, "Os Olhas Dela (Her Eyes)," with McIntosh's solo favoring the higher end of his instrument. "JB," a funky tribute to the Godfather of Soul from the album, was next, with the group shifting to second line for "When the Saints Go Marching In," followed by solos from Coleman and Souza, with the Coleman and McIntosh tossing musical challenges. Coleman's "Shampoo for Kangaroos" slowed the pace a bit, with more high range soloing by McIntosh. During the guitar solo, the mood changed toward the blues, adding some funk to the waltz time. "Molly Craig," another tune from the album, was inspired by the travails of a real Aborigine who was among many removed from her parents; the music was sweet and sad. They closed with another track from the album, "Sweet Treats," a short and happy piece. Throughout the evening, the band showed how playing together over a period of time can lead to almost telepathic changeups during the course of a song. McIntosh looked happy as he played and led, engaging his fellow players and the audience. The album is available as a CD or a download (name your price) from http://lukemcintosh.bandcamp.com, and comes highly recommended.
ON THE HORIZON
Dick Sisto-Steve Allee Quartet at Clifton Center
[From the press release:] The Clifton Center, 2117 Payne Street, will host the Dick Sisto - Steve Allee Quartet as part of the MINI of Louisville LIVE concert series on Sunday, April 7th at 7:00 PM. The show will be held in the Clifton Center's Eifler Theater, but in a very unusual manner where the audience will be seated on the stage along with the artists. The setting allows the musicians and audience to enjoy the great acoustics the theater offers, while creating a very intimate atmosphere. A cash bar will be available. Individual concert tickets are $10, and can be purchased at cliftoncenter.org or at Carmichael's Bookstore, 2720 Frankfort Avenue.
The Dick Sisto - Steve Allee Quartet has been performing original music as well as the great compositions of the Icons of jazz including Coltrane, Ellington, Bill Evans, Miles Davis etc. in concert halls, jazz clubs, churches and cathedrals in Indiana, Kentucky, Ohio and N. Carolina for the last four years to enthusiastic audiences. A long overdue recording has recently been completed with the other two members of the quartet; Jeremy Allen, bass and Jason Tiemann, drums. The album entitled Earth Tones will be released later this year.
Javon Jackson at University of Louisville
Saxophonist Javon Jackson returns to Louisville for the first time since his performance during the final days of the Jazz Factory. He will play in Bird Hall at 7:30 on Thursday, April 4, joined by Uof L faculty members Jim Connerley on piano, Chris Fitzgerald on bass, and Jason Tiemann on drums. Ticket information was not firm at deadline time; check with the School of Music at 502-852-6907. Jackson has released two albums recently, Lucky 13 and Celebrating John Coltrane. Lucky 13 features Lexington native Les McCann on three tracks, including a new version of the classic ""Compared to What." Jackson told me how working with this legend was "inspiring and fun," referring to McCann as "an icon; it's a blessing and an honor to work with him." He has sent some of his music to the U of L trio, and looks forward to working with them on this and other music. He will be at U of L from April 2-5 in a teaching residency. Jackson is the real thing, and his concert here should be moving.
Planet D Nonet at the Nachbar
The Planet D Nonet is a band from Detroit which will be making its first Louisville appearance on Friday, April 19 at the Nachbar. The band is prolific, having released several albums and EPs since forming in 2007, the most recent being Swingin' the D, on Detroit Music Factory. The emphasis is good ol' nfashioned swing ("Count Basie's "Shorty George," for example), but they throw in Big Joe Turner ("Well All Right") and Sun Ra ("A Call for All Demons") for good measure.
New Orleans Jazz & Heritage Festival
This year's Jazzfest happens from April 26 through May 5. Daily lineups and ticket information is available at http://www.nojazzfest.com. Among the top jazz artists this year are the Wayne Shorter Quartet, the Joshua Redman Quartet, the Eddie Palmieri Salsa Orchestra, Dianne Reeves , The Cookers (Billy Harper, Eddie Henderson, David Weiss, Craig Handy, George Cables, Cecil McBee, and Billy Hart), Stanley Clarke/George Duke Project , Preservation Hall Jazz Band , and that doesn't even scratch the surface of all the music, jazz and otherwise, being presented.
During the evenings, and in the "daze between" the weekends, there is a massive amount of music being offered in clubs and elsewhere. The best resource for checking who is playing where and when is at http://www.jazzfestgrids.com. Snug Harbor is a jazz club comparable to, say, Chicago's Jazz Showcase or Louisville's Jazz Factory (RIP). Its lineup includes (at deadline time) Delfeayo Marsalis and Dr. Lonnie Smith. A San Francisco club, the Boom Boom Room, will present "Boogalooin' @ Jazzfest 2013 at the Blue Nile on Frenchman Street. On Aprl 27 alone, the lineup is: Charlie Hunter, Marco Benevento, Stanton Moore, Bobby Previte, Steven Bernstein, Skerik. Other shows include Frequinox, featuring Donald Harrison, Will Bernard, Stanton Moore, Robert Walter, and Robert Mercurio onApril 29, and Dr. Lonnie Smith, Donald Harrison, Will Bernard, Herlin Riley, and Wil Blades on April 30,. Ticket info for this series is at www.boomboomtickets.com.
SELECTED CLUB AND OTHER LISTINGS
The Comedy Caravan , 1250 Bardstown Road, Louisville, KY 40204, 502-459-0022 www.comedycaravan.com, has long been a venue for quality musical acts. The Don Krekel Orchestra has been performing the third Monday of each month and is scheduled for April 15. Please contact the club for any post-deadline information.
The Nachbar (969 Charles Street, 502-637-4377, www.myspace.com/thenachbar) features Vamp (saxophonist Jacob Duncan, drummer Jason Tiemann and a revolving crew of bassists) every Wednesday - not sure if this is still right, hard to find updated information, if any of you know how to get better info, drop me a line, please; check the club for updates or changes. The club also has a Facebook page with occasional updates.
The Jazz Kitchen (5377 N College Ave., Indianapolis, IN 46220; phone: 317-253-4900; www.thejazzkitchen.com), presents nightly offerings of local and regional jazz; check the website for the full schedule and updates. A road trip might be advised for Kyle Eastwood , April 2; Lee Ritenour , April 9; Victor Wooten , April 23; and Acoustic Alchemy , May 14.
The Blue Wisp Jazz Club in Cincinnati, is now at 700 Race St. (513-241-WISP). A road trip might be advised for Saxophonist Tim Warfield ; Pianist Dan Karlsberg; Drummer Greg Artry; Bassist Steve Whipple on April 13, and funkateer Bernie Worrell on April 16; Marbin on April 20, and Christian Howes on April 29. Wednesdays remain the province of The Blue Wisp Big Band. For details and the full schedule, the website is: www.thebluewisp.com.
Please sign up for updated local jazz listings: The Louisville Jazz Society provides weekly e-mail updates for local jazz happenings. Be sure to sign up for the e-mail "Louisville Jazz Society's Jazz Insider" at www.louisvillejazz.org. It is both impossible for me to try to provide complete listings here, and it would be duplicative of the weekly listings in the Courier-Journal and LEO and the Louisville Music News' monthly music listings, in print and online, www.louisvillemusicnews.net.
EIGHTH NOTES
Eric Person
Thoughts on God (Distinction DR 4008, www.ericperson.com)
Spirituality is no stranger to jazz - John Coltrane's A Love Supreme and Duke Ellington's Sacred Concerts immediately come to mind. Thoughts on God finds Eric Person fronting not his usual small ensemble, but a big band performing a suite in praise of God. Written some 25 years ago, Person finally recorded this in 2012, funded through Kickstarter. Stylistically, this is more Ellington than Coltrane, with Person's arrangements spotlighting many of his colleagues' solos throughout. Recorded with a 13-piece ensemble, the emphasis is as much on shared playing as it is on soloing. Indeed, Person is generous in spotlighting the contributions of his musicians, including pianist Adam Klipple, vibist Bryan Carrott, and trumpeter Duane Eubanks. It's clear from both the song titles and the music that Person's view of God is of a positive spiritual force, not a vengeful or judgmental entity. A Gospel piano introduction leads off the album's opener, "All Those With Ears Hear," followed by the band "Soothes the Soul" lives up to its name, with elegant brushwork and the horns gently backing the flutes and a clarinet solo. Later, "Joy Complete" is jaunty and happy, featuring a segmment pared down to sax and piano trio. There's an upbeat R&B feel to the closing "Faith Forward." In short, Person has created an album which flows with uplifting grace and dignity.
Nilson Matta
Nilson Matta's Black Orpheus (Motéma Music, www.motema.com)
Bassist Nilson Matta has taken music from the 1956 Brazilian play Orfeu da Conceição and the classic soundtrack to Black Orpheus and created a lyrical suite featuring a few of his own compositions interspersed with arrangements of the older music. And what arrangements they are, featuring the sweet clarinet of Anat Cohen, the brilliant piano of Kenny Barron, and many other well known musicians. To pieces such as the familiar "Samba de Orfeu," he brings fresh spirit. The spirit of carnaval is evoked in a series of short percussion interludes. Those seeking a lovely journey through music with a Brazilian flavor and exquisite orchestrations will find this delightful.
Jason Marsalis Vibes Quartet
In a World of Mallets (Basin Street Records, www.basinstreetrecords.com)
The youngest of the musician sons of Ellis Marsalis, Jason was gigging on drums with his dad when he was just 12. For the past few years, he has devoted a great deal of energy to vibes, and this is second album to feature him on this instrument instead of drums. He's accompanied by pianist Austin Johnson, bassist Will Goble and drummer Dave Potter. On four tunes, beginning with the first track, "Discipline Discovers a World of Mallets," Marsalis overdubs several melodic percussion instruments; he thanks Max Roach's M'Boom for the concept behind these pieces. The overall feel of the album reminds me of the Modern Jazz Quartet (as opposed to, say, Lionel Hampton or Gary Burton). There is a solid, straightahead feel to "Blues Can Be Abstract, Too" and "Blues for the 29%ers," to name but two. "Characters" is an understated ballad, while Johnson's "Louisiana Gold" is uptempo swing all the way, with a nod to Monk. New Orleans pianist Brian Coogan contributed the delightful "The Nice Mailman's Happy Song to Ann." Marsalis has produced an album that swings and sways, with the occasional side trip to spice things up.
LOCAL JAZZ CONTACTS
With two fourteen-year-olds, it's hard to get out as much as I would like to hear music. As a result, picking and choosing which performances to catch sometimes require that I postpone seeing some of the local musicians and singers in order to not miss the one-night-stands from out-of-town artists. Invariably, I feel guilty, so in an effort to assuage my guilt and, more positively, to provide more exposure to our community of great local jazz performers, I am initiating this feature containing website and e-mail contact information. I am only including those artists who have given their permission to me; some have indicated a preference for website listing only; others have only e-mail addresses. If you wish to be included, drop a line to me with your permission and preferences, at mzkjr@yahoo.com. I reserve the right to edit and to exclude those whose connection to jazz is, in my opinion, tenuous; and this feature may end up online if it begins to take up too much space in print.
MIKE TRACY: www.michaeltracy.com, michael.tracy@insightbb.com, saxophonist and teacher Mike Tracy
UNIVERSITY OF LOUISVILLE JAZZ PROGRAM: www.jazz.louisville.edu
BOBBY FALK: www.myspace.com/bobbyfalk, drummer and composer Bobby Falk;
WALKER & KAYS: www.walkerandkays.com, singer Jeanette Kays and guitarist Greg Walker;
JENNIFER LAULETTA: www.jenniferlauletta.com, singer Jennifer Lauletta;
JEFF SHERMAN: jeff.sherman@insightbb.com, guitarist Jeff Sherman;
RON JONES: www.ronjonesquartet.com, rjmusic@ronjonesquartet.com, saxophonist Ron Jones;
STEVE CREWS: www.jazzcrews.com, jazzcat@iglou.com, pianist Steve Crews.
CODA
1) I am always interested in your comments. Contact me at mzkjr@yahoo.com.