April 2013 Articles
Cover Story
Kevin Gibson
Features
Eddy Metal
Columns
Berk Bryant
Mike Stout
Paul Moffett
Djinn Shockley
Nelson Grube
Martin Z. Kasdan Jr.
Eddy Metal
Alexander Campbell
Blogs
Got Shows?
Send Them To Us
Bookmark Louisville Music News.net with these handy
social bookmarking tools:
Available RSS Feeds
- Top Picks
- Today's Music
- Editor's Blog
- Articles
Add Louisville Music News' RSS Feed to Your Yahoo!

Issue: April 2013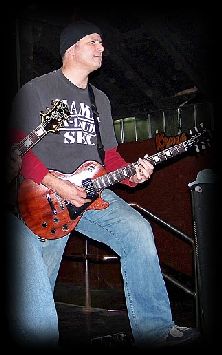 John Anderson
Name : John Anderson
Age: 50 (yeah, really – frickin 50! I wasn't supposed to make it past 30!)
Instrument: Guitar, bass, keys, little vocals
Band/Former Bands: LOTs of bands – here are the tops – Mama Sez (all original out of Indy), The Weekend (cover band out of Indy), FreeFall (cover band out of Pennsylvania/New Jersey), Almost Noah (cover band out of Louisville), Boozer (original band out of Louisville), Willie Jeffries (original project out of Louisville)
How long on instrument: I have been playing since I was 8 (using basic math skills this means 42 years) and I STILL can't get it right.
Equipment: A few Pauls (68 Custom re-issue, Standard, Standard), Parker Fly, Peavey thing Kevin McCreary sold me a million years ago. Vox Amps/Vox Modelling pedals and more more more
Influences: Everyone I have ever listened to – to name a few: Jeff Beck, Steve Vai, Steve Morse and Steve Lukather.
My first gig: In a garage, playing and singing lead in a band called Gangster (yes, we wore hats), I was 15, we were paid with Jack Daniels; I got WAY too drunk and to this day cannot drink Jack :-(
Hobbies: All things computing – recording – writing – walking (use to jog but got too old) – macrame and knitting
Favorite movies: Office Space/Pulp Fiction
Favorite food: Beth's meatloaf and pretty much anything else she cooks. STEAM POTS!
Favorite place: My man cave (innuendo notwithstanding)
Favorite sports or team: Any college team playing their asses off in any sport.
What I'm listening to nowadays: All original stuff – non radio – as underground as I can get it – and some classic rock if I am listening to the radio
Coolest thing I've done: Musically – Opened for Cheap Trick at Coyotes
Most embarrassing moment: Fell asleep during a Tony McAlpine interview when he was up and coming – I was sick and had just asked a question and started snoring before he finished his answer – OH, and we were face-to-face :-S
Bad Habits: I probably should make better use of my medical benefits :D
When/where did you first get some: 18 – back seat – neither of us knew what the heck we were doing ( I know, late bloomer – whatever :P )
If you could meet a rock star ( past or present ), who would it be, and why: Frank Zappa – I would LOVE to try to get a better understanding of how he thought through his compositions and musical meanderings.
Who do you love: Beth and all of our kids and grand kids (all who would be extremely pissed if I had not made it past 30 ;-) )