April 2013 Articles
Cover Story
Kevin Gibson
Features
Eddy Metal
Columns
Berk Bryant
Mike Stout
Paul Moffett
Djinn Shockley
Nelson Grube
Martin Z. Kasdan Jr.
Eddy Metal
Alexander Campbell
Blogs
Got Shows?
Send Them To Us
Bookmark Louisville Music News.net with these handy
social bookmarking tools:
Available RSS Feeds
- Top Picks
- Today's Music
- Editor's Blog
- Articles
Add Louisville Music News' RSS Feed to Your Yahoo!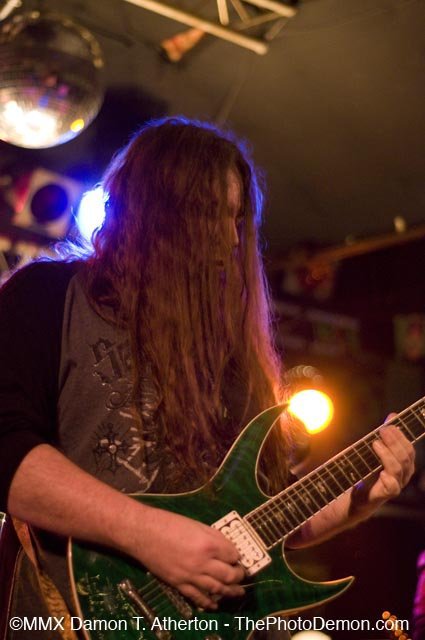 News From the Pit
Man, oh man, do I hate being sick! I've had a bad case of the flu recently (maybe the worst flu I've ever had) and I just can't seem to shake this sinus head cold no matter what meds I take. Heck, it seems everyone I know has been sick recently with all this crazy back-and-forth weather we've been having around here. One day it's shorts weather, the next day it's snowing. WTF? It's taking its toll on many folks in this region. Oh well, at least this retarded crap is almost over. Spring is right around the corner! I'm looking forward to a busy summer playing out with both my bands, having some serious summer fun and supporting our original music scene's many summer and outdoor shows.
We have a ton of cool shows coming up, and some great metal nationals are coming through (Hatebreed, Chimaira, Fear Factory, Goatwhore), and the Annual Rockstar Mayhem Festival is finally announced and it's looking like a good modern metal lineup! Pretty heavy actually! I recently got to play a new venue here in town called The Pope's House, a.k.a. The Heart Of Fire Church. I had been hearing about that place for awhile and I finally got a chance to play there (see review below).
It's a weird time in our scene as a lot of the more popular bands have broken up or are inactive, leaving the door wide open for newer bands to show what they have to offer. There are quite a few new bands I've not heard of before. So be sure to send me your CDs, bands! I would be glad to give them a spin and do a review or two for all you new bands out there. I love helping you peeps out, live I've been doing since 1995. First it was booking bands and getting them shows around town, then it was playing original bands on the radio when Louisville rock radio was at its heyday, then it was journalistic work with Louisville Music News, which I love. My boss at the paper lets me pretty much write what I want to write about, and I choose to help you people out by getting your music out there to be noticed and heard. I try to be fair and do the best job that I can do, but anyone who knows me knows that I believe in the saying "To get respect, you have to show respect" and with that said, I just wish some of these A-holes in town would get off their high horses and quit being such arrogant douche-bags. Life is way too short to walk around thinking you are better than everybody else. Peace.
The Metal Grapevine
Guitar Master George Lynch at Moms Music
When I saw that former Dokken guitarist George Lynch was going to be doing a guitar clinic at Mom's Music, I was very excited. I had always admired Lynch's playing and melodies in his bands Dokken and Lynch Mob. He was a bona fide guitar god back in the Eighties and was all over the place with several top hits and videos. Lynch's style was Eighties hard rock, but not cheesy and simplistic like a lot of that music. Rather, it was very creative and with great melodies, which very few have been able to match. Some amazing examples of Lynch's work are "In My Dreams," "Mr Scary," " Tooth And Nail," " Alone Again" and " The Hunter." I'm sure many of you have seen the videos.
Mom's Music was packed full of rockers itching to get a good view of the guitar master himself. I got to hand it to those guys at Mom's Music for the great job they did at bringing Lynch to Louisville for this clinic. This was one clinic I was not going to miss. I even canceled band practice to see this, and anyone who knows me knows that that is a big deal, because I rarely cancel band practices unless I'm half-dead sick. The built-in concert hall at Mom's Music in Jeffersonville is really cool if you haven't seen it. A former movie theater, it has a nice large stage, a sloped auditorium with plenty of chairs, a very loud P.A system that is more than adequate, and I'd say the place will hold about 80 to 100 people. This is the coolest stage in any Louisville music store in Louisville, hands down.
An ESP guitar rep was there and Lynch had his longtime ESP tiger-striped guitars primed and ready for action. The guitars were bolt-on necks, which puzzled me a bit. Seems like a master like Mr Lynch would be playing expensive neck-throughs. I was going to ask him why he preferred bolt-ons, but too many peeps were asking dumb questions, so I didn't get a chance to ask Lynch.
Lynch played along with some backing tracks, which were blasting away at a way too high level, almost to the point where you could barely hear him playing live.
That kind of got on my nerves. I was thinking "Turn that sh*t down so we can hear Lynch play!" Finally, even Lynch told them to turn his channel up in the mix. Why even have a guitar master play if you drown him out with the backing rhythm tracks? Lynch really didn't go into guitar theory that much, he even responded to a question by a fan about theory "I don't know scales, and stuff like that, I pretty much taught myself and developed my own style." To me that was surprising because of the complexity of his playing is ridiculous. He played some music from a few of his new projects, a new funk project, and a new project called T&N (Tooth and Nail) with former Dokken bandmates Mick Brown and Jeff Pilson. A ridiculously redneck accented fan (that almost made me embarrassed to be from Kentucky) requested/bugged Lynch to play "Mr Scary" and Lynch being the cool guy that he is, threw a few notes of the popular song his way to make the redneck happy. Lynch answered a ton of questions, joked about stuff (and Don Dokken Ha!) before signing autographs and talking to his fans for a good while. There is no doubt that George Lynch is one of the best guitarists out there. The creativity and melodies, and his unusual style make him a treasure for all guitarists to admire and be inspired by. I know he inspired me all throughout the Eighties and beyond, even to this day. Thanks to Mom's Music for making it possible to see this beast of a guitarist up close live! You guys rock. Pics taken by photographer Jason Schwartz and Mark Maxwell at Moms. Thanks guys!
Dave Ernspiker Memorial Concert on April 19
:
Louisville rockers The BIG ROCK SHOW would once again like to invite everyone out to The Pope's House @ Heart Of Fire City Church on Friday April 19th, for a night of rock and roll and remembrance as they dedicate this show to their brother and bandmate Christopher "David" Ernspiker who passed away on April 9th, 2009. Together with Jaymes St. James and David L. Williams Jr. they started this band 12 years ago and they are proud to keep the legacy of the BIG ROCK SHOW alive!!! Come join the fun in a celebration of his life!! The Heart Of Fire Church is located at 5101 Bardstown Road in Fern Creek!!!
P.S I went to Elementary School with Dave! He was always a super nice guy, even way back then, and boy could that guy play guitar!!! Watching him play made me want to throw away my guitar. Some people naturally have it, and Dave was one of those lucky few. R. I. P bro.
Lacuna Coil at Diamonds Review
I ventured out on a cold Monday night to see Italian rockers Lacuna Coil at the new Diamond Pub and Billiards Club (formerly Jillian's). I seldom go out on a Monday, but this was special. I had only seen the band open for nationals the last few years, with very short sets of about 20- to 30-minute sets at best, which is not enough for a huge fan like me!
After all, the band is starting to make some headway in the United States, finally. I was hoping to hear them play a nice long headlining set of old LC classics mixed in with the new material off their 2012 album Dark Adrenaline. Seeing them in an environment this close up and intimate would be different too.
This night was different all right. The band hit the stage and I noticed that bassist Marco Coti Zelati was no where to be seen, nor was drummer Cristiano " Criz" Mozzati. I was baffled. Instead, there was another guy on drums who I had not seen before. I had seen LC about five or six times and they were always a complete band, with seemingly no issues. So I asked around to see what was the problem. I found out that bassist Marco Zelati has a bad case of tendonitis (something I myself have been going through these last few months, and it hurts.) and also that drummer Cristiano Mozzati had just become a father and was at the birth. You can't really blame the guys for that, wanting to be there for your family, or missing because of the painful tendonitis. It was a bummer though, especially since Marco Zelati is the musical genius and primary composer of Lacuna Coil. Dude is a bad-ass bassist too, critical for their patented sound! So it was to be with no bassist and a fill-in drummer. I wasn't happy, but at least I get to see my Cristina. Vocalist Cristina Scabbia is a goddess. Not only does she have the face of an angel, but she can sing like one, too. And unlike modern day pop singers, Cristina would never ever lip-sync in a million years. Her voice is completely natural and, in my opinion, she is the best female rock vocalist in the world. And Andrea Ferro may not be the best vocalist, but he works very well with Cristina.
The band roared into action with " I Don't Believe in Tomorrow," " I Won't Tell You," " Kill the Light," " Self Deception," " Heaven's a Lie," " To The Edge," " Fragile," " Spellbound," " End Of Time," " Our Truth," " Survive" and " Intoxicated." Mostly it was newer music from the bands last four albums. I was hoping to hear some earlier music from the albums Unleashed Memories and In A Reverie. No such luck.
For most of the concert, I was straining to hear Cristina's voice, which is not good, because that is the band's bread and butter. I was getting angry, so I walked over to the sound men, and asked them if they could turn her up some so that we could actually hear something other than a whisper. The Italian soundman on tour with Lacuna Coil told me that it was the club's acoustics to blame, but the P.A system Diamonds has is good, and all he had to do was push the vocal volume up a notch or two. He never did.
I struggled to hear Cristina Scabbia and Andrea Ferro's vocals all night. And this is a band where the vocals are great and important to hear. I heard several people complaining about the low vocals.
I was not a happy camper. The guitars were loud and clear and sounded good. I was disappointed they didn't play Depeche Mode's "Enjoy The Silence," their classic "Senzafine," or their new, kickass song "Trip The Darkness." It's like they played every song I didn't care much for!
The people at Diamonds were very cool and helpful and the stage setup and sound system was powerful, I just wish LC's soundman would have turned up the lead vocals so we could hear them clearly, instead of blaming the club. That was kind of a lame excuse really. It would have been better with a little loud vocals than barely being able to hear your favorite singer. Cristina was beautiful with her long dark hair grown out, and she sounded amazing, what you could actually hear- that is.
Oh well, you cannot win them all. They are still one of my favorite bands for sure. Maybe next time!
I tried to get some pictures but the place was crowded and there was no crowd barrier so I could not get any good pics for you peeps. Sorry.
I wish the band the best of luck on their South American tour starting on March 1 in Rio De Janeiro, and a hopefully speedy recovery of Marco Zelati's tendonitis.
On another note, local band Shines Negative rocked the place pretty good opening the night with their heavy metal thrash style. The drummer and bassist were killing!! Pretty aggressive stuff. I wasn't into the new vocalist that much though (I liked the old singer better), but then again I'm picky about vocals. Poetry Of The Dead wasn't bad either, I liked the guitar playing of Anthony Slack. Dude was shredding. Vocalist Jayson William Allen has come a long way since Tek World, and his vocals have improved quite a bit. He has a pretty good and diverse vocal style. Although it does seem like he is trying too hard at times, but what singer hasn't done that at least one or two times at a big show? Props to both bands! I had a lot of fun that night.
Deliver Us From Evil Reaches The End Of An Era
One of my top regional original metal band picks, Evansville's Deliver Us From Evil, has come to the end of an era, as long-time lead guitarist John Matheis has decided to leave the band to pursue other musical interests. The band will continue on with John's cousin Chris Koyle on guitar, who since his return from military deployment has been ripping it up in the band as well. I'll be honest, I love John's lead guitar playing and it will be hard to replace him I am thinking. But if anyone can replace such an awesome guitarist, it would be these guys with their substantial connections, because they consistently have had their stuff together more than any metal band in the region. The band states "We will take a breather to reflect on our situation, but make no mistake, we will be back stronger than ever! We will not roll over and die. And we won't settle for anything less than the best from ourselves and those we choose to associate with.
The old school fans know our motto, DUFE or DIE!!!"
I'm a huge fan of DUFE and I hope to see those guys back in business by early summer/late spring!!!
Fear Factory And Incursion
I frikkin love Fear Factory. I always have liked this different metal band, for their pounding, machine-gun, down-tuned riffs, the melodic vocalizations of singer Burton C. Bell, and the badass double bass drumming. Their songs are well-written and memorable. This band was in its heyday in the late Nineties, but they still are around kicking some serious butt. Their last few albums are very good, and I'm looking forward to seeing them live in action once again, performing some of their newer material. The show is Sunday, April 21 at Diamonds Pub and Billiards. On another note, local metal veterans Incursion (along with Creature Of Exile, The Kobra & The Lotus and Hate Eternal) will be opening the show. Those guys haven't played a show in a good while, and I'm thinking they will have a good turnout for this event. So be early for the reunion show of one of Louisville's more popular metal bands in it's metal history. Do not miss this show!
Heart Of Fire Church Review "The Pope's House"
I have been hearing about this venue for some time now, starting with the late, great Dave Ernspiker, who used to play/talk about this venue all the time. He loved the place and now that I have finally gone and played there myself, I can easily see why Dave loved the place so much.
First of all, it's a big nice venue that looks much different than other venues in this city. It has a Northern California lodge/log cabin feel that I find very comforting and welcome. When you go inside, you would almost expect this building to be at the top of some ten-thousand foot tall mountain somewhere out West, rather than at 5101 Bardstown Road in Fern Creek. The inside is wood and it looks new and clean. There is a second level loft that covers half of the building, so you can see the stage well from up there. There is even a fireplace inside. They have a PA system that is pretty good, too. No complaints here. The people there at the club were very cool and friendly to the extreme, especially the owner, a charismatic guy named Pope Dan Johnson, who walked around chatting with the bands and fans, making everyone feel like they were at home. I had been a little bit worried about playing at a venue so connected to a Church. Would they ban cuss words or ban topics that were inappropriate? No. Johnson let's you be yourself. He does not judge anyone. My band Krosjoint rocked it out and had a great time.
The place originally had cover bands playing there and, the Pope being the cool dude he is, wants to open the doors to our city's original rock scene as well. It's a great place and many more people should enjoy it. As I said before, the place is big, and it is hard to fill up with folks, especially with the scene attendance not being what it used to be, and the economy being what it is. But hopefully that can change, as the Pope don't charge much to get in his venue, which I admire a lot, considering most local shows now are $10 a pop to get in (which I can't stand).
If anything, I think $10 tickets actually hurt our scene and keeps people from attending the shows they would like to attend. After all, who has money for attendance, gas, and drinks, and food?
I am a poor bastard and every little bit helps, so $5 off a ticket per person is a big deal! I would like to thank my friends James Boaz and Bobby Moser (Moshpit Productions) for their efforts in bringing original music to this venue, for taking the time to talk to the Pope about bringing in original rock/metal bands and making good things happen for us local rock bands. We appreciate your efforts.
Those guys in Moshpit Productions actually care for the scene and are in it to help our regional musicians, and not to merely make a buck. I see a lot of potential in this venue. Hopefully more people will hear of this cool place to see live music and get their butts out to The Heart Of Fire Church for a rip-roaring good time. The Moshpit guys promise a slew of killer shows this summer.
Sounds great. I can't wait!
2013 Rockstar Mayhem Festival Lineup
The Rockstar Energy Drink Mayhem Festival, the world's biggest hard and heavy music touring festival, announces its electrifying sixth-year lineup, which is a pretty brutal lineup! Artists performing on the 2013 thunderous fest include main stage metal and horror legend, festival closer, Rob Zombie (who puts on an amazing stage show!) Just pray he doesn't use the feathers again! He dumped a ton of feathers on the crowd last time I saw him, and that combined with 100+ temperatures made for a sticky, unpleasant concoction that was almost impossible to remove from your body. Also on the tour are the triple gold-certified Five Finger Death Punch (one of my favorites!), main stage band Mastodon and Amon Amarth. The festival area is led by stage closers Children Of Bodom and Machinehead as well as Behemoth, Job For A Cowboy, Emmure, Born Of Osiris, Motionless In White, Butcher Babies, Battlecross, Huntress, Thrown Into Exile and City In The Sea. Four stages will be presented this year for the first time ever. You can see this wicked show on July 26 in Noblesville, Indiana at the Klipsch Music Center. (I'm puzzled as to why a Cincinnati date has not been made. They usually have a date there every year at Riverbend. That is strange.) Get your tickets soon.
A Tip From Mr Metal: Every time I have went to The Rockstar Mayhem Festival I've had an excellent time, and the bands absolutely killed. So don't miss out. Zombie and Death Punch are worth the price of the ticket alone and the Klipsch Music Center is awesome. I saw Iron Maiden and Alice Cooper there last year and it was unreal.
Soundgarden May 10
I've never really been a big fan of grunge rock, nor of Soundgarden, but I know a lot of you peeps are, so you might want to get your tickets ASAP to see this legendary grunge band playing at the Louisville Palace on Friday, May 10. There are a few songs that I kind of like, including "Black Hole Sun" and "Rusty Cage." I'm checking out the new single "Been Away Too Long," off their latest album and I'm not impressed. It seems kinda bland and not very memorable, in my opinion. Don't get me wrong, I saw singer Chris Cornell at The Palace a few years ago on his solo tour and he was great, but the music of Soundgarden just does not do it for me, I guess. I bet this show will do well on ticket sales, as a lot of people are talking about it, so all you Soundgarden fans might want to get your ticket before it is too late and they are sold out. Support Louisville's best venue, The Louisville Palace!
Welcome, Okolona Music Center
With the demise of long-time Louisville music store Professional Musicians Center on Preston Highway, the opening of Okolona Music Center provides welcome relief for musicians in the area. New owner and master guitar tech Colin Ennis, formerly employed by PMC Music, has decided to carry on with the longtime South End music store tradition. His store is Okolona Music Center, located just across and down the street on Preston, next to Bearno's Pizza. Colin has a lot of the gear PMC used to have and the techs are the same ones that worked at PMC, so it's basically the same dealio. I always liked the people there at PMC and nothing has changed at all with the changeover and location move. I recently went in there for the first time and I like it a lot. The folks in there are genuinely good people who would do anything to help you out in a bind. Not only that, they have some really good prices as well. I was kind of shocked, to be honest. The repair work they do is a bit cheaper than other places. Colin is a darn good guitar tech, so starting his own business was a logical thing to do. Now all you peeps in the South End don't have to drive so far just to get strings and whatnot. You have a real good music store right in the heart of Okolona, so be sure you drop in a say hello to Colin and the crew at Okolona Music Center. You won't be sorry you did.
Remember folks, support our local music stores like Okolona Music Center, Uncle Sams Jamms, J and J Old Louisville Music Shop and Mom's Music for all of your musical instrument needs. Let's keep these guys in business and put a halt to the big fancy corporate music stores that seem to be taking over. Keep it Louevil!!!
Stonecutters New CD Review/News
What will be the band's third full-length release. Creatio Ex Nihil (the first with Chris Leffler on guitars) is due out in April 2013, released by Time Is Truth Records on CD and vinyl. The CD was recorded and mixed at LaLa Land Studios by Kevin Ratterman and Stonecutters. The CD release show is on April, 13 at Headliners Music Hall with Ohlm, Abominant and I Died Trying. I'm checking out a few tunes right now. "Infernal Diatribes" starts out with some beautiful classical/Spanish-sounding acoustic guitar. I love this guitar tone! Then the madness kicks in with a groovin' riff that don't really sound like what I expected. The guitar talent in this band is off the hook. I have much respect for the players in this band, especially guitarists Chris Leffler and Brian Omer, who together are the most formidable guitar duos in our metal scene. This track is fast and goes a lot of places. I like it most towards the end when it slows to a crunching. Grinding, straightforward groove. The vocals don't quite do it for me, though. But that's just me, everyone knows I love melodic vocals like Iron Maiden, Judas Priest, Nevermore or Five Finger Death Punch. The vocals do seem very old-school, classic sounding, even reminding me of Scared Reich and Possessed at times. Not bad at all. It sounds better vocally than the last release, I think. The rhythm guitars are pretty awesome. They have some beef in those riffs! The crunch is in abundance. The end of the song is sick! "Four Pillars" is next. More classical acoustic guitar. I cannot get tired of these acoustic riffs. Then the song goes into a riff that Beavis and Butthead would have had a ball with. I can see it now. Da Da Da Da Duh! Beavis would love this. Then it gets a bit more layered and complex as the song kicks in. The beat is upbeat and energetic. The guitars are all over the place and the drummer Johnny Wooldridge is rockin on this one. Wow, I'm really liking this guitar solo a lot. Emotion and feeling! This is the guitar expertize I was talking about earlier. Then it switches back to classical guitar. Excellent! It's kind of doomy, yet classical and progressive at the same time. "Revere What You Burn" starts out badass. I really like this intro. Brian Omer sounds a bit like the singer for Obituary on this song. Killer leads over an awesome rhythm work very well on this tune. Then a sudden stop and intro to death metal riff. Cool. Okay, this solo is friggin off the hook. I love this. Sounds like some Megadeth or something. Absolutely killing. These guys got my total respect. This is the best song of the three I've reviewed, by far. Killer composing and arranging make this metal release one that Louevil metal fans can be proud of. This song represents our city well. Great musicianship. As I said, the vocals aren't nearly as impressive as the rest of the music, but the guy plays guitar and sings at the same time, so all respect is given there. Heck, I couldn't do it. The sound quality of this recording is not bad. I'm loving the guitar tones and sounds they've got going on. The drums and bass sound good. The solos are the high point in this recording though, that and the groove that this band has. Just because a band is metal does not mean you cannot have massive groove and feeling. And The Stonecutters prove this, especially with that last tune. Be sure to check out their CD Release bash on April 13 at Headliners.
Musician Of The Month, John Anderson of Boozer
Don't forget to check out John Anderson's Musician Of The Month feature this month in the paper. This Gibson Les Paul playing guitarist of the Louisville rock band Boozer is incredible and has major tone and pro gear. Every month, you can look in Louisville Rock Close Up and see who the featured musician is. If you have a suggestion for a musician who deserves the credit, email me. I'm open to suggestions!
Good Luck, Po Brothers
I would like to wish the southern Indiana band Po Brothers all the best luck with their move out West. As of print time, the guys are now on their way to Seattle, Washington for a new life, a life of trying to get their music out to the masses. Seattle is a kickin' town, I hear, so I bet they will have a much better chance of getting a record deal there. It is a shame to lose such good people/professional young musicians (I loved working with these guys! No egos or douche-bag attitudes. Just good music and positive attitudes), but we 100% understand your need to get to where your chances are better at success. Good luck, guys!
Dillinger's Music Venue, Remodeled/Upgraded
If you haven't been to The Irish Exit in a while, you should stop by the place to see the new look/new stage/new PA System. They changed the name to Dillinger's Music Venue! From what I hear, it is a major improvement over the old Irish Exit setup. So all you bands should look into contacting Ryan Thompson at Dillinger's, because he is ready to help you original bands out by getting you guys in there to rock the house! He is a good dude, so call him!
Jackyl on Derby Eve at PHT
Phoenix Hill Tavern has always had one cool Derby Eve Party going on. And this year promises to be lively, indeed, as the Hill has brought in Jackyl to rock the Derby city on its greatest night. So c'mon out and rock out to some raunchy rock 'n' roll, Jackyl style!
Popkiss Chainsaw's New Guitarist
The guys didn't waste any time getting things back in order in the Chainsaw camp, after guitarist Hy Davis left the band. Popkiss Chainsaw has enlisted guitarist Tony Henry (formerly with Boozer, Ashes Eve and Envain) for guitar duties. And they should be back playing out once again in about a month or so.
Homegrown Mayhem VI in Radcliff
Those of you a bit south of Louisville might want to check out Splattertribes Homegrown Mayhem VI Concert at Los Margaritas Mexican Grill in Radcliff on Saturday, April 13, featuring regional original artists Tree Meets Sky, Luie Brangers, Hurt Circle, Krosjoint, Six Foot Fall and more. This annual concert is in tribute to original musicians from the region. 107.3 The Point will be supporting the event and there will be prizes and all kinds of stuff going on, so get your groove on and come out and rock out and get some awesome Mexican food at the same time! Los Margarita is located at 2400 South Dixie Blvd in Radcliff, Kentucky.
Upcoming Shows
(I Cannot Print What I do Not Know, So Send Me Yo Chit.) Send to Eddymetal1@aol.com
Diamonds Pub and Billiards
Friday, April 19 – Uh Huh Baby Yeah w/ Late Ones, American Dream, Aesthetic Versus Architecture and Think Harder. 8 p.m. $10
Saturday, April 20 – Black Tusk 10 p.m. $10
Sunday, April 21 – Fear Factory w/ Hate Eternal, The Kobra and The Lotus, Incursion and Creature Of Exile. 7 p.m. $20-$35
Tuesday, May 7 – Goatwhore w/ 3 Inches Of Blood, Withered, Anagnorisis and Ohlm. 7 p.m. $12
Friday, May 10 – Chimaira. $15-$35
Dillinger's Music Venue
Friday, April 5 – Majestic Man, Onward Pilgrim, and Gideon's Rifle.
Saturday, April 6 – Insane Asylum Records presents The Lyrical Massacre Show.
Friday, April 12 – Branded by Hate, Devil and the Darkness, and Left to the Wolves.
Saturday, April 13 – The Lonely Sons and TBA
Friday, April 19 – Vitek, House Ghost and Plastic Bubble.
Saturday, April 20 – 3 On The Floor, Dan Tedesco, and TBA
Thursday, April 25 – Nerves Junior.
Saturday, April 27 – Cassino, Field Of Kings and Rachel May.
Expo 5
Monday, April 15 – Insane Clown Posse. 7 p.m. $28
Saturday, May 25 – Hollywood Undead w/ Falling In Reverse and American Fangs. 7 p.m. $22
Gilberts Bar and Grill
Friday, May 3 – Tri Tones, Falling Sky, Gravel Switch, and Atomic Thrill Ride.
Headliners Music Hall
Monday, April 1 – Circa Survive. 7 p.m. $12
Saturday, April 13 – Stonecutters CD Release w/ Ohlm, Abominant and I Died Trying. 8 p.m.
Monday, April 15 – Hatebreed w/ Job For A Cowboy, Every Time I Die, Terror and This Is Hell. 7 p.m. $20
Wednesday, April 17 – Kottonmouth Kings w/ Deuce, Dizzy Wright, Snow Tha Product and Eskimo Callboy. 7 p.m. $20
Thursday, April 25 – Red w/ We As Human, Southbound Fearing. 8 p.m. $15-$40
Los Margaritas Mexican Grill
2400 South Dixie Blvd in Radcliff, Kentucky
Saturday, April 13 – Splattertribe and Unity Productions presents Homegrown Mayhem VI w/ Tree Meets sky, Luie Brangers, Krosjoint, Six Foot Fall, Hurt Circle. Starts at 8 p.m.
Monkey Wrench
Saturday, April 6 – Falling Sky, Your News Vehicles and Clint Ackerman. 9 p.m.
Phoenix Hill Tavern
Friday, April 5 – Burning Babylon, Year Of The Gun, BoneJinn and Flood Water. Free before 9 p.m. Only $5 after 9.
Friday, April 12 – Boozer, Tri Tones, Out Of The Ashes, Tiffany Tucker Band, Jamie Tingle and Puddin Howell. 9 p.m. $10
Friday, May 3 – Derby Eve Bash w/ Jackyl.
Union Station
Saturday, April 6 – 20 shades (Tampa, Fla) and TBA. 9 p.m.
Wednesday, April 17 – Midget wrestling with the band Spontaneous Internal Combustion. 8 p.m.
Friday, May 3 – Overload, Wrath Over Riches, Creature Of Exile and Spontaneous Internal Combustion.
8 p.m.
The Vernon Club
Friday, April 12 – After The Burial w/ The Contortionist, Within The Ruins, Glass Cloud and City In The Sea. 7 p.m. $12
Tuesday, April 16 – Aer. 7 p.m. $13
Sunday, April 21 – The Word Alive w/ O' Kingdom, Our Final Hour, Militia Set Sail and Better You Than Me. 7 p.m. $15
Wednesday, May 1 – The Millionaires w/ Ashland High, Beneath The Sun and Lancifer. 7 p.m. $12
Wednesday, May 8 – Crown The Empire w/ Capture The Crown, Palisades, Heartists, Famous Last Words. 6:30 p.m. $12