March 2012 Articles
Cover Story
Kevin Gibson
Features
Eddy Metal
Columns
Berk Bryant
Mike Stout
Paul Moffett
Sue O'Neil
Martin Z. Kasdan Jr.
Eddy Metal
Alexander Campbell
CD Reviews
Kevin Gibson
Kory Wilcoxson
Blogs
Got Shows?
Send Them To Us
Bookmark Louisville Music News.net with these handy
social bookmarking tools:
Available RSS Feeds
- Top Picks
- Today's Music
- Editor's Blog
- Articles
Add Louisville Music News' RSS Feed to Your Yahoo!

Issue: March 2012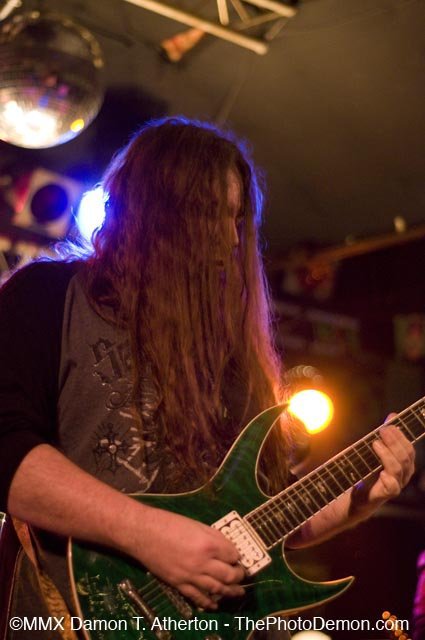 News From the Pit
Summer 2012 will be Blazing Hot!! Prepare to burn with Slayer, Slipknot, Anthrax, Iron Maiden, Alice Cooper and As I lay Dying...
Hey, everyone, how's it going? February is usually a slow month in Louisville music, so my column might be a bit shorter this month. Lucky you! Ha. Great news though! Slayer, Anthrax, Slipknot, Iron Maiden, Alice Cooper are coming this summer! Sweeeeet. See below in Metal Grapevine!
So who got to see Van Halen? I am still a little disappointed/mad in not being able to get Van Halen tickets. Oh well, you can't win them all, I guess. I've been a concert-going fool, so I shouldn't complain.
I heard two different versions of a show review. One was that it was a great show and that it was packed. The other was that David Lee Roth slaughtered the classics live (He never was a great vocalist live, he was actually kind of a lazy singer live vocally, but not physically), but Eddie was jamming well, I heard. Some people said "Eddie still has it!" Edward still has his mojo. That's good. I always loved the rawness and feel of Eddie's riffs in old Van Halen up to the 1984 album. It's great stuff indeed.
But I still say- bring back Michael Anthony!!!
The Louevil scene seems to be kicking into second gear as spring approaches. The Vernon Club is doing a lot more local shows these days. Terry Harper has an original music showcase there, called the $5 Dolla No Holla Series! So if your band is interested in playing, give him a shout. If you haven't been to The Vernon Club yet, you might want to check it out! They also have a bowling alley in the same building, above the concert hall! It is one of the oldest bowling alleys in the state, I've heard. The place holds two to three hundred rockers and is perfect for local shows and smaller national acts.
I've played there once and the sound system is pretty darn good. The sound guy was competent, too. My guitar sound was crushing! Now it's just a matter of getting people to come out and see the new venue in all its glory, so the place can build a following. One good thing is that Terry's local original shows there are only $5. A lot of promoters charge $10 to see local shows nowadays. These days, the economy has everyone as broke as can be and struggling, and $10 to see local bands is steep by any measure. I have kept my showcase at Phoenix Hill Tavern at only $5 for that very reason. Terry understands the bad economy and has kept the price low so that people can actually attend the shows and possibly have a drink as well. I have noticed all kinds of shows are happening lately, due to the influx of umpty-nine promoters getting involved with the music scene. The more the merrier, I reckon. It just makes for a more livelier scene!
And I finally got around to checking out 107.3 The Point radio station. A True Rock station that has people talking! Read my review/experience in The Metal Grapevine.
Luv Yo Brother, MF...
I would like to address a topic that needs to be addressed. Guitarist/vocalist Bobby Olliges of The Zoo Kings was ranting the other day about the lack of support for each others bands, and the more I thought about it , the more I realized he was right on the money! It's gotten pretty pathetic for real.
We bands need to support each other a little better. Attend each others shows, quit being so competitive and try to work together more on building our scene. I have seen way too many bands leave after they play and take their crowd with them. Or not give a crap about other bands on their bill. Bands here in town also aren't very quick to return the favor if you hook them up with shows or whatnot. For instance, I've hooked up so many bands it's not funny, with exposure/shows/radio but rarely have these same bands repaid the favor by offering my bands shows. It's a crappy feeling to go out of your way to help people and not get the same treatment in return. Once again egos are taking over, it's not a pretty sight, and in the end, it almost always doesn't work out for the holier-than-thou bands I speak of.
Egos and crappy better-than-you attitudes almost always emit a little thing called Karma, and as you have surely heard " Karma is a Beeyatche! "
The Metal Grapevine
Keep Me Informed, People, You Can Be My News Reporter:
While I do my best at getting good stories/topics to write about, I am not all-encompassing/all-knowing! Things do slip past me! I cannot print what I do not know! If you know of a good story, a new band that deserves attention, or a new venue that wants to become part of the scene, or anything that would help or improve our Louevil rock/metal scene, I would love for you people to hit me up and let me know what's going on. I'm always looking for cool stuff to write about or review. I try to involve you people in my work, and that is why my column has done so well. Keeping an open mind to new topics! So If you've an idea or suggestion, feel free to contact me to discuss things. And don't forget, you can also send in live pics of your favorite Louevil bands jamming live for us to print. Just be sure to send the person's/band's name and location where they played, and who took the picture. Eddymetal1@aol.com
Children Of Bodom Review Coming Soon:
I will be seeing Finland's highest-selling artist of all time, classical metal demons Children Of Bodom , in a few days and will be posting the review online because I won't be able to get to it in time to get it in the print version of the newspaper. It should be up online by April 1 or 2. So check us out online at Louisvillemusicnews.net or louisvillemusic.org/pitnews for the review and pics.
Musician Of The Month, Kevin McCreery:
This month's LMN Musician of the Month is Louisville guitarist extraordinaire Kevin McCreery, who not long ago was hired as the guitarist for the popular Michigan-based rock/rap/hip hop/country band Uncle Kracker. Kevin is quite a character and his feature is definitely worth a look. Kevin is one of the best guitarists in Louisville and I'm glad he got a good gig to showcase his amazing talent. If any guy should be on tour on a world stage, it's this guy. Be sure to look up Kevin McCreery in our Louisville Rock Close-Up Section this Month!!!
Centerfold Calls It Quits In Record Time:
The Louevil radio-friendly rock band Centerfold, whose short life was blessed with a decent following, some good gigs and some catchy tunes, has broken up. Discord amongst band members is reason, I am told. Ah, the old "not getting along with each other" demise! The number one killer of good bands. I know all about that (My old drummer and I used to fight all the time! It got ugly several times. We get along great now, though)!
Seeing someone all the time and having the patience to work things out song-wise/band-wise is a large hurdle to overcome sometimes, but you've got to stick it out and compromise! That is the key. I can think of a hundred ways to kill a band, nagging wife/gf, money issues, no proper gear, lazy members, drugs, alcohol, etc. I've seen it all. This band had a promising future, but now, for the band members who actually wanted to play music, it's back to the old drawing board.
And that is a crappy feeling (I know). It's almost like catching your beloved girlfriend cheating on you.
107.3 The Point, Movin On Up:
I was recently introduced to the radio Station 107.3 The Point, based in Elizabethtown, KY. My band Krosjoint was invited to come down and do an interview and to play an acoustic song unplugged, so we headed down to E-Town. I was surprised that 107.3 The Point even came through here in Louisville, but it does! They have a radio signal that reaches farther than the rock station here in Louisville. We listened to the station (me, for the first time!) on the drive down there. I was also surprised at how cool the station was music-wise, they played all kinds of cool rock and newer hard-hitting metal too. Truth be told, I had almost given up on radio here in my town, ever since the station I've listened to forever changed their format to a more alternative/emo'ish/indie music selection that I cannot stand!
However, after the ride down to E-Town, I was pleasantly shocked at what 107.3 The Point had going on, and I sit here now to tell all of you about this small station from about 45 minutes down south of here. After getting lost twice (I knew I should have driven!) we finally made it. The DJ, whose name was Axe, was a cool, polite and courteous dude who didn't have the snooty attitude most DJs have. The guy seems like he really wants to help out the Kentucky original music scene.
All types of music, too, I noticed. They support a wide variety of rock/metal.
They're very active in supporting our regions unsigned artists, and for that, I commend them no end. People had told me to check out 107.3 The Point, but I was too pig-headed/stubborn to listen.
Anyway, I'm glad I finally had a listen, because now I see the light. And, lo, children, we have real rock n' roll/metal station back on the table here in Louisville! Thanks to 107.3 the Point.
Bands interested in getting exposure on The Point should contact axe@1073thepoint.com.
Rockstar Mayhem Festival 2012 Lineup:
Okay, peeps, this year at the Rockstar Energy Drink Mayhem Festival at Riverbend in Cincinnati is a BEAST of a show that many of you will not want to miss. The lineup is Slayer, Anthrax, Slipknot, As I Lay Dying, Whitechapel, The Devil Wears Prada, Asking Alexandria and High On Fire. I'm sure there will be more lesser-known bands as well, and possibly some local artists on a third stage. The date is Tuesday, July 24 at Riverbend. One of my favorite places to see an outdoor show! Tickets go on sale April 6, so mark your calendars. I'll do my best to try to get you folks some free tickets to win through our LMN giveaways!
Iron Maiden/Alice Cooper Coming to Indy in July:
Man oh man, do I love me some Iron Maiden!
On Thursday, July 19 at the Klipsch Music Center in Noblesville, Indiana, two rock/metal titans will be playing! Iron Maiden and Alice Cooper on one bill. Is that cool or what??
This is a rare event. Iron Maiden rarely comes this way for a show. Heck, my ex-gf and I had to drive four hours to see them back in 2004. So if you love Maiden and grew up to them, you might want to drive the measly two hours and see these metal legends in concert. You never know when they could decide to call it a career and retire! It would soooo be worth the drive to see them. I know many people who are talking about going. Bruce Dickinson is one excellent singer, one o' my faves and Adrian Smith's guitars and Dave Murray? Classic! I always liked seeing shows in Noblesville, anyway, so you know it will be pretty good. It's their cops I could do without. I miss the Ozzfest shows something fierce. This should be a fun night! I'll see if I can score you peeps some tickets for our newspaper giveaways! Tune in next month!!!
Strike First/Hot Action Cop Bassist and Louevil native Juan Chavola speaks:
Eddy: What's up Juan! Tell us lowly Louevil slugs what's new with your new band, and the tour you've been on. I understand you guys in Strike First have landed a few arena shows and a small tour out west. Congrats! Tell us a little about that and the experience of being able to jump into playing nationally on a big scale like that....
Juan: Well, I could go on for days, man, about what the guys and I have done in the past six months since we have been together. Thanks to producer/co-manager Zack Maloy (founder and frontman of 90's grunge band "The Nixons" and our management In De Goot Entertainment (7dust,shinedown,Chevelle,Theory of a Deadman) and way too many others to name. Our main plan was to go to LA and showcase at "The Whisky A Go Go" then our management decided to throw us out with Theory of a Deadman for their last dates of their U.S tour figuring that would have us well-primed to kick some ass in LA and let me tell you, it worked. The shows we played with Theory were friggin huge!!! I've never played in front of such huge crowds, not to mention we were direct support and our first show was a arena in Kennewick ,Washington. We finished our stint of shows with the Theory guys, which I was deeply saddened because those guys and crew made us feel right at home and we got a lot of exposure and gained a lot of fans. So we went to LA and kicked ass hooking up with CAA booking agency and created quite a buzz in the industry.. Just about every label that came to see us in NYC also came to the LA showcase so I have a great feeling about our future.. We are very fortunate to have the best management and people who believe in this band, so I can assure you that this year is gonna be Strike First's year!!
Eddy: What place did you like best out west? My guess is San Francisco, for their lax laws on certain agricultural products. Ha! And no, people! Juan does not have a rainbow sticker on his bumper!
Juan: Wow, man that is a hard question to answer, but I would have to say Spokane, Washington. The atmosphere and the energy of the sold out crowd at the "Knitting Factory" was insane. By far the sickest venue I've ever played. No doubt, on our off days in L.A. we partied at the legendary "Rainbow" where we met Ron Jeremy and Dave Lombardo. Walking down Sunset Blvd. fueled on whiskey taking it all in.
Eddy: Juan, what's next for Strike First and Hot Action Cop? And how the heck do you manage to do both music projects?
Juan: As for Strike First, we are completing the record in March and will be a part of several major spring tours and festivals. I really feel that how things have happened so quickly and come together so smoothly, there will be plenty of opportunities on the horizon. As for Hot Action Cop, we have taken quite a break since September 2011 and our guitarist the legend Tim Flaherty and his wife are expecting a new born in March!! So I actually have a lot of time to focus on Strike First and my career. HAC will always be my bros and we will be rocking again some day when everyone can get together.
Eddy: Tell us a good TRUE story about a wild time or two on this last tour out west! And don't hold back on us!
Juan: Every night partying our asses off with the Theory guys, back stage jamming old school vinyl records and letting loose a bit too much. lol. But partying and getting obliterated at The Rainbow in L.A,. with Dave Lombardo (Slayer's drummer) and Ron Jeremy (the infamous oldschool porn star known as the Hedgehog) was a night I'll never forget. But some things are better left unsaid.
Prong/Crowbar:
Two metal powerhouses will be hitting the Phoenix Hill Tavern on Thursday April 19. I've always liked both of these bands and to see both together would be a treat for any metal fan, regardless of their age! I saw Prong at the old Zodiac/Mercury Paw club on Main street and at Phoenix Hill waaaay back in the day! Early 90's! It's good to see the Phoenix Hill still bringing in a wide variety of music, even old classics like these two kickass bands! Get your tickets now, this shall be one sick heavy metal/hardcore show!
The Fire Dept St Patrick's Day Bash:
Saturday, March 17 at Phoenix Hill, it's the return of Louevil legends Fire Dept. To all you young'uns who don't know of Fire Dept. Let me tell you. These guys used to rule Louisville in it's rock 'n' roll heyday! Hard drinking, mucho party favors, female nakedness, crazy and naughty theatrics (you gotta see it, cause I can't print it), and a raunchy a$$ good time, powered by some good hard-drivin' rock n' roll! Excellent musicians. Then mix that with the region's # 1 Bar, the super-sleazy rock n roll/metal haven, The Toy Tiger, and what you had was a huge party the likes that this city has never seen since, and will probably ever see. Fire Dept has been around since the early Eighties, rockin this beeyatche. When I was a mere lad of 16, I used to weasel my way into the 21-and-over Toy Tiger to see Fire Dept. I would get a fake stamp on my arm and smudge it and bully on in the front door of The Tiger with my arm up in the door people's face as I quickly walked by. They fell for it every time! They got to know my face! Here I was soooo young, partying with the rockers at The Tiger! All my friends my age were in awe that I could pull off such a move. Ha.
Seriously, folks. It would be wise for some of you younger rocker's to get a ticket to this show and see a little piece of Louisville History. You will thank me later.
Jane's Addiction coming to Louisville Palace:
The show is on March 23 at Louisville Palace! Alternative rockers should love this news! I'm not a big fan of the band/alternative music and know nothing of their music, but I know quite a few people who are. Get your tickets now, because this should do well. Plus, you cannot go wrong at Louisville Palace. That place is awesome!
The Tool Experience- Opiate:
I've heard some good things about Opiate, The Tool Experience. I know a lot of you peeps out there love Tool, so here is your chance to see a darn good cover band in action. Supposedly they nail it! The bands reviews are very good.
You can see them Saturday, March 3rd at Phoenix Hill Tavern. One night Only! So mark your calendars for this one. They don't come here very often!
XS guitarist GPS had a stroke:
One of the nicest guys I've ever met, George Paul Smith, the guitarist for Eighties cover band XS, has had a stroke. It's seems that he will probably be okay though, Thank God.
He had a lot of us very worried when the stroke happened. As of yesterday, he was up and about a little bit and even wanting to play the guitar! This dude is phenomenal on guitar and I've always admired his talent on the six string. Not many people can duplicate riffs by guitar greats like George Lynch, Eddie Van Halen, Jake E Lee, but GPS does it effortlessly. GPS also teaches guitar to those who want to learn, and I'm thinking you couldn't ask for a better teacher than GPS. As I've said, GPS is one of the coolest and best people in the Louisville music scene and all of us here at LMN wish him a speedy recovery so we all can hear those unbelievable riffs onstage soon. Get better soon, buddy!!! We love ya bro.
Granshaw Review:
I have been hearing this name Granshaw quite a bit and had never heard the band, so I thought I'd show some love to a new band that I know nothing about. (I'm just nice like that!;)
These south central Kentucky metalheads are influenced by Pantera, Mastodon, Clutch, Fear Factory, Unearth, Slipknot, Remembering Never, Superjoint Ritual, Down etc, etc.
I'm listening to their song "Blood Of The Immortal" and I'm digging it already. Nice guitar playing and tone! Very old school sounding and potent. Good musicianship, so far. Competent drumming and guitars.
The vocals are very Pantera/Down-ish, minus the heroin. Not bad at all. I'm a picky MF when it comes to vocals and I could actually sit down and jam to this music without wincing. The music isn't super-technical, but it doesn't need to be. Super-technical metal is overrated and doesn't seem to do well with the average listener. Groove is the key to winning hearts of metal fans, and these guys have groove. "The End Of All Trends" starts off with a cool eerie-ish guitar intro, then lets loose upon humanity with brutal force. Nice drumming! Creative guitar parts, too. It's good to hear a band that has decent guitar tone.
I was getting sick of hearing bands that want to sound brutal, yet played with cheesy combo amps that sound like doo-doo. It don't work, peeps! Proper guitar tone is essential. The vocals in this one are straight-forward and busy as hell. The riffs in this song are a little more difficult to play, I've noticed.
You can really see their influences in the music. "Hostile Homocide" is a blitzkreig of a song that makes you want to kick someone's jawbone in. Powerful and intense, Granshaw has a knack for writing decent heavy metal riffs and conveying them to the masses. There is a nice slower breakdown for the chorus that fits well. I would like to see more guitar solos in Granshaw. Some ripping melodic leads would be perfect for this music. Vocalist Bo White has a good metal voice, but I think if he went a little more Southern Kentucky redneck in his vocals it would really bring out the vocals more. I like his vocals, he has killer screams and growls, but the straight-forward stuff all the time tends to get monotonous at times. And sometimes I have seen that that can ruin a band. We have a band or two here in Louevil whose music rocks, but the constant barking rah rah rah'ing cookie monster vocals shite grate on my nerves and make me not even want to listen to them. Granshaw is not like that, mind you!!! I'm just trying to make a valid point to all you metal vocalists out there. Don't overdo the barking! Bo White has a darn good metal voice, I would just like to see some more Southern influences and singing to these blazing riffs. It's obvious the guy can pull it off, too. And maybe a few more guitar solos! I'm a guitar nut, what can I say? These guys do have a decent product and I want to see them live in action. Check out southern central Kentucky's Granshaw on Facebook people!
You can see them next in Louisville on March 10 at the Vernon Club with Popkiss Chainsaw and my band Krosjoint. Should be fun, c'mon out!
You can also see them do a solo showcase at Phoenix Hill Tavern on 93.1 The Fox's Louisville Rocks on Wednesday March 21 at 9 p.m.
New Band Alert, classic rockers Rock Station:
I'm checking out a new band called Rock Station, and it is a jazzy-sounding encounter. These guys are classic rock, rock, Southern rock and have it going on! The CD sounds great and the playing sounds very tight, indeed. Nice clean guitar tones and a professional quality recording from these guys. Rock Station is Steve Sprowles - Lead Guitar / Vocals Scott Kennedy - Bass Guitar / Vocals Josh Caplinger- Keyboard / Vocals Stan Kirby - Drums / Vocals.
"You" is quite light and relaxing and somewhat dreamy. I listened to it the whole song with no issues.
And for me, that's good! The vocals are smooth and have a good feeling about them. I've never been a huge fan of classic rock, but you can tell right off that these guys are pure professionals. Steve Sprowles' guitars are sweet as honey: you got cleans, creamy rock gains, and crafty solos with emotion flowing. "Lonely Hearts" starts out kinda metal. Wow. This is a shock. The last song was very light, and this is much heavier. Cool-sounding keyboards start, then rip into a chunky riff with a nice solo over it. The vocals don't seem to be doing it for me on this one, though. I can hear a much higher vocal melody in my head. The guy can sing fine, but it's a bit too low for the song. The drums might sound kinda weak in this track, too. Needs more double bass!
It would bring out the metal parts. This tune reminds me of early Eighties metal. "A Matter Of Time" is an instrumental that kicks off with a Rush-like riff that is cool sounding. I expect to hear Geddy Lee kicking in any second! That is a compliment, by the way!
Nice soloing, Mr Sprowles! Much better than the previous songs. Tasteful keyboards are abundant in Rock Station, it seems! This is a progressive classic rock band with a taste of the olden days. They have the juice and pull it off nicely. If you love classic rock bands that can play well, then you will probably like Louevil's Rock Station as well. See them at a venue near you soon!
Upcoming Shows
Expo 5
Sunday, April 1 – For Today, w/ a Skylit Drive, Stick To Your Guns, Mychildrenmybride, Make Me Famous. 6 p.m. $15
Saturday, April 7 – Asking Alexandria w/ Trivium, I See Stars, Motionless In White and The Amity Affliction. 6 p.m. $25
Thursday, April 12 – All Shall Perish w/ Carnifex, I Set My Friends On Fire, Greeley Estates, Fleshgod Apocalypse, The Contortionist, Conducting From The Grave, A Bullet For Pretty Boy and A Lot Like Birds. 5 p.m. $13.50 - $18
Thursday, April 19 – Chelsea Grin w/ Attila, For The Fallen Dreams, Chunk!, No Captain Chunk! Vanna and Volumes. 6 p.m. $15
The Irish Exit (New Albany)
Saturday, March 24 – 2 Pump Chump, Popkiss Chainsaw, The Zoo Kings and E-Flat. 8 p.m.
Louisville Billiards
Friday, March 23 – Southern Solstice and Year Of The Gun. 7 p.m.
Phoenix Hill Tavern
Friday, March 2 – Popkiss Chainsaw, Year Of The Gun, Boozer, Stripmind502, Tri Tones. 9 p.m. Free before 9P.M too. $5 after 9.
Saturday, March 3 – Opiate- The Tool Experience. 9 p.m.
Friday, March 9 – 16 Bones, Exempt (Evansville IN), IIattatime, The Winston Hours, Displacement (Evansville IN). $10 9 p.m.
Saturday, March 17 – Fire Dept w/ guest Parts Unknown. 8 p.m. $15
Wednesday, March 21 – Louisville Rocks w/ Granshaw. 9 p.m.
Friday, April 6 – Po Brothers w/ The Cigarittes and Fair Weather Friends. 9 p.m. Free before 9 p.m.
Thursday, April 19 – Crowbar, Prong and Witchburn. 7 p.m. $15
Vernon Club
Friday, March 2 – Bukshot w/ Bass Drum Aliens, Elephant Room, Slugga Boyz, T-Razor, J Monkey. 7:00 p.m. $5
Friday, March 9 – Season at Sea w/ Vinal, The Foxery, A Perfect Enemy, Formalities, Wetsuit Crusaders. 7:00 p.m. $5
Saturday, March 10 – Popkiss Chainsaw w/ Krosjoint, Granshaw, Stripmind502, Osira, Branded By Hate, Bury The Willing. 6:00 p.m. $5
Friday, March 16 – Rockaway Drive w/ This Is War, Six Foot Fall, Chapman, Boxwire, day, s Departure and Heroes Get Remembered. 7:00 p.m. $5
Saturday, March 31 – Sever This Illusion w/ Johari Window, Little did We Know, Under Red Skies, Dahmers Closet, Project Heavy Death, Left In Despare. 7:00 p.m. $5
Saturday, April 7 – Turistas w/ Alestorm, Ex Deo, Arkona, Huntress, Stagecoach Inferno. 7 p.m. $20
Wicks on Baxter
Thursday, March 15 – The Zoo Kings. Free show 7pm to 10pm! $10 all you can eat Pizza and Beer!
(Eddy; sounds like a winner!)