March 2012 Articles
Cover Story
Kevin Gibson
Features
Eddy Metal
Columns
Berk Bryant
Mike Stout
Paul Moffett
Sue O'Neil
Martin Z. Kasdan Jr.
Eddy Metal
Alexander Campbell
CD Reviews
Kevin Gibson
Kory Wilcoxson
Blogs
Got Shows?
Send Them To Us
Bookmark Louisville Music News.net with these handy
social bookmarking tools:
Available RSS Feeds
- Top Picks
- Today's Music
- Editor's Blog
- Articles
Add Louisville Music News' RSS Feed to Your Yahoo!

Issue: March 2012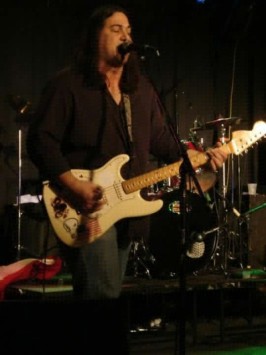 Kevin McCreery
Name: Kevin Paul McCreery
Age: it's a secret, but as you get older, they say you revert back to infancy, so it won't be long before I'm pooping my pants.
Instrument: Guitar is my main instrument but I also play drums, bass, dabble with keys.
Band/Former Bands: I currently play lead guitar for Uncle Kracker. Played in Outspoken in 2000-2003, then was the touring guitarist/vocalist with Tantric from 2004-2006. Formed UGLY in 2006 then took a break. Joined Big Rock Show in 2010 and started AvantgardeDog in 2011. So NOW I'm in AvantgardeDog and Uncle Kracker. The AGD CD is almost finished. We're recording it in Nashville with my buddy Chris Henderson from 3 Doors Down producing. It's really coming out great.
How long on instrument: Since I was about 9 or 10. I was a drummer first so I didn't start guitar until a bit later. All my friends were drummers, someone had to play guitar! So I gave up my sticks and woodshedded on guitar.
Equipment: My main gear right now are Fuchs amps, PRS, Fender and Harper guitars. Basic pedals like MXR Phase 90, Boss DD-7 delay, Tech 21 Roto Choir. I also have, amp-wise, a Peavey Penta, and a Tech 21 Trademark 60. I think I still have a Mesa somewhere in a basement in Michigan.
Influences: My Dad, Grand Funk Railroad, Ace Frehley/Kiss, Ritchie Blackmore, Pat Travers, Jimmy Page/Led Zep, Eddie Van Halen, Randy Rhodes, Alice Cooper, Ted Nugent, Michael Schenker Daffy Duck and Bugs Bunny, Jerry Mathers.
My first gig: In my living room for the family! I think my first real gig was at this place called the Rainbow Inn. I know I was young about 14 and my parents had to make one of the guys in the band a legal guardian so I could play a bar. And then it was all down here from hill...
Hobbies: Cooking, wine tasting, beaver hunting with Chip Adams,
Favorite Movies: Dead Poets Society, Slingblade, Anything Mel Brooks
Favorite Food: Sushi, Shellfish, beaver (Cooking with Chip Adams), a good filet
Favorite Place: San Diego and that place after a Percocet and a glass of wine.
Bad habits: Procrastination... it even took me an hour to answer this.
What I'm listening to nowadays: The Darkness, Porcupine Tree, Kevin Gilbert, Van Halen, Tinitus.
Coolest thing I've done: 3 Nights at Red Rocks with Uncle Kracker, Tonight Show w/Tantric and actually catching a beaver w/Chip Adams.
Most embarrassing moment: What happened after Chip and I caught the beaver.
Who do you love: The beaver?
When/where did you first get some: In the wetlands...