November 2010 Articles
Cover Story
Kevin Gibson
Columns
Berk Bryant
Mike Stout
Paul Moffett
Keith Clements
Martin Z. Kasdan Jr.
Eddy Metal
Alexander Campbell
CD Reviews
Martin Z. Kasdan Jr.
Kirk Kiefer
Hunter Embry
Performance Reviews
Eddy Metal
Eddy Metal
Blogs
Got Shows?
Send Them To Us
Bookmark Louisville Music News.net with these handy
social bookmarking tools:
Available RSS Feeds
- Top Picks
- Today's Music
- Editor's Blog
- Articles
Add Louisville Music News' RSS Feed to Your Yahoo!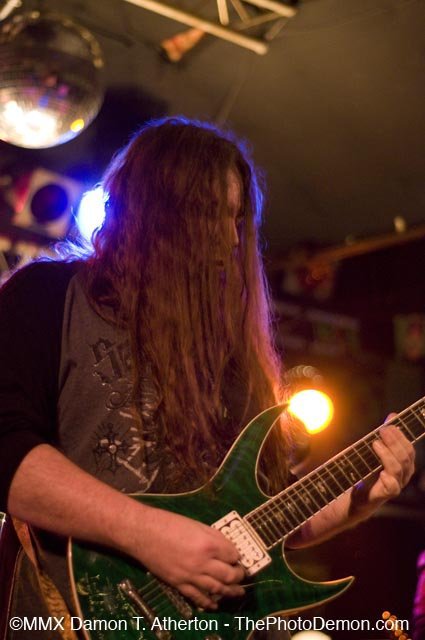 News From the Pit
Slayer/Megadeth/Anthrax destroyed!!!
Wow, this show was off the hook.
If you missed this show, you are a moron. This was the best metal show I've seen in Louevil in years. Whiskey, old friends, and great music made this night a winner!
ANTHRAX
Anthrax opened the show with a blazing set of classics that put such a smile on my face that it felt like I found a long-lost best friend after many many years. I grew up to Anthrax. Some of the first thrash I ever heard was Anthrax! Thank God original vocalist Joey Belladonna is back with Anthrax, because he was fantastic on vocals and nailed every note to every song. It was a sight to behold. His timing, range and syllable pronunciation was impeccable, even on super fast vocalization on songs like "Caught In A Mosh." Age has done absolutely nothing to dim Belladonna's vocal prowess. Awesome!
I was so happy seeing Anthrax rocking again. And, boy, were they rocking! They sounded so tight as a band that was was positively crushing. Guitarist Scott Ian was a nonstop moshing madman (so bad I could barely get a pic of him!) Bassist Frank Bello was his usual cool, goofy self as he was all over the stage. The band played "Caught In A Mosh," "Madhouse," "Indians (complete with Joey's wardance Indian headdress)," "Antisocial," "A.I.R," "Metal Thrashing Mad" and last but not least "I Am The Law."
Anthrax had a new second guitarist, Rob Caggiano, who did very well replacing longtime guitarist Dan Spitz. I usually hate replacements, but this guy gets the two thumbs up. Their set was a bit too short for my liking. I want to see these guys play a whole headlining set, even if I have to drive a few hours. It would be sooo worth it. Anthrax is an amazing and original band, and true legends in this genre called Heavy Metal. Nobody is like Anthrax. Long live Anthrax!
MEGADETH
What a tough act to follow. But we are talking Megadeth here, not Creed or Staind.
Dave and the guys put on a great show as well, showcasing their Rust In Peace album and a few extras for you folks. This was the guitar highlight of the night for sure. Yeah Slayer's guitar solos are cool and all, but as a guitarist myself I tell you, you can't beat the guitar combo of Dave Mustaine and Chris Broderick. These guys owned the guitar awards. Dave Mustaine is a certified guitar wizard through and through, and former Nevermore guitarist Chris Broderick is one of metal's newest major axe shredders. Watching these guys work was amazing. I was two friggin feet away, watching them shred, and it was unreal.
Dave's voice was a bit disappointing at first, but he got better after the first few songs. The guitars made up for it. Original bassist David Ellefson was on board, which made me happy, seeing the guy who helped start it all. Seeing the original lineups is always a very cool thing to me as a fan and critic. Mr Ellefson was active throughout the night, and did a few cool little bass solos, although nothing too awfully impressive or technical, which was refreshing. He was just having a good time walking around and laying down that cement-thick bottom end.
Heck, dude has to be badass to play with Dave Mustaine! He was spot on, though, and never faltered one bit. The band played the CD Rust In Peace, and even had the Rust In Peace character come out with mask and all. The crowd ate it up. Megadeth did a few extras as well, like a few new songs off of the Endgame CD that ripped, "Headcrusher"(the solo in this song rips!) and "How The Story Ends."
They ended the night in killer fashion by nailing "Symphony Of Destruction" and "Peace Sells."
Dave was cool as can be as he talked about how much he loved Kentucky, and saying that he is a neighbor because he has a horse in Shelbyville! He said that the show was almost canceled because of some reason, but he was very glad that it wasn't, because he loved seeing us after so many years away.
Dude seemed very sincere, and the crowd loved the guy for it. You could tell. It was cool.
The band was razor tight and the musicianship was off the charts. Dave's ripping solo towards the end of the show was downright amazing. Wow. Sometimes I forget how talented Dave is at super-fast riffing. I wouldn't have been surprised if smoke would have been coming off that mofo's fingers! Ha!
I wish they would have played "In My Darkest Hour," "Wake Up Dead" and "Hook In Mouth" through. That was kind of a bummer. But the guitar smorgasborg was filling in the extreme and left a mofo happy in the end.
SLAYER!
Last but not least came the metal demons themselves, Slayer. As far as fat evil rhythms go, Slayer won the prize of the night. Everyone knows Slayer's guitar rhythms are notoriously heavy, chunky and evil sounding. And the guitar tones associated with Slayer? Thick and hellish. It's downright hard to dislike a Slayer riff.
If you don't like Slayer, you ain't metal! Slayer came on and tore Louevil a few butthole.
The crowd erupted in a pit and people let loose. Slayer played the whole Seasons In The Abyss CD, and a few little diddies extra, like "South Of Heaven," a "Reign In Blood" and "Show No Mercy" medley, and last but not least "Angel Of Death." The band sounded great as usual, but I do have one complaint. The idiot sound guy had guitarist Kerry King at the perfect level during solos, but guitarist Jeff Hanneman was so darn low in the mix during his solos that you could not even barely hear him! Heck, that's what makes us Slayer fans happy. The double guitar attack. Fargin Duh!
Another dude who was complaining about the same thing says to me "I'm going to the other side of the stage to see if I can hear him better." But I was like, "Dude. It's going to be the same volume level on that side, too! The soundman did not properly mix PA volumes." Kerry's leads were piercing, but Jeff's were struggling to be heard. Was this soundguy a deaf idiot? Did Jeff Hanneman anger the guy somehow? I don't know, but I sure would have liked to have heard Jeff Hanneman'ssolos, as I think he is a shredder, too. Slayer had a wall of Marshall amps behind them that had people thinking that all of them were working. It does look way cool, but sorry, that is just eye candy, folks. In reality, only two to four of those Marshall cabinets were probably working and miked. Kerry King is a beast on guitar and his riffs were brutal on this night. I got some great pics of him and vocalist Tom Araya. Tom was his usual self, although he didn't move around as much as he used to, due to a bad back, I think. Slayer's sound was punchy as heck and sounded great, except for Jeff being so low in the mix. Slayer's two metallic logos were very cool looking and their setup was basic as can be, just like they like it. My favorite's were "Angel of Death" and "South Of Heaven."
I would have loved to hear "Epidemic" or "Mandatory Suicide" or even "Behind The Crooked Cross."
Seeing these bands play a whole CD like Seasons In The Abyss is cool and all, but I would have rather heard the best songs from all the CD's instead of a whole CD in entirety. Too many good song's were left out. Personally, I liked South Of Heaven and Reign In Blood albums better.
But I can't complain too much. The show was awesome.
CONCLUSION
The sound in Freedom Hall was very good, the best in a long while. It's no secret that I've never really liked Freedom Hall or its staff (who almost locked me up once for merely handing out band flyers! Douchebags!) that much at all, but after this show, I might have to change my mind. The staff was very nice and helpful this time around. Thank God they got some new cool people in there.
I would like to thank those who made this possible. Sean L. and those at Nederlander for putting on this great event (thanks a lot, bro! From ALL OF US!!!), and participating in our popular Giveaways, Amy S, Julie Arkenstone also get a major thank you. And last but not least, thanks to the bands for stopping by. It's been almost 20 years since the last time, but it was worth the wait.