November 2010 Articles
Cover Story
Kevin Gibson
Columns
Berk Bryant
Mike Stout
Paul Moffett
Keith Clements
Martin Z. Kasdan Jr.
Eddy Metal
Alexander Campbell
CD Reviews
Martin Z. Kasdan Jr.
Kirk Kiefer
Hunter Embry
Performance Reviews
Eddy Metal
Eddy Metal
Blogs
Got Shows?
Send Them To Us
Bookmark Louisville Music News.net with these handy
social bookmarking tools:
Available RSS Feeds
- Top Picks
- Today's Music
- Editor's Blog
- Articles
Add Louisville Music News' RSS Feed to Your Yahoo!



Bluegrass Beat
Here we are again, going into another great month -- a month that sort of jump-starts the holiday season. You kind of start the preparations for the remainder of 2010, this month being the one where you go through making a menu for the big day of Thanksgiving. Some of you do a lot of hunting -- you know, it's "Let me see now, where did I put those recipes last year?" You'll find them. Then there's that list of who's coming and what do the kinfolks and that special guest like the best. Keep this in mind also; it is a day of THANKSGIVING. Santa can start hitching the reindeer next week. First things first, and let's not let Thanksgiving become the forgotten holiday, especially in meaning. I've had three invites already. You might keep this in mind: If you think you don't have anything to be thankful for … be thankful you ain't the turkey.
Remembering October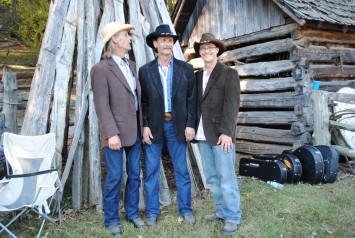 Dixie Gray
October was something else. Remember all those beautiful summer-like days we had? Seems summer was a bit reluctant to leave. Would be all right with me if it decided to spend the winter with us. That made it a good time for the Tennessee Fall Homecoming at the Museum of Appalachia. Attendance was down some, as it has been at events most everywhere these days. There were quite a few new acts I hadn't seen or heard of before. That really puts a bit of pressure on a stage manager: it is almost time for the act to go on stage and they are nowhere to be seen. So away you go, trying to find somebody you don't even know what they look like, and you've got about five minutes to do it. Everybody you ask seems to not know who they are or what they look like. But go on. In the end, all of the hustle and bustle, chasing around, and juggling the schedule puts you to the test. One of my favorite groups and regulars -- if I mention them a few more times here and on my show you'll soon recognize the name -- Clinch Valley Bluegrass. Earl Bull and Ginger (his wife, a lovely lady and very talented artist) have become very good friends. I enjoy the visits with them and others -- many others.
Another group that falls into the just-mentioned category is a group known as Dixie Gray. These three guys are nothing short of fantastic. They are not a bluegrass group, but then the Homecoming is not a bluegrass festival -- it is Appalachian -- which opens the window just a little wider. These three guys absolutely stole the show last year and also this time. They do the Marty Robbins-type songs and harmony that won't let go. Encores are a bit rare at the show, mostly because of time restraints. But these fellows didn't just get an encore, it was a demanding encore. Keep it up fellows, I know there are many, many fans and friends out there rooting for you.
Seeing Friends
Another side effect of this show and many others is the uplift of seeing friends you have made before, both attendees and bands. This in itself makes the whole bit worthwhile for anybody's time, money and effort. An upside must also have a down side, in and of different degrees. That would be missing old friends, visitors and performers who could not make it this time for one reason or another. This is one of the disappointments. Some just no longer come. A couple of examples include Marilyn Powell Greene, who no longer comes, and Mr. Roy Harper, who was not quite up to snuff and needed to stay at home. Get better, Mr. Harper. We miss you, too. I know all of this is the cycle of life, but I see some encouragement at times. There are some youngsters who are following in the path of the pioneers and showing promise of keeping the great traditional music alive and well, and doing so in the traditional way it should be done.
America's Music
A friend of mine wrote a book a few years ago titled America's Music -- Bluegrass. I recently got a note from him saying that Amazon was showing it going up, up, up. And to that I say, "Good deal, my friend. I have one and am glad I do." Check out Amazon and read some of the comments customers have made. If you are a bluegrass fan, there's a lot in it for you. Way to go, Barry Willis.
Coming up
As far as I know, most of the jams are still going. Vine Grove has now moved to City Hall and all of you are still welcome. The Belle of Louisville's bluegrass cruises are finished for the season. Shepherdsville has started up for its season: Nov. 5, Kentucky Wind. Nov. 12, Don Stanley & Middle Creek. Nov. 19, Blue Creek Ramblers. Nov. 26, Jerry Butler & The Blue Jay Band. Dec. 3, Larry Chung.
If you are inclined to travel: Lorraine Jordan & Carolina Road Homecoming Bluegrass Festival, Nov. 5-6 at the Ramada Inn, Burlington, N.C. Loraine Jordan & Carolina Road, Lost & Found, Junior Sisk & Ramblers Choice, Bluegrass Brothers, to name a few. And more.
Well, friends, that about does it, and I'm fortunate to get this out ... my computer has been giving me fits. Aside from that, have a great Thanksgiving! And stay with me Sunday nights, 8-11, for Sunday Bluegrass, WFPK 91.9 FM. You will know you have had too much turkey when you start to gobble. See you here and there.