November 2010 Articles
Cover Story
Kevin Gibson
Columns
Berk Bryant
Mike Stout
Paul Moffett
Keith Clements
Martin Z. Kasdan Jr.
Eddy Metal
Alexander Campbell
CD Reviews
Martin Z. Kasdan Jr.
Kirk Kiefer
Hunter Embry
Performance Reviews
Eddy Metal
Eddy Metal
Blogs
Got Shows?
Send Them To Us
Bookmark Louisville Music News.net with these handy
social bookmarking tools:
Available RSS Feeds
- Top Picks
- Today's Music
- Editor's Blog
- Articles
Add Louisville Music News' RSS Feed to Your Yahoo!

Issue: November 2010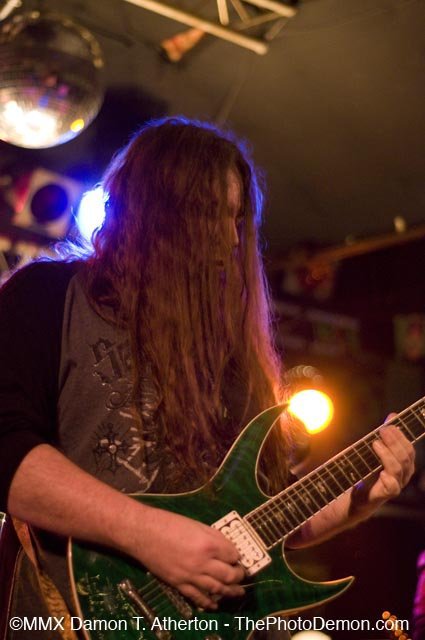 News From the Pit
Godsmack/FFDP/Drowning Pool in Cinci:
Dang, how many killer concerts in a month could I possibly see? Here is yet another wicked concert that I must write about.
The good folks at Riverbend in Cinci invited me to come up and see Godsmack, Five Finger Death Punch and Drowning Pool, and I was only too eager to accept. So a lady friend and I went up to see the show. Drowning Pool came on and put on an amazing set of rockin tunes! I don't really care for the new singer of Drowning Pool, but this night he sounded a bit better than usual, plus the sound on this stage this night was exquisite. I saw the Rockstar Mayhem Tour there a few months back and the sound on the PNC Pavilion Second Stage wasn't so great with trying to do two bands on one stage in a marathon-type schedule. It messed up the sound doing it that way. But not this night!
It sounded fantastic, just like when I saw Judas Priest and Whitesnake! Texas redneck rockers Drowning Pool came on and played a pretty good set, I must admit. They played "Tear Away"; a cool, sitdown, clean version of "37 Stitches" that sounded great; "Step Up" (which doesn't sound near as good without former singer Jason "Gong" Jones); then they teased us with the intro for Metallica's "Creeping Death" but they didn't finish it. That's just mean. Playing some Metallica when they were actually good. Ha.
They also played "Bodies," their most popular song, which had the crowd going crazy. This is the best I've heard Drowning Pool since they got Ryan McCombs on vocals. Guitarist CJ Pierce is a cool guitarist and seems to be a real nice guy. I met him once. He has some very good riffs and songwriting ideas. Bassist Stevie Benton is a rockstar who knows the value of both stage presence and talent.
Two thumbs up for Drowning Pool, a very good band that has been through a lot and has never given up.
FIVE FINGER DEATH PUNCH
Five Finger Death Punch was great as always. How can you not like this band? I've covered them many times now, so I'll make this one a quickie. FFDP sounded super good once again, but they played an awfully short set that left many people not happy. They played "War Is The Answer"; "Salvation"; a newer tune called "Hard To See" off their latest album; "White Knuckles," and, of course, they tore the roof off the PNC Pavilion with Bad Company's "Bad Company," which rocked. I swear, everyone loves the remake of that song. It is a really great cover that they chose. Perfect for them. "Dying Breed" and their big hit "The Bleeding" was last. I was disappointed they didn't play "Never Enough," which is one of my favorites! How could they not play that one? Weird. The band seemed a bit angry/upset that they had to quit so soon, to a crowd who was eating their music up bigtime, due to Godsmack's schedule, so vocalist Ivan Moody mouthed off a little bit about having to quit. Godsmack should have cut a song or two and let FFDP play a few more song's.
There is no denying that FFDP are the new big players on the block. I saw them twice at Riverbend this year, to a wild and raucous crowd of FFDP fans. Twno hundred people seemed to love them at Rockstar Mayhem, so maybe Sully should have respected them a bit more. Guitarist Jason Hook was in fine form this night as he tore into some really sweet-sounding leads. Vocalist Ivan Moody didn't sound as good as he did at Rockstar Mayhem, but he still sounded a lot better than most singers live.
That's one of the reasons I love FFDP so much. They have real actual vocals over heavy music, and it works perfectly.
GODSMACK
Godsmack came on and put on a great show like I knew they would. To be honest, I've always thought that Godsmack was okay, but not my favorite by a longshot. I do like a few songs of theirs, though!
They certainly like to give their fans their money's worth, because they played what seemed like forever,
I've always thought their music was too simplistic, but when you see Godsmack live, it's a whole different ballgame than what you hear on the radio. The radio versions are short and to the point. Live, Godsmack messes around, has fun, explores musically, almost sending you to different realm of existence, reminiscent of a Pink Floyd-type feel.
Guitarist Tony Rombola doesn't really impress you on the recorded stuff, but live, he gets kind of trippy and proceeds to send you to spaced out hippy-land using delays, reverbs, choruses, and a very cool Wah pedal that I'd like to know what brand it is! It's so trippy it could almost put you to sleep!
All the while while this spaced-out riffage is going on, there is one cool lightshow, complete with moviescreen, lasers with smoke (that was awesome) and some blinding vertical lights that fried my retinas. It's a good thing I haven't done 'shrooms in 20 years, I would freaked out during this! Another Pink Floyd-ish thing was that Godsmack's amps were going up and down, because they were attached to tiny wires you could barely see. It gave the illusion that the amps were flying. Very cool. The band was weaving in and out, and below their amps as they rocked. Sully Erna's vocals were good, and he tried his best to sound like the CDs. He did a pretty good job, too. He is a tiny little guy who is immensely talented, and knows it. Ha.
He's a cocky little dude that's for sure. At one point, he paid back FFDP singer Ivan Moody in spades for Ivan mouthing about having to cut it short for the almighty Godsmack. So Sully call's FFDP "Five Flavor Fruit Punch!!! to the packed house." I was dying. That chit was funny. I about spit my beverage all over my date.
Sully may be a cocky little dude, but the guy can sing great, play guitar, write songs, and he plays drums excellently. At the end of the night, Sully and drummer Shannon Larkin (who is an absolute beast on the skins) played a very memorable double-drum solo on two moving/spinning remote controlled platforms. These drums were beautiful beyond knowing.
I'm not even a drummer but I was drooling over how nice they were. They both were black and red custom flame design drums, with the best cymbals you can imagine. Shannon Larkin played the base beat as Sully embarked on a journey to drum heaven, utilizing the whole drumset, but mostly the bongos and smaller percussion drums. Sully was a bongo playin' madman who wowed the audience with his drum skills. Both guys were having a blast playing these drums like that, you could tell.
That double solo was excellent, and one seeing it – would never forget it.
The band played hits like "Str8 Outta Line," "Awake," "Oracle," – "Voodoo" was awesome – "Keep Away," and then Sully did a mindless effects-driven feedback solo on guitar Jimmy Hendrix-style that wasn't all that great, then they played a rockin tune called "Stand Alone," which went over really well. Then Tony Rombola broke out an acoustic guitar and riffed a bit before launching into "Serenity," my favorite Godsmack song. It sounded great, but Sully was a tad off on this one. It didn't sound quite as good as the CD version vocally. Then they brought out the double-drum solo that blew everyone away. Good times! The last song of the night was "Whatever" and the crowd was trashed, having fun and didn't want it to end. Cincinatti mofos are some partying fools. I love it there. And talk about a great venue to see shows?
I had a blast. Riverbend and the PNC Pavilion is friggin awesome. And the staff and crew there, very nice people and helpful too. They have always treated me great. If you've never seen a show there, be sure to fix that. A.S.A.P!
Special Thanks to all the staff there for one cool summer of rock/metal. You rock.