February 2010 Articles
Cover Story
Kevin Gibson
Features
Eddy Metal
Columns
Berk Bryant
Paul Moffett
Keith Clements
Martin Z. Kasdan Jr.
Eddy Metal
CD Reviews
Tim Roberts
Martin Z. Kasdan Jr.
Tim Roberts
Hunter Embry
Hunter Embry
Kory Wilcoxson
Blogs
Got Shows?
Send Them To Us
Bookmark Louisville Music News.net with these handy
social bookmarking tools:
Available RSS Feeds
- Top Picks
- Today's Music
- Editor's Blog
- Articles
Add Louisville Music News' RSS Feed to Your Yahoo!

Issue: February 2010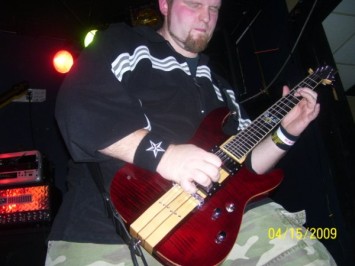 Jdilly
Name: Jay, J-train, Jdilly, Jrock among others
Age: The big 30
Instrument: Guitar, backup screeches, general whip-cracker.
Band/Former Bands: Project Sovereign, Backroom
How long on instrument: 15 years or so
Equipment: Les Paul STD with EMG 81/85, Ibanez Prestige, Schechter Hollywood classic, ESP eclipse Ltd with EMG 81/85, Mesa Boogie Triple Rec stack, Dunlop and Morley wahs among other assorted stomp boxes and general effects, some rack gear and an AKG wireless.
Influences: Pantera, Sevendust, Down, Metallica, Cky, Megadeth, Ozzy, System of a Down
My first gig: Shooters Derby Eve party May 08', we played dead last.
Hobbies: Video games, Comic books, classic movies, muscle cars, 80's cartoons
Favorite movies: Ice pirates, Lord of the rings, Alien(s), Predator, Conan, Terminator
Favorite food: Italian, the Chinese place in J-Mall, Bearno's Pizza, and the Royal Garden buffet.
Favorite place: Home, on stage, at band practice.
Bad habits: I'm an intolerable smartass. I eat too much, and procrastinate.
What I'm listening to nowadays: My own bands, more work, less play.
Coolest thing I've done: Reproduced, Got my very own mini-me
Most embarrassing moment: I don't get embarrassed, I get even.
Who do you love: My wife, my kids and my family.
When/where did you first get some: At a pool party at the Holiday Inn on Fern Valley Rd, when I was 13. It was chaperoned and we got caught.