February 2010 Articles
Cover Story
Kevin Gibson
Features
Eddy Metal
Columns
Berk Bryant
Paul Moffett
Keith Clements
Martin Z. Kasdan Jr.
Eddy Metal
CD Reviews
Tim Roberts
Martin Z. Kasdan Jr.
Tim Roberts
Hunter Embry
Hunter Embry
Kory Wilcoxson
Blogs
Got Shows?
Send Them To Us
Bookmark Louisville Music News.net with these handy
social bookmarking tools:
Available RSS Feeds
- Top Picks
- Today's Music
- Editor's Blog
- Articles
Add Louisville Music News' RSS Feed to Your Yahoo!

Issue: February 2010


Bluegrass Beat
On the first twelve days of New Year, my weatherman gave to me a cold Arctic freeze and snow all around. A record of below-freezing days. How's that for "global warming"? Can't imagine how it would have been without it. BRRRRRRR. Ah, but there's a bit of warmth and romance in the making as that little elf, a bit mischievous fellow called Cupid, is checking his bow and checking it twice. Got a full load of those cupid arrows with the heart-shaped tips, so watch your step. Gonna warm up this situation a bit one way or the other.
And now I divert to last month for a moment. Cherryholmes started the year off in good style at Shepherdsville. Some 200 good bluegrass fans had enough currency left over from the holidays to nearly fill the house. I always really enjoy seeing these folks. Another group that has become good friends over the years. Hope to see them again this month. Longlegs, you were missed. I did wind up with individual pictures this time, three of them. Will make up the rest next time.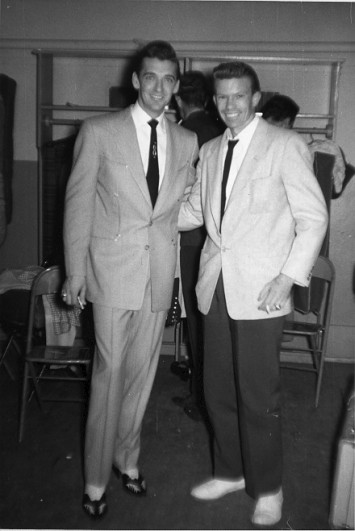 Carl Smith and Berk Bryant, circa 1955
During my "Sunday Bluegrass" program on the 17th. of last month I got a call from a friend and listener to let me know Carl Smith had passed on Saturday night or early morning that day. Carl Smith was a big favorite of mine and at one time we were well-acquainted. That came about this way: In the mid '50s, I was a country DJ at my home in Virginia. Carl Smith was a big favorite of my mother. Carl was coming to town for a show date. After a talk with Mom, I wrote Carl a letter telling him who I was and what I did. The letter was an invitation to have dinner with us at my folks' home if he got to town in time before the show. In the letter I mentioned I didn't know if he did that sort of thing, and whatever he decided was fine. He accepted, and every time after that when he was in town he came out. I remember one time after dinner he sat down in the living room floor and talked with my dad and me for about an hour. There's more to this acquaintance but too much for this space. I have been playing his music and will continue to do so. Another of the best has passed on.
Today (Jan. 19) I called Wade Mainer. I talked to Julie a bit and then to Wade. All things considered, he is doing pretty good. He gets concerned about things everyone naturally would, and does have some ups and downs. I was really glad I made the call. It made me feel better because I felt when I called that I should have called weeks before now. Julie said it seems to boost him a bit when I call. Among other things, he can feel like he hasn't been forgotten.
One of the pioneers of the music, starting his recording in the early '30s, he still has fans today. I assured him I still play him every Sunday night and will continue to do so as long as I can. He remembers and asks about folks from our area who have called him at times.
Wade, you're special to many of us and we all hope you make it to April and your 103rd birthday. May God continue to bless you, my dear friend.
April reminds me. Before this month (January) is over, I'll be attending a meeting for Forest Fest. Can't tell you a lot at this time but I do know that Dailey & Vincent will be the headliners this year. Also, as of now one of my favorite groups from the Fall Homecoming at the Museum of Appalachia, Earl Bull with Clinch Valley Bluegrass, will be there.
Now we better check up on the more immediate.
Shepherdsville for February 5: Larry Sparks and The Lonesome Ramblers. February 12, Men Of The Week. February 19, Barry Scott & Second Wind. February 26, John Rigsby & Summertown Road. Mar.5, Dean Osborne Band.
Jams are going strong all around. Vine Grove is still in the Vine Grove City Hall every Friday night. Also Friday night, Colesburg Baptist Church at 6:30 or so. Hillview City Hall, Thursday nights at 6. The Bingo Hall, Tuesday nights. Blue Lick & Southpark Road, Tuesday nights at 6.
To finish this off, the 1st Annual Salt River Bluegrass Festival, Paroquet Springs Conference Center, Shepherdsville, Februaryuary 19 & 20: Friday, CHERRYHOLMES, Tommy Brown & County Line Grass, Kings Highway, Bluegrass 101. Saturday, TONY HOLT & WILDWOOD VALLEY BOYS, Tommy Brown & County Line Grass, Shepherdsville Park Jammers, Crossroads, Blue River, Glenn Ritchie Band, and there you have it.
Time to check out for now. I'm warning you, don't forget that Valentine. I think a regularly expected fancy card, chocolates and a big bright bouquet of fresh flowers should do the trick. Oh yeah, don't forget "Sunday Bluegrass," Sunday nights, 8-11 p.m., on WFPK 91.9, streaming all over the world.