February 2010 Articles
Cover Story
Kevin Gibson
Features
Eddy Metal
Columns
Berk Bryant
Paul Moffett
Keith Clements
Martin Z. Kasdan Jr.
Eddy Metal
CD Reviews
Tim Roberts
Martin Z. Kasdan Jr.
Tim Roberts
Hunter Embry
Hunter Embry
Kory Wilcoxson
Blogs
Got Shows?
Send Them To Us
Bookmark Louisville Music News.net with these handy
social bookmarking tools:
Available RSS Feeds
- Top Picks
- Today's Music
- Editor's Blog
- Articles
Add Louisville Music News' RSS Feed to Your Yahoo!

Issue: February 2010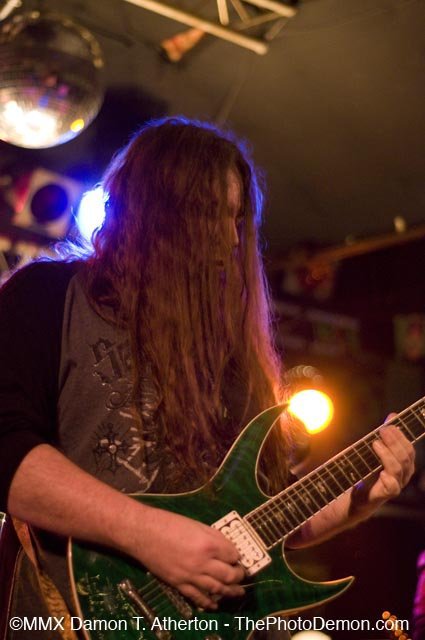 News From the Pit
Take a Number Please...
I tell you, it's great to be able to play music again after a six-year break. Playing music adds a significant spark to your life, that's for sure! It's a lot of hard work and time-consuming, but overall, it's worth all the hassle of trying to get together five guys busy with kids, wives and work.
However, I have found that things have changed a bit since I last jammed.
For one, there are not as many places to play. I've been having a difficult time getting gigs, even though I have extensive experience as a louevil musician. Maybe I'm a bit out of practice.
I thought some of the bands I have helped out over the years would return the favor and help me get a few gigs, but it seems it's every man for himself now, which is sad.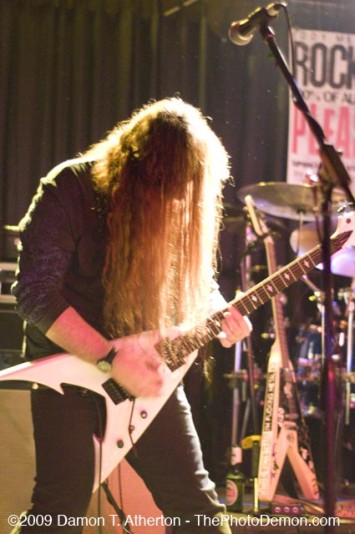 Eddy Burke, Rock4Kosair, 2010
Secondly, there is much more and fiercer competition. The number of new bands is ridiculous, and they all want to play the same places. Compound that with the lack of decent venues and you've got a problem.
The Louevil rock scene in the Nineties had about ten good bands, give or take a few. There was Flaw, Shapeless Matrix, My Own Victim, Inhuman, Incursion, Shattered Reality, Faceplant, Luther, Dump Gang, Drunk Monkey and a few others. Shows were abundant! Nowm booking is like trying to cram 100 cars into a 25-car parking lot/
Some of the newer bands are good, some of them suck; there are those few that have promise. Today's musicians are younger and more talented than back in the day, I'll give them that! I've seen some phenomenal young musicians. They have top gear and know how to use it! I have also noticed that some of these new bands are extremely unreliable. Back in the day, no one canceled a show unless it was a dire emergency, but now, if a singer stubs a toe, gets a yeast infection, or if something better comes up, they cancel without a second thought.
I used to sing at the Toy Tiger with bronchitis and a fever, but the show always went on. These days, musicians don't seem to have the same commitment and values (helping each other out) as previously.
So, since I've been a music critic in Louevil for years, it's time you folks did a little criticizing yourselves. Unlike some, I can take a little criticism. Just don't be an icehole! I want you, my loyal readers, to let me know what's up; I'd like to know from you if my band sucks or what? Maybe we are too ugly? If we don't start getting gigs soon, though, I'm going to change the band name to The Lepers.
I know we aren't the best in town, but I think we sound pretty darn good and write some decent hooks. It IS my first time trying to play/write music other than metal, though.
Anyway, go to Myspace.com/eddymetalrocks, where the music is on my playlist. And be gentle! I'm a virgin at playing commercial radio rock.
Then I started thinking: it's also true we are not the only band in dire need of gigs; there are a lot. Shatterstone wasn't getting any attention for a good while, even though they jam, but they have been patient and stayed positive and now they are getting some better shows and a little more attention.
Remaining patient is difficult to do.
When you write your own music and come up with something good, you get soooo excited and just want to get out there and share your creation with the world as much as you can.
Even though it's said that good things come to those who wait, waiting sucks. Still, I'm going to calm down, shut my piehole, and for once in my life, I'm going to try to be patient and wait for my turn to shine.
The Metal Grapevine
Louisville Rock Showcase:
I'm excited about the Louisville Rock Showcase at Phoenix Hill coming up in a few days. Krowe Records is putting on the event, and their louevil group Heaven Hill is headlining. A lot of good bands are playing: BoneJinn, the ever-elusive Artifex Pereo; Sonic Epitaph; Thomas Medicine; 16 Bones; Shatterstone (it's good to see these guys finally getting the credit they deserve!) and a bunch more. It should be a monster of a show and I plan on attending and showing my support. Some of the bands on the bill I haven't heard before, because they aren't from here. Um, isn't this called the Louisville Music showcase?
Oh well. A little variety isn't a bad thing I reckon!
Slayer Tour Cancelled, for Now:
WTF? First AC/DC canceled, then Def Leppard, now the fattest show of the year has been postponed. I was soooo looking forward to seeing these three metal titans perform at Broadbent Arena. Now I'm bummed. Slayer vocalist/bassist Tom Araya is having back surgery and that is the reason for the cancellation. But fret not, my metal loving friends, the tour will resume and we will get our dose of old-school metal classics like we dreamed of. Hold on to those tickets and don't freak out on the promoter; it's not their fault. Nederlander has good people and will re-schedule the show as soon as they can. Until then, stay tuned and I'll keep you informed.
Days Of The New Review:
I wasn't at the Phoenix Hill on New Years Eve, but what I pass along what I was told by several reliable musically knowledgeable musicians who were there. The result was not quite as pro a performance as you would expect from someone who once had a foot in fame's door. Instead, it was a long semi-boring jamfest by a guy who didn't seem to care what the fans wanted; ot was all about Travis, and apparently, he wanted a long, obscure intro for a late dramatic entrance, then to act like he was a superstar returning to his hometown. The vocals I hear weren't bad, but merely okay. The music wasn't bad, either, I was told. Better than the vocals, but the long intro's/outros and messing around in between songs got boring is what I was told. Travis' band seemed content to follow Travis wherever he decided to go musically.
I like Days Of The New's music quite a bit; Travis has written some great stuff and I fully admit that he is even a bit of an inspiration musically to the acoustic stuff I write. Unfortunately, the almost famous road musician's life takes a toll on the human body and the skill factor. Travis didn't look very good to those who know him. He may have gotten through the drugs thing, as detailed on the TV show "Intervention," but the damage was already done.
I think I'll stick to the recorded versions for my enjoyment. I heard the band only played five or six songs, and much of the show was Travis messing around on the acoustic, doing odd/obscure stuff. For $25. I would expect a no-nonsense trip through Days Of The New catalpg. They did play "Shelf In The Room," "Touch, Peel and Stand" and "The Downtown." and I'm not sure it's true but I heard DOTN had another show that night after they played the Hill. If so, I guarantee PHT wasn't happy about that.
Alice In Chains in February:
I love AIC, and I admit, I never thought I'd see them again after Layne Staley died. But here they are, years later playing on Tuesday, February 23 at the Louisville Palace Theatre. Awesome!
I would like to apologize for last month's inaccurate comment about ticket prices. I was misinformed. The tickets are somewhat affordable after all. Only $32.50 and $42.50! And to see them in a killer venue like The Palace is a decent deal for that much. I love Louisville Palace and its sound. Hopefully, I can get my hands on some tickets so I can review the show. And I hope AIC will play some stuff from Facelift and Dirt, my two favorite AIC albums. Get those tickets, because this will probably sell out!
The Death of Mojo?
I and others have noticed that the once-popular Louisvillemojo website is floundering like a fish out of water. The rising popularity of Facebook and Twitter seems to have done Mojo serious damage. I was once a bigtime Mojo freak who met many a female on the site. While I do appreciate the site getting me laid and all, the truth is that the people who run that website have irritated me for years. Why? On several occasions, I have tried to get Mojo to work with this city's music scene much more than they have. At its peak, Mojo was very popular and could have helped this city's original talent in excellent fashion, but the people in charge have been working with only one person in the music scene for some reason. I have gone to Mojo twice to ask them to help promote my Kosair show. They flatly refused both times. I was shocked. Most people and their businesses have been more than happy to help sponsor this event.
The site was wonderful and the possibilities endless, but the gigantic lack of willingness to help this region's real rock scene has pretty much harmed Mojo. I'm thinking had they embraced the louevil music scene instead of filtering everyone out but one individual, they might have gained strength and persevered.
Deliver Us From Evil's New Video Review:
Wow. I just checked out (in my opinion) the region's best metal band: Evansville's Deliver Us From Evil, and the new powerful, pro-quality video for "Only Ashes Remain." Any louevil metal bands that want to see how it's done, then look up this video on YouTube and you will see what I'm talking about. The riff is heavier than your last GF and the music just flat out destroys everything in its path! I love the guitar work and the creativity of these guys. There are guns, blood, writhing bodies, guitars and behind all of this, foreboding black-and-white background which adds a demented look to the already demonic music. This stuff competes with Lamb Of God and others of the same style. These guys belong on a national stage, and with this video, I'd say they've taken a big step. Great job, guys! I think I need to bring these guys back to louevil soon! Check out them at Myspace.com/deliverusfromevil
Sikk Concert Preview:
Shows I advise you to attend are: Egyptian-themed death metalists Nile at Headliners, Feb 13; Threat Signal. PHT, March 4; Female thrashers Kittie, March 11, PHT, 80's rockers Bang Tango, March 12, PHT; old-school punk thrashers Dirty Rotten Imbeciles, March 25, PHT; mega-thrashers Overkill, Headliners, April 29 and German power metal band Primal Fear, May 28. PHT.
New Radio Show Supports Louevil Rock:
Tim Hicks from Hellawicked Productions has acquired a radio show called "Locals Only" on Central Kentucky's rock station 107.3 The Point, on Sunday nights at 9 p.m. Tim is genuinely a good dude (one of the few) and really wants to help bands out. So if you are interested in being played on the air to all the rockin' rednecks south of Louevil, here's your chance. I'll be sending my band's CD! All he requests is that the CD not have any profanity and that it be of decent sound quality. Here's the contact info (tell him that Eddy Metal sent you!): Hellawicked Productions c/o Tim Hicks, 116 N. First St., Irvington , KY 40146 OR EMAIL band bio, contact info and MP3's of your three best singles to hellawickedproductons@yahoo.com
Factor 9 Reunion in the Works:
Word is out that the long-dormant Factor 9 will resurface to do a reunion show or two. Factor 9 was a big 502 band many years ago, and I think the show should do well. In fact, it would be cool to get a several old-school bands together for a huge reunion show. Factor 9, My Own Victim, Shapeless Matrix, my old band Inhuman, Dump Gang, Faceplant. And Inhuman have been mulling over the idea of a reunion show or two as well. (I can remember the lyrics!) Stay tuned for more Factor 9 Reunion Show info in upcoming months!
Project Sovereign, a Royal Endeavor:
I'm now checking out new recordings from a new band called Project Sovereign and I'm digging it. Josh Holcomb's vocals are tasteful and work well with the rockin' music. He has nice range and versatility, mixed with some soul. If I've one complaint about Josh, it is that it seems he tries too hard, sometimes. He's a nice guy but It looks like he is about to burst a blood vessel in his brain on some of the notes he sings. Ha. Calm down dude!
The music is hard rock/metal, but with ample emotion mixed in as well. "The After Burn" is the first song and starts out very cool. It's somewhat light, then comes into some kickass, double bass metal beatdown (Dave Wathen is a great drummer) with a jammin' guitar rthym. After reviewing this, I've decided this is the best tune. The end is pretty awesome. Shredding leads over a good, groovin' metal riff. It's hard rockin', soulful metal! There are some blues and jazz elements in the music as well.
The vocals on "What You Get" are a bit too dry for my taste. To me, a good vocalist having the right effects for his vocal style is vital. I hate hearing a good singer sing totally dry! The music is a bit plodding in this song and a tad redundant until it gets going about halfway through. Then it gets interesting and ends with some appropriately placed guitar pulloffs. The switch-ups at the end made this song.
"Better" starts rockin' early but the guitar sounds really muddy on this song. Not very crisp. Not digging the guitar tone on this song at all. I do like the riffs themselves though.
The overall musicianship is good.
However, the drum sound on this recording does drummer Dave Wathen no justice at all.
And once again, the vocals are dry as hell on this song, too. I hear big-time potential, but the recording and lack of proper effects for this band's good sound hurts the end product. A sub-par quality demo doesn't change the fact that this is a talented band.
The band already has a decent following and should do well this summer. You can see them next on Friday February 5 at Phoenix Hill Tavern. Myspace.com/projectsovereign
New Band Alert, Olhm:
Ohlm is a new all-instrumental Prog/Doom/Experimental Metal band of very talented and semi-well known louevil metal musicians. Nate Mcdaniels (ex-Flaw/Antikythera) is on guitar, Josh Ricci from Antikythera/Graveflower is on drums and Dave Roberts from Seidr/Assisting Sorrow is on the bass. An album will be out this summer and the band will be playing a select few shows.
I bet the new music jams! Check out their myspace http://www.myspace.com/synapticdissent
Club 21 booking Original Bands Now:
Club 21 – most recently the Pour Haus - on Shelby Street has started to book original rock bands and hopefully that will get going rather fast, since we need venues badly in this town. Tim from Hellawicked got this venue for us rockers/bands, so good job, Tim! I haven't been there in forever, but Club 21 used to have a bad rep back in the day. People used to get shot, stabbed there frequently. That was a long time ago though, and I'm sure they must have taken out the trash and cleaned up the clientele and the venue's rowdy reputation.
See the first show there Friday February 5 w/ Shatterstone, Lost In Eden and Stallpoint!
It Runs In The Family:
My little sister Ashley gave birth to a little boy about seven months ago and the lad is abnormally gifted in the 'johnson' department. It's hilarious. Nurses are astounded. Usually baby penises are tiny things, the nurses said, but little Wyatt Maddox seems to have a bigtime edge already at only 7 months old. My question is, if he's this big at seven months old, what will happen by the time he is 18? Lookout, world. Lookout, porno industry! My nephew is coming! J/k Ashley:)
Upcoming Shows
Boondocks Bar and Grill (Sheperdsville)
Saturday March 13 - BoneJinn, Hicks Road, Year Of the Gun and T.B.A. 8 p.m.
Expo 5
Saturday March 6 - The first annual Hemangioma hope foundation benefit w/ MSD, 16 Bones, Institution, Poetry of the Dead, Sonic Epitaph, Descention, Day of Ruin and Blackroom. Two stages! 5 p.m.– midnight! $12. All proceeds go to the cause!
Headliners Music Hall
Saturday, February 13 - Nile w/ Immolation, Krisiun, Rose Funeral, Dreaming Dead, Purgatorium, Narcolepsy Was Her Downfall and Theories Of Apocalypse. 5:30;. $20 Adv/$22DoS. All ages.
Friday, February 19 - Red, w/ Decyfer Down, The Wedding and Me In Motion. $15 All ages.
Tuesday, February 23 - Unearth w/ Veil Of maya, Armed For Apocalypse, Eyes Vs The Sky and Our Final Hour. $12 Adv/$15 DoS. 7 p.m. All ages.
Sunday, February 28 - Gorilla Productions Band Battle w/ Year Of The Gun, Tattoo Babylon, Golgotha, Under Red Skies, Beneath The Mist, Sounds Taken Before day, Breaks, Noise And New York, The Nightfall Remains and Midnight Bedlam. 4 p.m. $8 Adv/$10DoS.
Lisa's Oak Street Lounge
Saturday, February 27 - Olhm, Holy Mountains and Mouth Of The Architects. 9 p.m.
Louisville Palace Theatre
Tuesday, February 23 - Alice In Chains. 7 p.m.
Phoenix Hill Tavern
Friday, February 5 - The Original Rock Showcase Series. Institution, Project Sovereign, Hicks Road, E-Flat and The Tri Tones. 9 p.m. Free before 9;.
Friday, February 12 - The Sammus Theory w/ Darkening Days and Faint.
Thursday, February 25 - Cold, w/ Nonpoint, Trust Divided, Seclusion, Chasing Layne, Nothing Wrong, Truth Be Told and day, Of Fire. $15 Adv/$17DoS 7 p.m.
Friday, February 26 - Stretch w/ The Hiding, Under Red Skies, Bolt Action and Stereotyped. $10 21 +
Thursday, March 4 - Threat Signal w/ Blackguard, Far From Fallen and Escaping Memory. $10 Adv/$12DoS. 8 p.m.
Friday, March 5 - The Original Rock Showcase Series. 16 Bones, BoneJinn, Year Of The Gun, Trust Divided and Elysium. 9 p.m. Free before 9 ;.
Thursday, March 11 - Kittie (female thrashers) w/ God forbid, Periphery, Sever This Illusion, Descention, Behind The Beheaded and Cost Of Sin. $12 7 p.m.
Friday, March 12 - Bang Tango w/ Hardlein and Boozer. $10 8 p.m.
Uncle Pleasant's
Thursday, February 11 - A Skylit Drive w/ Of Mice and Men, The Word Alive, Voices Of Adria and They Came Bearing Arms. $12 All ages.
Sunday, February 14 For The Fallen Dreams, The Ghost Inside, Suffokate, Your Demise, No sign Of Murder. $12. All ages. 6 p.m.
Thursday, February 18 The Audition w/ The Dangerous Summer, Sparks The Rescue, The Right Coast, Talk Of Spring and Akkadia. 6:30 p.m.
Sunday, February 21 Animals As Leaders w/ Circle Of Contempt, Periphery, Little did We Know, We were Engineers and Iced Out. $10 All ages. 7 p.m.
Wednesday, February 24 - Abacabb w/ Molotov Solution, Dr Acula, Upon A Burning Body, Cha;an, From Her Last Breath. 7 p.m.
Saturday, March 6 - The Red Chord w/ Mychildrenmybride, Chelsea Grin, Those Who lie Beneath, Conquer The King.
Outtatownerz and Otherz
Monday, February 15 - the Greenwave Music Hall in Brandenburg KY.
Four Letter Lie and other bands T. B.A. $10 All ages. 7 p.m.