February 2010 Articles
Cover Story
Kevin Gibson
Features
Eddy Metal
Columns
Berk Bryant
Paul Moffett
Keith Clements
Martin Z. Kasdan Jr.
Eddy Metal
CD Reviews
Tim Roberts
Martin Z. Kasdan Jr.
Tim Roberts
Hunter Embry
Hunter Embry
Kory Wilcoxson
Blogs
Got Shows?
Send Them To Us
Bookmark Louisville Music News.net with these handy
social bookmarking tools:
Available RSS Feeds
- Top Picks
- Today's Music
- Editor's Blog
- Articles
Add Louisville Music News' RSS Feed to Your Yahoo!

Issue: February 2010


I've Got A Mind To Ramble
Looking Back
The past year has had its share of uncertainties and tough times that included the passing of many local and national blues musicians. On New Year's Day we lost guitarist Ricky Mason. I will never forget the amazing number of people who attended the memorial service at Foreman's Funeral Home in Jeffersontown to pay respects to Ricky. His legacy lives on with an annual benefit to raise money for a guitar to be given away to a promising young musician.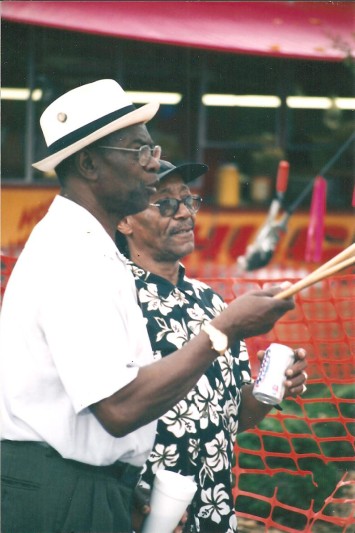 Sam Carr and Willie Smith, 2001 King Biscuit Blues Festival
Nationally recognized musician and songwriter Tim Krekel died on June 24. Four days later there was a memorial service at James Lee Presbyterian Church, officiated by John Gage. John, designated chaplain for musicians, had also led Ricky's service. With a chorus of "Walking In The State of Grace," the joyous funeral procession celebrated the Tim's spirit. They spilled down the front steps of the church to Frankfort Avenue, led by a brass band and followed by a block long group of second-liners. With horns blowing, saints singing, and colorful umbrellas twirling, nearly two hundred Krekies reached their destination at Vernon's on Story Avenue.
On October 7, Steve Ferguson left us. Just five weeks before his passing, Steve performed several songs at his Fergie and Friends Benefit at Stevie Ray's. To hear his completely individual guitar style and Midwest twang one last time was a moment that I will remember forever.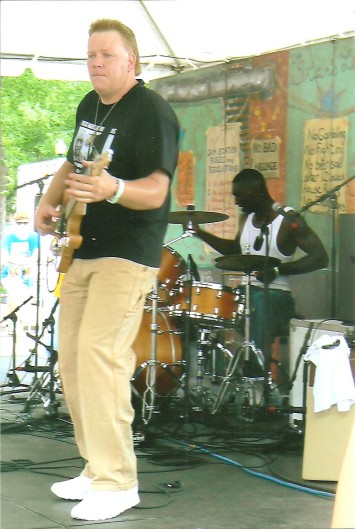 Lighnin' Malcolm and Cedric Burnside, Chicago Blues Fest, 6-7-2008
Many blues people on the national scene also need to be remembered for their contributions. Whenever I read magazines like Living Blues and Blues Revue – where the recent obituaries are printed – I always cringe when I see familiar names. While 2009 has not been as bad as other years, there have been some significant losses.
Snooks Eaglin was the human juke box of New Orleans because of his extensive repertoire of over 2500 songs. Blind at a young age from glaucoma, Eaglin began playing professionally at fourteen in the Crescent City. This guitar genius played with Sugar Boy Crawford, Alan Toussaint and Professor Longhair and was a regular at the New Orleans Jazz and Heritage Festivals. While attending the Louisiana World Exposition in 1984, I had a chance to see Eaglin at a bar called Muddy Waters near Tulane University. Eaglin played for two hours, backed by Jon Cleary on keyboards. Eaglin's right hand would disappear in a blur with his fast strokes over the strings. While taping his show, I accidentally knocked over a beer bottle. He heard it and made a joke about it while playing. Whether he was performing at the local Mid-City Lanes Rock n' Bowl or at the Jazz Fest, his amazing guitar solos and gospel-tinged vocals created an infectious energy. Eaglin died on February 18, 2009 during an extended hospitalization for prostate cancer.
John Cephas was the last of the elder Piedmont guitarists from the Virginia and DC area. He met Phil Wiggins at the Smithsonian Folk Festival in 1976 and a year later they became musical partners for the rest of Cephas' life. They carried on the blues legacy of Brownie McGee and Sonny Terry from the previous generation. Cephas and Wiggins put the Piedmont style of blues back in the limelight, especially with their breakout album, Dog Days of August, in 1986. This duo toured the world for the State Department and in 1989, Cephas was named as a National Heritage Fellow by the National Endowment for the Arts. Cephas' last recording with Wiggins, Richmond Blues, was issued in 2008 and celebrated their Piedmont roots. I always enjoyed their traditional acoustical sets at the Chicago Blues Festival. Cephas died on March 4, 2009 of natural causes in Bowling Green, Virginia.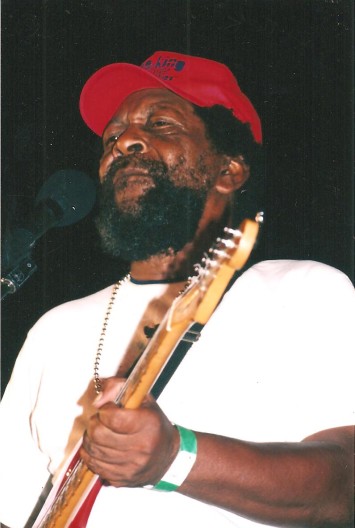 Willie King, 2001 King Biscuit Blues Festival
Willie King was an Alabama blues man with a social activist attitude. His lyrics carried a social-political message with heavy vocal influences from Howlin' Wolf. He received greater attention with his first album, Freedom Creek, on Rooster Records in 2000. He played his "struggling blues" at jukes like Bettie's Place in Prairie Point, Alabama as well as his annual Freedom Creek Blues Festival, which he founded. Besides being an authentic down-home musician, he was a vital contributor to his local community, forming the Rural Members Association, which helped the local poor with legal and educational services plus encouraging folk traditions. King died unexpectedly on March 8, 2009 from a fatal heart attack while celebrating his 66th birthday.
KoKo Taylor was the greatest loss of 2009. Her sudden passing on June 3, 2009 shocked the blues world. Her final public performance was on May 7 at the Blues Music Awards in Memphis. There she sang her signature song, "Wang Dang Doodle," upon receiving her award for Traditional Female Blues Artist of the Year. Her honors have been many, with a Grammy, twenty-four W. C. Handy Awards, induction into the Blues Hall of Fame and a National Heritage Fellowship. It was a long road from her birth into a sharecropping family near Memphis to become "The Queen of the Blues." Taylor made many appearances in Louisville and always had a well oiled, high octane backup band, the Blues Machine. Following the Saturday shows at the 2007 and 2008 Chicago Blues Festivals, I joined Taylor for her blues cruises to raise money for her Celebrity Aid Foundation. She would lead a busload of her fans on an odyssey to several Southside blues clubs and a late-night dinner. With her devoted daughter Cookie at her side, we would boogie the night away. KoKo's funeral was the same day the 2009 Chicago Blues Festival opened and as I signed the huge memorial wall set up in her booth, I remembered "Let The Good Time Roll."
Sam Carr got his first experience with the blues as a teenager working for his father, Robert Nighthawk. Carr would later become the heartbeat of the Delta, playing drums for Sonny Boy Williamson II and the Jelly Roll Kings. The Jelly Roll Kings were the essence of a Delta blues band with Big Jack Johnson on guitar and Frank Frost blowing harp. They can be heard at their best on two albums, Hey Boss Man and Rockin' The Juke Joint Down. Carr mentored other musicians like Lonnie Shields and Dave Riley. A Mississippi Blues Trail marker honors Carr in Lula, when he received the Governor's Award for Excellence in the Arts in 2007. Carr died on September 21, 2009 at the age of 83.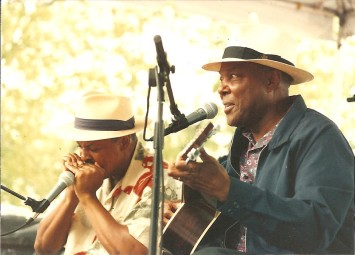 Phil Wiggins and John Cephas, 1993 Chicago Blues Fest
There were many other lesser-known fallen bluesmen in 2009. Chicago blues singer Jesse Fortune recorded "Too Many Cooks (Are Going To Spoil The Stew)," long before Robert Cray sang it. Guitarists Mel Brown and Freddie Robinson did extensive recording session work and solo albums plus were sidemen in numerous bands. When Robinson converted to Islam in 1975, he changed his name to Abu Talib. Eddie Bo started a new dance craze in New Orleans, "Check Mr. Popeye," that featured his funky piano blues. His recordings span the 50s rock'n'roll era to regularly playing at the Jazz Fest and Ponderosa Stomp. Chicago harpist Lester 'Mad Dog' Davenport got his nickname from his stage antics, playing different instruments on the bandstand when he was feeling good. Lester recorded with Bo Diddley on several Chess sides in the 50s and played with Big Daddy Kinsey and The Kinsey Report in the 80s.
I hope this year's in memoriam wrap-up will be much shorter.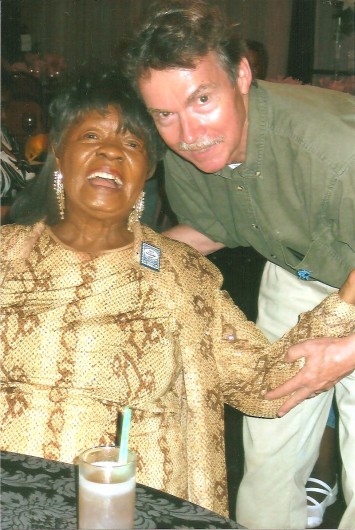 KoKo Taylor and Keith Clements, Captain Hard Times, Chicago, June 7, 2008
Looking Ahead
Twenty-ten promises to be a good year for the local blues scene, starting with a Blues House Party sponsored by the Kentuckiana Blues Society at Lisa's Oak Street Lounge on Saturday, January 30. Admission is free and there will be plenty of raffle items and merchandise while you're eating Fire Fresh BBQ. The Bryant-Stevens Band will open, playing from 7:30 to 9 p.m. This will be the first public appearance of this talented band that features slide guitarist Cole Stevens and singer Dana Bryant. They are backed up by Steve Boros on harmonica, Low Hale on piano and the rhythm section of Phil Longo and Mike Williams. The Joe DeBow Band will perform from 9:30 to 11 p.m. Joe hosts a weekly TV show every Tuesday night on Insight Cable 98 from 8 to 8:30 p.m..
Cedric Burnside and Lightnin' Malcolm, "The Two Man Wrecking Crew," will be tearing the house down starting at 5:30 p.m. at Stevie Ray's on Sunday, February 14. This juke joint duo will turn Stevie Ray's into Junior's Place, a joint that was once near Holly Springs, with the throbbing, hypnotic hill country Mississippi blues that Cedric's grandfather, R. L. Burnside, and Junior Kimbrough used to play. This show is a must-see if you like your blues raw and raucous.
February 19 will be Blues Night at the Filson Historical Society with the 10th Street Blues Band. You can help a good cause that promotes our regional history and hear some authentic down-home blues from some of our local legends. Last year, Stevie Ray's hosted benefits honoring Ricky Mason and assisting Steve Ferguson. On February 21 both musicians will be inducted into Stevie Ray's Hall of Fame. Whether you were a Fergie or Ricky fan, this is an opportunity to pay tribute to these two talented guitarists.