December 2009 Articles
Cover Story
Tim Roberts
Features
Eddy Metal
Columns
Berk Bryant
Mike Stout
Paul Moffett
Keith Clements
Martin Z. Kasdan Jr.
Eddy Metal
CD Reviews
Martin Z. Kasdan Jr.
Brian Meurer
Ronke Oyekunle
Ronke Oyekunle
Ronke Oyekunle
Performance Reviews
Jason Koerner
Eddy Metal
Blogs
Got Shows?
Send Them To Us
Bookmark Louisville Music News.net with these handy
social bookmarking tools:
Available RSS Feeds
- Top Picks
- Today's Music
- Editor's Blog
- Articles
Add Louisville Music News' RSS Feed to Your Yahoo!

Issue: December 2009
Rob Zombie , The Hell-Billy Returns
By Eddy Metal
I saw White Zombie when no one knew who they were. I saw Rob Zombie from front row at Ozfest. In fact, Tom Vickery and I saved Rob from getting hit in the face by a giant dirt clod, thrown by some redneck a-holes who were trying their hardest to hit Rob in the face with them (and coming very close!). That would have hurt him and stopped the show, so we put an end to that crap; made them stop throwing the dirt or else fists would be thrown.
The point is … Rob Zombie has always kicked major butt. From the humble beginnings of White Zombie to the new songs off the upcoming album that will be released in a few months, it's only gotten better.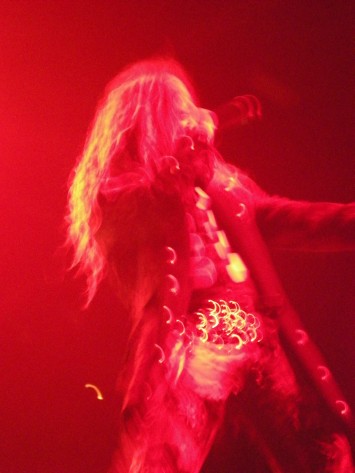 Rob Zombie. Photo by Eddy Burke
The light show that Rob Zombie played Broadbent arena in November was out of this world and totally kickass, if you are a comic book, horror and animation-loving cheeseball such as myself. Yeah, the tickets were pricey, but the lightshow was truly a one-of-a-kind type deal, so quit your whining. Rob's insane art come to life – mixed with his pounding music – is an experience that leaves you musically and visually fulfilled and yet ready for more. The big screen projectors were awesome, clear and full of monsters, fire, brimstone, horror movie clips, serial killers, zombies, destruction and all manner of things dark. I had heard rumors that his old record label wasn't into his new songs that much, but Rob played a few new ones off of his upcoming CD, Hellbilly Deluxe 2 (to be released in February), and I thought some of it was his heaviest ever, especially "Sick Bubble-Gum," a sick little ditty with the words motherf**ker in it a lot. It was a heavy arse tune with a ton of groove in it. I loved it. It sounded great live. too!
I could see where his old record label would be irritated and iffy about that song. It had MF in it about 30 times, and it was projected in the big screens in huge red letters so folks could sing MF, too. Not exactly single material, I reckon, but if anyone can work with that, it would be Roadrunner Records, his new label.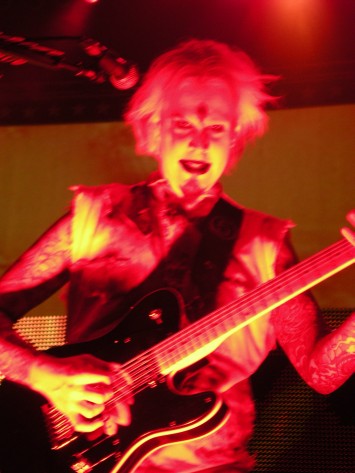 John 5. Photo by Eddy Burke.
I tried to get pics but Rob is a fargin jackrabbit on crack and won't sit still even for a second. I did manage to get one of John 5.
The band kicked off with "Superbeast" and "Super Charger Heaven," then tore into a sick anime skit during "Devilman," which featured the comic book character of the same name. They played "Living Dead Girl" and after much teasing, Rob and company broke out some White Zombie – "More Human Than Human." Guitarist John 5 is awesome. He does this stuff excellently. Following "Sick Bubble Gun," they glorified "House of 1000 Corpses" by showing clips of the movie with the song. The drum solo by Tommy Clufetos was pretty good indeed, but I don't know about the 'fastest drummer ever' comment. "Never Gonna Stop" came next and jammed in a slowed-down, groovy way. They played a new song called "What" that was okay, but not near as good as the MF song.
"American Witch" stomped arse! The animation was especially good, Top-notch coolness from Rob. Good song. Good art. Pure devilish fun! Pure Zombie! Check it out on Youtube!
Then they played more White Zombie: "Thunderkiss 65" was a barn-burner and got everybody going. Then came John 5's solo. He's got some crazy effects going on, like a harmonizer whacked to the max, yet somehow it works for the songs. He used it on a few songs, I noticed. Effect or not, this guy is wicked on guitar. He may not be a Randy Rhodes, but his simplest riffs sound thunderous through his rig. His tone is super charger heaven! And yes, he does sound a bit dark and demented. How could he have gotten the Zombie gig without so?
Rob then proceeded to go out and talk to the fans up close and personal, which I thought was cool as hell. Rob crossed that stadium from front to back stopping to chat with fans and say hello. From his words and actions, it appears that Rob Zombie is a genuinely cool guy who actually cares for his fans. Two thumbs up for Mr Zombie from this writer. He may not be the best singer but he has great timing and knows where to put the emphasis in his songs. When it comes to putting on a show, Rob has that covered in spades.
They finished the night with "Demonoid Phenomenon" and "Dragula," which featured a star-studded montage of infamous movie monsters from Herman Munster to the Wolfman. Rob Zombie drew in a fun crowd, too. There was every kind of white trash there that you can imagine. Roly-poly middle-aged trailer park chicks in spandex with kids with full-on mullets! Hot chicks. Truckers. Goths. People in makeup. Hippies. I fit right in with these freaks, too! Some of it was some funny stuff. At one point some drunk dude vomited while running and it went everywhere, missing me by about five feet. Then everyone was stepping in it. It was foul. (I tried to tell people they were walking on yuk but they paid me no heed.) The sound system was thunderous and sounded great. No complaints here. I had a blast.
Thanks to Nederlander, (Zombie) Nancy and 93.1 the Fox for supporting this demented and mucho fun event. You guys kick much arse!