December 2009 Articles
Cover Story
Tim Roberts
Features
Eddy Metal
Columns
Berk Bryant
Mike Stout
Paul Moffett
Keith Clements
Martin Z. Kasdan Jr.
Eddy Metal
CD Reviews
Martin Z. Kasdan Jr.
Brian Meurer
Ronke Oyekunle
Ronke Oyekunle
Ronke Oyekunle
Performance Reviews
Jason Koerner
Eddy Metal
Blogs
Got Shows?
Send Them To Us
Bookmark Louisville Music News.net with these handy
social bookmarking tools:
Available RSS Feeds
- Top Picks
- Today's Music
- Editor's Blog
- Articles
Add Louisville Music News' RSS Feed to Your Yahoo!

Issue: December 2009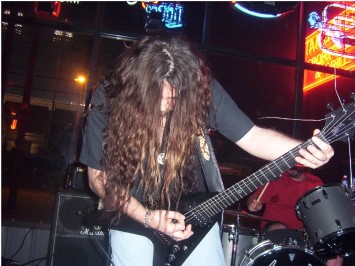 Eddy Metal
Name: Duane Eddy Burke (aka Eddy Metal)
Age: 39 (but feel like a youngun!)
Instrument: I play Guitar, but I can also play bass and sing too. I suck at drums though.
Band/Former Bands: I currently play guitar and write music for Year Of The Gun (formerly known as 13th Level). Myspace.com/eddymetalrocks on my playlist!
I sang for 90's thrashers Inhuman from '94 to '99, playing many great shows and gaining a lot of experience. I also played guitar for Sideshow, a short-lived techno-thrash band in late '99. And In 2000, I formed 13th Level. We played out a lot over the years.
How Long On Instrument: I started on bass at age 13, switched to guitar at 14, started singing at 16 or 17. I got a late start playing music because I was busy being a horndog. But better late than never!
Equipment: My guitar rig is a beast. My amp is a Bogner Ubershall 120 watt monster w/ a Bogner Cab. My axes include a Gibson Les Paul; a Gibson flying V; a USA BC Rich Widow; a USA BC Rich Beast; a Rico Jr USA Alias; a Rico Jr; Vixen V (my new axe); a Takamine acoustic and a 12-string Fender acoustic. I use TC Electronics Effects and a Dunlop Wah pedal.
Influences: Guitar-wise, it's Glen Tipton; Randy Rhodes; Toni Iommi; Andy Laroque; KK Downing; Alex Skolnik; George Lynch; Jake E Lee; Jerry Cantrell; Adrian Smith and Dave Murray.
My First Gig: Carl Casper's Custom Car Show band battle with Inhuman in '94. A few years later, they quit doing the band battle. For years, the Carl Casper band battle was a very popular event in Louisville.
Hobbies: Sex; music; 4:20; guitars; concerts; drawing; reading; history, etc.
Favorite Movies: Star Wars; Goodfellas; Apocalypto; Kung Fu hustle; Bruce Lee flicks; The Shining; Jaws; Anchorman; The Goods; Cheech and Chong flicks; The Pianist; Braveheart; Excalibur; Monty Python's The Holy Grail.
Favorite Food: Cuban food; my mom's homemade Mexican food; Ribs; Pot Roast; Steak; peppers and mushrooms; pineapple upside-down cake!
Favorite Place: I love Yosemite National Park and Lake Tahoe in northern California an awful lot. The Florida Keys is high up there, too. Right around the Marathon Key area is amazing.
Bad Habits: Food! That is my one true weakness. And I like to indulge in a bit of greenery from time to time.
What I'm Listening To Nowadays: Five Finger Death Punch; old Lacuna Coil; Warrell Dane's solo album; Steel Panther (they are hilarious); new Testament; Nevermore, and a lot of euro-metal. And some George Jones and Patsy Cline. too! I'm serious.
Coolest thing I've done: Play in front of six to eight thousand people at LRSfest 2003, opening for Suicidal Tendencies and Trappt, when the crowd was at its peak.
Most Embarrassing Moment: Probably when I got my hair stuck in the mic stand while singing, or when I had to poop on the side of a cliff/mountain in California when an emergency arose. There were houses that were facing the cliff that could see me doing my business.
Who Do You Love: My family, my dog Roo and everyone who reads my column every month! You rule.
When/Where Did You First Get some: Technically the first time, I was 13 and I was doing a cute blonde down in my basement when a weird feeling started to come over me. My heart raced, my toes curled, I sweated, eyes bugged out...and then I froze up and had my first orgasm. I thought ..."hmm, what have we here?"