September 2009 Articles
Cover Story
Jason Ashcraft
Features
Eddy Metal
Columns
Berk Bryant
Mike Stout
Paul Moffett
Keith Clements
Martin Z. Kasdan Jr.
Eddy Metal
CD Reviews
Ronke Oyekunle
Ronke Oyekunle
Kevin Gibson
Martin Z. Kasdan Jr.
Kevin Gibson
Ronke Oyekunle
Blogs
Got Shows?
Send Them To Us
Bookmark Louisville Music News.net with these handy
social bookmarking tools:
Available RSS Feeds
- Top Picks
- Today's Music
- Editor's Blog
- Articles
Add Louisville Music News' RSS Feed to Your Yahoo!

Issue: September 2009


I've Got A Mind To Ramble
Guitar Slinging Logos
Logos can be useful identifying symbols that represent a local blues society or a guitar shop. So it is with the Kentuckiana Blues Society and the Guitar Emporium.
Gateway to the KBS
Sometime during 1993, the guitarman logo appeared in the KBS newsletters. Later it was prominently displayed on pins, magnets, banners, tee shirts, caps and the KBS website. This sacred symbol, shown in the KBS ad below, continues to proclaim who we are. It was created by local graphic artist Walter McCord, who has designed other logos and posters. A frequent trivia question posed by KBS members to the unknowing is who is that guitarist on the logo. McCord used the image of Clarence "Gatemouth" Brown from a photograph.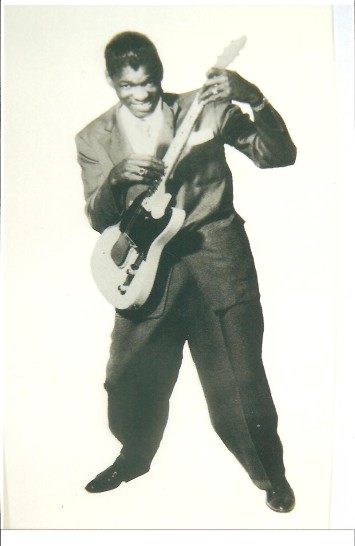 Clarence 'Gatemouth' Brown
The publicity shot was taken of Brown on April 24, 1953 at Pierce's Studios in Columbus, Ohio. Brown's wiry frame is concealed inside his baggy zoot suit pants which makes him hard to identify. At that time, Brown was the main recording star of Don Robey's Peacock Records in Houston, Texas. The mid-Fifties were Brown's glory years; he recorded his classic hits "Dirty Work At The Crossroads," "Midnight Hour" and "Okie Dokie Stomp" during that time. Brown got his nickname from a high school teacher who accused him of having a "voice like a gate," which he kept - to his credit - the rest of his life. (Brown's brother James was also a guitarist and was known as "Widemouth.")
Not only was Brown a master of the guitar but he also played violin, harmonica, drums and mandolin. But it was for his trademark capo and 'no pick' technique, plus playing at breakneck tempos that he became best know as a guitarist. He never wanted to be pigeonholed as just a bluesman but preferred to be regarded as an American musical master. Brown developed his own brand of music ,which was a fusion of jazz, bebop, big band, country/western, Cajun and, of course, the blues. His stage antics and 'Texas swing' style became a model for a generation of Texas and Louisiana guitarists, including Johnny 'Guitar" Watson, Albert Collins, Johnny Copeland, Guitar Slim and Lonnie Brooks. Brooks once said, "Gatemouth can get more out of a guitar that a squirrel out of a nut."
In 1999 Gatemouth was inducted into the Blues Hall of Fame. He was diagnosed with lung cancer in September 2004. When his home in Slidell, Louisiana was destroyed by hurricane Katrina in 2005, Brown was evacuated to his childhood hometown of Orange, Texas. He died there shortly thereafter on September 10, 2005. Brown's legacy is perpetuated with his individual style of American roots music and, of course, the KBS logo.
Hickey's Legacy
On page five of this issue, you will see Guitar Emporium's ad, which includes the famous image of rockabilly singer and guitarist Ersel Hickey. I talked with Jimmy Brown, the owner of Guitar Emporium, about how Hickey became the the subject of their logo, which was featured on the cover of the April 1990 issue of Louisville Music News.
He explained that in 1986, the store had moved to its second location at 1019 Bardstown Road. Both Ricky Feathers, lead man for Bodeco, and Brown had copies of the book, "The History of Rock and Roll - First 25 years," which had the picture of Hickey. Since the store's former logo needed to be updated, Jimmy worked out a deal with the landlord to use the wall by the front of the store in exchange for a parking space in back. While Jimmy was away, Gary Stillwell projected Hickey's image on the brick wall and Ricky painted it in black and white, highlighted with a shadow. When Jimmy got back, he liked it, as it captured the spirit of what the store was all about. The image became a work of art without the name of the person or store.
Before Hickey's image could be used, Jimmy had to get permission from Michael Ochs who had acquired the rights to the photo. Ochs is one of the country's leading rock archivists. He started Michael Ochs Archives in the mid-Seventies as a research service and library that contains one of the largest private collections of rock and roll, country, folk and jazz records and photographs. To quote Ochs, "In my life, music has been the only marriageable mistress I've found."
After Jimmy finally got through to him by phone in Venice, California, Ochs said "Sure that's great, just so you draw up a good likeness and send me a tee shirt." It was a verbal handshake agreement. Jimmy identified Hickey's guitar as a Gibson ES-295 that was made in the mid-Fifties. The hollow body was painted gold with a flower design on the pick guard. This logo has since become a successful recognizable image for the store.
Who is the man responsible for the most famous pose in rock and roll? Ersel Hickey (originally O'Hickey) was born in Brighton, New York in 1934, one of eight children. After his father died and his mother was hospitalized due to a nervous breakdown, Hickey lived in a series of foster homes. He would frequently run away, living in different areas of New York. At fifteen, Hickey moved in with his older sister, Chicky Evans, who was an exotic dancer. After traveling the burlesque circuits with her, Hickey joined a carnival and eventually was sent to a tough kids home in Columbus, Ohio. While there, he started listening to rhythm and blues and began singing with a gospel group. Hickey began singing like the then-popular singer Johnny Ray and won $500 at an amateur talent contest.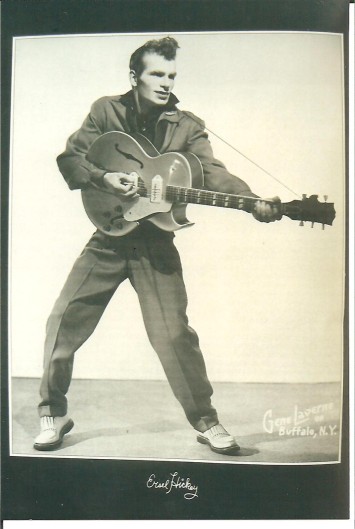 Ersel Hickey. Photo courtesy of Michael Ochs
When his sister died in an auto accident, he moved in with his aunt and brother. Elvis also influenced Hickey and he started performing professionally. Hickey's brother booked him in Rochester, where he started a following. He recorded his first 45 record in 1957, on the Fine label using the name Mickey Evans, combining his sister's former stage name and the nickname she called him.
Hickey saw the Everly Brothers in Rochester and after the show he asked Phil, "I want to be a singer, what should I do?" When Phil said, "You got to have a song," Hickey went home and wrote "Bluebirds Over The Mountain," which would eventually be his greatest hit.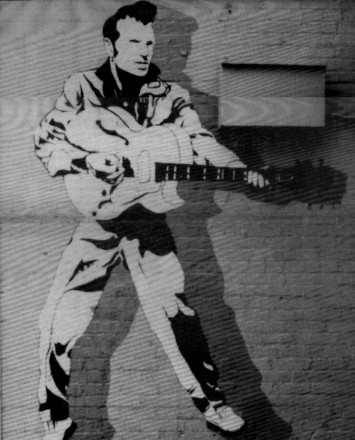 Ricky Feather's Mural of Ersel Hickey.
With $20 in his pocket, Hickey took a bus to Buffalo with no idea of what he was going to do. Next door to Jan's, a teenage hangout, was Gene Laverne's "Studio of the Stars," where his sister had her promo shots taken. Lavern persuaded him he also needed to be photographed. This was the 1957 photo session that produced the famous picture. The black-and-white picture gave no clue to the colors Hickey was wearing: to match his gold guitar, he wore a reddish-orange jacket with a yellow lining and rust-colored pants with stitching down the sides. It is the combination of Hickey's sculpted bob of hair, the machine gun stance, the cocked right leg and turned up collar that makes him a cross between a teen rebel and idol. His guitar pick is poised on whatever is in his gaze. This simple publicity pose became a self-portrait of rock and roll.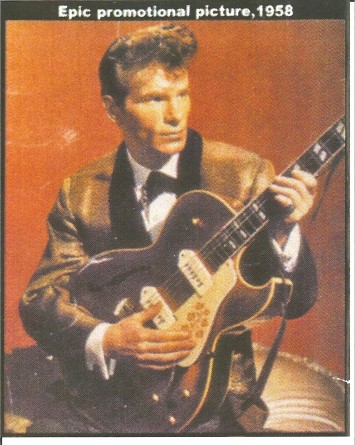 Ersel Hickey, 1958
Lavern had Hickey contact Mike Corda, a manager, songwriter, and musician. Corda felt "Bluebirds" had potential and arranged for a demo session at National Studios in New York. Hickey returned to Buffalo to perform at various casino lounges. When Hickey was performing at Luigi's in Niagara Falls, he learned that Joe Sherman at Epic records had picked up the song and signed him to a recording contract. Sherman liked the demo of "Bluebirds" so much that was issued as record in January, 1958. Hickey recorded several records for Epic, until his contract expired in 1960. Joe Sherman continued to manage Hickey, signing him with Knapp Records and placing him on a few tours.
When Hickey got married in 1961, he concentrated on songwriting. Several singers have recorded Hickey's songs, including Jackie Wilson with "The Millionaire," LaVern Baker, "A Little Bird Told Me," and the Beach Boys, who bought the publishing rights to "Bluebirds" and recorded it as a single. Hickey recorded several more songs during the Sixties to the Eighties on small labels like Apollo, Laurie, Toot, Janus, Pye Int. Black Circle, Unifax, Ramses III, Parkway and Magnum. He continued selling his music overseas.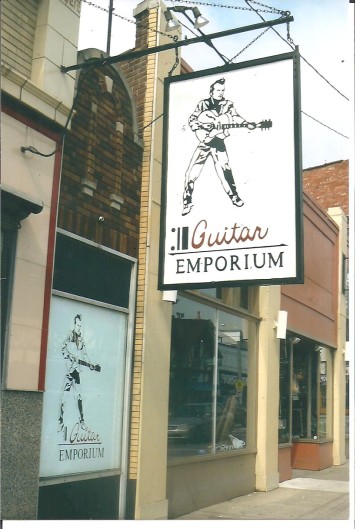 Guitar Emporium. Photo By Keith Clements
Jimmy Brown got a call from Hickey in 1995. Jimmy was away from the store at the time. Jim Schweickart took the call and left a note for Jimmy "Ersel Hickey called. He wants you to call him. He is not mad." At the time, Hickey was in his Sixties, living in New Jersey and Jimmy sensed he seemed humble and very contented. Hickey knew about the Guitar Emporium using the logo and was looking for advice on ways to promote and market his own image. Jimmy sent him a tee shirt and Hickey returned the favor, sending Brown an album and CD.
Recently, Jimmy was listening to WFPK in his car and Laura Shine played an old school rock and roll song with some interesting guitar that Jimmy liked. After the song, Laura said, "I didn't know anything about this artist that we received on a compilation CD, but his name is Ersel Hickey." Jimmy said he wished he had his cell phone to call her to make the connection.
Hickey died at 70 on July 9, 2004 at the NYU Medical Center from an infection as a result of a cancerous tumor. He was survived by his common-law partner Erica. Hickey's classic pose has preserved him for posterity in the history of rock and roll. According to Jimmy Brown, he has become the patron saint of the Guitar Emporium.