September 2009 Articles
Cover Story
Jason Ashcraft
Features
Eddy Metal
Columns
Berk Bryant
Mike Stout
Paul Moffett
Keith Clements
Martin Z. Kasdan Jr.
Eddy Metal
CD Reviews
Ronke Oyekunle
Ronke Oyekunle
Kevin Gibson
Martin Z. Kasdan Jr.
Kevin Gibson
Ronke Oyekunle
Blogs
Got Shows?
Send Them To Us
Bookmark Louisville Music News.net with these handy
social bookmarking tools:
Available RSS Feeds
- Top Picks
- Today's Music
- Editor's Blog
- Articles
Add Louisville Music News' RSS Feed to Your Yahoo!

Issue: September 2009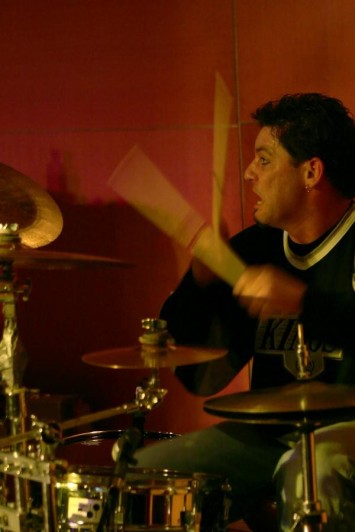 Troy Ford
Name: Troy Ford
Age: I was hatched in 1673, making me 336 years old.
Instrument: DRUMS, and anything I can beat on!
Band/Former bands: I've played from here to L.A. with such bands as LosAngels, Concrete Peach, Blue Collar, The Tim Morrow Band, Thorn, Witchburn, and now the mighty BONEJINN.
How long on instrument: I've been playing drums now for 324 years and my arms are starting to get a little tired! Just kidding! My arms arent tired.
Equipment: I play a custom kit, built by the man himself and drum guru, Mr. John Hayes.
Influences: KISS, Motley Crue, The Greatful Dead, Buddy Rich, Gene Krupa and Benny Goodman, Motzart.....there's just so many. I once partied with Motzart in a quaint little cafe outside Vienna. I couldn't have been but 15 at the time. I do remember he was a charming fellow.
My first gig: The illustrious and legendary TOY TIGER! (R.I.P. TIGER)
Hobbies: I like to run a good marathon, maybe start an intense game of underwater pumpkin smashing. Also, talking is a fun hobby almost anyone can get into.
Favorite movies: Any classic B&W horror films. I love the originals!
Favorite food: Pound of flesh.
Favorite place: ON STAGE!
Bad habits: Do you want the old edition or the revised edition?
What I'm listening to now: N.W.A. Straight outta Compton, some Tesla, Prince, Soundtrack to Queen of the Damned, and Billie Holliday. That's what I'm rockin' in my 5-disc.
Coolest thing I've ever done: Travel, playing music. And I'm still doing it!!!!!
Most embarrassing moment: That's easy ... I lost my swimming trunks in the wave pool in Las Vegas. It wasn't bad in the pool but when it came time to get out....well, that was a horse of a different color (and size). To this day, I have never recovered those trunks, and I'm sure the people that were there and witnessed the event are still recovering from laughter.
Who do I love: Calm down ladies. It's just my drums!
When /where did I first get some: Looking back on it, I don't even want to tell the story, however sweet (and it was). These two girls in Las Vegas cornered me in a public restroom outside the pool house of an apartment complex. That was the day my eyes truly opened. Oh, the holy glory of it all! Love them good times!