September 2009 Articles
Cover Story
Jason Ashcraft
Features
Eddy Metal
Columns
Berk Bryant
Mike Stout
Paul Moffett
Keith Clements
Martin Z. Kasdan Jr.
Eddy Metal
CD Reviews
Ronke Oyekunle
Ronke Oyekunle
Kevin Gibson
Martin Z. Kasdan Jr.
Kevin Gibson
Ronke Oyekunle
Blogs
Got Shows?
Send Them To Us
Bookmark Louisville Music News.net with these handy
social bookmarking tools:
Available RSS Feeds
- Top Picks
- Today's Music
- Editor's Blog
- Articles
Add Louisville Music News' RSS Feed to Your Yahoo!

Issue: September 2009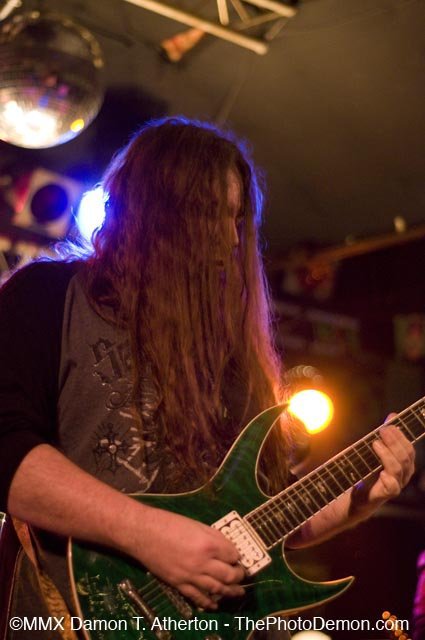 News From the Pit
Life is a never-ending bitch-slap to your piehole.
I've spent the last five months putting my new project together, writing all the music, practicing like a demon, spending loads of cash updating and maintaining an arsenal of deadly guitars and an amp that just plain slams. I did all this because I wanted to play out again after a five-year departure from jamming. Heck, a lot of people didn't even know I played music or even sang once. I got some decent musical ideas, so I put in the work necessary to make a proper comeback, if you will.
Things were going great. We had a few good starter shows and recorded a demo, and there was a good buzz about the band. The scene had liked what they heard, and that made me very happy. You don't even know.
Then our drummer sends an email saying he quits. To be honest, the guy was the weak link in the band talent-wise and I felt eventually we were going to let him go, so it's not such a big deal that he quit, but he gave no notice. Not even an offer to stay until we played our last scheduled show or could find someone else. I treated this dude like a brother and he bails right when things finally get going.
I've never had to cancel a show in over one hundred gigs, but I had to cancel our gig opening for Primer 55 on September 10.
I don't know how to quit, so 13th Level is looking for a hard-hitting serious drummer who can match the skill level of the rest of the band. Check out our new music at Myspace. com/eddymetalrocks.
My whole point of this is: why are people so darn shady these days? It's so difficult to find the right people to jam with and, especially, trust. It's a sad fact. Many rockers today are lazy slugs who don't want to put in the work needed to succeed.
I was always the one wanting to play three or four times a week, booking gigs, getting shirts made, passing out flyers, etc. Every band has to have at least one busy member or nothing would get done.
Being in a band is a delicate business. The slightest thing can f**k your stuff up big time. For example, what if one of the members got a DUI? Or if one got moved to night shift? Or if someone's girlfriend/wife had a baby? Or an illness or death of a family member? There are thousand ways to f**k up a band.
I've been searching the web for a drummer and it seems a lot of musicians can't find the right person. Heck, I found about eight bands looking for a drummer here in town. Fortunately, I've got a few drummer auditions coming up this week that sound very promising. I have faith that we will find that kick-ass drummer.
Shows shows shows. It's that time of year when shows are in abundance. I went to the Switchfoot/Blue October show at 4th Street Live! But I couldn't stand it. I had to get out of there! Devildriver was calling me. I'm glad, too, because I met a cute female there.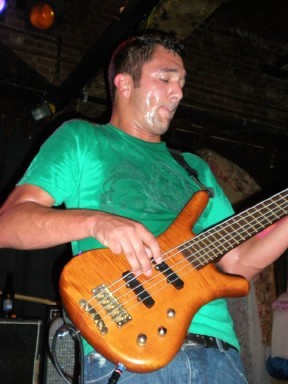 Juan Chavolla. Photo by Eddy Metal
Down is coming, Five Finger Death Punch, Black Label Society, Gwar, Shadows Fall, Otep, Obituary, In Flames, AC/DC, Powerman 5000. I like the summer outdoor shows the best, minus the bugs. This fall at Expo 5 will kick some butt.
Whatever you do, check out Terryharper. com for show info and ticket prices. He's the dude who books all this cool stuff, so tell all your friends and let's try hard to keep these metal shows going. And be sure to participate in LMN's Ticket Giveaway Contests every month.
The Metal Grapevine
Win Free Tix to Down:
Former Pantera vocalist Phil Anselmo's New Orleans-based, Southern sludge metal band Down will be at Expo 5 with The Melvins on Monday, September 28, and for a chance to win tickets, message me on Sunday, September 20 at 9 p. m. sharp at myspace. com/eddymetalrocks. Closest one to 9 p. m. wins. In subject line, put "Cajun Metal Rules!"
Win Free Tix to In Flames:
Yumpin yimminy, I love a goot Svedish metal band. In Flames, Between The Buried and Me, 3 Inches Of Blood, The Faceless, Society's Plague, The Myth Of Man, The White Lotus and Remember Me Always will be playing an outdoor event at Expo 5 on September 30. For a chance to win, message me at myspace. com/eddymetalrocks on Sunday, September 27 at 9 p. m. Closest one to 9 p. m. wins! In subject line, put "I'm a flamer. " Ha.
Win Free Tix to Five Finger Death Punch:
Hell yeah. I love FFDP. so I can't wait for this show. They were great when I saw them last time they were here. We could have had them for a Derby show, but we got screwed out of that. Shadows Fall and Otep will be opening, and there will be some Louevil bands kicking off this sweet outdoor event at Expo 5 on Sunday, October 18. See next month for Ticket Giveaway info!
Black Label Society on September 11:
Chaos will come to Louevil on September 11, in the form of a great guitarist who likes to spit on himself when playing. Ozzy Osbourne's former guitarist Zakk Wylde and his band BLS will be at City Block that night. Sorry I couldn't get tickets to giveaway to you slugs. I tried very hard. If you are going to be up front to enjoy the excellent riffage, bring an umbrella. Ha.
Shinedown at the Fair:
OMG. the traffic to get to the fair was ridiculous, the worst I've ever seen! I saw the mile-long line of cars to get into the Fair and was almost tempted to turn around and go home. But I was on a first date, and my bass player Lee was tagging along with us, so we parked as close as we could and walked to the Fair. Then we ran into a long line to get in the gate by foot!! After much BS, we made it in and got some killer 6th row tickets from Charlie Steele at 93. 1 The Fox. (Thanks, Charlie. ) After fighting our way to our seats way up front, we sat down and waited for the show. Openers Rev Theory was okay, but nothing to write home about. They covered a NIN song and it was completely cheesy.
Then Shinedown came on and made it worth all the crap earlier. They jammed! It was the best show I've seen at Cardinal Stadium in years. The weather was nice and cool, people were happy, and Shinedown had a crowd that was unreal. It was like a wall of flesh a quarter-mile long.
Vocalist Brent Smith was everywhere. : on the stage, on the field, in the stands with the people, on the soundboard, in the toilet, dude was a trip.
He loves his fans, that's plain to see. He shook hands, hugged fans and was basically an unselfish rock star, though he did yak a bit much. At one point, I was even thinking "shut the hole under yer nose and sing!"
They played "Save Me" and "Wasteland. " Smith said for everyone to put up their lighters and cell phones and I tell you that was a sight to behold with the place so packed and all. Then they ripped into "45," which sounded great. They played "Heroes" and a few newer tunes that didn't do much for me. The sound system was great, though, the musicians were on their game. Smith's vocals, however, were lackluster; I was told by one fan that "he was at about 80%, and was holding back a lot. I think maybe he strained his voice or something. " I thought it sounded pretty good myself. He had the whole darn stadium singing. The way the band started the songs, built them up, talked to the crowd, had intros, was awesome to watch. True professionals. They had a keyboard wheeled out for the song "Call Me," which was nice.
We didn't want to be stuck for an hour trying merely to get out of the stadium, so we left for the Midway a few songs early. I'm sure they played their new hit "Devour," and probably their version of "Simple Man," too. This was one very cool and almost magical evening with an excellent concert and performance, kickass seats from 93. 1 the Fox, yummy fair food and frosty alcoholic beverages. It doesn't get much better.
Indie-Fest 2009:
On Saturday and Sunday, September 12 and 13 at the Mellwood Arts Center, there will be a music festival that should rock out with your sock out! Unsigned bands will be taking the stage all day long. Be sure to show your support for our regional talent! There are some darn good bands playing! Check out the bands playing in upcoming shows below or online at www. louisvillemusicnews. net.
Marcy Playground/Hot Action Cop Review:
The band wasn't armed to the teeth with stacks of equipment like most national acts bands; in fact, they had a tiny little setup that could have been used in Phoenix Hill's Taproom, but instead it was Marcy Playground in the Saloon at PHT. I knew nothing about the band except they play "Sex and Candy. " I never saw them before and I wasn't expecting much, but it turned out to be a pretty cool show.
My singer Steve Sawyers loves them, so I thought I'd go up, hang out a bit, drink a brewski and scam on some chicks. There were lots that night.
Opening the show was Hot Action Cop, a national act with members who live here and are from Louevil. I saw them once before and they didn't do anything for me, but this time was different. There seemed to be an element of partnership that enabled them to put on one great performance. Guitarist Tim Flaherty and bassist Juan Chavolla, both Louisville natives, have been in the scene quite some time, and it shows. The lead singer and creator of HAC Rob Werthner is a madman, funny and fun to watch perform. He has a good strong voice and carries himself with total confidence. 'High energy' is the order of the day at a HAC show. No standing around looking like a statue for these cats. The music is a bit happy and upbeat for me, nevertheless, I was entertained and watched the whole set. Of course they played their hit "Feva for the Flava. " I expect good things from this current lineup.
Marcy Playground is a three-piece with a sound of a four- or five-piece. They joked around a lot, tuned their guitars rather slowly and chased a cymbal all night that kept coming off the stand because they lost the screw that holds it on.
I almost jumped up there myself mid-set to try to fix it. The band sounded great though, even through all the shenanigans that night. Vocalist/guitarist Jonathan Wozniak played well and didn't miss a note, vocally or guitar-wise. Their music is pretty simple but they make it sound difficult. The tall, looming bassist Diln Keefe had a booming bass sound that I really liked. He wasn't fancy, but he was a total groove machine. The band played their classic hit "Sex and Candy," as well as the song about the discovery of opium, "Poppies," and new tunes "Stargazer" and "Devil Woman," which sounded great. They broke out "Saint Joe On The School Bus" from their first album and "Rock n Roll Heroes" off their MP3 Album. All in all. it was a good, fun set of happy, upbeat and entertaining music. I would go see them again.
Thanks to Steve for helping me with this review. He got to meet them at the end of the show. They were a bunch of nice laid back dudes who appreciate their fans, too. Thanks to PHT for the tickets.
Primer 55 Returns:
Hip-hop hardcore rockers Primer 55 will be returning to Louevil on Thursday, September 10 at the Bulldog Cafe with Sever This Illusion, Stall-Point, Sons Of The Bluegrass and Dreadfall.
Primer 55 has done some very cool stuff in their day, and Bobby Burns, once a Louevil resident, has gone on to perform and record with Max Cavalera of Supultura/Soulfly fame. So give Bobby and the Primer fellas a big welcome home reception. The Fairdale Fair will also be going on, so you can bring the family on down to enjoy some food and rides and such. Check Myspace.com/hellawickedproductions13 for information on a Primer 55 'meet and greet' earlier that day!! Show time is 7 p. m. $8 Adv/$10 DoS.
New Band Alert, Artifex Pereo:
Recently I heard Artifex Pereo, a band assembled from remnants of Subrosa and Kinsey. The music is modern, kinda weird and entrancing, but it's jamming. Vocalist Evan Redmon used to play drums for Subrosa but now has moved to vocals. He's got a great voice. too. These guys are young but it's never stopped them from kicking some butt in the scene. This band automatically started touring as soon as they had enough music.
Right now they are on tour in the Midwest. I can't wait to see these guys live, though I like Evan's vocals better than Richard from Subrosa. I'm listening to a song called "Posture and Progress," which has an amazing 25, 665 plays on myspace! This is a roller coaster ride into emotion. "Pendulum" is a rocker of a tune and may be my favorite, with a Disturbed feel that rocks. The effects work perfectly for the tune. Good producing! Very tasteful guitar effect-laden riffage gives it a certain trippy groove. I love the chorus.
"Cylinder Shaped World" is crazy sounding. Very creative guitar riffing makes this a winner. There some wild chord progressions going on there. Cory Eaves drums are nearly perfect and the guitarwork of Jordan Haynes and Jamie Davis is awesome. I've always liked what these guys do on the axe. The music is alternative, melodic, jazzy, emo-ish, progressive, ballady, semi-heavy deftone-ish type rock that young people will no doubt get into. You need to look into Artifex Pereo. Hopefully they'll be around the area during my Rock For Kosair benefit. I'd book them in a heartbeat. Myspace. com/artifexpereo
The Unfair Treatment to Black Frank:
My longtime friend Black Frank (whom sometimes I want to also choke.) was let go a few months back at Clear Channel Radio, and his longtime, invaluable metal and local music show was canceled.
Frank was a staple on 93. 1 The Fox from the station's humble beginnings. Frank was one of the first DJs for the FOX.
Since 1993 chances are that if you were listening to the Fox, then you were hearing Frank. Not only that, but Frank's real achievement was his metal show called "The Metal Pit" and later "The Attitude Network," a show that included the very beginnings of Louisville rock radio that featured original music from Louisville. I know, because I was the guy Frank got to do the local segment "Unsigned Xtreme."
Frank was the first to push Louevil talent radiowise. He gave both Louie the local guy and me a chance to push Louevil talent as far as we could. And you have to admit, we all did a darn good job: look how popular Louisville talent on The Fox is now! Corporate Clear Channel apparently doesn't care that Frank has done so much for the local scene by starting Louisville rock radio as it is today, so I think we need to remind them. Please take a few minutes and write or call Bill Gentry or Kelly Carls at Clear Channel Radio here is Louevil, and tell them we want Frank's show back on the Fox, where it belongs. This chit isn't fair, and we want it fixed! Be nice!!! The Fox's support for this music scene now is awesome (there I cannot complain), but without people like Frank's contribution and ambition back in the day, then I don't think it would be what it is today. Please stand up for what is fair.
Porno Fishtank:
I had heard the name a little bit throughout the nine years of their existence but never saw them until last month. I admit I was a bit surprised. With good grooves, good vocals, nice riffage from both guitars and bass, Porno Fishtank has something going on. They certainly have a lot of friends who love their music. It's not very heavy and it doesn't need to be with these guys. Vocalist Topher joined back in May, but he's been in the scene for years in such bands as The Acoustipimps and Monte Fisto. He has a great voice and is very melodic and powerful. The mood of their music works well and people like it. After many lineup changes, it seems they are back better than ever. Do yourself a favor and see Porno Fishtank soon. They play Friday, September 4 at PHT, and September 19 at Shooters. Be there!
Kentucky Deathwish Recording:
Hardcore rockers Kentucky Deathwish are recording the first material with new vocalist Todd Proctor. Next month, the band should have at least two songs for you to check out! The band is recording with Andy and Lance of Nailgun Strategy at their practice place. Those guys know their stuff so it should sound pretty good. KDW will also be opening for Five Finger Death Punch on October 18.
Pray For Billy Yeakey:
Everyone knows Billy the soundman at PHT. Well, Billy just had open heart surgery and we should all pray for him to make it through this crisis. Not only is Billy one of the best sound guys we've had at the Hill, but he is also a great friend to the Louevil music scene who goes out of his way to make the bands sound better! Hang in there Billy! You are vital to us as a good friend and as a kickass soundman!
Rock 4 Kosair Coming:
Yup, you heard me! It's almost time for the booking of my annual Benefit for Kosair's Children's Hospital. This event is a doosie because I get the region's best original bands together on every stage at Phoenix Hill Tavern. Every year it's been an awesome party for our music scene.
We give away several guitars every year, too. All proceeds go to buy toys for the Kosair Kids. I'll be booking about fifteen bands, so some of you might be getting a call.
Upcoming Shows
The Bulldog Cafe
Tuesday, September - Motograter, Darksun, Descention, Sever This Illusion, Broke and Bleeding and Sanctuary. $10
Thursday, September 3 - Epicurean, Luna Mortis, Theories Of Apocalypse, Infradread and Blood Upon The Fire. $5
Thursday, September 10 - Primer 55, Sever This Illusion, Post Mortem, Stall-Point, Sons Of The Bluegrass and Dreadfall. 7 p. m.
City Block/Coyotes
Friday, September 11 - Black Label Society. 8 p. m.
Expo 5
Monday, September 28 - Down w/ The Melvins, Weedeater and Evil Army. $23 Adv/$25 DoS. 7 p. m.
Wednesday, September 30 - In Flames, Between The Buried and Me, 3 Inches Of Blood, The Faceless, Societys Plague, The Myth Of Man, The White Lotus, Remember Me Always. 7 p. m. $20 Adv/$23 DoS.
Sunday, October 18 - Five Finger Death Punch, Shadows Fall, Otep, and a slew of good local bands: Kentucky Death Wish, Adaptize, Stall-Point and The Tri-Tones. $20 Adv/$23 DoS. 7 p. m.
Friday, October 23 - Insane Clown Posse. $27 Adv/$30 DoS.
Wednesday, November 4 - Gwar w/ Job For A Cowboy, Antikythera, The Red Chord, Stonecutters, The Revenants and The Burial. $20 Adv/$22 DoS. 7 p. m.
Headliners Music Hall
Tuesday, September 15 - Cycle Of Pain w/ Sekond Skyn and Burn To Shine. $15
Wednesday, September 16 - Alesana, The Bled, Enter Shikari, Asking Alexandria and Broadway. $12
Tuesday, September 22 - Thursday, w/ Fall Of Troy, Young Widows and La Dispute. $15
Sunday, October 4 - Obituary w/ Goatwhore, Krisiun, The Berzerker and Warbringer. $20 Adv/$23 DoS.
Sunday, November 8 - Powerman500 w/ Downtread, Left With Scars, The Dead Hours, Factory Damage and Birth Of A Zealot. $12
Melwood Arts Center
Saturday, September 12 - Indie-Fest 2009 Day One: Scarlett Veil, Blunt Force Trauma, Moses Uvere, The Drama Scene, Thorn Fetish, Ockum's Razor, David La Duke band, 2 Days Out, Deliver Us From Evil (Sweet!), Chained Fate, Sykohed, The Rise Of Defiance, Erratik Brew, Poetry Of The Dead, Hardlein, Of Echoes, Overthrone and Tatooed Millionaires.
Sunday, September 13 - Indie-Fest 2009 Day Two: Boone and Gamble, Davis La Duke, Jimmy Lovelace, The Layzees, Blues Town, Jane Rose Band, Peach, Lost Kause, Solklinch, Chakras, Naked Under Your Clothes, Fulcrum Point, Rivershyne, Atomic Pimp Hand, Festival Of The Damned, Casualty and Pulse8.
Phoenix Hill Tavern
Thursday, September 3 - Cold w/ Taproot, Killer and The Star, Some Kind Of Saint and Institution. 7 p. m.
Friday, September 4 - The Original Rock Showcase Series: Evil Engine # 9, PornoFishtank, Inner Blue, 16 Bones, Noise Bucket. Free before 9 p. m. Downstairs that night is Robbing Zombie, the Rob Zombie Tribute band. $10
Friday, October 2 - The Original Rock Showcase Series: Snake Eyed Savior, Thomas Medicine, Sonic Epitaph, Shatterstone and E-Flat. 8 p. m. Free before 9 p. m. .
Shooter's
Saturday, September 19 - Porno Fishtank and others.
Uncle Pleasant's
Saturday, September 12 - Bury Your Dead, At Lights End, Revive The Fallen, Nannie Doss and No Sign Of Murder. $12
Sunday, September 27 - Chthonic w/ Created To Kill, Nothing Wrong, Boethias, Breaking Stride and I'm Coming With You. 7 p. m. $10
Saturday, October 17 - Sonota Arctica w/ Sonic Epitaph, Overthrone, Assisting Sorrow and Mungus. 7 p. m. $15 Adv/$17 DoS.